"5G is real", "Digital Meets 5G", "Leading 5G Innovations", and so on; these are the buzzwords that dominated the proceedings this year at the India Mobile Congress (IMC) 2018 here in New Delhi, India, which kicked off yesterday.  It's clear what the standout theme this year is by what most manufacturers and companies are showcasing here/
Well, I spent a good amount of time walking and overshooting my daily step goal at the venue, to bring you the best of everything that was showcased (or at least I tried my best to cover), so let's dive into it –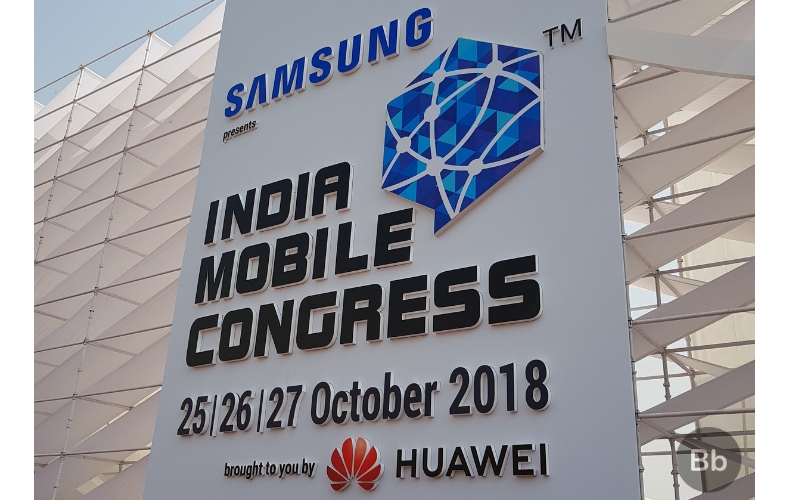 Samsung
Samsung, as always, decided to steal the thunder by setting up the first and one of the biggest booths at IMC in the first Hall. From Maserati's to VR, Samsung literally had everything that can take advantage of 5G.
Samsung's Connected Car Solution
No, Samsung is not making a self-driving car, at least not yet. Instead, the company wants to cater to the growing market of connected cars. Samsung's new unnamed device (inset in the first image below) can automatically trigger certain actions inside a connected car that drives under it.
One of the use-cases, as explained to me by Samsung's sales representatives at the booth is that you can trigger actions such as checking for software upgrades, running malware scans, running maintenance check, etc. when you are cruising down some highway. Yes, it sounds vague right now, but it would be awesome to see one of these devices (and the Maserati, of course), as it opens up a lot of opportunities for auto-makers to provide a connected car experience.
5G Farm, 5G City, and so on..
Besides the cool Maserati, Samsung also had a ton of other demos to showcase their advancements. They had a setup called 5G Stadium where a bunch of tablets were streaming high-quality sports video simultaneously on the same network. It looked pretty cool, and I must say that I was impressed to see such speeds.
Lastly, Samsung also had a bunch of commercial 5G solutions. Honestly, they are way too complicated to explain without dedicating a separate article, and I have some other cool things to show, so let's move on.
Ericsson
Ericsson's booth and the demos areas were also well put together. The applications and the products were neatly presented, and the demos were just impressive to look at.
5G Drones
Ericsson had a couple of drones on showcase at their booth. The one shown below is apparently, a prototype that was used by the field experts to scan a particular area and discover points of interest. I wasn't briefed in detail about this, but I was told that the drone can be controlled from a remote location, thanks to the power of 5G.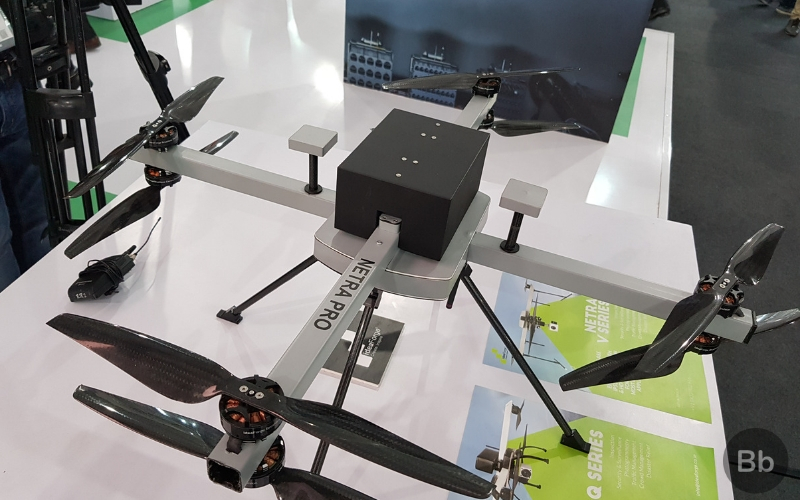 I was also given a demo of some other cool 5G applications, but sadly, I wasn't able to capture them. So, here's a photo of Ericsson's 3D Augmented Reality Demo that's, again, powered by 5G.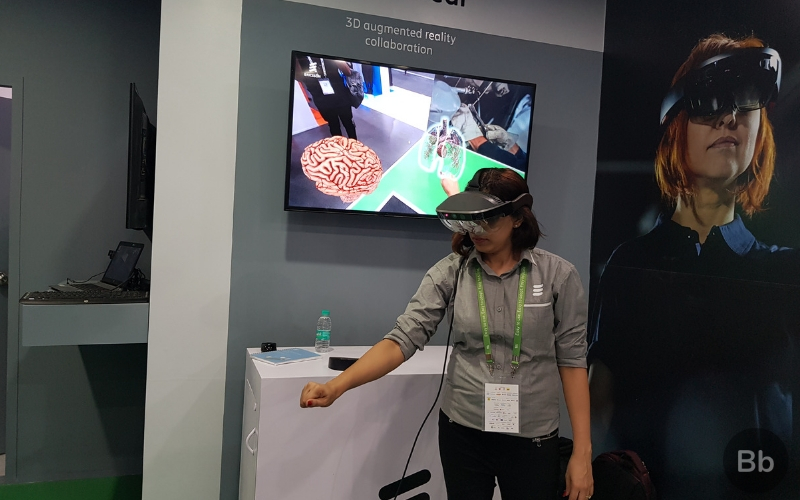 SKYSHIP
IMC attendees also got to check out the SKYSHIP, a 5G emergency rescue platform developed by Korea Telecom in association with Samsung and Jio. As you can see, the platform operates a balloon-shaped aircraft, which has a full-fledged mobile communication center on-board. I was told that it can be used to provide mobility coverage and surveillance for a particular area.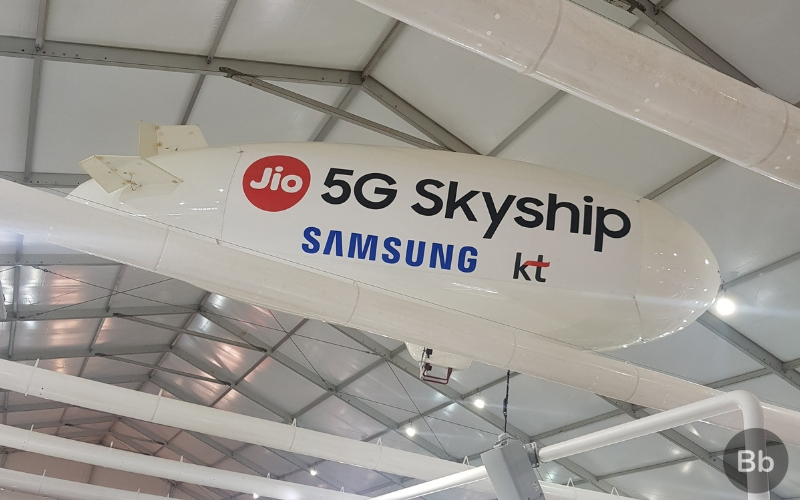 Facebook
Facebook was also present at this year's IMC, however, it appeared as though the company wasn't showcasing anything new in terms of 5G advancements. So, I enjoyed myself a demo of the Oculus Go, took a couple of selfies in front of Facebook lens demo, and even ran into the FCC Chairman Ajit Pai here.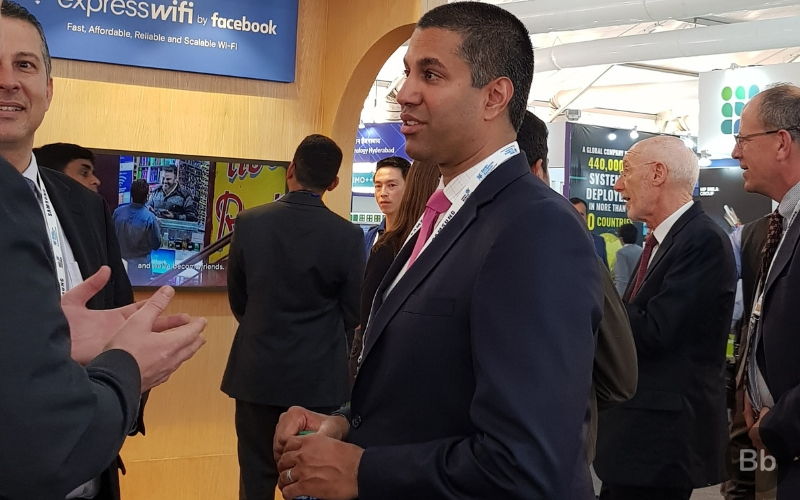 Other 5G Advancements
Besides these companies, a lot of other manufacturers like Nokia, Huawei, ZTE, Qualcomm, MediaTek, etc. also showcased their next-gen and current products at the venue. Again, most of them were giving a demo of commercial applications, but I managed to capture a few interesting ones.
MediaTek, for one, had a bunch of its chipsets on showcase. I also came across this interesting contraption where MediaTek wanted me to check out how accurately the phone powered by the Helio P70 SoC was able to recognize my face using a dot projector similar to the ones used by Apple's Face ID system.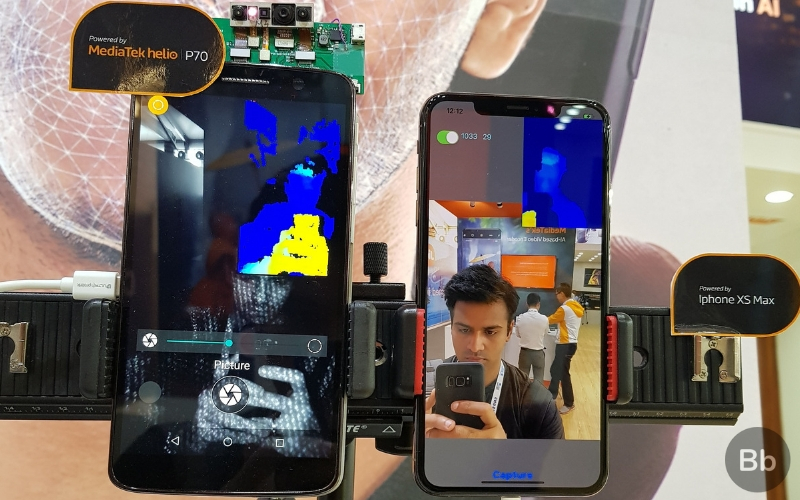 So, Are We Ready for 5G Yet?
As pointed out Ericsson India chief Nitin Bansal during our interaction, "We don't say it's a revolution – we say it's an evolution". After looking at various demos at the IMC venue, I am inclined to believe that 5G is not just about gaining additional data speeds for streaming shows on, say, Netflix. The connectivity advancements will be apt for commercial applications, connected equipment and machinery, which can actually take us towards a Smart City.
We will be bringing some more coverage from India Mobile Congress 2018 here in New Delhi in the coming days, so stay tuned.