A tripod is one of the most important pieces in a cinematographer or photographer's arsenal and if you're looking to add one to your kit, chances are you've already started finalizing the ones you like. I'm certain brands like Manfrotto rank high on that list, but you really don't need to spend too much money to get a great tripod. So, as you probably already know, we shoot a bunch of videos, and we started off with a Manfrotto tripod as well, but as the need for more tripods arose, we had the chance to check out this one from Zomei. The Z818 Carbon Fiber tripod ($100.95) was just going to be our alternate tripod, but it has since become one of the most used ones at the office; and now, here's our review of the Zomei Z818 tripod.
Zomei Z818 Carbon Fiber Tripod Features:
The Zomei Z818 comes with some pretty cool features that make it a rather versatile tripod to carry around.
Around 2.1kg weight
Magnesium and Aluminium alloy tube
2-in-1 functionality to quickly convert into a monopod
Can go from 22-inches in height to 65-inches in height
Twist locking mechanism for legs that makes them easy to extend and retract
Quick release plate with 1/4″ screw that can fit almost every DSLR
Up to 16kg load support
Invertible center rod allows for macro photography
Design and Build
In terms of the design and build, the Zomei Z818 carbon fiber tripod doesn't disappoint. It has a carbon fiber build, which means that it's sturdy enough for every day use, and it's light enough that you won't have any problems carrying it around. Plus, the black one we have looks really cool with its striped legs.
The fittings and locks are all built out of plastic, which is the case for most tripods, and that too is of a pretty good quality. In all our usage of the Zomei tripod, not once have we felt like the tripod's build might let us down. It's a pretty well built tripod that's also sleek and good to look at. The Zomei website claims that the tripod is good enough for harsh conditions, and while we don't get winters of the type that Zomei shows on its website, the tripod has had no problems bracing the extreme Delhi summers, even on outdoor shoots, so I'm pretty happy with it.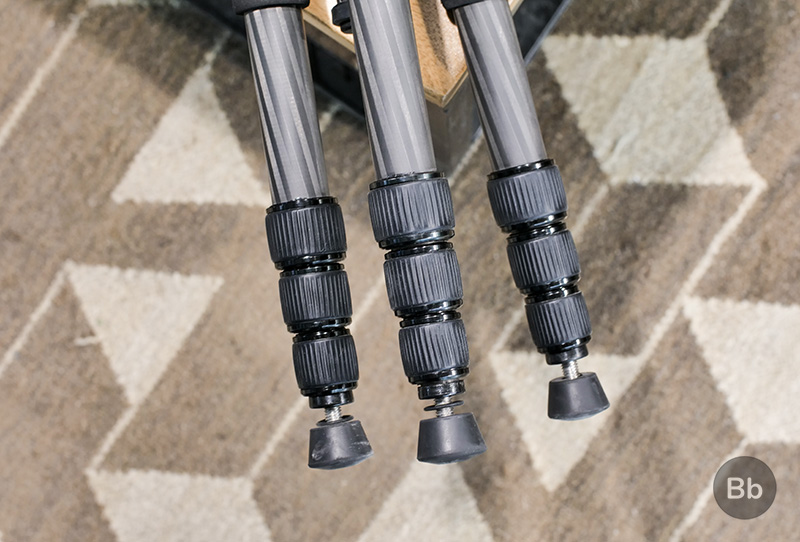 Other than that, the tripod has rubber feet that provide a stable grip. However, unlike the iFootage WildBull T5 tripod I reviewed earlier, the feet here are not that wide. So, while the tripod offers sufficient support for our shooting needs, it's definitely not as stable as the iFootage tripod. However, in all our usage of the Zomei tripod, this has never been an issue.
Setting Up and Using the Zomei Z818 Carbon Fiber Tripod
Really, the only reason this section even exists here is so I can pile on some praise on this tripod's extremely easy to use design. I've used a bunch of tripods, from brands like Manfrotto, to the iFootage tripod that I reviewed earlier, some cheap ones that are really only fit for very basic photography, but none of the tripods I've used are as easy to set up and use as this Zomei carbon fiber tripod.
The credit for a lot of that ease of use goes simply to the fact that it's extremely light weight. At just slightly under 2.1kg, you can very easily pick this tripod up and place it wherever you want to, which definitely makes setting up a shot easier. However, in addition to that, the tripod comes with twist locks for the extendable legs, which I personally find easier to use than the snap-on locks that I've used on the other tripods I've had experience with. Honestly, the twist-locks take slightly longer than the usual snap-on locks on most other tripods, but I personally find them easier to use, if not faster.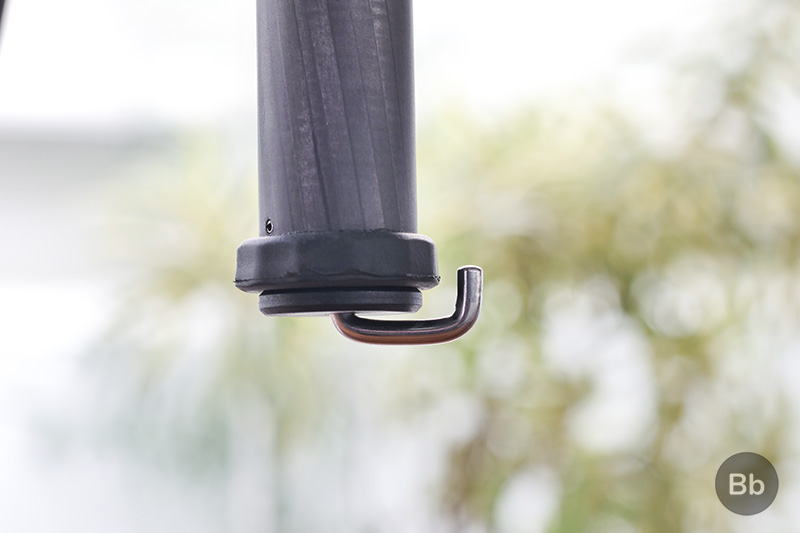 Also, if you take a look at the center column of the tripod, there's a hook at the bottom which you can use to suspend a weight from — that adds extra stability for shots where you need it. Since we shoot YouTube videos, and random product shots for our written reviews, we haven't had to use this; however, from what our video team has told me, this is a pretty handy feature in situations where the tripod might not be as stable as you'd like for whatever reason.
Head Compatibility
The Zomei Z818 comes with an included ball head for mounting your camera on, which is something most other tripods don't include. The head is decent enough and as Sharun once pointed out to me, since it's a ball head, it's easier to level it out.
That said, the tripod comes with a standard 1/4″ screw, which means you can attach any standard tripod head here. We prefer using a Manfrotto Fluid Head for our videos, and that fits perfectly on this tripod.
Basically, if you're using a tripod head that you prefer for your shoots, you can simply screw it in place on top of the Zomei Z818 carbon fiber and use it just like you're used to.
Portability
Portability is one of the strongest suits of this tripod. Thanks to its carbon fiber build and light weight body, the tripod is quite portable. That said, the tripod has a load capacity of around 16kg, which means that if you're only using a DSLR and something like the Lilliput Field Monitor (that I also reviewed recently), this is a perfect tripod for your needs.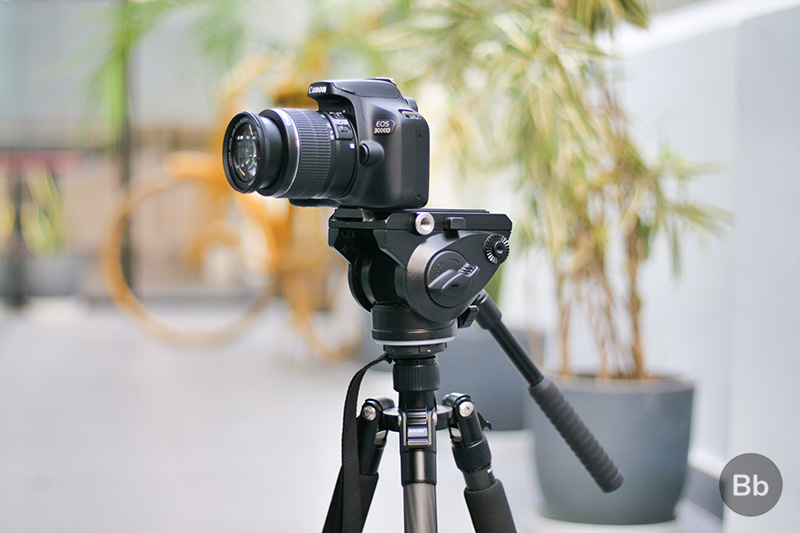 Along with that, the tripod is pretty small in and of itself — it folds down to just 22-inches in height and is quite easy to just stuff along with your shooting equipment, plus at just 2.1kg, it's extremely light as I've mentioned earlier as well.
Overall, portability is not a problem with the Zomei Z818 tripod and if your use-case mostly involves lugging your equipment around, this is one tripod you can easily carry.
Pros and Cons:
The Zomei Z818 carbon fiber tripod is a pretty solid tripod for portability, build, and overall usability. That said, it does have its set of pros and cons:
Pros:
Portable
Well built
Comes with a head
Priced competitively
Cons:
Weight capacity is a bit low at 16kg
Zomei Z818 Carbon Fiber Tripod: A Light, Easy on the Pocket Tripod
Overall, the Zomei Z818 carbon fiber tripod is a lightweight tripod that's easy on the eyes and comes in at a pretty decent price of around $100. It's one of the only affordable tripods that I can recommend. That said, if you're looking for other options from well known brands, and you can go a little over $100, you can check out the Manfrotto Lightweight Element Traveler Tripod ($149.88) which comes with almost the exact same features as this one from Zomei.
Buy the Zomei Carbon Fiber Tripod from Fasttech ($100.95)
---
Load More