If you're a content creator on YouTube, or just someone who shoots videos on their camera looking to take their content creation process to the next level, a field monitor is definitely one of those things that you should invest in. After all, checking your shot's framing in a tiny camera display isn't the best way to do it (believe me, we've tried), and a field monitor will let you get a better idea about your shots without having to test every shot in a laptop or your editing rig.
The Lilliput A5 Field Monitor is a nifty little 4K Field Monitor that's surprisingly feature rich for its $122.99 price, and it's what we've been using to shoot our videos for some time. So, this is our review of the Lilliput A5 Field Monitor, so you can make a decision on whether it's a good fit for your set up, or if you should go with another option. So read on.
Lilliput A5 Field Monitor: Features
4K input over HDMI 4.1
Native Full HD panel
4K HDMI Loopthrough Output
Advanced Functionality including Peaking, Audio Level Meters, and more
Built in battery plate with support for Sony NP-F970 and Canon LP-E6 batteries
1/4″ thread holes
Lilliput A5 Field Monitor: Build and Design
As far as the design and build of the A5 is concerned, Lilliput brings a pretty low-key design to the monitor. There's nothing flashy about it, and that's okay. As a standard industrial design monitor, this one looks perfectly fine. However, when it comes to the build, if you look at the monitor, there are some minor issues, especially in the battery release button that you'll find yourself pressing quite often in your usage. However, if we factor in the price of the Lilliput A5 field monitor, and the features that Lilliput is offering for the $122.99 price, the build here has nothing to be complained about.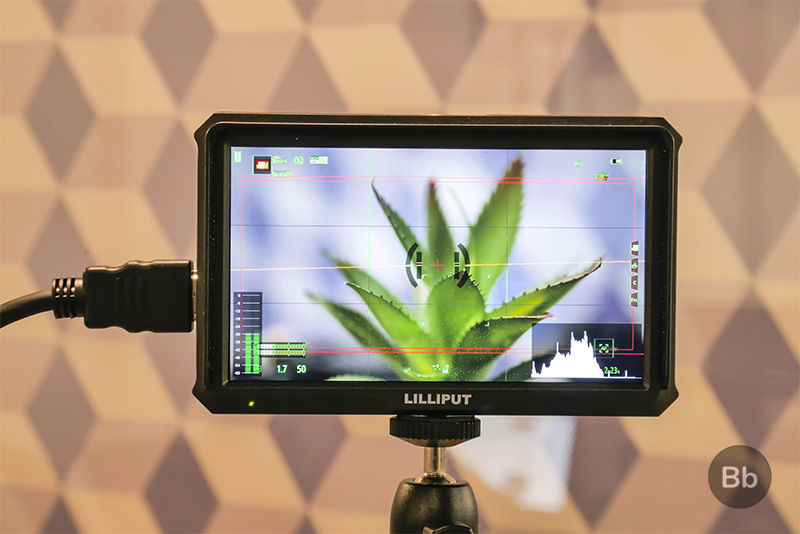 It's not a weakly built monitor by any means, and while you obviously wouldn't want to drop it, it's not a fragile or cheap feeling monitor at all. If anything, it feels decently well built, and personally I don't think the build here is an issue.
If something is an issue, it's the fact that setting this up is not as quick as I had hoped for. I mean sure, you only have to plug in the HDMI cable and press the power button to turn on the camera and view a live feed, but using the included shoe-mount adapter is quite the procedure. In our first few times using the monitor, it took us a considerable amount of time to get it fixed atop our Panasonic GH-5 4K camera. However, once you get the hang of it, the process becomes a bit faster so I'm not really complaining.
Lilliput A5 Field Monitor: Display
One of the most important parts in the monitor, the display on the A5 is pretty great. It's a 5-inch display that supports viewing 4K videos in FullHD at up to 30FPS which is fine considering its price. However, for 1080p and 720p videos, the monitor can support up to 60FPS which is great if you're shooting at 1080p60.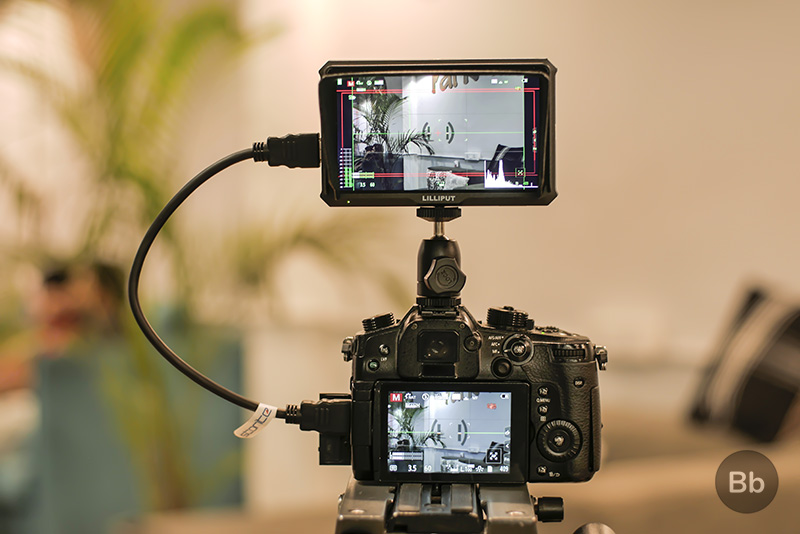 Over all, the Lilliput A5 field monitor has a pretty solid display; in fact, when connected to the GH5 we use, we've observed that it reproduces colors a lot better than the built in display on the camera. Technically, you could use your camera with this monitor while keeping the camera's built in display closed. However, since the monitor doesn't support touch, we end up using the built in display for touch oriented features (such as the drag to focus feature in the GH5), and the monitor for everything else. Of course, at this price, don't go expecting things like support for HDR. That's something you'll find in much more expensive field monitors, and honestly if you're a YouTuber it shouldn't really make that much of a difference. If you're a professional cinematographer shooting pro-level videos that need HDR displays and everything else, you'll probably not be looking at an entry-level field monitor anyway.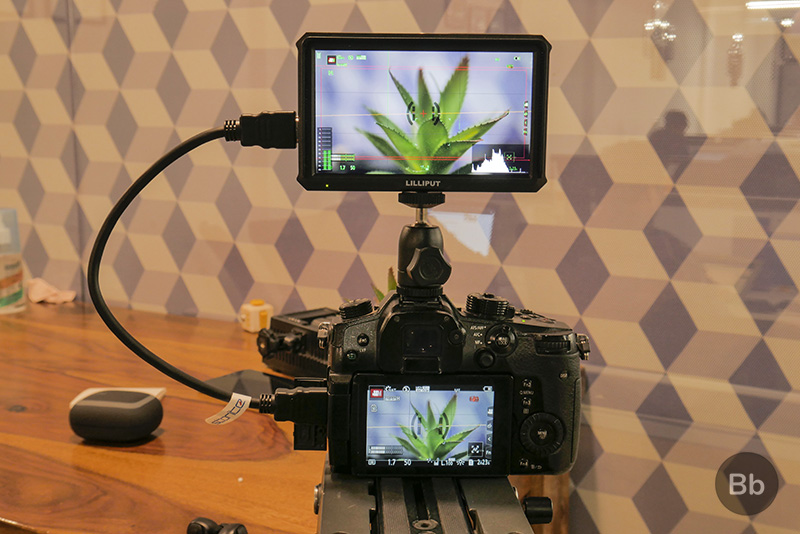 Personally, I like the display on the Lilliput A5, and so does our video team. I've never heard of any complaints from them about the A5's display, and they love using it every single time they can (heck, they were using it to click product images just a while back).
Lilliput A5 Field Monitor: Features
Probably the best part about the A5 field monitor is the fact that it's a very feature rich monitor, and when I asked our video team about it, they were quick to point out that it's one of the most feature packed monitors for the price, which is definitely a great thing. At $122.99, it's obvious that this monitor isn't meant to compete with the likes of the Ninja V, but it does offer really compelling features that you'll not find in most other field monitors in the price bracket.
What we use most often, are the various advanced level features that monitor offers including support for peaking to ensure things are in focus when we need them, audio level meters to monitor the audio level we're getting from our mic, and histograms which I personally can't make sense of but our video team can so they find that pretty useful as well.
Other than that though, there's support for center marker, aspect ratio markers (which is useful if you're shooting in aspect ratios like 4:3 or something else), false colors, exposure, brightness/contrast settings, volume, and a lot more.
Lilliput A5 Field Monitor: Ports and Mounting Holes
The A5 field monitor comes with a bunch of ports on its side and 1/4″ mounting holes on the other three sides so you can mount it whichever way you fancy, depending on your use case. The ports here include an HDMI out port, and HDMI in port, a 12V DC in port, and a headphone jack. Even though the ports are pretty obvious in their use-cases, I'll walk you through what they're meant for anyway:
HDMI Out: connecting to another display for extended screen viewing or other uses.
HDMI In: for connecting the field monitor to the camera.
12V DC: to power the monitor in case you run out of batteries.
Headphone jack: connecting headphones to monitor audio being recorded.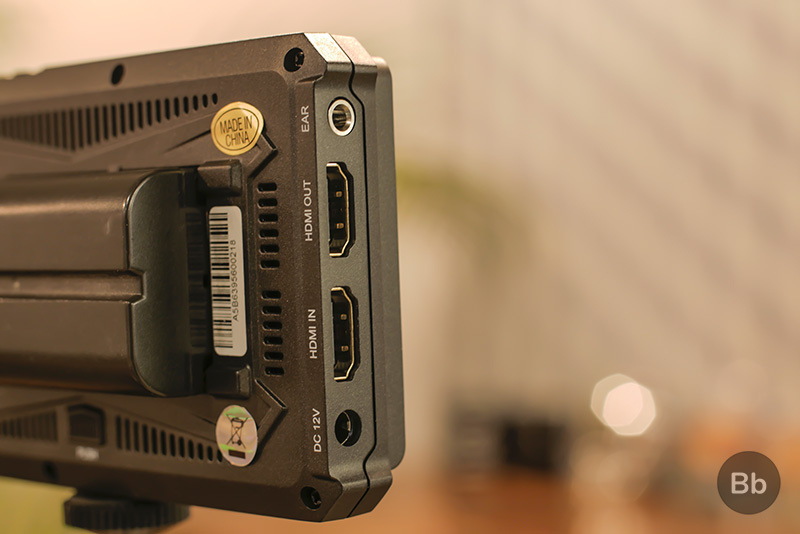 Lilliput A5 Field Monitor: Pros and Cons
So that was basically everything that I had to talk about regarding the Lilliput A5 field monitor, but if you're still on the fence about whether to buy this nifty little camera or not, here's a list of the pros and cons that might help you make up your mind:
Pros:
Value for money
Focus peaking
4K loopthrough
Support for LP-E6 batteries and NP-F970 batteries
Compact and easy to carry
Cons:
No touchscreen
Focus peaking can sometimes be a bit inaccurate
Quality of included sun hood is underwhelming
Lilliput A5 Field Monitor: A Value for Money Product with Awesome Features
Overall, the Lilliput A5 Field Monitor ($122.99) is a value for money proposition filled with some awesome features that are hard to find in other field monitors of this price. Technically, if you're looking for other field monitors in a similar price, there's the Neewer NW759 ($119.99) which is a 7-inch monitor. However, it doesn't have a Full HD display and only supports the NP-F550 battery. There's also the Feelworld FW450 4.5-inch field monitor ($136.99) however that too doesn't have a Full HD display and comes with a 1280×800 panel. It does come with a similar feature set however, so you can consider it if you're looking for a smaller field monitor than the A5. Honestly, the Lilliput A5 Field Monitor is your best bet in this price range, and if you're looking for something much better, you'll have to look at professional solutions from brands like AtomOS, like the Ninja V ($563.29)
Buy the Lilliput A5 Field Monitor from TomTom ($122.99) Use coupon code 'BEEBOM' to get $10 off.