It appears that YouTube is having a hard time tackling the issue of explicit and offensive content on its platform. It was recently discovered that YouTube hosts multiple playlists which are littered with adult content mixed with videos targeted at children, and YouTube was also found serving pornographic ads in the trending videos section. Now a report on the content problem points out YouTube also hosts ton of videos that depict bestiality, and possibly animal cruelty.
BuzzFeed reports that simple keyword searches on YouTube can throw up an expansive list of videos whose thumbnails show women engaging in sexual acts with animals such as dogs and horses.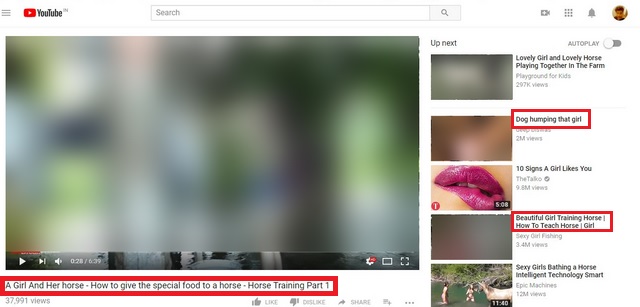 Searching for a keyword like 'girl and her horse' returns millions of search results, with videos featuring thumbnails depicting bestiality mixed with non-explicit thumbnails. The videos themselves do not contain any such objectionable content, and depict normal training, rearing tips and games.
We independently confirmed BuzzFeed's findings and found that videos with animal abuse or bestiality thumbnails are mixed together with toy unboxing clips and other such innocuous content which is clearly meant for kids. The children may not be able to play those videos due to age restrictions, but thumbnails are not age-restricted on YouTube.
While the videos themselves are harmless, they are clearly trying to lure young unsuspecting users for more hits and monetization. And it seems to have worked, as some of the videos had clocked millions of views. We found that such videos were being put up by a whole lot of YouTube channels, and many are targeting Indian users too with Hindi titles and video descriptions.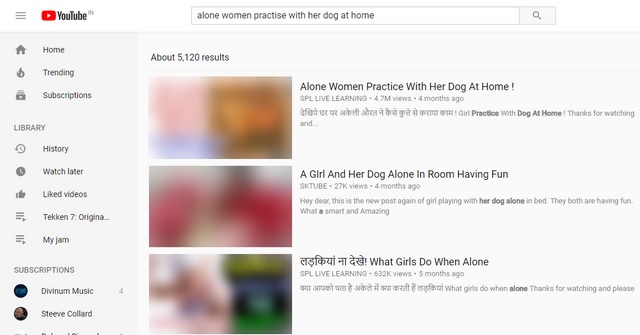 We also came across videos that not only had offensive thumbnails, but had explicit titles and descriptions. Moreover, some videos had thumbnails which were explicitly pornographic in nature, and had nothing to do with the title or description of the clip whatsoever.
When a senior YouTube employee was contacted by BuzzFeed, the employee responded that most of these videos were uploaded by accounts in Cambodia, and that a large number of these were recently removed in a major crackdown.
These images are abhorrent to us and have no place on YouTube.
The spokesperson also pointed that YouTube's thumbnail monitoring algorithm is not as effective as the one that analyses videos for such content, a vulnerability which seems to have been exploited in this case. "We're working quickly to do more than ever to tackle abuse on our platform, and that includes developing better tools for detecting inappropriate and misleading metadata and thumbnails so we can take fast action against them", the employee added.
YouTube has promised in the past that it will impose severe sanctions on channels posting offensive content, but that seems to only cover big channels and renowned creators, while smaller channels are getting away with objectionable content at an alarming rate.
---