YouTube has recently been in the news for all the wrong reasons and it's problems don't seem to be stopping anytime soon. Previously, the company made headlines when a number of VEVO channels were hacked by a group called Kuroi'SH & Prosox. Following that, we discovered that the channel search on the platform was broken and was redirecting users to a different channel.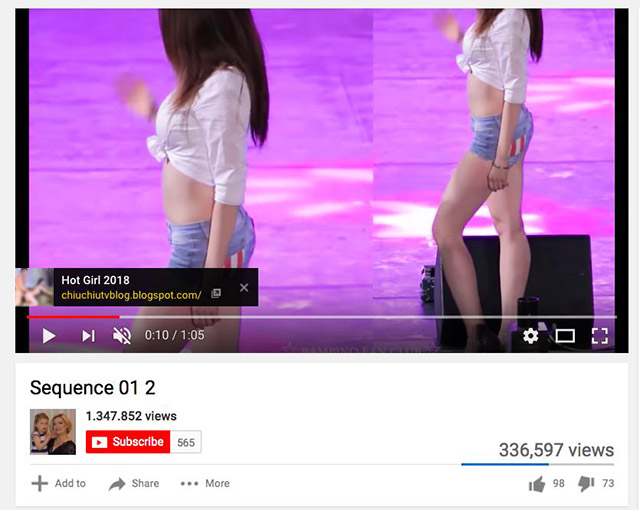 Now, the company is in the news for serving porn ads on trending videos. According to a recent report from Motherboard, a number of Twitter users and YouTubers have complained that a porn ad shows up before videos on popular YouTube pages, including Pewdiepie, Markiplier, and Dude Perfect. The ad shows a woman dancing and features a link on the bottom left called "Hot Girl 2018".
While the auto-playing ad itself isn't pornographic, the link that pops up alongside features an objectionable image. Motherboard tracked down the ad to a YouTube channel called "1.347.852 views" which hosts four videos of the same woman dancing and has an avatar of a woman holding a child. The auto-playing ad has been uploaded on the channel, titled "Sequence 01 2".
The video currently has around 300,000 views and the link in question, which pops up when the ad starts playing, redirects to a CamSoda-branded webcam model page. A number of people on Twitter have shown their concern regarding the explicit ad. When contacted regarding the ad, YouTube told Motherboard that:
"We have clear policies against ads featuring graphic adult content. When we become aware of an ad that violates our policies, we immediately remove it and take appropriate action, including, and up to, suspending the responsible account."
The offending channel has since been removed from the platform, including the auto-playing ad videos. The company has also provided disgruntled users with a link to the AdWords troubleshooting page where they can provide feedback for ads displayed on the platform.
---