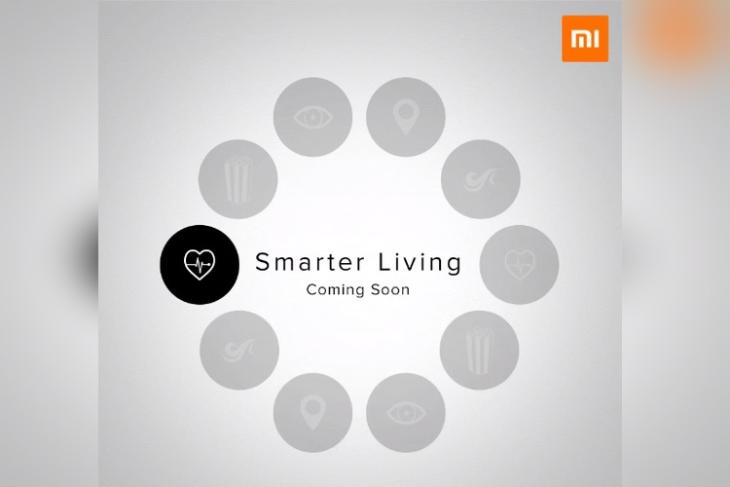 Xiaomi is looking to expand its portfolio of smart home appliances and wearables in India by launching multiple new 'Smarter Living' products. The official @XiaomiIndia twitter handle posted a new tweet accompanied by a GIF yesterday, which indicates that the company is gearing up to launch 5 new products in India.
The GIF contains 5 icons, each supposedly signifying a new product category set to arrive soon in India. While some of the symbols are a bit ambiguous, others are quite obvious. For example, the heart symbol with an ECG drawing indicates a device which can help measure heart rate, something which the new Mi Band 3 is capable of.
Not just one or two! Can you guess 'em all? #SmarterLiving Coming soon. pic.twitter.com/dJmRGBBUsb

— Mi India #SmarterLiving2022 (@XiaomiIndia) September 17, 2018
Back in June, a source told Beebom that the Mi Band 3 could come to India in the last week of July or the beginning of August. Even though Xiaomi is yet to launch the Mi Band 3 in the country, it now appears that the fitness band is finally ready to hit the Indian market.
As for the other products teased by Xiaomi, the popcorn icon suggests that a new entertainment device, possibly a new Mi LED TV or a projector are set to arrive in India. Another icon, which depicts air flow, indicates that Xiaomi might also launch a new Air Purifier in the country.
The 'eye' icon is indicative of a surveillance device, which suggests that a smart home camera, possibly the Mi Home Smart IP camera or the Yi CCTV camera might be launched in India soon. As for the location symbol, we are not entirely sure which product it represents but it might well turn out to be a location tracking device. We'll keep you updated with more details once Xiaomi reveals more information about these products.