Xiaomi is best known for its budget phones in the Indian market but the company has been stepping foot in all different sorts of categories, including lifestyle products. Yes, as you must know from our YouTube videos, we recently went to China and at the Mi Store, we came across the really cool Mi Travel Backpack ($49.99, Rs 2,049). Xiaomi already sells a trio of its backpacks in India, but the Mi Travel Backpack is yet to make a debut here. I have been using this backpack for the past week and here's my experience with the Mi Travel Backpack:
Mi Travel Backpack Specs
Before we talk about my experience and opinions, here's a quick look at the key specs of the Mi Travel backpack:
| | |
| --- | --- |
| Dimensions | 12.8 x 7.09 x 17.52 inches |
| Weight | 2.6 pounds (1.2kg) |
| Capacity | 26 litres |
| Fabric | 650D Oxford Cloth (exterior), Polyester lining (interior) |
| Water Resistant | Yes |
| Pockets | 11 |
| Color | Charcoal Black |
| Price | 199 yuan |
Design And Build Quality
Right off the bat, you will notice that the Mi Travel Backpack sports a premium build and does not compromise on the quality in any way. Even though this travel backpack is a lot cheaper than its competitors (thanks to Xiaomi's honest pricing), you will find that the Mi Travel Backpack is equally as good as any other backpack you would fancy bringing with you around the country.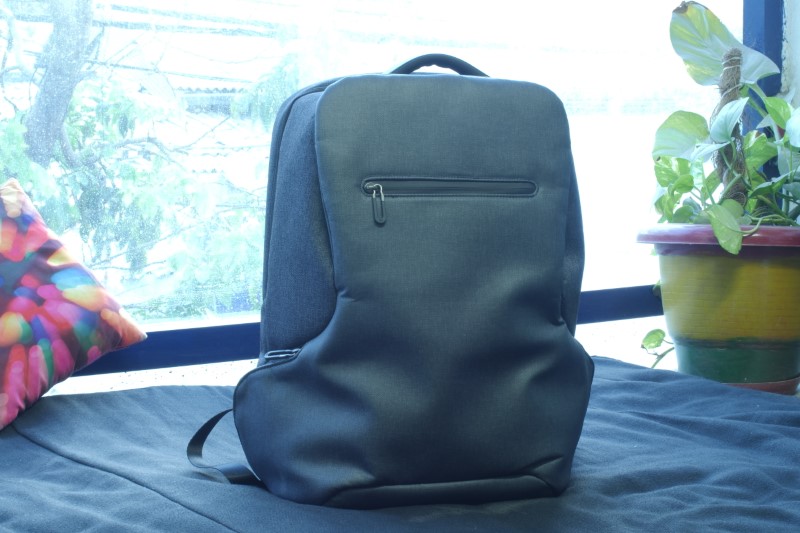 When you take a look at this backpack, you see that it has a charcoal-like color and a curvaceous design, where its front gives it sort-fo an hour-glass-style aesthetic. There's a tiny zipper on the front (which is also uber-premium and strong), with the curves leading to the 2 side pockets as you move towards the bottom of this backpack.
There are 2 main compartments, with zippers, in this bag that are accessible from the top but we'd elaborate on it in the storage section below. The backpack has been built using a couple of different materials, with the front being a lot more glossier as compared to the rugged denim-like feel of the rest of the backpack. The outer is water resistant while the internal is lined with polyester.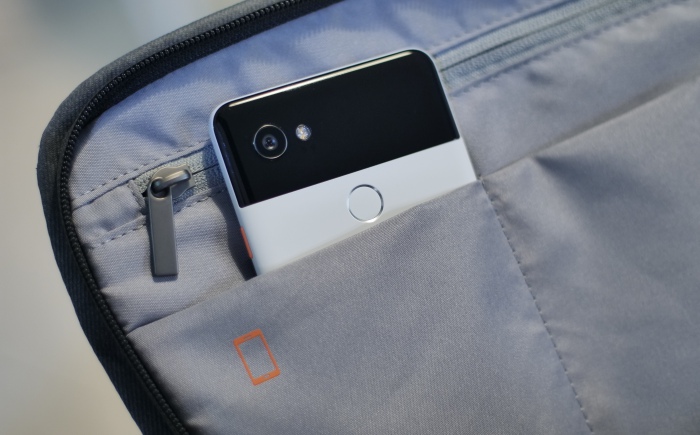 The rear of the backpack, as well as shoulder straps, are both well-padded and it makes carrying around the Mi Travel Backpack a joy for anyone who owns it. I've loved carrying the bag every day with me in the metro and bringing it to the office. There's also a large horizontal strap on the backpack's rear, which can be used to prop it on top of a suitcase with trolley wheels and a handle.
There are a number of thought-out features in this backpack, which show that Xiaomi has kept the convenience of the user in mind while designing it, which is how I'd like to sum up this backpack.
While the Xiaomi Mi Travel Backpack can stand upright once you balance it on its bottom, Xiaomi could've added support feet to further ease the process. This is the same feedback we doled out for the messenger camera bag as it is maybe a small thing, but it matters in the overall experience.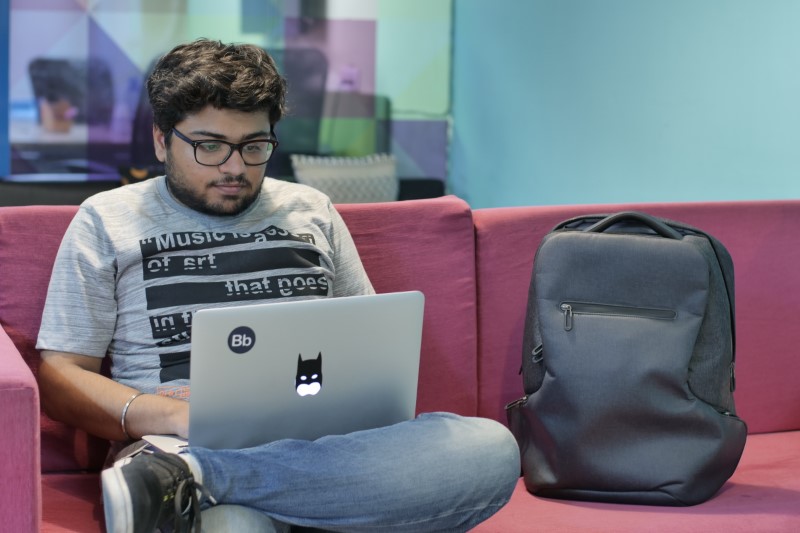 I really like this design decision from Xiaomi as it gives the backpack some character but I do have a minor qualm against it as well. The curve adds a lot of creases to the front and that looks kind-of shabby at times, which can easily be fixed by stuffing the bag with a lot of stuff. Xiaomi, however, could've kept this in mind and added a wire-frame to give their backpack's front some added support.
Storage
Well, let me say this, for you to think that you would run out of storage space on your trip with this bag is a huge NO. The Mi Travel backpack has 11 storage compartments in total, so I think that Xiaomi has you covered on that front. Let's start at a point and cover all the sections in this backpack.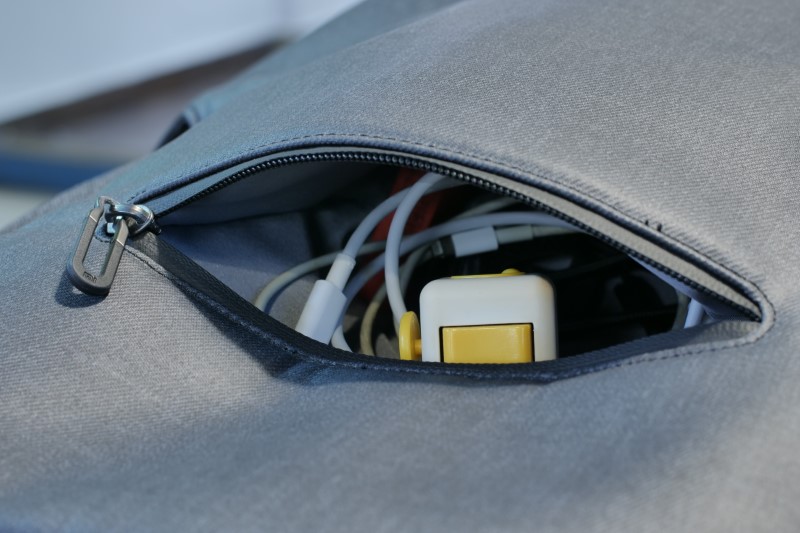 Starting from the very front, you have a tiny but spacious zipper pocket that can be used to hold your mints, sanitizer or loose change. You can even store tiny accessories like the fidget cube or charging cables, but there's enough space for that inside this backpack. So, let's take a peek at all the compartments on the inside.
When you open the main compartment, you will be overwhelmed by the total number of pockets (six, to be precise) that you can use to store all different kind of goodies. You're first going to see the huge space in the middle that can be used to store chargers, wired headsets or camera gear. I was able to carry the Panasonic Lumix G77 and a couple odd lenses in this space with ease.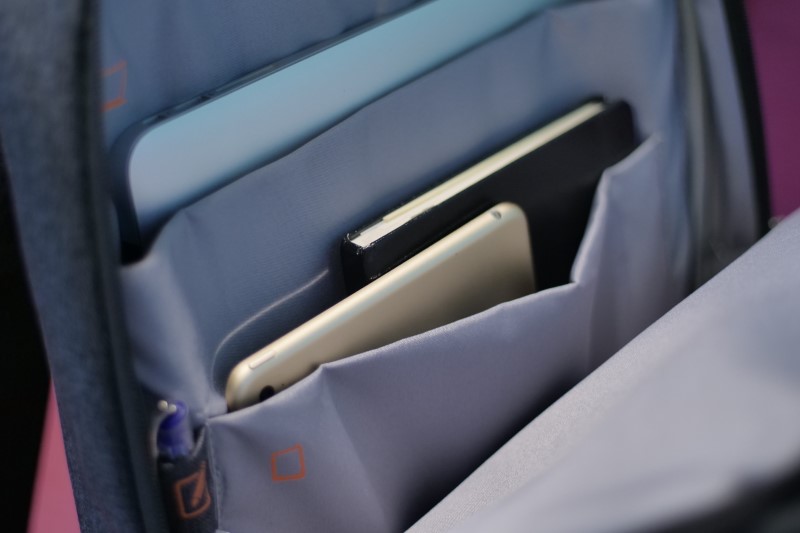 You've then got a zipper pocket on either side of this compartment, where you can stuff small memorabilia or pens to keep them handy at all times. There are 2 pockets under the zipper on the front, which you can use to store either an additional phone or two (if you're planning to travel to foreign lands) or business cards exchanged on the trip.
And finally, you have a hidden zipper compartment on the back, which you can use to store your files or important papers that you want to keep away from others and carry them around securely.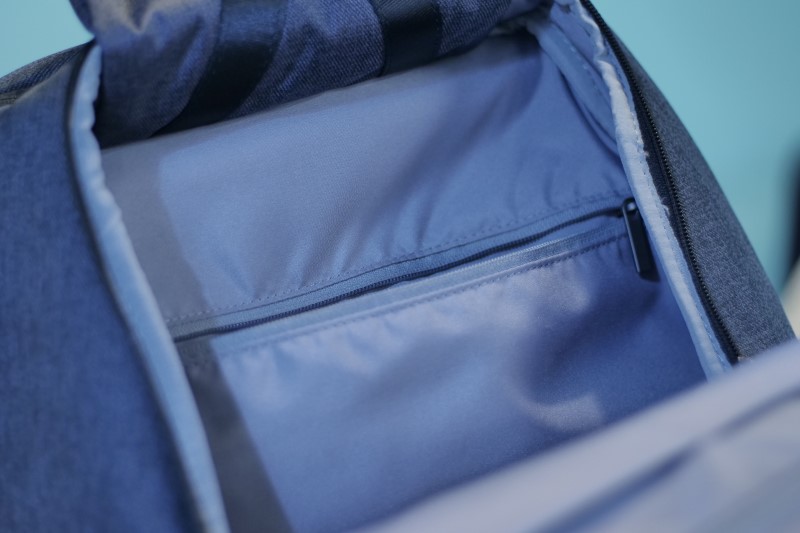 The second compartment, as one would expect, is for holding the laptop. You can easily place any 15.6-inch laptop (even some huge gaming laptops) in the Mi Travel Backpack, with notebook or tablets (like my iPad) in the pocket in front of the laptop compartment. Xiaomi has made a nifty addition and marked everything for you, providing you instructions for where to place your stuff in this backpack.
Now that we've covered almost everything else, let's turn our attention to the side pockets – which are an important part of the Mi Travel Backpack's aesthetic. Either of these two pockets can be used to store cables and dongles for your laptop and smartphone, but the left one has some extra lining so you can use that to store your lens filters or SSD as well. I was mostly using it to carry around extra charging and data cables.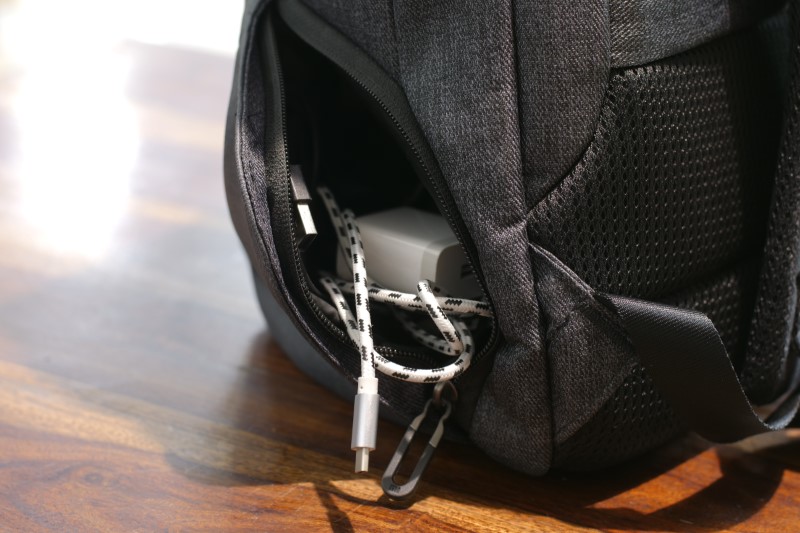 Gear Protection
As for the protection of the gear inside, I'm very well satisfied with the overall padding of this backpack. Xiaomi has done an outstanding job of providing the users with a padding inside the bag where is it needed and you wouldn't feel that your laptops or camera gear are in any sort of danger.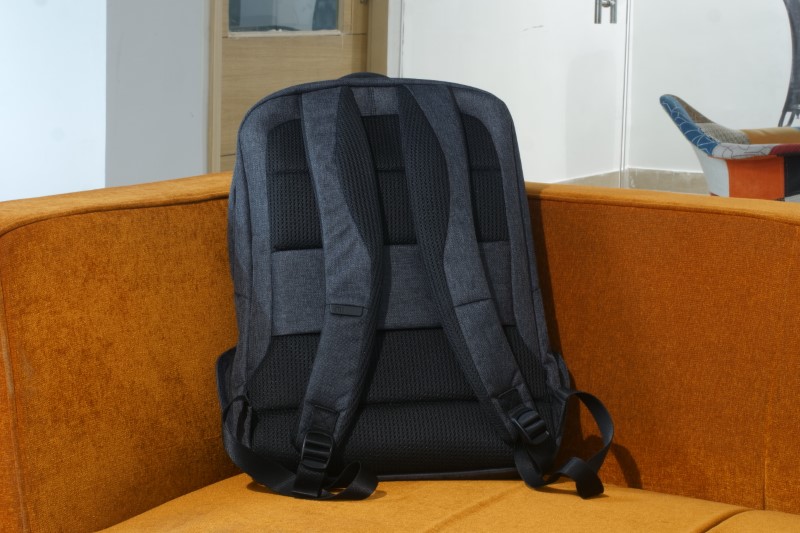 The laptop compartment is padded quite well on both ends, which means the laptop can comfortably survive a bump or 2 while you casually carry the bag around — either via the shoulder strap or cushioned handle on the top.
The materials used in the Mi Travel backpack are also water resistant, which sure means that you don't even have to worry about rushing off to shelter during monsoons in India. I believe all your gear would rest snugly in this travel backpack and you can carry it around with a peace of mind.
User Experience
Now that you have learned everything there is to know about the Mi Travel Backpack, let us talk about how I truly adore this backpack and feel that it could suffice anybody's need even if they don't have a lot of stuff to carry around.
Xiaomi's travel backpack, which is designed for professionals, is quite lightweight and did not feel like a chore to carry around during the day, be it at a photoshoot, at a product launch or normal day-to-day work at the Beebom office.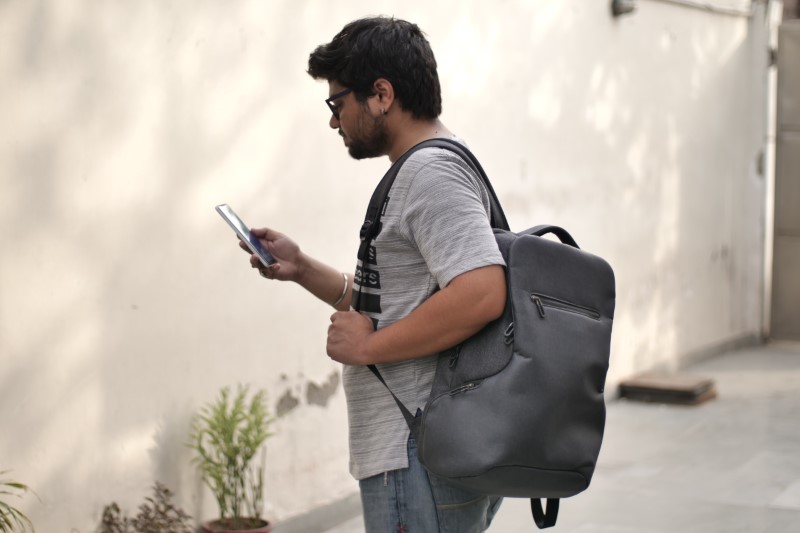 I usually carry around the backpack on my left shoulder, however, the Mi Travel Backpack has one of the most comfortable shoulder straps such that it didn't dig into my shoulder at any time. There's no major qualm I have against this backpack but we cannot comment on the wear and tear (aging) of the backpack as we'll only be able to discern the same over a prolonged period of usage.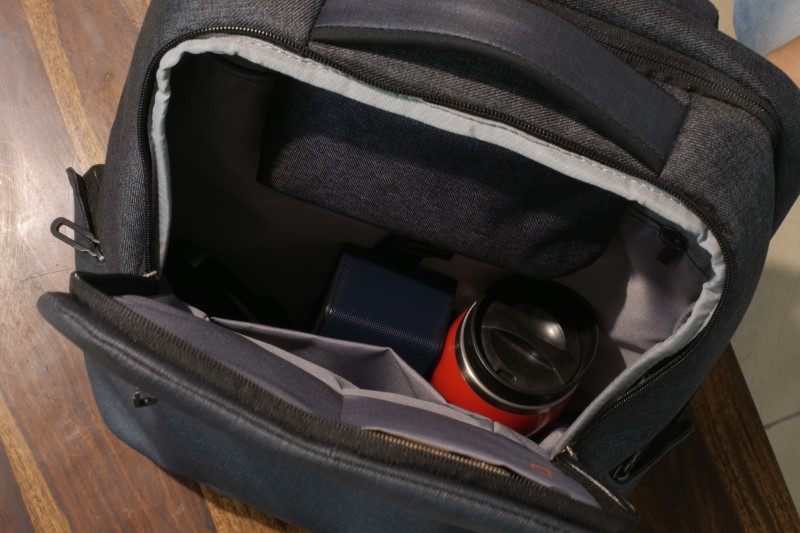 Xiaomi Mi Travel Backpack: It Doesn't Get Better Than This
The Xiaomi Mi Travel Backpack, for me, has turned out to be the perfect companion for most of my product launch trips. There's a lot (I mean, a LOT) to like in this lightweight and comfortable travel backpack, with almost nothing that you'd despise here. At least I didn't find any negative quirks that would turn me away from purchasing this backpack.
If I had never gotten my hands on the Mi Travel Backpack, I wouldn't have believed that you could get a durable gear backpack at such an affordable price. There are many popular backpack brands such as Incase, whose Icon backpack ($129.95) is what many swears by in the tech community.
The Icon backpack would provide you the same quality and comfort but it costs almost 3 times the Mi Travel Backpack, which only further proves it worth – and my point that it's the best backpack in its price segment. You can find backpacks from unknown companies but Xiaomi is a known brand that a lot of people swear by. Here's a recap of what's good and bad with this backpack:
Pros:
Premium build
Use of water-resistant material
An immense amount of space
Well-padded on all sides
Cons:
Curved design could've been better
Lack of support feet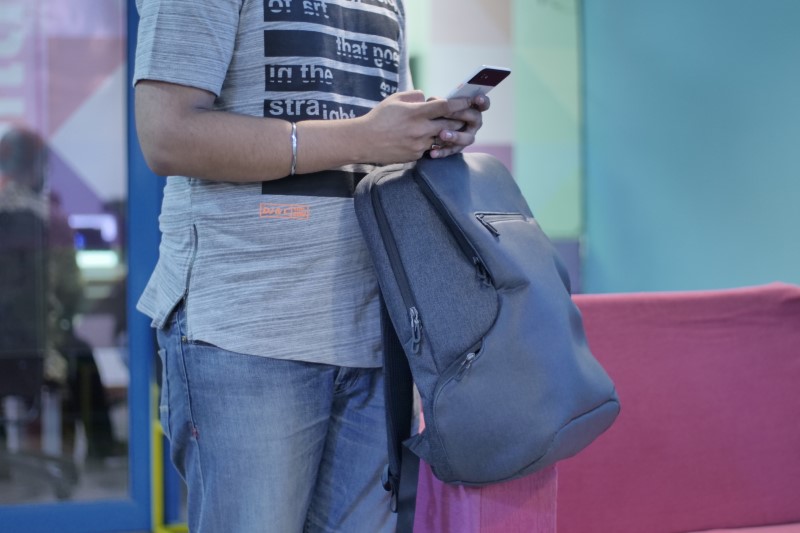 SEE ALSO: Mi Gaming Laptop Review: The Budget Gaming King You Probably Can't Buy!
Xiaomi Mi Travel Backpack Review: Satisfaction At An Affordable Price
I cannot stress this enough. Xiaomi might be well-known for selling premium phones at a budget, however, the Chinese giant is now also looking to carve a niche for itself in every other product segment as well. The Mi Travel Backpack is the perfect example of Xiaomi's determination to bring you the best of products at affordable prices.
Our video team at Beebom is extremely happy to have the Mi Travel Backpack be the new companion for their trips to events across the globe as I part ways with this wonderful bag that I may need to purchase one for myself as well. What opinions have you formed of the Mi Travel Backpack over the course of this review? Let us know in the comments below.
Buy Mi Travel Backpack from Gearbest ($49.99, Rs 2,049)
REVIEW OVERVIEW

Design And Build Quality

8.5

SUMMARY

For an affordable price of $50, the Mi Travel Backpack is one of the best companions you can find for your business trips around the globe. This backpack is quite sturdy, can carry a ton of stuff, protect them from adverse weather conditions and provide you the comfort that you deserve during a journey.