Xiaomi launched the Mi Gaming Laptop earlier this year in March, much to the surprise of Xiaomi fans worldwide who weren't expecting a gaming laptop from the company. At first glance, the Mi Gaming Laptop doesn't even look like a gaming laptop at all, due to its clean MacBook-esque looks and lack of any "gaming" branding. However, as soon as you power on the device, you're greeted by a four-zone RGB keyboard and ambient RGB light strips on the sides which give the laptop its gaming aesthetic. Honestly, the moment I laid my eyes on the laptop, I fell in love with the overall design and build quality.
In its signature style, Xiaomi has designed this laptop with a premium look and feel, while keeping it as affordable as possible. Before we even delve into the review, I'd like to make it very clear that this is, by far, the best budget gaming laptop you can get your hands on today. However, you'd have to rely on a Chinese eCommerce platform like Gearbest ($1,099) to get it. In case you disagree, read on to find out what exactly makes the Mi Gaming Laptop the budget gaming king:
Mi Gaming Laptop Specifications
For the purpose of the review, I tested the base model of the Mi Gaming Laptop which ships with a 7th Gen Intel Core i5-7300HQ processor coupled with a Nvidia GeForce GTX 1050Ti graphics card and 8GB of RAM. This variant of the Mi Gaming Laptop fits perfectly in the budget segment, offering a great budget GPU, a CPU which is powerful enough for gaming and a decent amount of RAM. Here's a quick rundown of all the hardware packed in this compact laptop:
| | |
| --- | --- |
| Dimensions | 14.3" x 10.4" x 0.82" |
| Processor | 7th Gen Intel Core i5-7300HQ @2.5GHz |
| Memory | 8GB DDR4 @2400MHz |
| Storage | 128GB SSD + 1TB HDD |
| Display | 15.6" FHD Matte (1920x1080), 72% NTSC color gamut |
| Graphics | Nvidia GeForce GTX 1050Ti with 4GB GDDR5 |
| I/O | 1x USB Type-C, 4x USB 3.0 Type-A, 1x HDMI (v2.0), 1x 3.5mm headphone jack, 1x 3.5mm mic-in, 1x SD card reader, 1x RJ45 ethernet port |
| Networking | Gigabit Ethernet, 802.11ac Dual Band WiFi, Bluetooth v4.1 |
| Battery | 55Whr |
| Weight | 2.7 kg |
| Price | 5,999 Yuan (~Rs. 62,570) |
Design & Build Quality
As I mentioned earlier, the Mi Gaming Laptop has a very understated design, with clean edges and no "gaming" branding whatsoever. The laptop looks a lot like a bigger version of a MacBook Pro and also resembles the Razer Blade gaming laptop. The laptop has a metal lid and frame, but the bezels around the screen, the palm rest and the bottom are made out of plastic, presumably to reduce the laptop's overall weight. There's absolutely no branding on the outside and the laptop only has a small 'Mi' logo in the center of the bottom bezel. Even though the logo is made up of a glossy material, it's hardly visible and I really like Xiaomi's decision to keep it simple.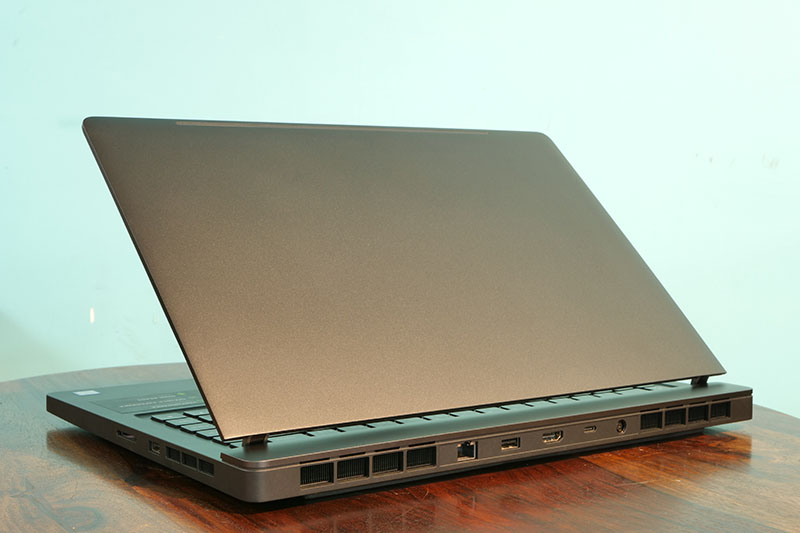 The laptop's screen and chassis feel very rigid and premium, with no flexing or wobble at all. The hinges connecting the display to the bottom half of the laptop look amazing and it's fairly easy to lift the display with just a finger. The laptop has very thin top and side bezels, which has allowed Xiaomi to include a 15.6-inch display in such a small form factor. Another thing I really liked about the laptop is that the matte finish on the metal and plastic parts barely ever smudges and even if it does, it's very easy to clean it with a microfiber cloth. When it comes to the design and build quality, the Mi Gaming Laptop far surpasses any other gaming laptop in this price range and it's one of the most premium feeling laptop I've used to date.
I/O & Connectivity
The Mi Gaming Laptop doesn't disappoint when it comes to I/O. The laptop has everything you'd look for in a gaming laptop of this caliber, including a USB Type-C port, four USB 3.0 Type-A ports, an HDMI (v2.0) port, a 3.5mm headphone jack, a 3.5mm mic-in jack, and an SD card reader. It's great to see that Xiaomi hasn't included any slow USB 2.0 ports, which are still found on a number of budget gaming laptops today.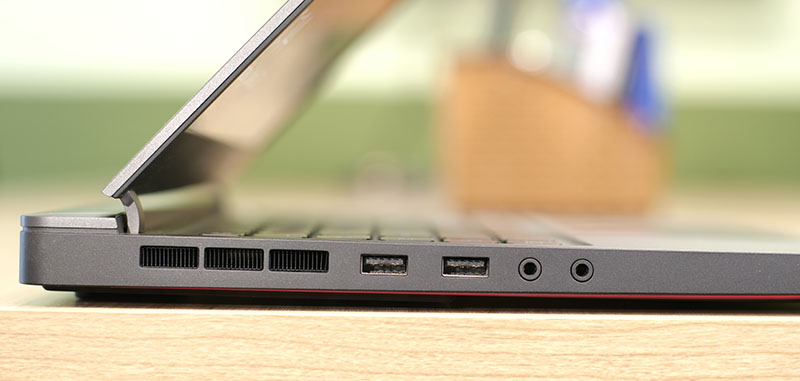 The I/O ports have been neatly distributed around the left, right and rear edges of the laptop and they're well spaced out so you'll never run out of space, even if some your peripherals have a weirdly large USB connector.
I'm also quite impressed by the inclusion of a dedicated 3.5mm mic-in jack, as most laptops in this price segment include a 3.5mm headphone/microphone combo jack.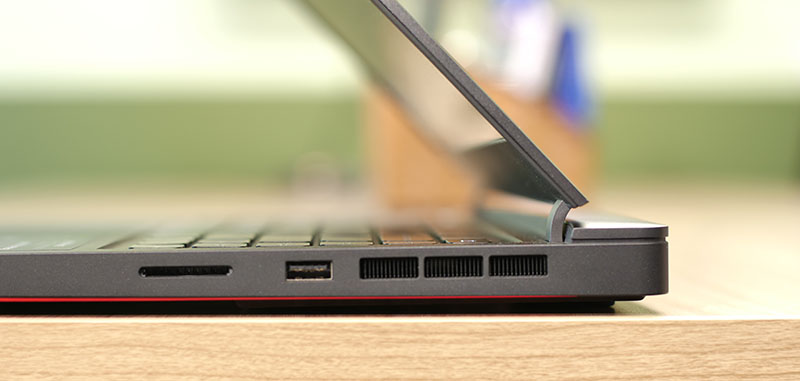 Since the notebook is meant for gamers, it also includes an RJ 45 gigabit Ethernet port for wired connectivity and 802.11ac dual band WiFi for wireless connectivity. The Mi Gaming Laptop also comes with Bluetooth v4.1, which is a slight disappointment, since most laptops these days come with Bluetooth v5.0 support. All in all, the Mi Gaming Laptop has plenty of ports and a decent connectivity suite, so you wouldn't have to worry about living the dongle life at all.
Display
The 15.6-inch full-HD 1080p display on the Mi Gaming Laptop is pretty great for the price – it gets reasonably bright (up to 300nits). it covers 72 percent of the NTSC color gamut, so color reproduction is pretty accurate, and the display also has great viewing angles. The matte finish on the display serves well to reduce any screen glare and outdoor visibility at max brightness is pretty decent.
Even though the display doesn't boast of high refresh rates or exceptional pixel response times, it's brilliant for the price and it's perfectly suited for both gamers and casual users. I couldn't help but notice that the display panel has a slight blue tint when it's powered on for the first time, but that's something which can be easily fixed by some post-purchase calibration. While you'll easily find other laptops with better displays in the market, if you factor in the price, there's no other budget gaming notebook that can compete with the display on the Mi Gaming Laptop.
Audio
Despite the budget price, the Mi Gaming Laptop packs in one of the best speaker system on a laptop I've come across until now. The laptop has dual downward firing 3 watt speakers placed on the bottom panel towards the front edge of the display. The speakers, which come with Dolby Atmos certification, can get fairly loud and the sound output is crisp, with clear highs and punchy lows. If you're worried that the speakers might get muffled if you place the notebook on your lap, then you can rest assured, as the notebook gets so loud that you'll be able to hear everything clearly even if you accidentally cover the speaker grills.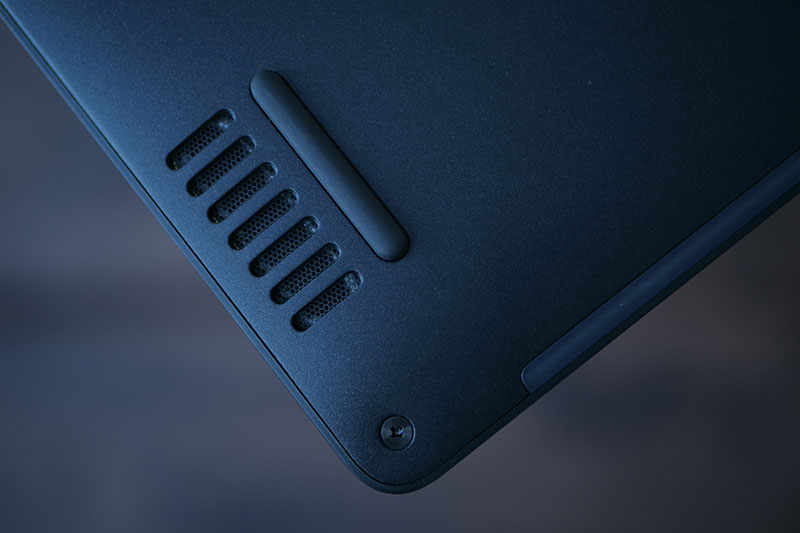 Up until now, I believed that my Dell Inspiron 7567 had the best speaker system in the budget segment, but the Mi Gaming Laptop has once again proven me wrong. Audio quality via the headphone jack is also top notch and you'll have no problems discerning your enemy's footsteps even in the loudest of environments. In my opinion, the Mi Gaming Notebook offers the best audio quality on a notebook by far.
Keyboard
The Mi Gaming Laptop has a fairly decent membrane keyboard with four-zone customizable RGB lighting, which can be customized using the bundled Mi Gaming Box software. The keys are well spaced out and have substantial key travel, making typing an enjoyable experience.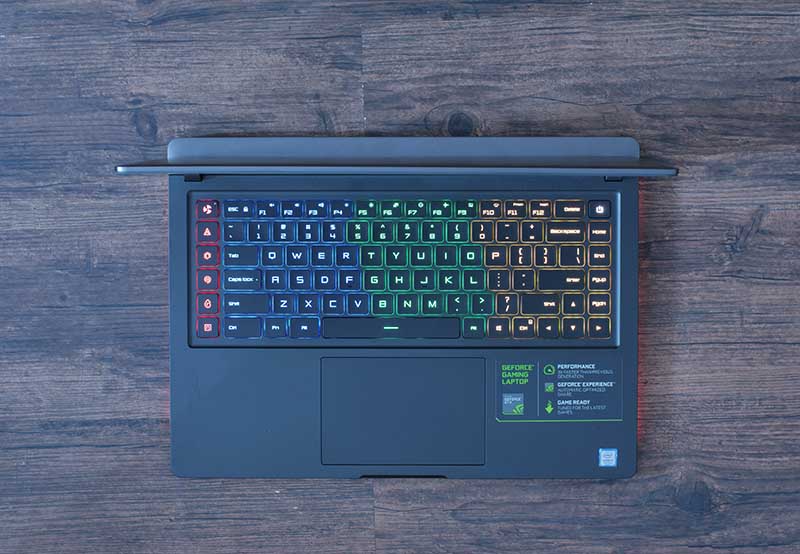 However, Xiaomi has made a couple of sacrifices with the keyboard in order to go with the compact design. The keyboard on the Mi Gaming Laptop lacks a numpad, which isn't too much of a big deal for me, but might be an issue for some people out there.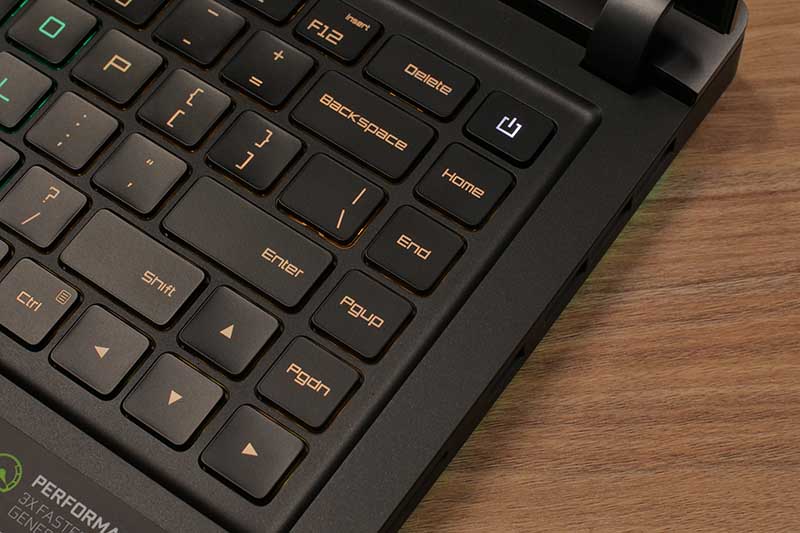 Another problem that I had with the keyboard is the placement of the macro keys. Instead of placing the macro keys at the top or on the right side of the keyboard, like most other manufacturers, Xiaomi has positioned the macro keys in a column on the left side of the keyboard.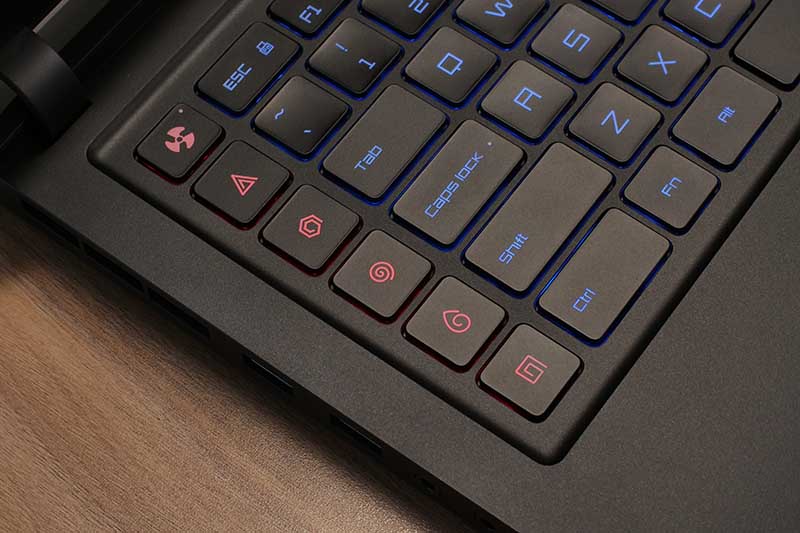 This took a fair bit of getting used to, as I kept on pressing the wrong keys while typing. It would've been better had Xiaomi had included a discernable marker to separate the main keyboard and the macro keys, but unfortunately that isn't the case. The macro key placement is only annoying when you first start typing on the Mi Gaming Laptop and it just took me a couple of hours to get used to the design.
Trackpad
Coming to my favorite component on the Mi Gaming Laptop – the trackpad. The device has a large glass trackpad which easily compares with the ones found on Apple's MacBooks. Tracking is smooth and precise, the trackpad recognizes gestures accurately and the overall tracking experience is quite fluid. The trackpad is so good that I can safely say that I haven't used a better trackpad on a Windows device till date.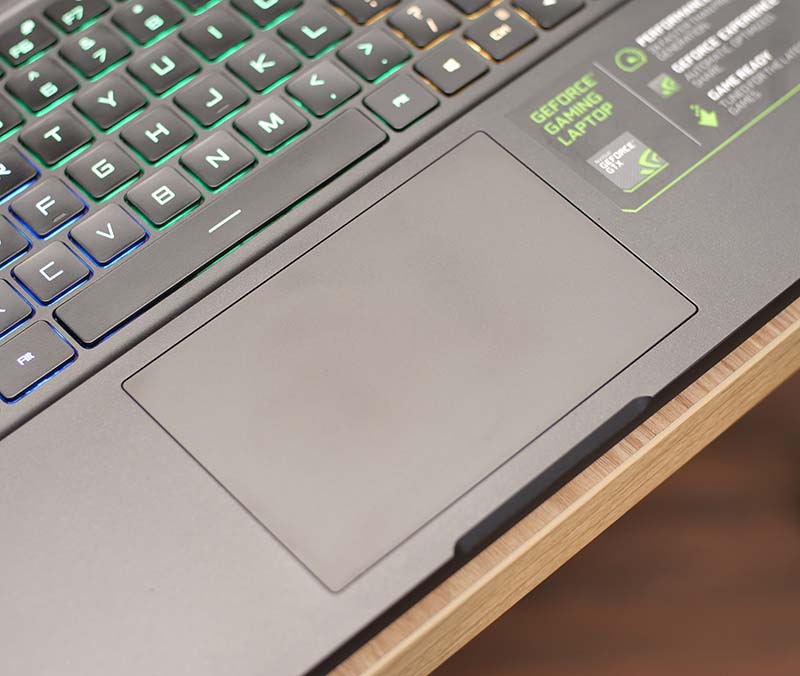 The trackpad on the Mi Gaming Laptop comes with Windows Precision Drivers, which further improve its performance and I have absolutely no qualms when it comes to tracking. However, the placement of the trackpad could be a bit of an inconvenience for someone with large hands. Since the trackpad is quite large and it isn't placed directly in the center of the palm rest, I often found my cursor moving around while typing as my left hand touched it when I reached for the spacebar. But since this is a gaming laptop, more often than not you'd be using it with a mouse and you can easily disable the trackpad while doing so.
Performance
Coming to the part of the review that you've probably been waiting for. How does the Mi Gaming Laptop perform? Is it worth the hype or is it just another glorified Xiaomi product? In order to answer these questions I tested the laptop intensively by running synthetic benchmarks and a few popular games.
Benchmarks
The Mi Gaming Laptop performs just as you'd expect a budget laptop to perform while running synthetic benchmarks. The laptop posts decent results, getting 87.2 fps in Cinebench R15's OpenGL test, 2,353 in 3DMark Time Spy, and 3,834 in PCMark 10.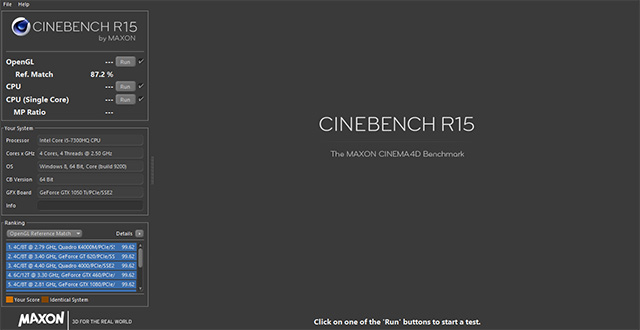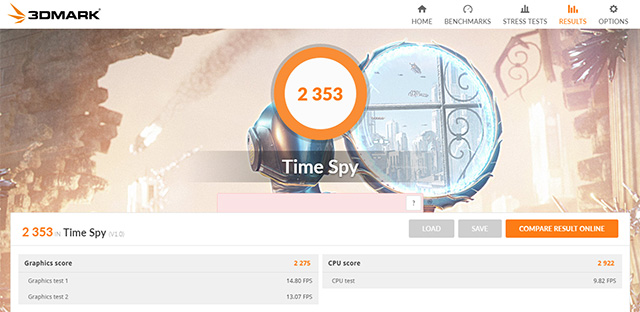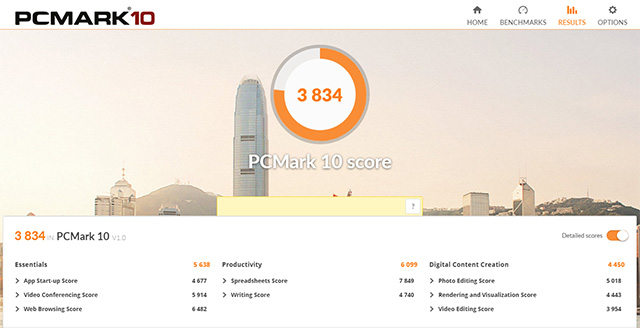 The scores are at par with, and in some cases better than, what you'd expect from a gaming laptop with the same configuration. The scores highlight that the laptop doesn't make any sacrifices when it comes to performance and the included thermal solution successfully prevents overheating and thermal throttling.
Gaming
Coming to the gaming performance, the Mi Gaming Laptop performs as expected and powers through most game without a hitch. The laptop was able to run all popular games at maximum settings, without any stutters or frame drops. It's worth noting that games usually pick the lowest possible setting when you run them for the first time, possibly to ensure the best performance, but you can crank up with graphics settings and still manage to achieve a comfortable 60 fps even in the most demanding titles.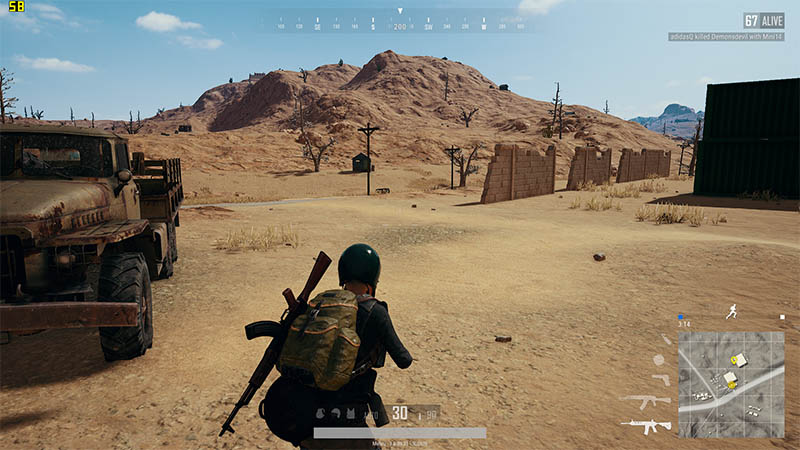 I played a couple of games on the Mi Gaming Laptop, ranging from lighter eSports titles like Counter Strike: Global Offensive to more demanding titles like the popular PlayerUnkown's Battlegrounds and I was pleasantly surprised by the laptop's performance. In PUBG, I was easily able to get an average of 58 fps at the highest settings with V-Sync and Motion Blur turned off. The framerate counter rarely dropped below 50 fps and I didn't experience any frame drops, even during intense gunfights.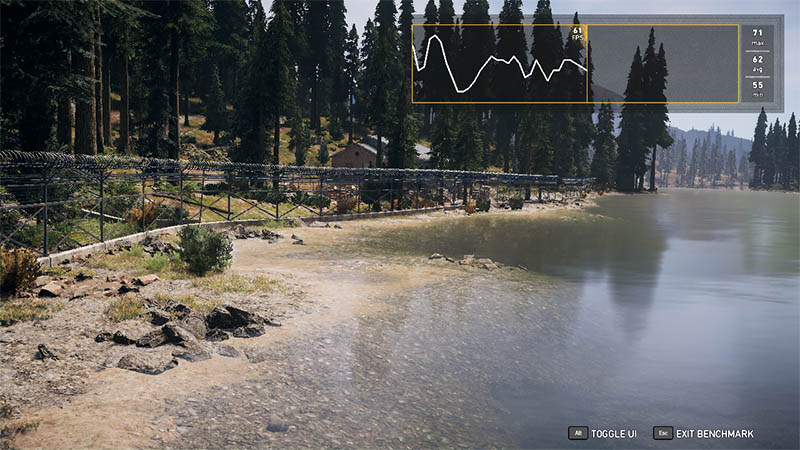 When I first ran Far Cry 5, I was disappointed to see that the game had automatically selected the lowest possible graphical settings for this system. But when I ran the benchmark on the low settings, I was pleased to see the laptop posting an average framerate of over 80 fps. So I went ahead and cranked the graphics settings to ultra and I was easily able to get an average frame rate of over 60 fps, which occasionally dropped down to 55 fps. In my opinion, the numbers posted by the Mi Gaming Laptop are quite impressive and I wouldn't think twice before recommending it to anyone looking for a gaming laptop on a tight budget.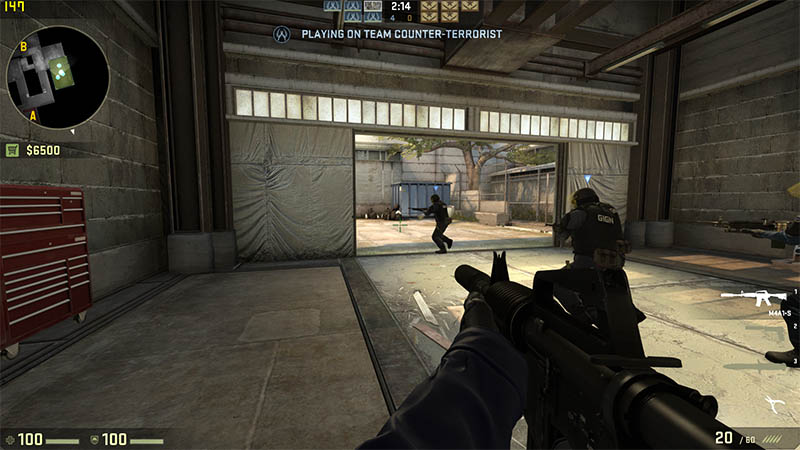 The laptop powered through less demanding eSports titles like League of Legends and CS: GO, easily breaking the 100 fps barrier on both titles. The Mi Gaming Laptop posted an average of 120 fps in League of Legends at high settings and an average of 140 fps in CS: GO at high settings. In my opinion, if you're in the market for a gaming laptop to play eSports titles, then there's no better option than the Mi Gaming Laptop. Since the laptop only has 8GB of RAM, you'd face some issues while multitasking, but since it comes with an empty RAM slot you'll be able to add another 8GB stick if you face any issues.
Thermals
The Mi Gaming Laptop features a great thermal solution with two fans and a five heat pipes that easily manage to keep the device cool, even during long term use. The laptop didn't get hot to the touch even after gaming for over an hour and I could barely feel any heating unless I placed it on my lap. The efficient cooling is a result of the massive intake grill on the back of the laptop, which allow the fans to pull in air to keep the CPU and GPU cool.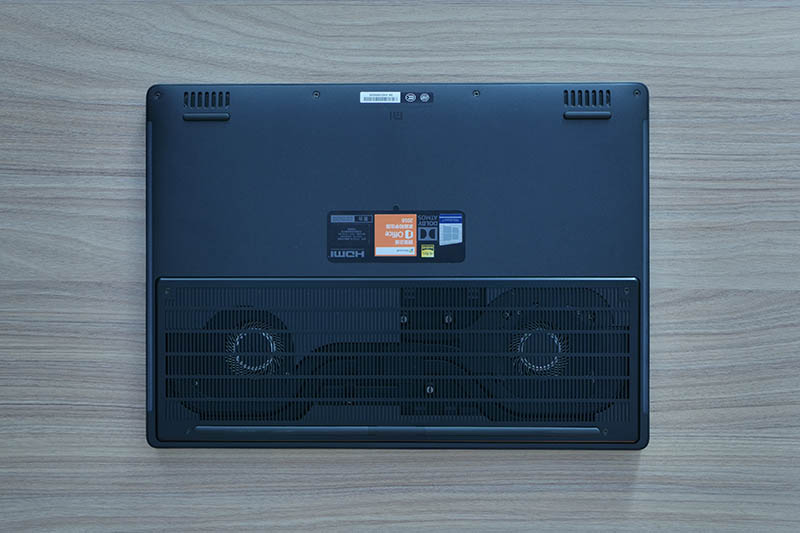 I do have concerns about dust accumulation, since the laptop is pretty much open on the back, but that can be easily fixed by using a can of compressed air. The hot air is exhausted from the vents on the sides and back of the device, so you wouldn't feel any heat build up on the palm rest.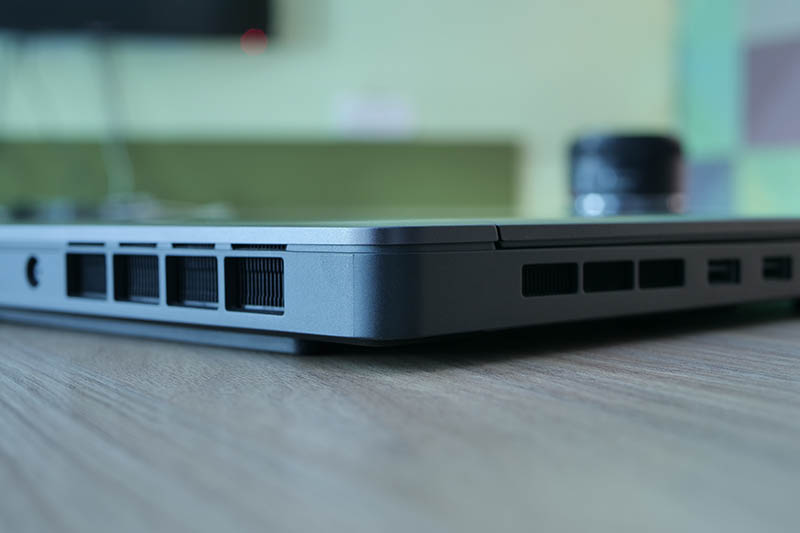 The laptop has a dedicated fan boost button in the top left of the keyboard, which significantly boosts the cooling performance and prevents any thermal throttling. It's worth noting that the fans can get quite loud under heavy load, so if that's something which bothers you, the Mi Gaming Laptop isn't meant for you.
Battery Life
The 55Whr battery on the Mi Gaming Laptop is just about average and can power the laptop for quite a while, provided you don't play any games. At 50 percent brightness and a light workload, the Mi Gaming Laptop lasted me well over 4 and a half hours, which is decent, considering most other laptops in this price range are barely able to make it to the four hour mark.
However, that doesn't mean that the Mi Gaming Laptop has exceptional battery life. Much like other gaming laptops, you'd be required to carry your charger with you wherever you go and if you want to play games, you'd best connect to the wall outlet. So if you're looking for a laptop which you can carry around, without worrying about running out of battery, you'd be better off with an ultrabook or perhaps even a MacBook.
Mi Gaming Laptop Review: Budget Gaming Can't Get Better Than This
Pros:
Premium build quality
Brilliant display
Amazing trackpad with Windows Precision Drivers
Well optimized thermals
Great speakers
Cons:
8GB RAM
Average battery life
Fan noise
Availability
See Also: Alienware 15 R3 (2017) Review: Hits the G-Spot for Gaming
Mi Gaming Laptop Review: Definitely Worth the Money
Priced starting at 5,999 Yuan (approximately Rs. 62,570), the Mi Gaming Laptop is undoubtedly the best budget gaming laptop in the market right now. It has a great minimal design, the best trackpad on any Windows device out there, decent performance and a brilliant display. However, since it isn't available anywhere outside China, you'll probably have to pay a premium in shipping and import duties, while also forgoing the warranty, in order to get your hands on the Mi Gaming Laptop. If you can live with that, then all variants of the Xiaomi Mi Gaming Laptop are already available on Gearbest, with the base model priced at $1,099.
REVIEW OVERVIEW

SUMMARY

The Mi Gaming Laptop, priced starting at 5,999 yuan, is undoubtedly the best budget gaming laptop in the market right now. Despite its older specs, the laptop is capable enough to run most games at medium to high settings, has a clean understated design without any branding, and above all, it has the best trackpad on a Windows device that I've used till date. The Xiaomi Mi Gaming Laptop is a definite buy if you're a budget gamer who wants something subtle yet powerful.