If you're a travel junkie or an avid photographer, you're most likely to have a camera on you at all times. The task of carrying and caring for a camera, however, isn't that simple and you need a camera bag for that. Now, from what I have come to know, most camera bags are usually stylish but non-functional or functional but a nuisance to lug around.
I have been searching for the perfect camera bag for quite some time and my journey has brought me to Blackforest, a company that imbibes both quality and functionality into the mix. So, I decided to pick up their Blackforest K2 camera messenger bag ($109) and have been using it for the past couple weeks. If you're also looking for something similar, here's my review of this camera bag:
Blackforest K2 Specs
Before we jump in and talk about my experience with this messenger camera bag, let's take a quick look at some basic specs:
| | |
| --- | --- |
| Exterior Dimensions | 10" L x 7" H x 4.5" D |
| Internal Dimensions | 9" L x 6" H x 4.0" D |
| Weight | 800 grams |
| Material | Premium cotton twill interlining |
| Trims | Full grain leather |
| Inserts | 3 (removable) |
| Water Repellant | Yes |
| Fittings | Brass (locks and shoulder strap clips) |
| Colors | All leather, Olive Green, Sand Tan, Ash Black |
| Price | $109 |
Design And Build Quality
Let me start off by saying that you wouldn't even need to unpack the Blackforest K2 camera bag to know that what you are getting a premium product, which is in fact also true. We have all bought many bags (not explicitly camera bags) in our lives, but how many of those do you remember to have come packed inside a dust cover?
Well, the answer is none for me and it's the primary reason I was ecstatic to unpack this slick white dust cover to reveal the 'Ash Black-colored' camera bag. The K2 camera bag has been crafted using superior cotton canvas, with a trace of leather all across the board – around the locking clasp, edges of the camera bag, and the shoulder strap. This gives it a premium feel and look, which is undeniably good.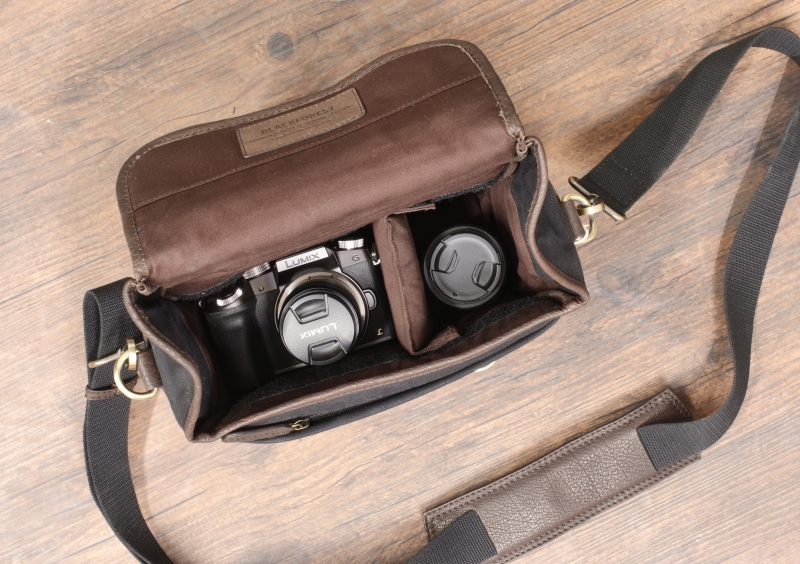 And it's not simply the looks of the K2 camera bag that are eye-grabbing and premium, but the build of this camera bag is also quite premium. The company has used superior waxed cotton canvas, along with leather for added looks and brass for locking mechanism – which works quite well enough.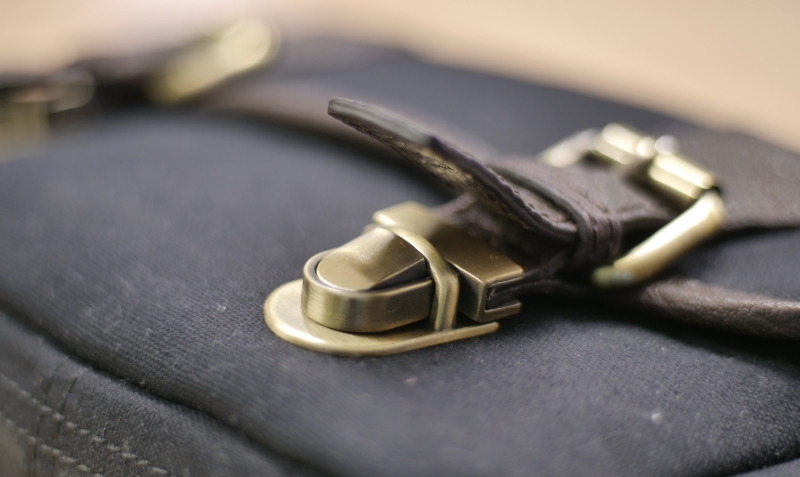 While I like almost everything about the construction of this K2 camera bag, especially the attention to detail, there are a couple minor shortcomings that may bother photographers.
Firstly, the fabric used in this camera bag is absolutely premium and you would feel good carrying this bag around. And one major qualm I have with this camera bag is that it captures dust, hair, and particulate matter like a magnet, which makes the bag look a bit grungy and washed up, even when it is brand new.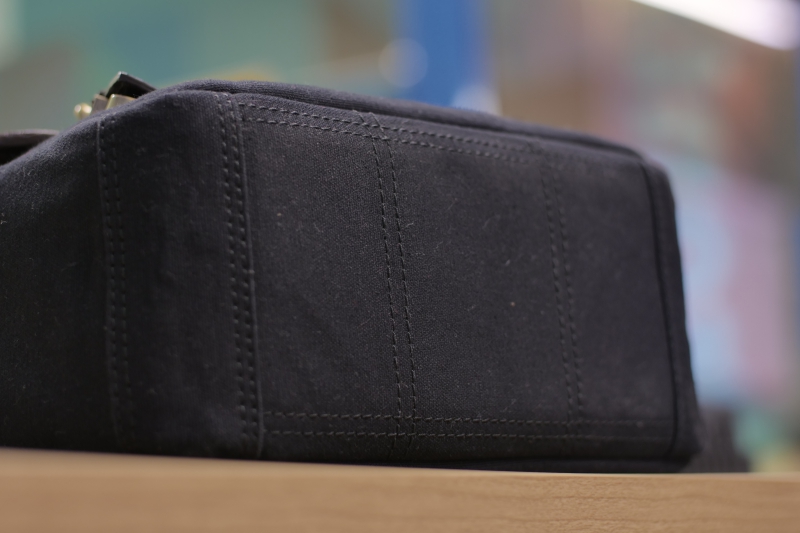 Secondly, the camera bag also doesn't have any support feet at the bottom, which makes it prone to skidding or catching dust when it is placed down on the ground. The support feet are quite important as they help stabilize the bag on its bottom, providing you some peace of mind.
So, all in all, I really like the design and build of this camera bag and will recommend it to my photographer friends. However, they'd need to look past a few minor shortcomings to adopt it as a part of their daily grind.
Storage
This is possibly the most important segment of this review as your decision for purchasing this camera bag relies on how much or how many things can it easily store? Well, my answer is not too many, but that's also the USP of this bag. It's a casual and premium camera bag.
Blackforest themselves refers to it as a small messenger camera bag, which should give you the hint at the volume of stuff you can carry with you. Over the past two weeks, for which I've been using the K2 camera bag and taking it with me everywhere, it can hold a decent amount of things — for its size.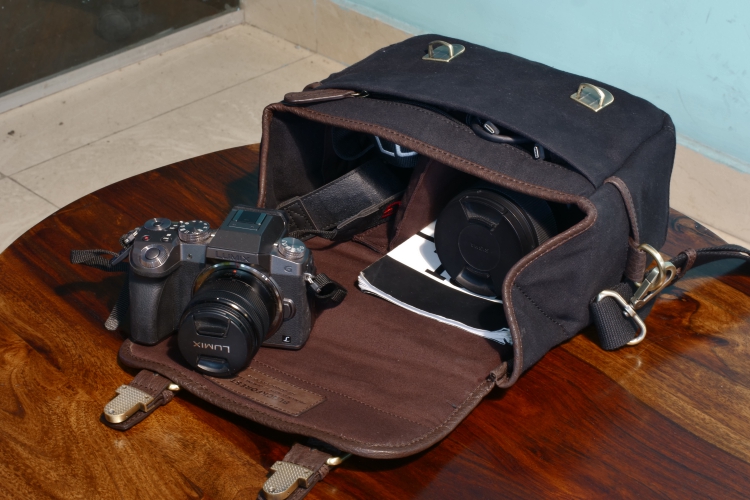 Since this is only a small messenger bag, you've only got yourself a single main space – as seen above. You can move the two available inserts around in the bag, which stick to the insides using velcro, and helps you change the setup to better meet your needs. These inserts are quite bulky and well-padded, so it should protect your camera gear well (more on this later).
I was using only one of the velcro inserts to build 2 compartments, which was enough for me to carry a Lumix G77 with a 28mm – 50mm lens attached and another lens in the smaller compartment next to it. I also had a lens filter and a notes diary in the bag at all times and that's pretty much it.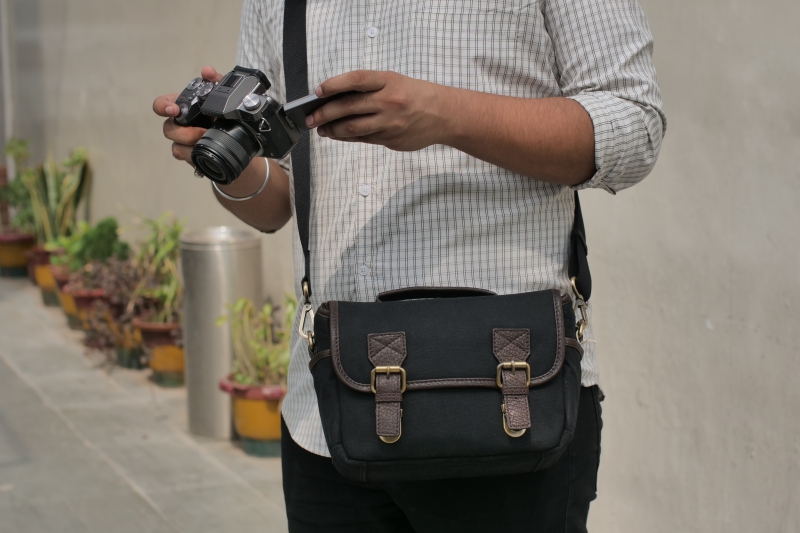 Blackforest advertises this as a small camera bag and there's only enough space for a camera body and a couple of lenses. So, you shouldn't expect to fit in a laptop into this – even if you want to.
There's also a zipper on the front, with tiny compartments to hold accessories such as your SD cards, SD card readers (necessary, if your laptop doesn't have one) or external HDD or SSD for quick file transfer on the move. I also brought along additional accessories in the back pocket of the K2 camera bag, which is roomy enough to hold such simple things.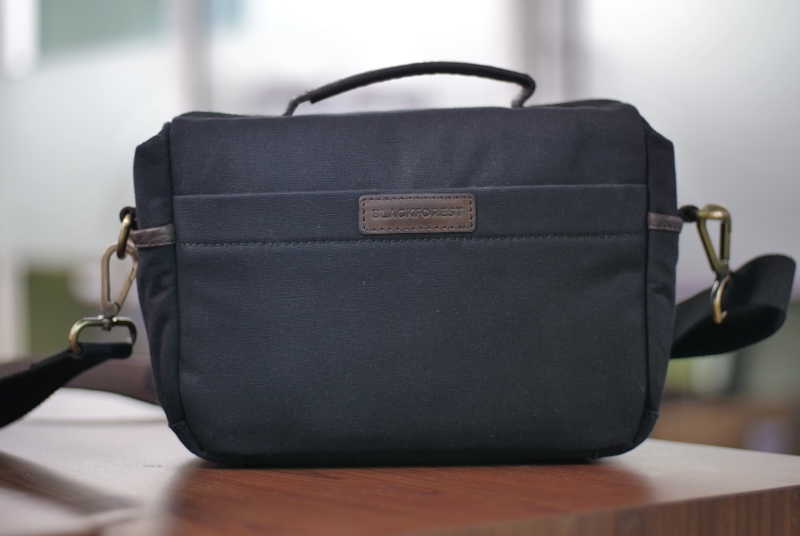 Camera Gear Protection
As for the protection of the camera gear, we've already seen that the bag is quite well-padded on all sides so that shouldn't be much of a problem. The inserts (the small foam blocks you see below) that we use to divide the space inside the K2 camera bag are well-padded, so the camera and lenses will fit snugly and be protected from all directions.
And to my surprise, Blackforest has done a better job with the padding at the bottom. I'm saying this because the K2 camera bag can easily handle minor bumps and drops if the bag ever slips off your shoulder.
What's even better is the fact that the material used in this bag is water repellent and the flap design can help you protect your gear if you ever get stuck in the rain. It means you can choose to take this bag to rainforests or hiking trips as well, without having to worry about the gear inside.
Comfort and Ease of Use
Now well, this is where you get to know all about my experience with the camera bag on the daily. The Blackforest K2 camera bag, which is admittedly a mouthful to say, has been one of the best companions on my photo walks of recent.
This camera bag is a delight to carry around and has become sort-of a fashion statement for me. I usually slung the messenger bag over my shoulder and made my way to work, and the shoulder strap is quite big and well-padded. You wouldn't feel the weight of the bag on your shoulder, at least I didn't, so that's a plus.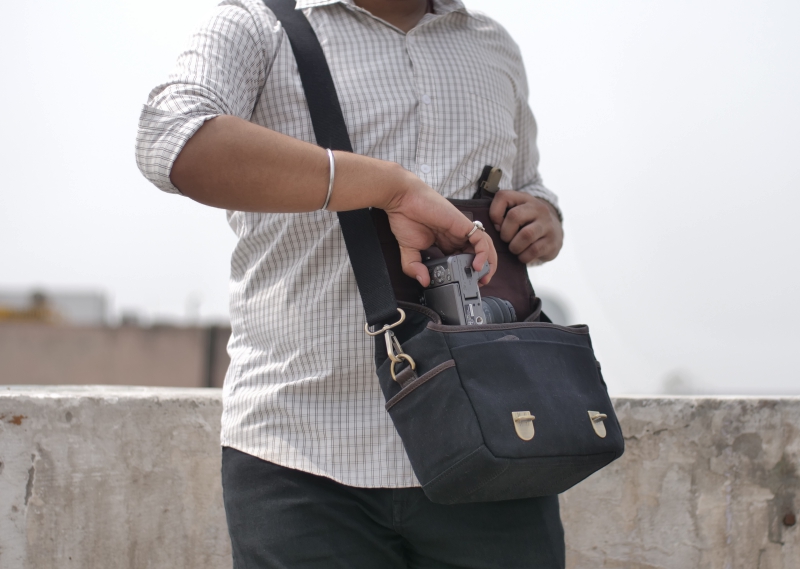 As you can see above, the K2 messenger bag is quite easy to use. Just click to open the two brass locks on the front and you will have access to the main compartment, where all your camera gear sits cozily. I didn't face any major issues while using this teeny-tiny camera bag, which I'm now thinking to get for myself.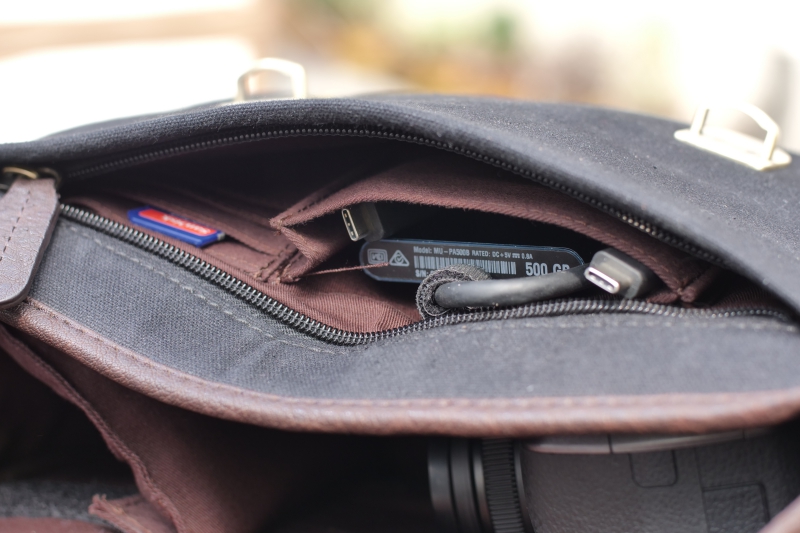 But, there's one issue that makes this a tough decision for me. The biggest issue I faced was with reaching for my stuff placed in the front zipper and side pockets. Both of them are just too tiny and it seems to me that they can only be used for storing things like extra batteries or lens cleaning equipment. That's it. You will have to really get in and dig deep to pull out the accessories you are looking for.
Blackforest K2 Camera Messenger Bag: Is It Worth It?
The Blackforest K2 has checked a lot of right boxes and has a lot of things working out in its favor. There's the compact and cozy design that anyone would adore, a premium and stand-out design that works well with your attire, especially the Ash Black color that you see here.
However, you must now be thinking whether this camera bag is worth shelling out $109 bucks? Well, in my opinion, if you're someone who likes fashion and can afford to splurge that kind of money on a camera bag then you certainly should because it will be worth it. The K2 camera bag will provide you that sense of owning a camera and taking it out on shoots with you.
You can find many different alternatives from the likes of Manfrotto ($125), Tenba ($120) and others to the Blackforest K2 bag on Amazon but they won't be able to provide you the satisfaction and comfort that this bag will do. Yeah, well, you might need to look past the minor drawbacks of this camera bag:
Pros:
Extremely premium design
Comfortable for daily use
Well-padded on all sides
Water-repellent
Cons:
Very small side pockets
No support feet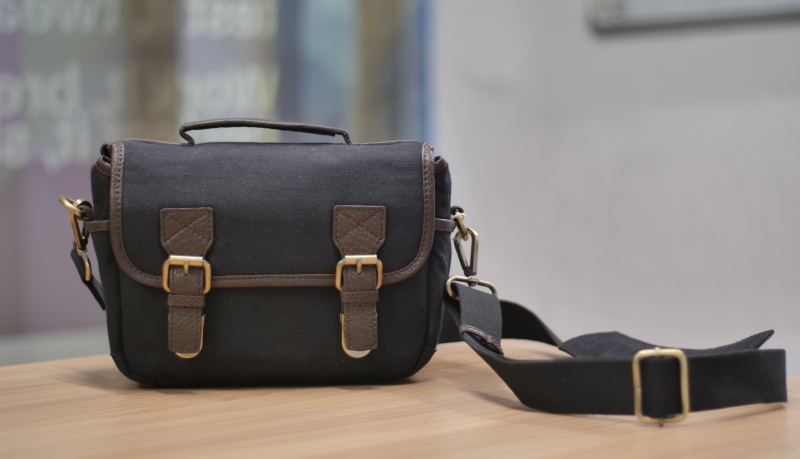 SEE ALSO: Panasonic LUMIX G85 Review: Small Size, Big Talk
Blackforest K2 Camera Messenger Bag Review: Compact And Premium
So, to sum it all up, the Blackforest K2 camera bag is possibly one of the best messenger camera bags I have used in a long while. The premium and lightweight design of the bag, coupled with the comfort and compact size make it the best companion for photographers and travelers, who want to keep it light. I might be keeping my Blackforest K2 messenger camera bag review unit, what about you? Will you get one of these? Let us know in the comments below.
Buy Blackforest K2 camera messenger bag ($109)