Most gamers out there understand the necessity of a high-end fully customizable mouse and are ready to open their pockets for a bit more advantage while playing games. But, not all games require a really expensive mouse. If you're not a hardcore gunslinger, then even an entry-level gaming mouse would suffice your needs.
Luckily, there are a ton of options out there and buying a great gaming mouse without breaking your bank is totally possible. In fact, Xiaomi recently introduced a new gaming mouse which, according to me, could be your next purchase if you're looking to buy a budget gaming mouse. The Mi Gaming Mouse ticks a lot of essential boxes on paper as it retains major staples of a gaming mouse. It is wireless, there's an optical sensor, and it lights up in pretty colors.
With the price tag of 249 CNY, the Mi Gaming Mouse definitely takes the cake for being Xiaomi's most expensive mouse. However, it costs just about the same when compared with most other gaming mice with similar features. You can get it from Chinese e-commerce websites like GearBest for $58.24 (~₹3,990). So, is the Mi Gaming Mouse really worth pulling out your wallets for? Well, here are my thoughts.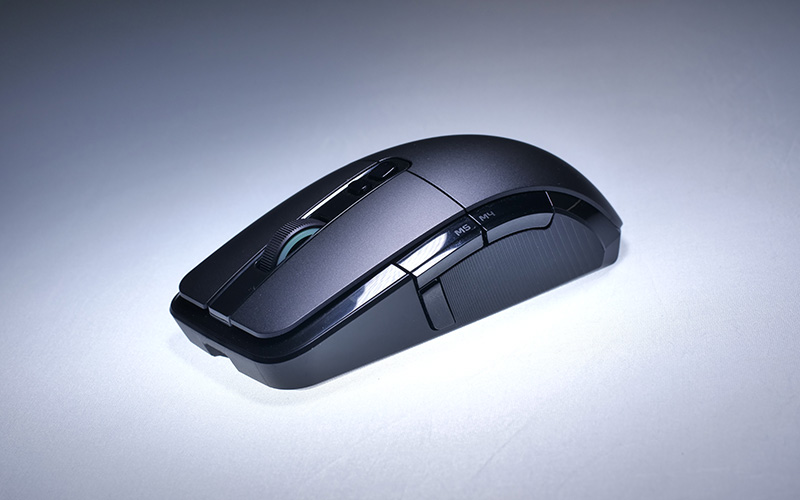 Design And Build Quality
At first blush, it is quite apparent from a distance that Xiaomi is not going for an ordinary office mouse looks. That said, it doesn't look like a gaming monster either. It's just that the glowing RGB accents and additional customization buttons firmly place it in the gaming territory, which will most likely catch the eye of impulse shoppers.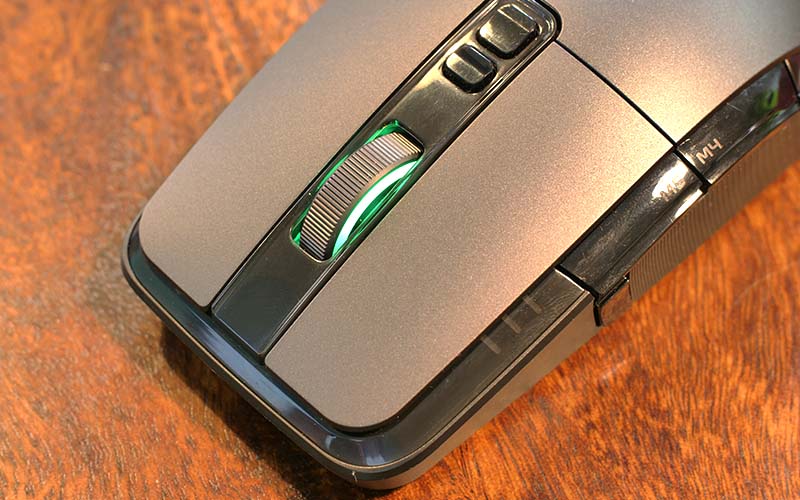 Let's take a look at other physical traits of the mouse. The top surface is smooth and nice to touch, and I simply love the fact that it doesn't retain any smudges or fingerprints. The sides of the mouse are adorned by textured rubber, providing a perfectly secure grip during the heat of a battle. The programmable button (M3, M4, M5) have been positioned on the left side, which also means that this is not an ambidextrous mouse.
Note: Ambidextrous mice are designed to be used by left-handed and right-handed people with equal ease.
The textured scroll wheel is placed in-between the primary and secondary buttons along with two more buttons to raise and lower the tracking DPI on the fly. The scroll wheel lacks side-scroll and free spin features, but I am not particularly complaining given the associated price tag. Like most other wireless variants, the Mi Gaming mouse also comes with a USB dongle (which can be stored safely inside the mouse) and a removable Micro USB cable. With my experience, I can say that it is indeed very easy to switch between wired and wireless mode, with essentially zero downtime.
On the belly, you'll find the optical sensor that's capable of tracking the movements well, regardless of the surface. The smooth movement tracking is in-part supported by five TEFLON feet that reduces friction and allows the mouse to be extremely accurate on almost any given surface. That said, I don't recommend using any mouse without a mouse mat.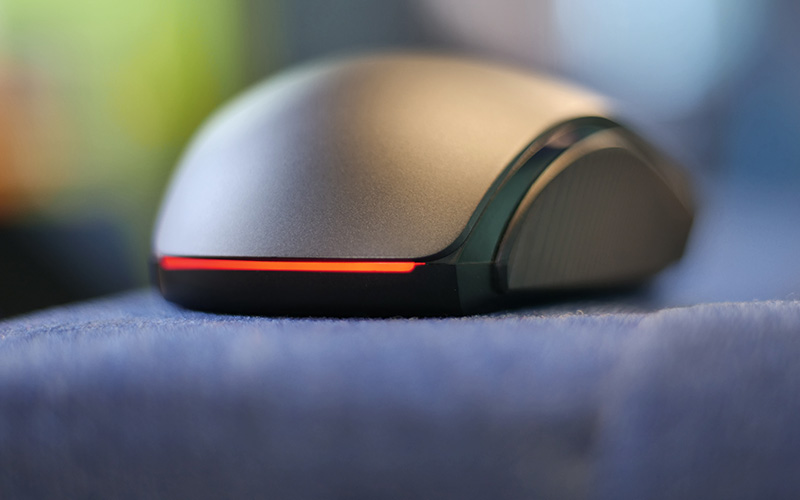 Now, coming to the lights, the Mi Gaming Mouse has hit the sweet spot here. The RGB lighting on this mouse is not too obnoxious, but it isn't too subtle at the same time. What I mean to say is, they don't glow bright enough to blind you, but still manage to stand out in a well-lit room. And if you absolutely hate RGB lights for some reason, then you can also disable them using the software, which I'll talk about in a minute.
You also don't have to worry about the battery life taking a hit due to lighting. Although Xiaomi hasn't mentioned the battery capacity, in my usage, I found the battery life to be decent. It lasted for about 48 hours on a single charge, which is fairly decent. And since it'll be plugged to your PC/ laptop most of the time while gaming, you don't have to worry about the battery life.
But now, let's get to the not-so-appealing part of the design. The Mi Gaming Mouse has a linear structure which is quite unusual for a gaming mouse. It is a tad too narrow for a comfortable palm grip. So, I found myself using it with a claw grip. Also, I found the M3 button on the left-side of the mouse to be quite hard to reach, which, to be honest, is indeed a deal breaker for me.
Overall, I'd say the Mi Gaming Mouse looks pretty good. I mean, it looks good enough to show off at a LAN party, but, at the same time, you can also turn off the RGB lights and comfortably use it in a meeting room without alarming your colleagues.
Features And Configuration Software
The first thing you'll want to do is download the configuration software from Xiaomi's website. This is the part where you might want to use Google Translate unless you want to play the guessing game. Everything is in the Chinese language, and I wasn't able to find an option to change it to a language that I could understand. However, the software is available for both Windows and Mac.
As soon as you connect the mouse via the USB cable and fire the configuration software, you'll see a decent set of options to play around with. The first page is where you'll get a quick look at all the features of this mouse. Again, everything is in Chinese here, but, this is what it looks like –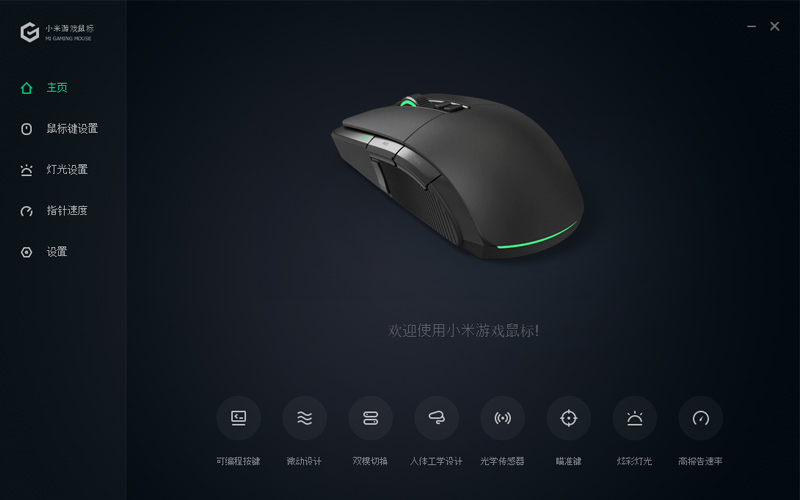 The next tab is where you can fiddle with the button configuration. The user interface (UI) across all configuration pages, is an image of Mi Gaming Mouse itself. When customizing, you can click on the buttons you want to change, followed by selecting the function from the menu. You can also assign a keystroke to a button, but, I'd say the macros are pretty limited. Personally, I've set the M5 and M4 on my unit to 'Copy' and 'Paste' functions respectively. You can also configure this inside the games.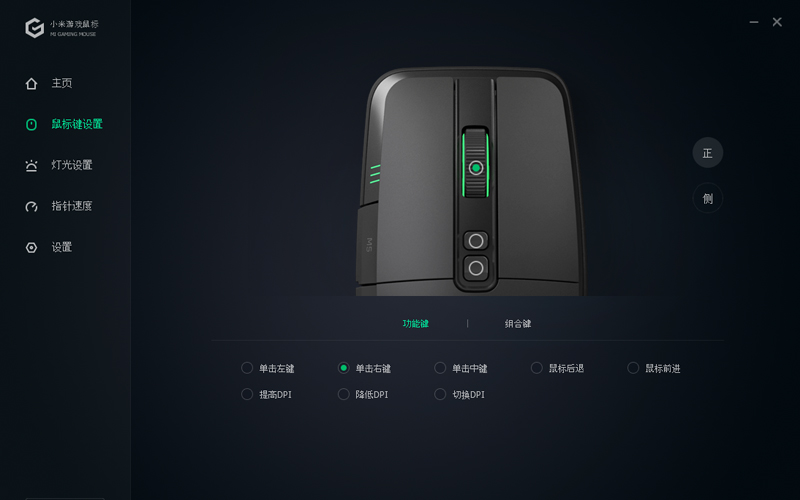 Moving on, there's a dedicated tab for messing with the mouse lighting. Setting up the RGB lighting is quite simple. There are two lights to configure – Headlight (Scroll Wheel light) and the tail light. It is RGB, so you can go crazy with the selection. You can have the headlight show a persistent color or set a breathing effect. The tail light, on the other hand, has a couple of extra options and preset effects. Here's what my configuration looks like –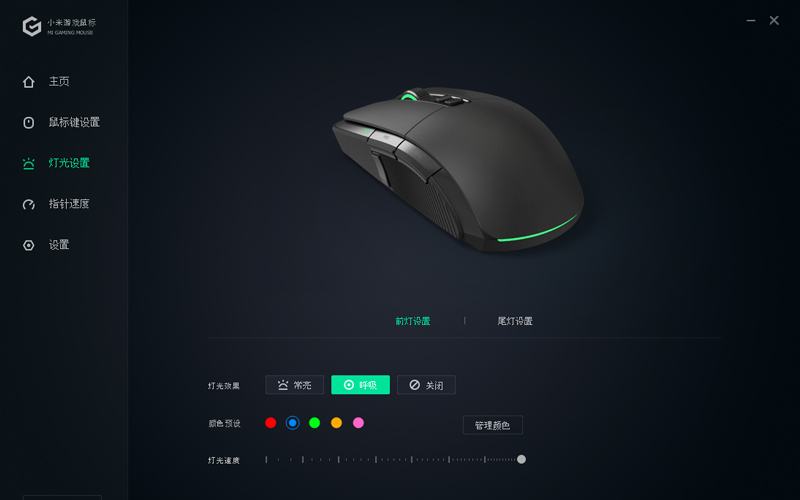 Now, let's talk about sensitivity settings. Xiaomi gives you an option to adjust both polling rate and tracking DPI. The Mi Gaming Mouse uses 7200dpi gaming optical sensor which supports five adjustable speeds, and you can fine-tune the setting and have it perfectly suit your needs. In addition to that, you also get 1,000Hz polling rate with this mouse, which means a response time of 1-millisecond. Now, that's just amazing.
https://gph.is/2Km23up
To sum it up, I'd say the Mi Gaming Mouse offers a decent set of options when it comes to configuration. However, the software is definitely toned down when compared with more advanced gaming mice like the Razer Mamba (Rs. 10,499). But again, considering the price tag it carries, there's hardly anything to complain about.
Optical Performance
As mentioned earlier, the Mi Gaming Mouse has an optical sensor. The levels of sensitivity range anywhere between 50 DPI to 7,200 DPI. The DPI rate offered by Mi Gaming Mouse is certainly higher than a lot of other gaming mice on the market, and it is always nice to have an additional bite of DPI to help you get the right output. You can switch between DPI levels pretty quickly as well. All you have to do is, tap the DPI buttons on top to switch between the levels (given that you've already configured them via the software).
As you can see below, I am personally using only two levels, and I switch between them depending on the game and its requirements. For instance, I use 1000 DPI to keep it steady when I am, say, sniping, or take it back to 5000 DPI when I am in fast-paced combat.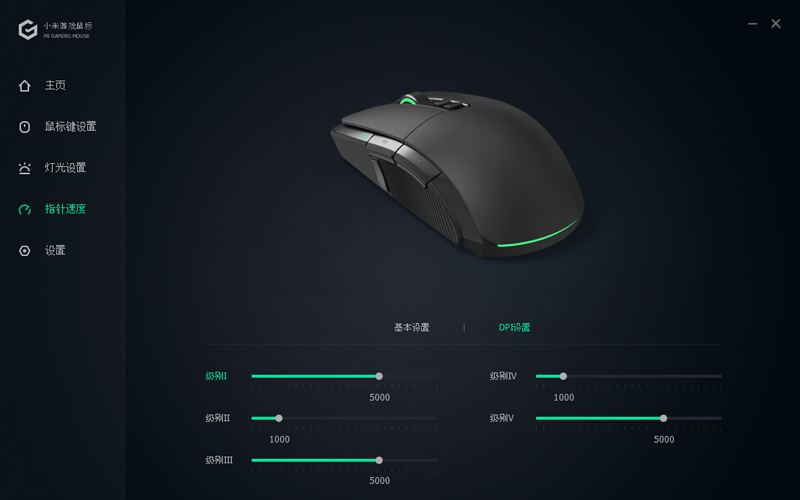 It would have been awesome if Xiaomi allowed you to set different colors for different levels of DPI, but sadly, that's not an option here. I mean, there's an LED indicator that lets you see the sensitivity in real-time, but, that's about it.
And despite the lack of laser or hybrid '4G' sensors, the optical sensor tracks rather well. I haven't experienced any jitters or skips during my usage, and the movement is smooth enough to handle anything and everything from headshots on a game of PUBG to patching a surface on Photoshop.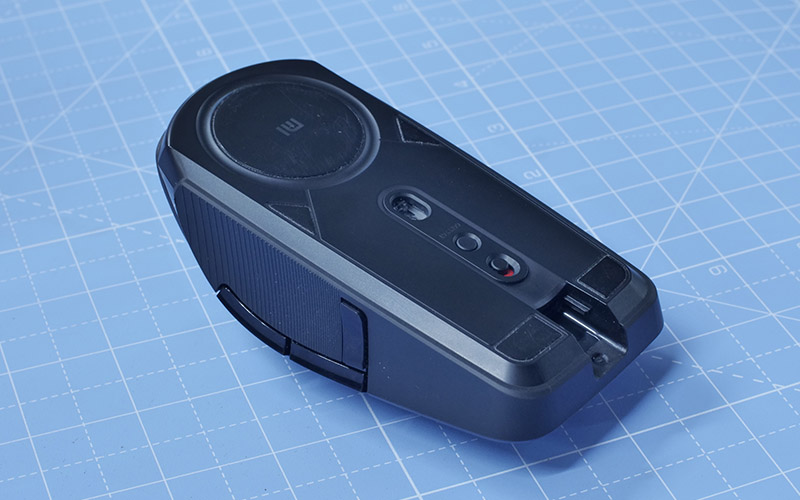 Much like the vast majority of gaming mice fitted with an optical sensor, even the Mi Gaming Mouse is prone to slight movements on pickup. Furthermore, it is powered by a 32-bit ARM processor that can be programmed with four speeds through the software, as we talked about earlier. However, in order to take advantage of the 1,000Hz ultrapolling rate, you'll have to keep the mouse tethered to your laptop/ PC.
Yes, if you are a casual gamer, then you may prefer to clear out the clutter and use it without the cable. But I'll suggest you put the cable to work and keep your shots accurate while maintaining a stable connection and avoiding any latency issues.
During my review, I used the mouse on a Window 10 laptop, and I had absolutely no issues with the mouse or its connection. In fact, I even tried using it on my colleague's MacBook Pro, and it worked perfectly fine.
Note: Polling rate, in case you don't know, tells you how often the mouse reports its position to a computer. For instance, if a mouse has a 125 polling rate, then it means it reports its position to the computer 125 times every second, or every 8 milliseconds. Naturally, mice with higher polling rates are good for gaming.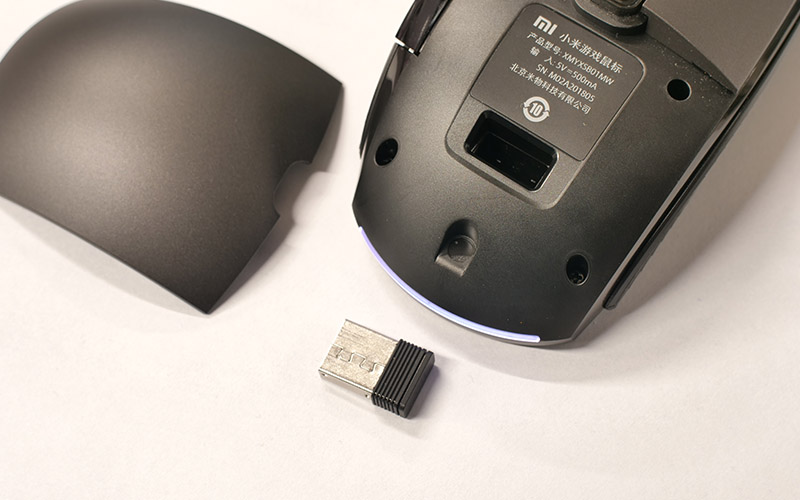 Other Specifications
Max. acceleration: 30G
Max Speed: 150 IPS
Is It Good for Gaming?
Unlike many other companies, Xiaomi isn't making a huge deal about the wireless performance of its mouse. In fact, the company suggests you keep it plugged into the PC while gaming. So, that's precisely what I did to test this mouse, and here's what i think about it –
It feels a bit heavy (137 grams) when compared to something like the Logitech G300s (Rs. 1,197). However, I do prefer a gaming mouse with a little heft to it, so I don't feel like I am losing control with the slightest jerk. But, if you prefer a featherweight mice, then you'll feel at odds with this one.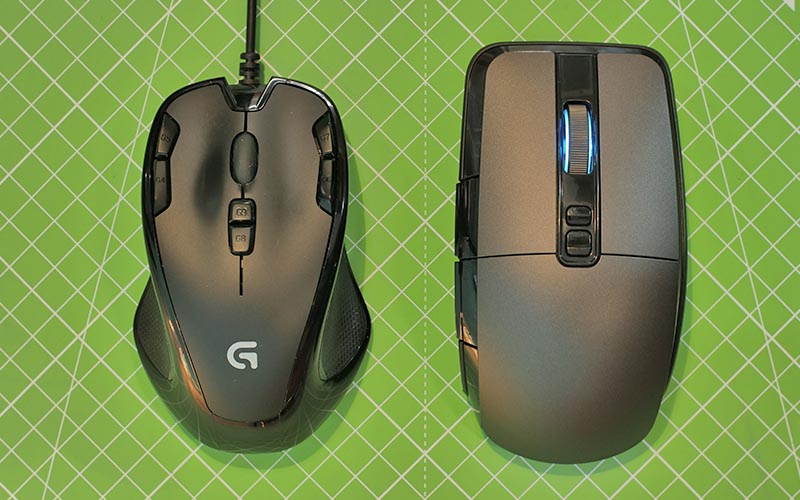 But, here's the most important thing about the Xiaomi Mi Gaming Mouse: I had the greatest run at liberating outposts in Far Cry 5 with this thing. I was taking headshots more often than I used to and I was having a ton of fun. I did try playing some other titles like Fortnite (of course, I had to play Fortnite), Call of Duty: WW2, etc. and it performed exactly how I expected it to. It was great. Yes, as a casual gamer, the 1,000 Hz polling rate and a 7,200 max DPI are definitely overkill, but it is nice to know that when I am on a Fortnite losing streak, I can't blame my mouse.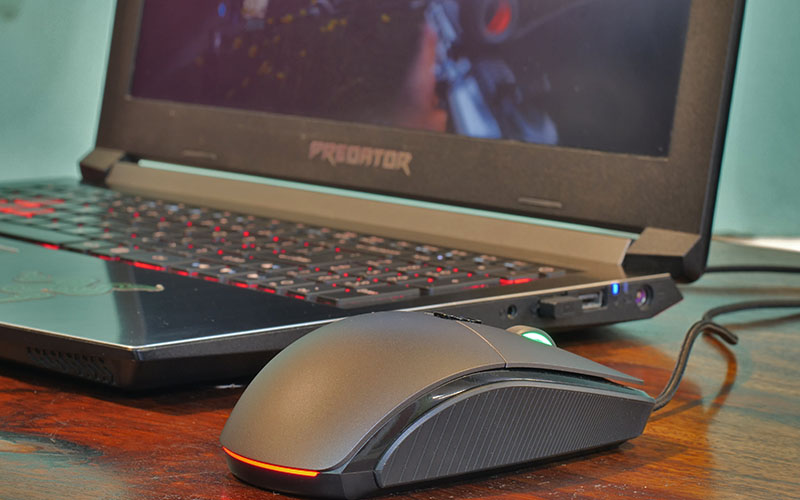 Lastly, there are little things that make me want to keep using this mouse. For instance, while I was reviewing it, I was using the Mi Gaming Mouse as my daily driver for office work as well. And I simply loved it. For my work, I used it for browsing the internet, editing some images in Photoshop, etc. You know, just the basic stuff. The scroll wheel spins freely, which is great for scrolling down web pages, a PDF document, etc. Even the buttons clicks are really good. I mean, it's not too hard or too soft, and it has just the right amount of travel. That means a mouse that I expected to perform great while playing games, turned out to be perfect for work as well. It makes my life simpler, and I'll definitely take it.
Pros and Cons
Well, now that you have a good idea about the Xiaomi Mi Gaming Mouse, let's draw the line to see where it stands –
Pros:
Fast and easy to configure
Custom RGB lighting
Six programmable controls
1-millisecond report rate
Braided cable
Cons:
Non-ambidextrous design
Awkward M3 button placement
Linear Design forces you to adapt claw-grip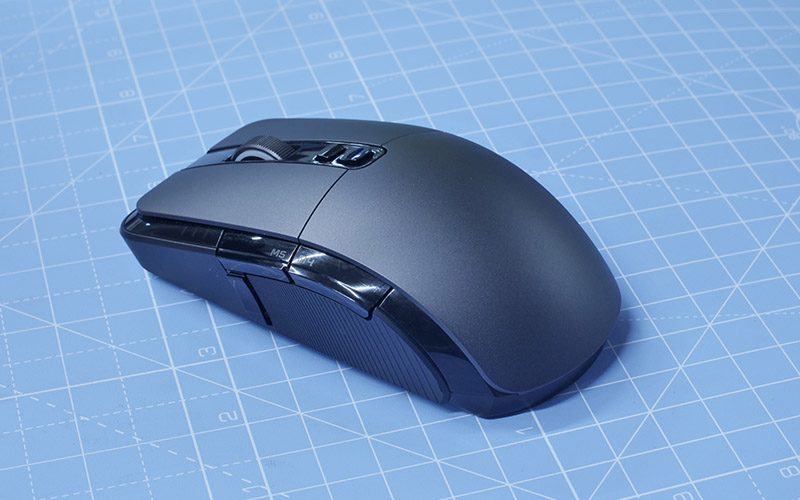 SEE ALSO: Xiaomi Yuemi MK01 Mechanical Keyboard Review: Great for Typing, Bad for Gaming
Xiaomi Mi Gaming Mouse Review: Worth it?
All things considered, I think the Mi Gaming Mouse is definitely a great option for casual PC gamers to cut their teeth on. I mean, there's a lot to like about this mouse like the programmable buttons, smooth tracking at both high and low sensitivities, RGB lighting, etc. In fact, even the configuration software keeps it simple for newbies, so that you can spend more time gaming and less time tinkering.
And on top of all this, there's price. Yes, the price may feel like more than what you should spend on a gaming mouse when there are comparatively less expensive options like the Logitech G402 (Rs. 2,299) or the Razer Abyssus 2000 wired gaming mouse (2,199 INR). But, I think the Mi Gaming Mouse strikes a perfect balance between work and play thereby making it a safe investment. At the end of the day, it is all about finding a product that brings a lot of bang for the buck, and the Mi Gaming Mouse definitely ticks that box.
That said, it is worth making a note that the Mi Gaming Mouse isn't available anywhere outside of China, at least at the time of writing this review. So, just like the new Mi Gaming Laptop, which my colleague had a great time reviewing, you may have to rely on Chinese e-commerce websites like GearBest to get your hands on the Mi Gaming Mouse for $58.24 (~₹3,990).
REVIEW OVERVIEW

Design and Build Quality

8

SUMMARY

The Xiaomi Mi Gaming Mouse, with all the features that it brings to the table, is a great gaming mouse for casual gamers who are looking to improve their gaming skills without breaking the bank.