When it comes to consumer electronics, Chinese smartphone manufacturer Xiaomi has its hands in almost everything that you can image. While the company may just be known for its affordable smartphones worldwide, it's more than just a smartphone manufacturer in China and makes everything from apparels to personal transportation solutions. So when Xiaomi released a mechanical keyboard under its Yuemi brand, it was hardly a surprise for us. With the Yuemi MK01 mechanical keyboard, the company promises a clean, aesthetically pleasing design at a rather affordable price of 289 Yuan, which is approximately Rs. 3,010. However, the keyboard is available at Chinese eCommerce websites like Banggood for Rs. 5,175. So yes, it's a little pricey if you are planning to buy it in India but how does the Yuemi MK01 stack up against other budget mechanical keyboards in the market today? Well, lets jump right into the review and find out:
Xiaomi Yuemi MK01 Specifications
Before we proceed any further, let's take a look at the general specifications of the Xiaomi Yuemi MK01 mechanical keyboard:
| | |
| --- | --- |
| Dimensions | 358 x 128 x 31.6 mm |
| Interface | USB |
| Type | Mechanical |
| Switch | TTC Red |
| Switch Life Span | 50 million clicks |
| Total Keys | 87 |
| Report Rate | 1000Hz |
| Weight | 940gm |
Design & Build Quality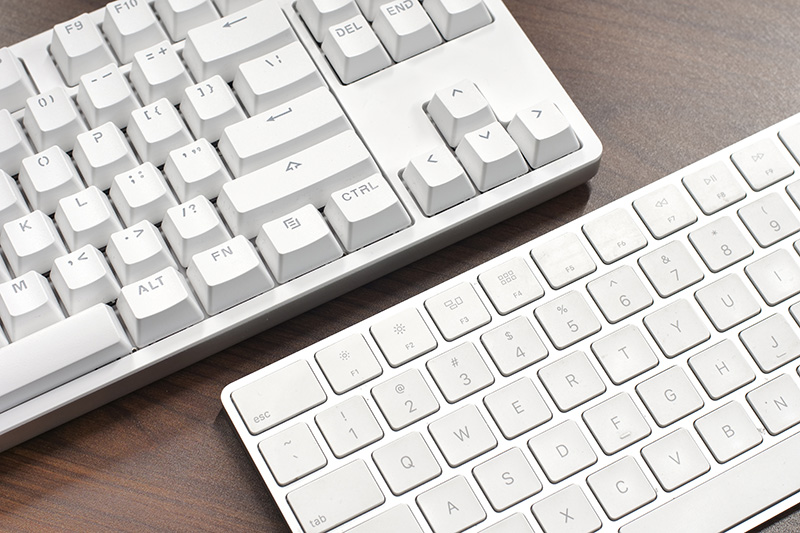 The Xiaomi Yuemi MK01 mechanical keyboard has a very Apple-esque design with a white and silver color scheme, much like Apple's own Magic keyboard. However, unlike Apple's keyboard, the Yuemi MK01 offers mechanical switches, which have a more satisfying feel than Apple's low-profile membrane switches. The keyboard feels very premium in the hand, thanks to its metal backplate which gives it a bit of heft. The deck is made up of polycarbonate, which has minimal to no flex and a glossy finish that looks and feels really premium.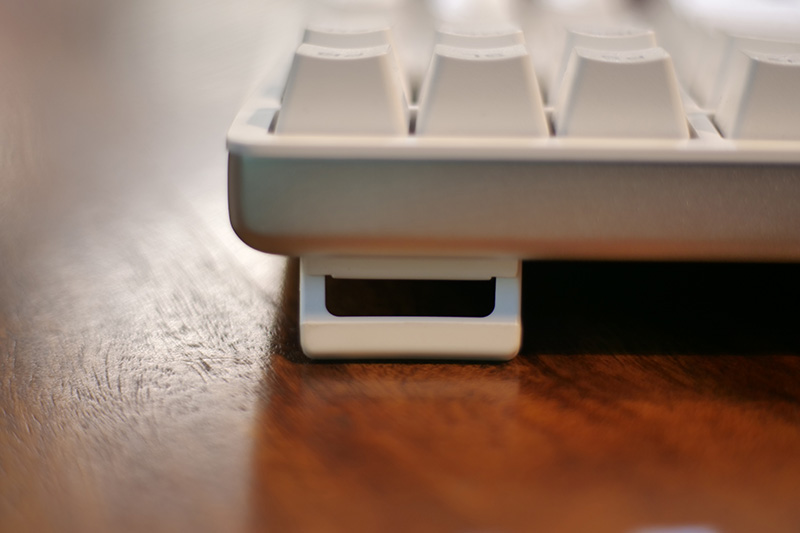 On the back, the keyboard has four durable rubber feet which ensure that the keyboard stays in place while you're typing and the top two feet can be flipped out to raise the keyboard to a 6-degree angle, which makes typing a lot more comfortable. Layout-wise, the Yuemi MK01 has a pretty standard ten-key-less (TKL) ANSI layout with standard key sizes. With a TKL design, the keyboard is rather compact and could be ideal for people who're working with constricted spaces.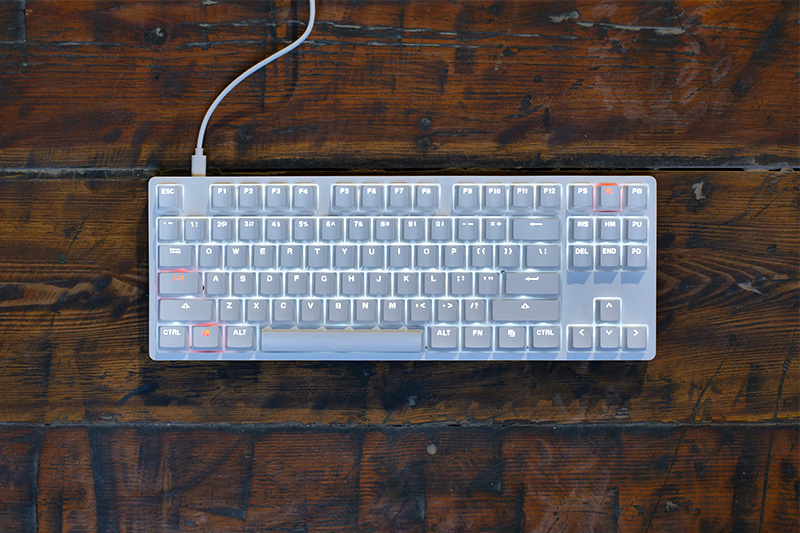 The keyboard is pretty basic, it doesn't have any media keys or any programmability, but it does have a decent white backlight which has five levels of brightness that can be adjusted by tapping the Fn key and the up/down arrow keys. The only variation I could find in the backlight was with the caps lock, scroll lock and Windows keys, which light up orange when toggled. While the caps lock and scroll lock functionality is pretty obvious, the Windows key has a locked mode which can be toggled on/off by pressing the Fn and Windows key together. This is a handy addition for gamers who don't want their gaming experience to be disrupted by an accidental tap on the Windows key.
While the keyboard might appear to be wireless, it isn't and it makes use of a detachable USB Type-A to micro USB cable for connections. I really like the fact that the cable is detachable and can be easily replaced in case it is damaged, which is a possibility as the cable provided with the keyboard isn't braided and has a pretty flimsy construction.
Visually the keyboard is quite stunning and if you're looking for a affordable mechanical keyboard which doesn't have a flashy gaming design aesthetic, then the Xiaomi Yuemi MK01 is a pretty solid option.
Switches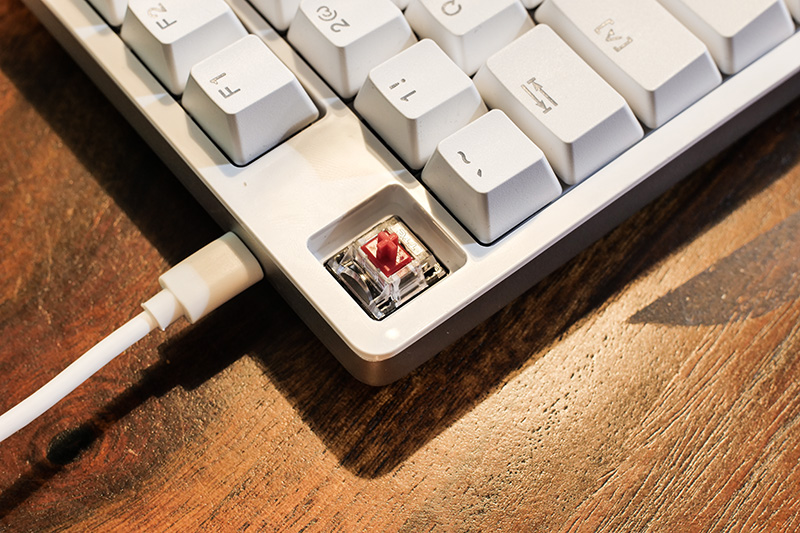 The Xiaomi Yuemi MK01 comes with TTC Red mechanical switches, which is a cheap Chinese Cherry MX Red clone. Much like other Chinese knock off mechanical switches, the TTC Red switches accurately copy the characteristics of the Cherry MX Red switches, offering the same force and actuation point, the same black housing and the same smooth feel. However, the keys on the Yeumi MK01 do feel a bit mushy when they bottom out, so the overall feel isn't as satisfactory as original Cherry MX Red switches. The switches aren't too loud and you won't be bothering anyone while you're clacking away on your new mechanical keyboard.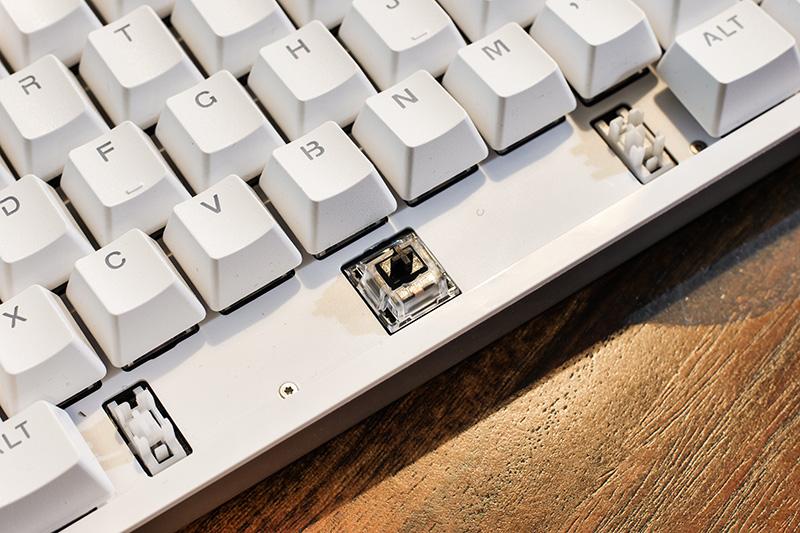 While all of the keys make use of the TTC Red switches, the spacebar makes use of a TTC Black switch which feels slightly heavier than the other keys. All the larger sized keys also make use of Cherry style stabilizers to prevent them from wobbling around in place. Due to the stabilizers, the larger keys feel a bit spongy and aren't as tactile as the smaller keys on the keyboard, but the stabilizers perform their job well and you'll not be able to feel any rattling on the stabilized keys.
Key Caps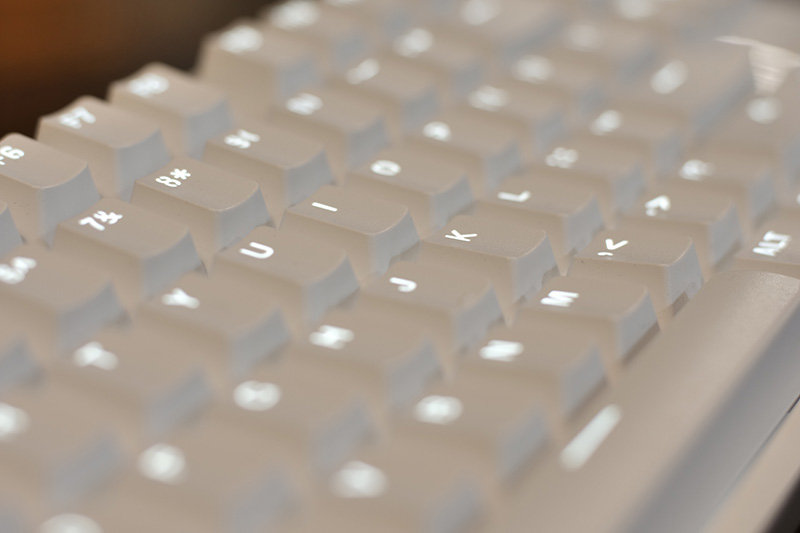 Xiaomi has used doubleshot ABS/polycarbonate keycaps on the Yuemi MK01 with backlit legends (characters that identify a key) that lie flush with the keycaps. The ABS/polycarbonate doubleshot molding make the keycaps rather durable, yet affordable. However, ABS keycaps are known to turn yellow with age, which might be a significant issue with this particular keyboard, considering it's completely white. The keycaps have a matte finish, unlike the keyboard deck, which feels rather smooth and enjoyable to type on.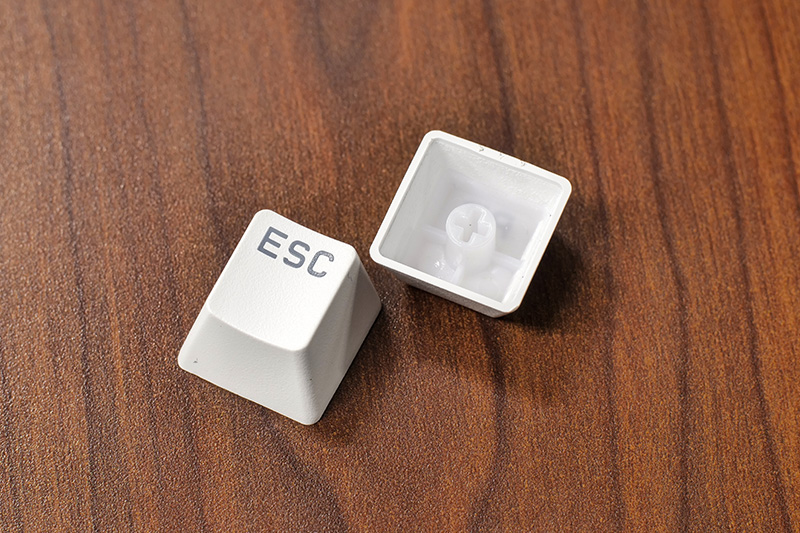 Since the legends are molded into the keycaps, you wouldn't have to worry about them wearing off with time, which is another plus point. The font used on the keycaps is rather pleasing unlike other cheap Chinese keyboards, however, the non-standard shorthand used for the print screen, scroll lock, page up, page down, home, and the pause/break key might be a bit annoying for some.
Performance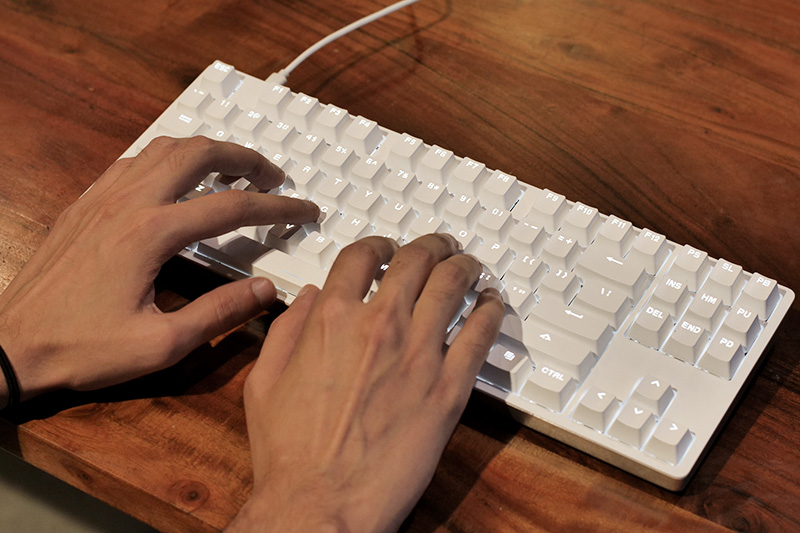 Typing on the Xiaomi Yuemi MK01 mechanical keyboard feels rather satisfactory – the switches are decent and have a tactile feel, the keycaps are smooth and contoured which makes them feel really comfortable, and the keys are well spaced out so accidental keypresses are few and far apart. While the larger keys feel a bit mushy at times, my experience with the keyboard has been great and I can easily recommend it if you're getting it for productivity related tasks.
However, if you're thinking of getting this keyboard for your gaming setup then I'd like to strongly advise you against it. There are a couple of reasons behind that, with the most important one being that the keyboard doesn't feature N-key rollover as advertised by Xiaomi. The keyboard's product page claims that the keyboard supports 11-key rollover, but in my testing I found that it only has 2-key rollover, with the keyboard failing to register a few three key combinations, such as (S,O, L) and (Q,H, U). The keyboard also has issues registering quick double taps, which will hinder gaming performance and might also be bad for people who type very fast.
Pros:
Great minimal design and premium build
Compact form factor
Decent mechanical switches
Detachable USB cable
Bright and even backlight
Cons:
2-key rollover
Inconsistent double taps
No media/programmable macro keys
Flimsy cable
Availability
See Also: Zebronics Max Plus Keyboard Review: Best Budget Mechanical Keyboard?
Xiaomi Yuemi MK01: Definitely Not for Gaming
The Xiaomi Yuemi MK01 is a great budget mechanical keyboard for typists who are looking for a minimal, yet premium design, and a satisfactory typing experience. However, the keyboard isn't great for gaming as it only support 2-key rollover and has problems registering quick double taps, which are a major hindrance for gamers. The keyboard is only available for purchase in China, which is another major issue, but you can order it from popular Chinese eCommerce websites like Banggood (Rs. 5,175) at a premium of a little over Rs. 2,000 with additional shipping charges wherever applicable. In case you don't want to go through the hassle of ordering the keyboard from a Chinese eCommerce website, you can look at other budget options like the Zebronics Max Plus (Rs. 2,644) or the Cosmic Byte Black Eye (Rs. 3,499) which offer great performance and build quality for the price range, along with support for N-key rollover and RGB lighting.
Buy the Xiaomi Yuemi MK01 Mechanical Keyboard from Banggood (Rs. 5,174)
---
Load More