With online privacy continuing to remain a massive cause for concern among internet users, proxies and VPN services are becoming increasingly important tools for privacy-conscious netizens around the world. That being the case, several VPN service providers are jostling for mindshare and marketshare of users worldwide and it's becoming increasingly difficult to cut through the clutter and find a service that would not put any restrictions either in terms of speed or in terms of overall data usage. What's just as difficult is to find VPN services that would value privacy concerns of users, so anybody that claims to offer some or all of the above is definitely worth a second look. X-VPN, a relatively new name in the industry, is doing just that, so let's take a look at some of the key features of the service and how it compares to some of its more established peers in the industry:
Features
The Graphic User Interface (GUI) on Windows is as minimal as it can possibly be, but it's fairly intuitive even for the non-tech-savvy. As can be seen from the screenshots below, there's a fairly self-explanatory On/Off toggle that gets you connected to what X-VPN believes is the fastest available server on your plan. It's literally just a 1-click connection, and you don't even need to be signed in to your account to use the service. If you don't want to settle for the default server location, you can also click on the "Fastest Server" button to manually opt for the location of your choice.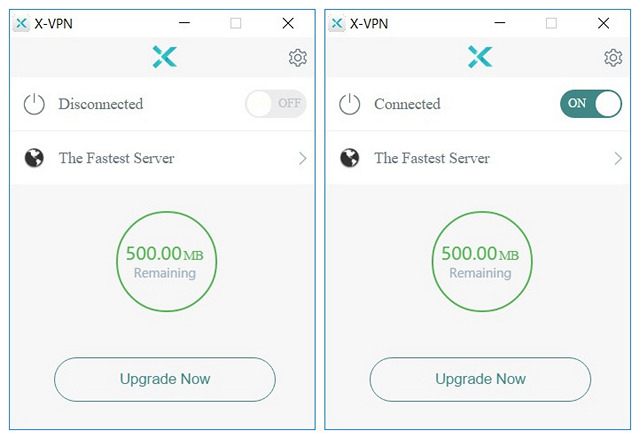 Available Countries and Servers
X-VPN currently has its servers in over a dozen different countries including, the U.S., U.K., Hong Kong, Japan, India and the UAE. While there are multiple locations available in the U.S., you are limited to just single locations if you're looking to connect to any of the other countries on the list. Many of the locations, however, are reserved for paid subscribers, so if you're a free user, you're restricted to just 21 locations in 13 countries, including 9 in the U.S.
On our clogged office Wi-Fi that barely gives us 10Mbps at the best of times (even though its actually a dedicated 150Mbps connection), speedcheck results seem to suggest that the free X-VPN server in Atlanta, GA, isn't any slower than the presumably faster, premium one in Berkely, CA. While speeds on ethernet will almost certainly be higher, it's difficult to say how the speeds will differ on faster Wi-Fi networks. If there's a notable speed difference between the free and premium servers, it wasn't immediately noticeable. As you can see from the image below, we were getting 8Mbps down and 32Mbps up without the VPN, but with the VPN turned on, the speeds reduced to about 7Mbps and 23Mbps respectively, irrespective of whether we were using the free or the paid server. The latency, however, suffers with the VPN turned on, going from a very agreeable 7 ms without the VPN to an uncomfortable 370 ms when connected to the Santa Clara server, but some of that is to be expected because of obvious geographical reasons.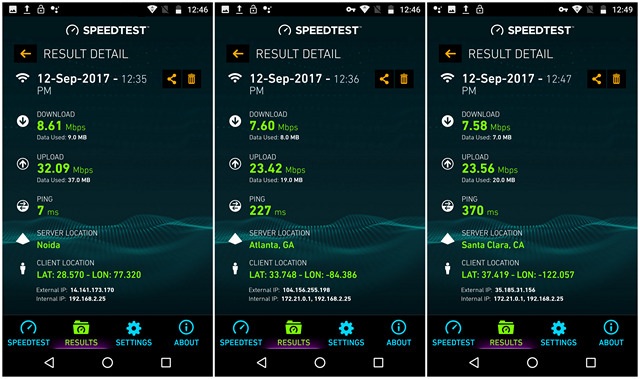 While X-VPN's free service is fairly comprehensive, the company also offers premium tiers that come with more bells and whistles. Pricing starts at $7.99 per month for phones and tablets and $11.99 per month for all platforms, including desktops. If you pay on an yearly basis instead, the cost-per-month comes down by 50%, so you'll only need to pay $48 or $72 for 1-yr subscriptions, depending on the package chosen. In terms of availability, the X-VPN client is available on most major computing platforms, including Windows x86-64, macOS, Android and iOS, but it isn't currently available on Linux and there's no word on whether it will be in the foreseeable future.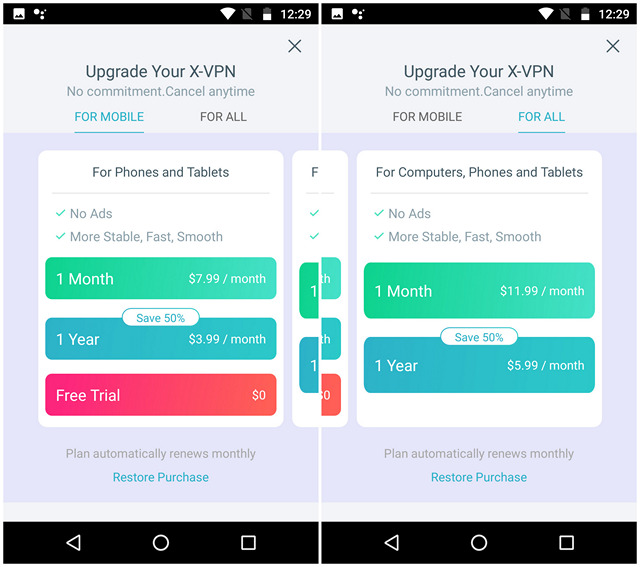 While free users have access to less servers than their paying counterparts, they are also limited to just 500MB of data. To have access to all the premium high-speed servers and remove the data cap, you'll need to subscribe to one of the paid tiers. By the looks of things, you'll only face the data cap on your PC and not on phones or tablets, because the company promises unlimited usage even for free users on mobile devices. The restrictions on premium servers, however, will remain irrespective of whether you're using the desktop clients or the mobile clients. The free version of the mobile clients also come with advertising, something that the premium subscription gets rid of.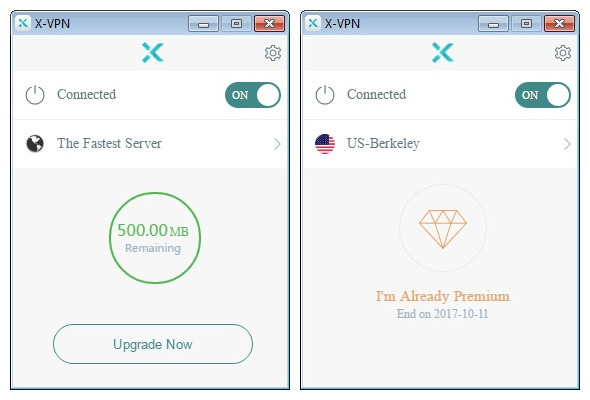 Encryption and Privacy
The company undertakes a whole host of safeguards to protect the privacy of its users. First off, all connections are said to be encrypted via AES with a minimum key size of 256 bits. According to X-VPN, some of the other privacy-related features include:
DNS leak Protection
Access via UDP/TCP
Multiple VPN Gateways and
Port Forwarding
X-VPN also claims that it doesn't store user logs related to browsing history, DNS queries or traffic data. The company, however, says that it logs access attempts to its servers "for security and troubleshooting". X-VPN also "doesn't get involved in any form of censorship", nor does it sell share user data with third parties for commercial gain. The company also says that it "will not and cannot give away your personal data to authorities … unless we are ordered by a court of competent jurisdiction".
Support For P2P Protocols like Torrent
In a query posted to an X-VPN representative during the course of this review, we were told that the company does not "restrict our users' ability to browse the internet freely, however we would only encourage our users to use them (torrents) for legal purposes. And it is for both free and premium users". So apparently, X-VPN does not discriminate against internet traffic based on protocols, which is a definite plus for net neutrality supporters who have often expressed reservations about some VPN service providers treating video streaming or torrent downloads differently from standard browsing.
The Final Word
X-VPN looks to be a competent VPN service that has great potential going forward. It will unblock Netflix's US library whether you're in Hong Kong or Australia, it will let you post selfies on Facebook while at school, and it will also let you download (hopefully legal) torrents on your PC. With an uncluttered and intuitive UI, good speeds and a net-neutral approach to internet traffic, X-VPN is an easy recommendation especially on mobile devices, although, many users will find the 500MB data cap on desktop a bit of a sore point.
Pros
Intuitive user interface
Decent speeds
Supports all traffic equally
AES 256-bit Encryption
Unobtrusive ads (mobile-only)
Cons
Unavailable on Linux
Free version comes with a 500MB data cap (desktop-only)
Surf Anonymously and Unblock Geo-Locked content with X-VPN
X-VPN not only does what any good, free VPN service is supposed to do, but also brings a whole bunch of other cool features to the table. As mentioned earlier already, whether you want to access Geo-locked content, bypass internet censorship or just surf anonymously, X-VPN has got you covered. If you're searching for a free VPN service or even a paid one for that matter, do give X-VPN a go, as it is one of the most hassle-free VPN services you can use either on your desktop or on your smartphone.
Download X-VPN apps (Windows, macOS, Android, iOS)