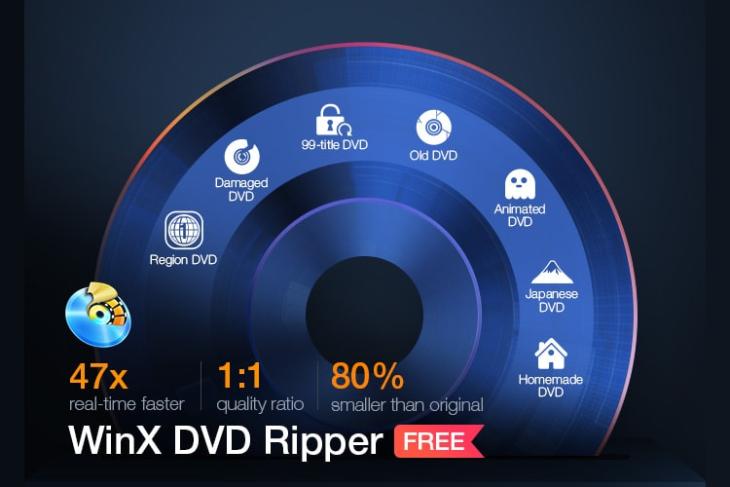 You might think that in 2020, no-one needs a DVD ripper application. But It's more important now than it was in the past. If you have dozens of movies on DVD, now is the time to create a digital copy of the movies and keep them backed-up and safe before all the laptops and desktop no longer support DVD drives. While there are many DVD ripping software on the market, not all of them are good. Today, we are sharing with you a DVD Ripper that lets you rip and digitize DVDs for free. It's called WinX DVD Ripper Platinum, and in this article, we are going to take a quick look at all its features to see what it brings to the table.
Key Features
We will start this article by looking at some of the key features of WinX DVD Ripper Platinum. Then we will look at its UI and ease of use. And finally, we will discuss its availability and pricing to see if the product makes sense for you or not. With that said, let's take a look at the key features of WinX DVD Ripper Platinum, shall we?
1. Get Exact Copy of Your Movies
Most DVD ripping apps tend to reduce the quality of movies when you are using them to rip movies. WinX DVD Ripper Platinum ensures that doesn't happen. It brings a high-quality DVD ripping engine that uses Deinterlacing and adjustable HQ encoding to rip DVDs with imperceptible quality loss. It keeps the original structure, video/audio tracks, menus, chapters, and subtitles, without a shred of quality reduction. You will get the same quality digitized movies that you have on the DVDs.
2. Get Smaller File Size
Most DVD movies are huge when it comes to their file size. Saving them in their original file sizes will soon fill-up your storage. Thankfully, WinX DVD Ripper Platinum rips DVD/ISO image to small MP4 H.264 videos while preserving the quality. It saves around 80% of storage. For example, if a movie on DVD was taking 8 GB of space, it will only take ~1GB of space when digitized. That is pretty cool.
3. Faster Ripping Experience
WinX DVD Ripper Platinum brings a fast ripping engine. It uses unique Level-3 Hardware Acceleration including superlative GPU-based acceleration powered by Intel (QSV), NVIDIA (CUDA/NVENC) & AMD and the Hyper-threading & multi-core processor, to fully rip and digitize a DVD in under 5 minutes. That is more than 40 times faster than you run-of-the-mill DVD ripping apps.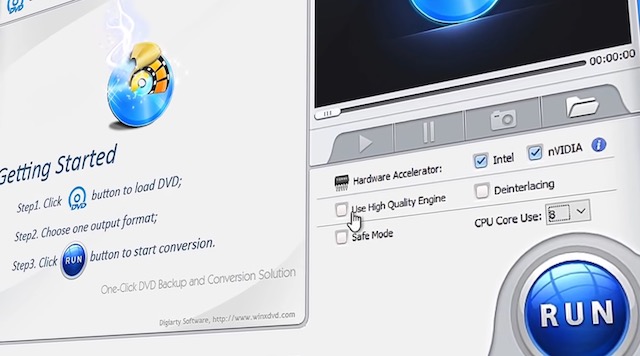 4. Supports Most DVDs
Another area where WinX DVD Ripper Platinum shines is DVD support. The software accepts and works with any DVD including region DVD, damaged DVD, 99-title DVD, homemade DVD, old DVD, non-standard DVD, TV series DVD, new release DVD, and more.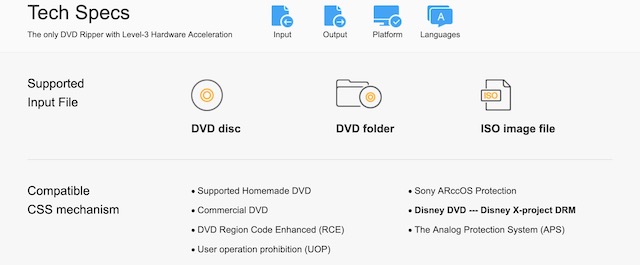 5. Supports Several Output Formats
WinX DVD Ripper Platinum doesn't hold you down to a specific digitize format. You can rip and digitize DVDs into MP4, H.264, HEVC, MPEG, WMV, AVC, MOV, AVI, and more. So no matter what's your favorite file format is, you can save the digital copy of your movies in the same.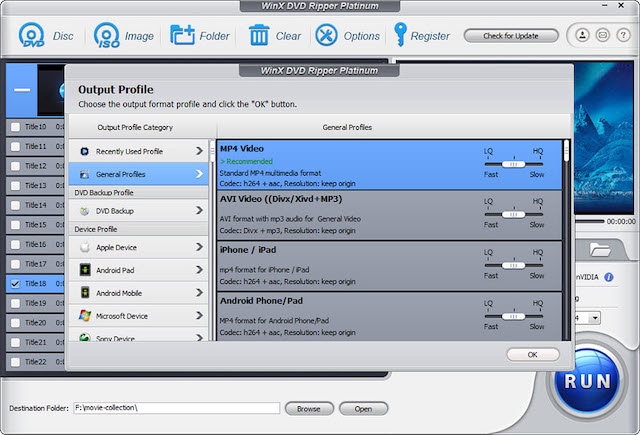 6. Rip DVDs to Different Devices
One of the best features of WinX DVD Ripper Platinum is that it can rip DVDs to specific formats for different devices. It provides mobile-specific MPEG4/H.264/HEVC outputs for iPhone 11/Pro/XS, iPad/Pro, Android, HDTV, PC, tablets, game consoles, and more. You can even rip movies directly for social sharing on YouTube or for video editing apps.
7. Edit Movies Before Exporting
One of the unique features of WinX DVD Ripper Platinum is that it allows users to edit movies before exporting. You can do things like change audio channels, choose subtitle language, add custom subtitles, adjust audio volume, crop and trim videos, change frame-rate, change bit-rate, and more.
User Interface and Ease of Use
As you saw WinX DVD Ripper Platinum is a powerful DVD ripping software. But that's just one part of the solution. A good DVD-ripper should also be easy to use. Well, I am happy that WinX DVD Ripper Platinum doesn't disappoint us in this criterion. The app makes it very easy to rip DVDs. All you need to do is select your input file and the format, and click on the "Run" button to complete the job.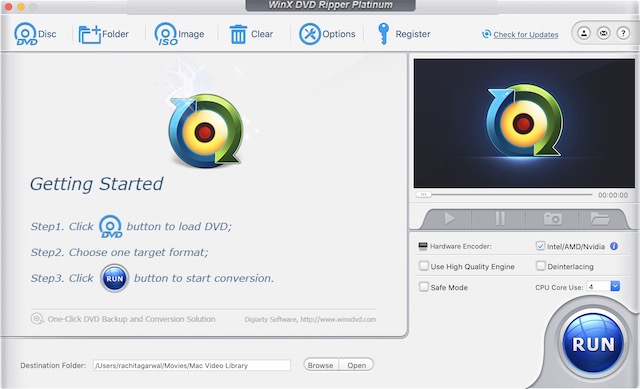 The app also lets you set pre-configured formats and export locations so your videos are always formatted correctly and saved in the known location. Editing videos is pretty easy too. It takes a few clicks to open the editing panel and a few more to get the job done. Overall, it's quite easy to learn and you can get started with the software within minutes.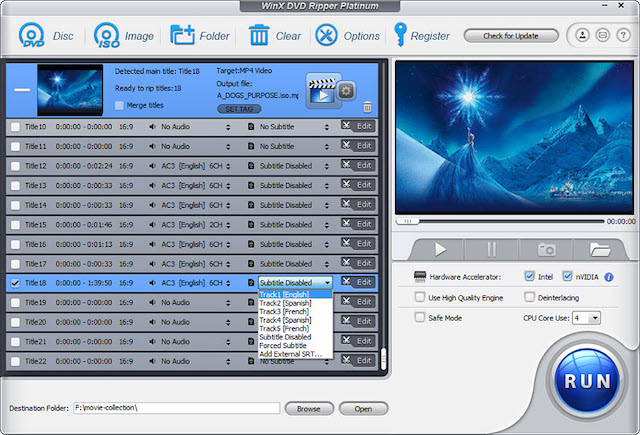 Pricing and Availability
WinX DVD Ripper is available for Windows operating systems including Windows 10 (32 & 64 bit), 8/8.1, 7, Vista, XP. To get this software, just visit WinX DVD Ripper product page and hit the "Download Setup File" button to get the program. Later, click the "Get a license key" link near the download button to obtain a free license key so you can unlock the software features.
Check out WinX DVD Ripper Platinum
Digitize DVDs in Minutes with WinX DVD Ripper Platinum
WinX DVD Ripper is a specialized tool for DVD ripping. If you are someone who has a large collection of movies on DVD and want to create your own digital library, I cannot think of a better solution. The company offers a free version so download it and check it out. Also, let us know your thoughts in comments below after you have tested the software.