WhatsApp for iOS recently received a new update which brought the facility to see status updates in the 'Today View' section, and also added a new feature that allowed voice messages to continue playing when users switched to another app. A new beta update for WhatsApp on iOS has now been released which brings in-app YouTube playback and voice record lock to the messenger app.
The new features have been rolled out with the new WhatsApp Beta update (version 2.17.81) for iOS devices, and if you are a registered beta tester, the features are now live for you in the new WhatsApp beta build.
The feature is now available on WhatsApp beta for Android too. We tested it on the Android 8.1 Oreo powered Nokia 8 running WhatsApp Beta v2.18.103.
Voice Record Lock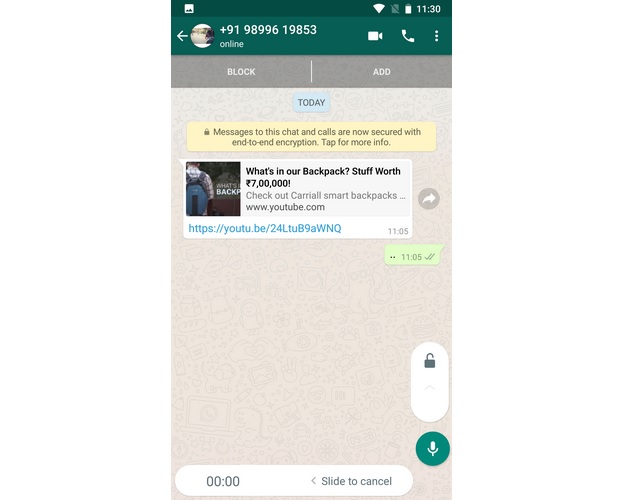 The first feature added by the new beta update on iOS is the voice record lock. Prior to the update, users had to tap the voice record button and keep it pressed until the audio recording was finished. But now, users no longer have to do that, as long pressing the voice record button will now display a lock button above it, and by sliding the voice record button upward will latch it in a permanent recording state. So, users can now just lock the voice record button in an 'on' state and keep recording their voice message without having to keep their thumb glued to the screen.
In-App YouTube Playback
The new beta update has also brought another handy feature in the form of in-app YouTube playback. Now, when users receive a YouTube video in their WhatsApp chat, tapping on it will now play the video in the conversation window itself, rather than redirecting users to the video's page in a browser or opening it in the YouTube app.
Android Authority reports that users can also pop out the video and play it in another window if their device has support for picture-in-picture playback. However, this feature is not available on the latest WhatsApp beta build for Android.