Gone are the days when you would empty your pens and write on paper in haste, hoping you could capture notes of lectures and meetings to remember later. Now it is a totally different world, and people are choosing artificial intelligence (AI) as their companion to transcribe and summarize online meetings. We recently tested an incredible AI voice collaboration platform, Vocol.AI.
Users can invite Vocol's recording bot to record their online meetings or manually upload a recorded audio/video file of a meeting. Vocol then generates an audio transcript of the recording after the meeting concludes. Read on to discover the unique features of Vocol.AI and why you should use the Vocol.AI bot in your next meeting with multilingual participants.
What Is Vocol.AI In A Nutshell
Vocol.AI allows individuals and businesses to collaborate efficiently with their colleagues, clients, and other stakeholders by accurately transcribing multilingual voices into text and generating summaries from the transcription, which you can later be shared to drive various activities.
Using the power of AI, Vocol quickly digests the demands of transcribing a vast amount of voice data into text and simultaneously summarizes the content into important key points. For instance, in meetings with multiple participants, the AI tool will produce a summary, list topics of discussion, and also perform voice separation. This will allow you to distinguish speeches delivered by different people in the content of the meeting.
Once the transcription is completed, users can highlight key paragraphs at any point when transcribed, including customer marketing budgets and the key plans for the year, so those who participated in the meeting can understand what was discussed. In addition, any user can manually take out multiple paragraphs of important text and mark the content that is collaboratively made by the co-authors.
Why Use Vocol.AI for Meeting Collaboration
If you have ever had to spend time writing down minutes of meetings, you will know it's a painstaking task. It takes work to keep track of the conversation while penning everything down. Afterward, it's often necessary to return to fill in the gaps. And since we are all stuck with meetings for the rest of our professional lives, why not make the whole process more productive and efficient? This is the area where Vocol can help.
The Vocol.AI bot records a meeting and then automatically uploads the recorded file to Vocol's server, letting you get a detailed report of your meeting that's more accurate than any you would write out manually. This will help you save time and headaches and ensure the most important information is never overlooked.
Effective Collaboration
In many instances, attendees can take action or make interpretations of the decisions that were discussed during the meeting in different ways. This causes confusion and mistakes in communication.
The meeting transcription feature in Vocol.AI works as an official record of the discussion that can be shared with colleagues and business partners to ensure that everyone is on the same page and pursuing the same objectives.
All this is possible because Vocol allows you to share the meeting transcript and AI summary with your colleagues and fellow stakeholders who were or were not present to get what transpired and can even add comments on a specific timeframe.
Align Marketing Activities & Training
The transcription and analysis of customer conversations can provide valuable feedback to your business, allowing you to enhance the development of your product and align your advertising strategies with the customer's needs and wants. Transcript analysis can assist you in tracking your business's performance and adjusting its offering according to the information.
You can utilize meeting transcripts to develop documents for training, reinforce important concepts, or offer more info to employees who were absent from the meeting. Team members can gain insights from previous meetings and develop their skills. This is particularly useful in assisting new employees in getting started or providing ongoing training for existing employees.
Vocol.AI Helps Save Time
A meeting transcript is a searchable, written account of what was discussed in a meeting. It is easy to go through these transcripts to find the information you need, such as key points and action items, without listening to a complete recording.
How Vocol.AI Works: Explained
Vocol.AI listens for voices in an audio stream, processes it using an AI algorithm, and then starts transcribing the words. After that, they're ready to be read, copied, or highlighted in the Vocol console. Along with the text transcription, Vocol also provides the user with a complete summary and topics from the meeting audio using auto-generated AI power analysis.
Generate Transcripts from Recorded or Uploaded Voice Files
Vocol.AI's speech recognition tool comprehends and translates human speech data into text for business solutions. Its speech recognition model analyzes your voice and the language you speak, identifies the words you are saying, and produces those words in transcription as text data.
Once you are on Vocol's dashboard, you will see the "Record" and "Upload" buttons, using which you can either record a voice sample or upload a video or audio file of which the transcript you need. Once done, you can get the complete transcript of the recorded or uploaded audio file in English, Chinese, and Japanese (with support for more languages coming in the future).
Along with the text transcript, Vocol also provides a complete summary and topics detected from the audio file using AI.
Using the Meeting Bot for Online Meetings
Vocol.AI integrates with leading video conferencing tools, including Microsoft Teams and Google Meet. Using Vocol's bot, users need not manually take notes of the online meetings as the AI does the job. Here's how this feature works.
To add the Vocol recording bot to an online meeting, you must provide the meeting link to the bot in the dashboard.
Once done, you must accept the Vocol bot's request to join the meeting, and the bot instantly starts recording the meeting. After the meeting concludes, the Vocol recording bot automatically leaves the meeting and gets to work.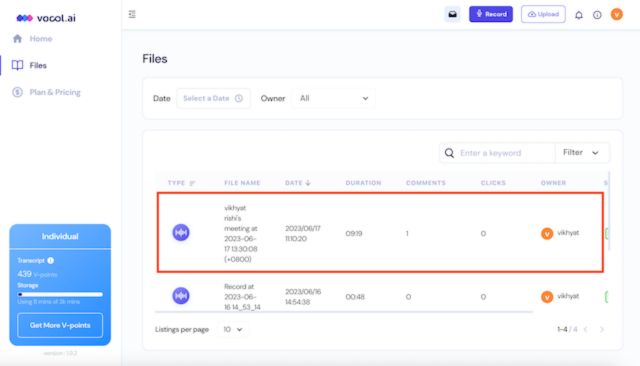 You will find all your recorded meeting files and other uploaded or recorded files under the Files section in the Vocol dashboard. And to get the transcript of the recorded meeting, click on the file, and you will get the AI summary and transcript of the complete meeting. It's a neat feature.
In order to generate the transcription and AI summary, you will need to utilize your V-points. Now the question arises — what is a V-point? A V-point is a primary consumption unit when you use Vocol. For every new individual account, a user gets 200 V-Points and 3000 minutes of media storage for free. Here's how V-points work:
With 1 V-point, a user gets 30 seconds to 1 minute of text transcript. Moreover, if the duration is less than 30 seconds, 0.5 V-point gets consumed.
Further, 1 V-point is consumed to generate 5 – 10 minutes of AI power analysis; if the duration is less than 5 minutes, only 0.5 V-point is utilized.
Supports Multiple Languages
Vocol.AI has the amazing capability to automatically detect the language a user is speaking and create a transcript of the audio and video files in Chinese, English, and Japanese. Additionally, the accuracy of the transcript is beyond our expectations. Even though we had 3 different speakers in a call, two speaking English and one in Chinese, the Vocol.AI bot was able to differentiate between them with ease. We noticed the same in the transcription, which distinctly pointed out each speaker and translated the Chinese speech into English for us.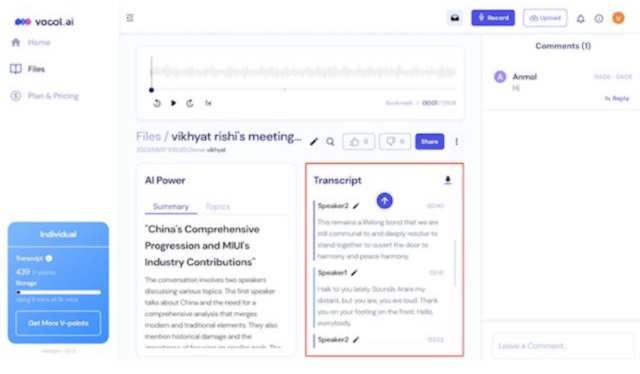 Once transcription completes and a transcript is available, users can share the transcript with others via email so that others can add comments and tag people in the transcript. This makes it easy for users to collaborate effectively, as all the discussions between users around the globe can take place in a single place.
Additionally, Vocol also allows users to download a copy of the complete transcript in CSV, DOCX, and SRT formats. The SRT format is very useful for content creators as it can be used for subtitles.
GPT-Powered Translation Feature
At the beginning of July, Vocol also rolled out a new Translation feature on its platform. This is a godsend for collaborators, especially for those who regularly conduct cross-border meetings with multilingual speakers or if they are language learners.
For example, when having a meeting with Japanese clients who prefer to speak in Japanese, it can be challenging for meeting participants who don't understand the language. In such cases, relying on interpretation may result in missing out on certain details or could result in information gaps. With the transcript translation feature offered by Vocol.AI, you can overcome this language barrier and ensure an accurate understanding of the content.
The GPT-powered Translation function supports more than 20 popular languages. To use this function, simply click on the small Translation icon on the transcript panel, choose the desired language for translation, and wait for the process to finish. You will receive an email notification when it's done.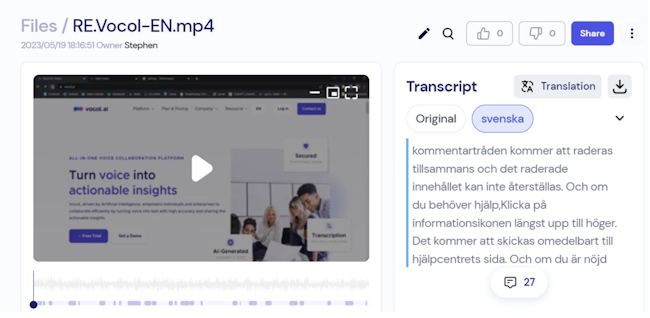 Once the translation is completed, you will see the respective language tabs next to the "Original". You can easily switch between the tabs to compare the translation with the original version. If you click on a specific segment, you can listen to the original audio while you read the translated text.
And if you're the file owner, you can even highlight key points in the translation and share them with colleagues who may not have attended the meeting because it was not conducted in their native language. That's a really helpful way to improve collaboration, save time and keep everyone engaged.
Vocol.AI: Plans and Pricing
Vocol has divided its plans and pricing into three categories, namely Basic Pack, Medium Pack, and Large Pack, to suit the needs at both individual and organizational levels.
The Basic Plan is for individuals who have just started and cost only $16. Users can also opt for Medium Pack, which costs just $36 and gives you more minutes.

The Large Pack is for Individuals and small teams that mostly deal with multilingual clients and costs only $66. So stop waiting and sign-up today to get 200 V-Points for free to test drive the amazing platform.
Try out Vocol.AI right now