Vivo is a very popular smartphone brand in India, all thanks to their decent budget smartphones but the company of late has also been trying to push the boundaries in smartphone technology by pursuing technologies such as the under display fingerprint sensor. That's why there's always a certain hype around any new smartphone released by Vivo. However, the hype around their latest mid-range flagship, the Vivo V9 (₹22,990), is something that I have not seen before.
The Vivo V9 has been in the news a lot lately as Vivo has been promoting this phone like crazy. We have seen the smartphone being extensively promoted in the commercial breaks during the IPL matches, on billboards around the city, and in the hands of Bollywood superstar Aamir Khan in advertisements. So much so that we decided to do a full in-depth review of the smartphone to see what all the hype is about. So, if you are thinking of buying the Vivo V9, here is our full review which can help you decide if the Vivo V9 is worth your time and money or not:
Vivo V9 Specifications
If you have read any of the previous reviews published on our website, you know that it is almost customary for us to mention the specs first. So, here is everything that the Vivo V9 brings to the table:
Name
Vivo V9
Dimensions
154.8 x 75.1 x 7.9 mm
Weight
150 grams
Display
6.3-inch IPS LCD panel, 1080 x 2280 pixels, 19:9 aspect ratio
Processor
Qualcomm MSM8953-Pro Snapdragon 626
GPU
Adreno 506
RAM
4GB
Storage
64GB (expandable up to 256GB with microSD Card)
Primary
Camera
Dual: 16 MP + 5 MP, f/2.0, phase detection autofocus with dual-LED flash
Secondary
Camera
24 MP, f/2.0
Battery
3260 mAh
Operating
System
Funtouch OS 4.0 based on Android 8.1 Oreo
Sensors
Fingerprint (rear-mounted), accelerometer, gyrometer, proximity, compass
Connectivity
Wi-Fi 802.11 a/b/g/n/ac, GSM/HSPA/LTE, Bluetooth 4.2
What's In the Box
Before we take a look at the smartphone itself, let us check out what else Vivo has packed  inside the box apart from the Vivo V9 itself:
A plastic clear back case
A pair of earphones
Charging brick
USB-A to micro-USB charging cable
SIM removal tool
Paperwork
Pre-installed screen protector
When it comes to the unboxing experience, I must say that I was happily surprised that not only Vivo packs a clear case inside the box but it also ships the phone with a screen protector already applied to it. This is really handy as the smartphone is really slippery and Vivo has made sure that your phone is protected from the get-go.
Design and Build Quality
Take a brief look at the Vivo V9 and you will know that the smartphone has been heavily inspired by the iPhone X design. I mean it features the same dreaded notch at the front and the vertical dual-camera placement at the back. However, if you forget the origin of the Vivo V9's design for a moment, you will find that the smartphone is really well built. It feels really good in the hand and even though it sports a 6.3-inch display, it is quite manageable with one hand.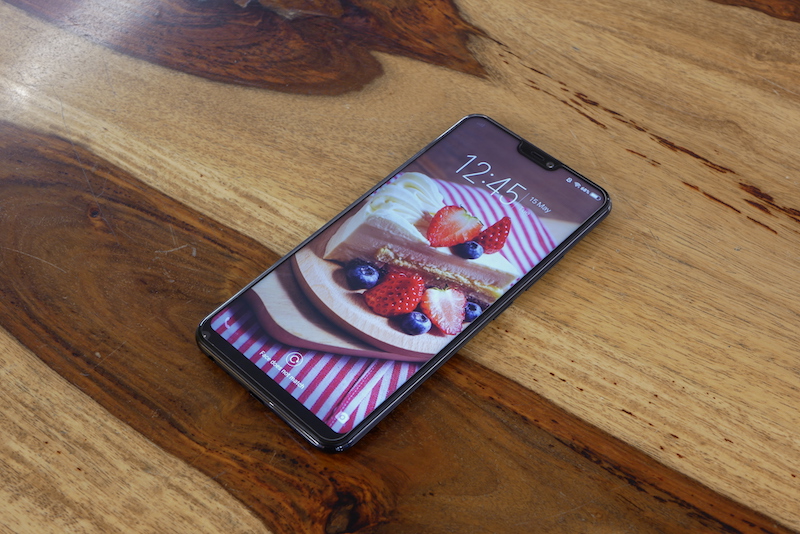 That said, not everything is rosy here. While at first look, the glossy finish at the back might make you think that the smartphone sports a glass back, it, in fact, is made from plastic. Now, I don't mind a plastic back phone, however, if you are going to use a plastic back, at least bring the advantages that come with using plastic, for example, a removable back. However, the Vivo V9 doesn't do so.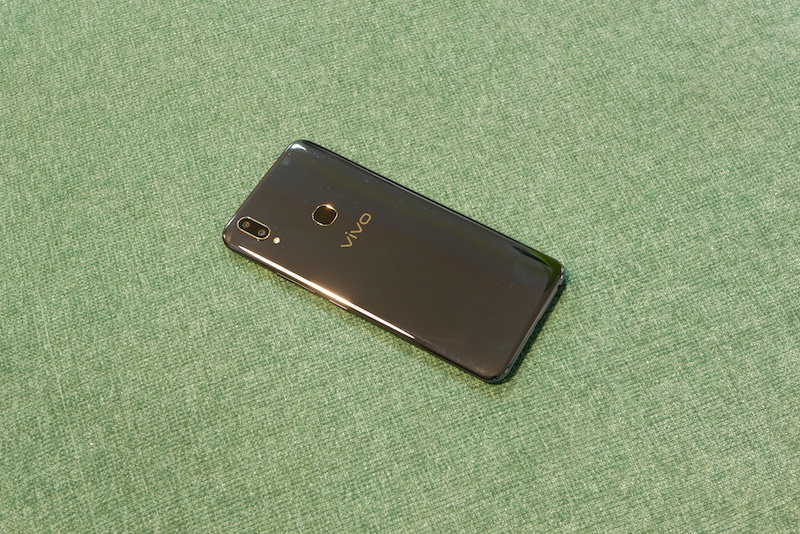 I also don't like the glossy finish as not only it makes the smartphone very slippery but also a huge fingerprint magnet. I guess Vivo knew this, that's why the company shipped the smartphone with a case inside the box. To conclude, the Vivo V9 doesn't bring an original design and a highly glossy plastic back which is not to my taste. That said, it is well built and feels good in the hand. So, it's kind of a mixed bag here.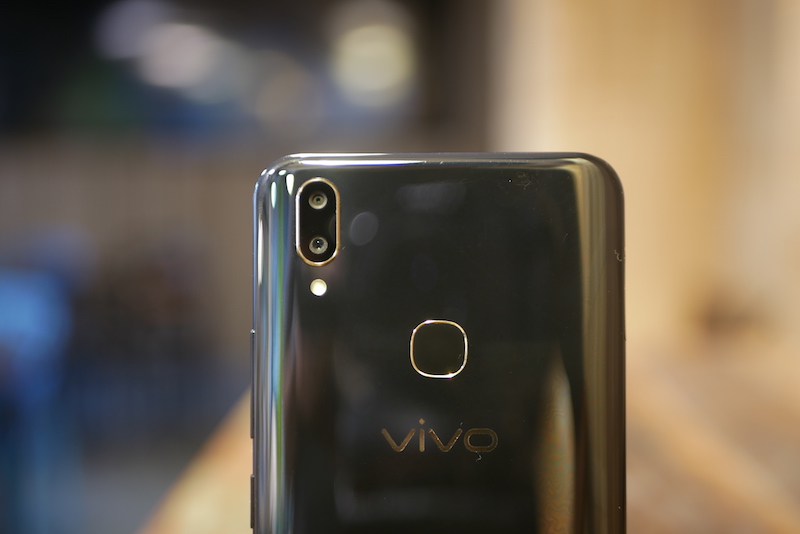 Display
One of the major hypes about the Vivo V9 is its display and why shouldn't it be. The smartphone features a 6.3-inch, 19:9 display which stretches from edge to edge with 85.2% screen to body ratio which is an impressive feat in itself. When it comes to the panel itself, the Vivo V9 features an IPS LCD display panel with a resolution of 1080 x 2280 pixels which gives this smartphone a pixel density of around 400.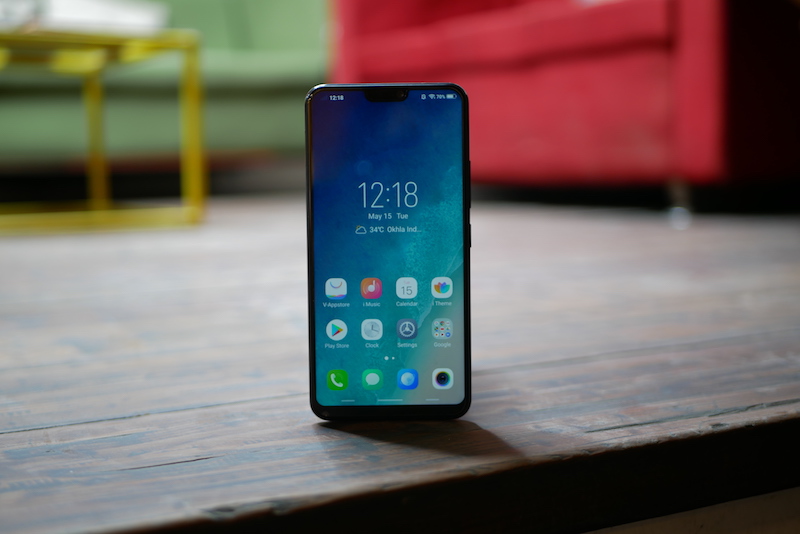 What that means in real life is that the display looks amazing with great contrast and sharp text and images. The display also gets fairly bright and remains quite usable even in the direct sunlight. The color reproduction is also very good, however, it uses a little higher saturation which is not something I like. But that's me just nitpicking here and a normal user won't even notice these complaints.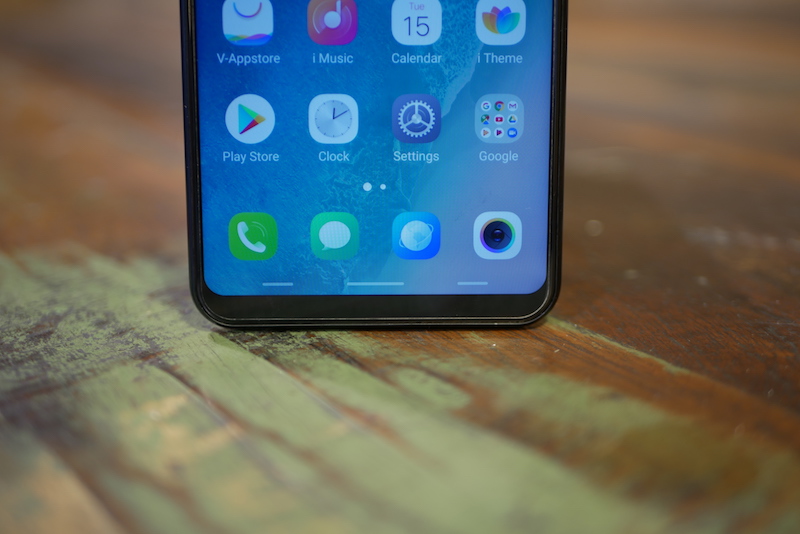 What I don't like about this display is the fact that it only brings Gorilla Glass 3 protection which is outdated by years. I wish the Vivo V9's display had better protection but that's not the case here. Maybe that's why the Vivo V9 ships with a screen protector already installed on the device. If you want to keep your Vivo V9's display in good conditions make sure that you never use it without a screen protector otherwise it will get scratched pretty easily.
User Interface
If you have ever used a Vivo phone before, you know that the company likes to heavily customize its user interface. Now some people like it and some hate it. I fall into the latter category. The Funtouch OS which is running on top of the Android 8.1 Oreo tries really hard to emulate iOS but fails miserably. Every little detail about the Funtouch OS screams iOS inspiration. From the app icons to the absence of app drawer to the system apps, you will find a resemblance to iOS everywhere.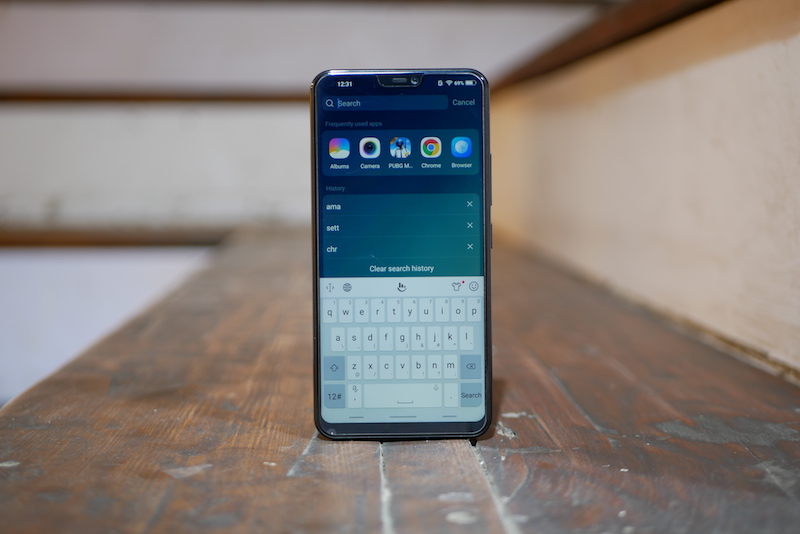 Maybe I would have forgiven its iOS inspiration if the interface also behaved as smoothly as iOS, but sadly, it doesn't. I especially hate the Vivo V9's Settings app which is a big hot mess. There are a ton of different settings menus with no search capabilities. It means that if you ever need to use the Settings app to configure something, you are going to waste a lot of time if you don't know exactly where you need to look.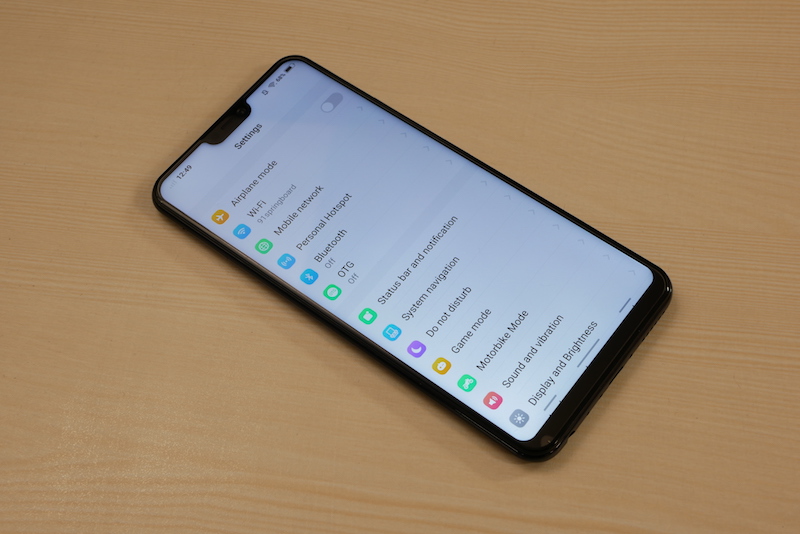 That said, not everything is bad here. Vivo does pack some really good features which I have come to love. There's the Face unlock which can also be used to lock apps, the iPhone X like gesture interface, and the ability to blur certain apps in the Recents app menu. I especially love the gesture interface on the Vivo V9. Somehow, Vivo has figured out the best way to implement gestures, so much so that, I was using them for the entire review period.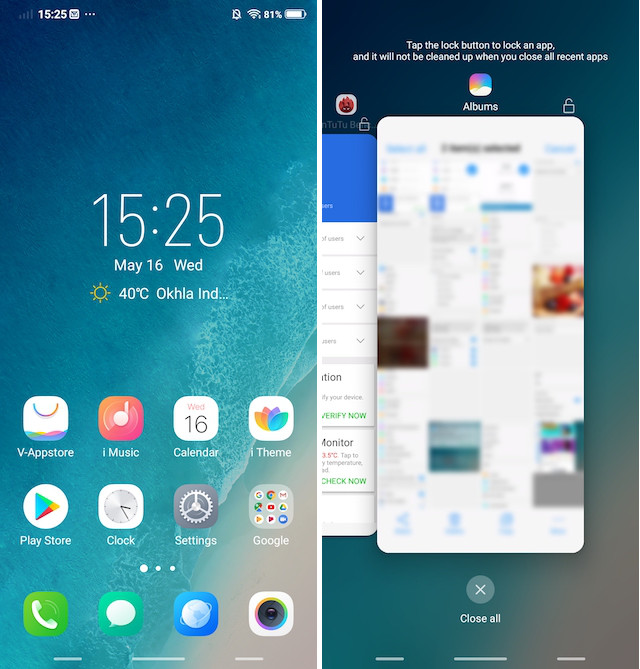 To conclude, if you are a fan of the Funtouch OS, you are going to feel right at home here. However, for me, it just doesn't cut it. The Funtouch OS sacrifices too many Android features (Notification Dots, Google Now panel, App Drawer, and more) to emulate iOS and I just hate it for it.
Performance
Considering that Vivo V9 is priced as a mid-range flagship device, you will be right to expect flawless performance and for the most part, the Vivo V9 delivers. The smartphone brings the Snapdragon 626 processor paired with 4GB of RAM and 64GB of internal storage. That combination is enough to handle all the day-to-day tasks you can throw at it. In my daily usage, I hardly experienced any stutters and frame drops, and I was quite happy with the smartphone's performance.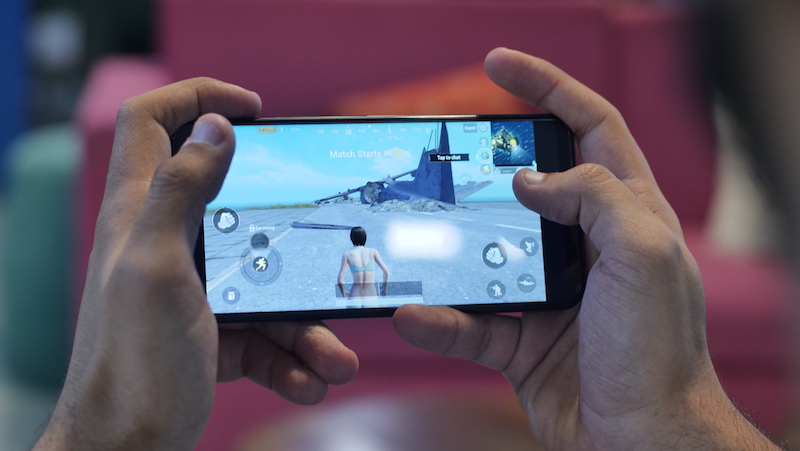 However, things change when you push it harder. Playing PUBG was not as smooth as playing it on a device like the Nokia 7 Plus. To get a smooth playing experience, I had to play the game on low settings. That said, the phone did handle Asphalt 8 pretty easily. I mean, I could notice some frame drops after playing the game for a long time, but nothing so drastic which would ruin your gaming experience. One thing to note here is that when I kept the games running in the background, the Vivo V9 would force quit them to manage resources. It's something which I have not seen on any smartphone released in the recent few years, and hence, it was quite surprising to see that happening on the Vivo V9.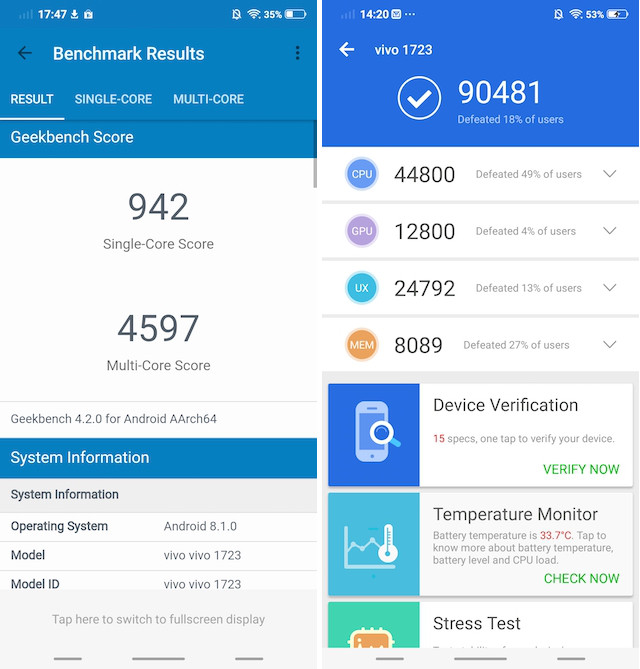 Let's wrap up this section with some benchmarks which many of you love. I really don't believe in benchmarks but if you do, you can read both Geekbench and AnTuTu scores above. The bottom line is that the smartphone performs really well on day-to-day tasks but suffers a little bit if you are doing very resource-heavy tasks.
Cameras
The most hyped thing about the Vivo V9 is its cameras. Vivo always sells its phones with the moniker camera phone and the Vivo V9 is no different. On paper, the Vivo V9 looks a fairly capable camera phone as it packs the 16MP+5MP dual-camera sensor at the back and a whopping 24MP sensor at the front. However, if we have learned anything from Google Pixel 2, it's the fact that neither the megapixels nor the number of sensors matter. What matters is the real-world performance of the hardware, and in our testing, it turned out to be a mix-bag.
Primary Camera Performance in Daylight
In the daylight situations, the smartphone performed really well and took some really good pictures. The pictures captured enough details and were sharp with good color reproduction. That said, we didn't like the dynamic range of the pictures as the phone was not able to distinguish the objects in the shadows, however, the overall performance was on par.
Primary Camera Performance in Lowlight
The lowlight performance of Vivo V9's camera was not good. As the ambient light started decreasing, so did the Vivo V9's camera's performance. The low-light photos lacked details and captured a lot of noise. The camera also didn't perform well in the artificial lighting conditions. Again, there was a lot of noise and even the color reproduction was not up to the mark.
Primary Camera Performance: Portrait Mode
As you might know, the Vivo V9 also brings the portrait mode capabilities which allows users to take pictures with bokeh effect. Again, the camera performed nicely in the bright-light situation. However, it did overdo the blurs in some photos. We had to carefully take the pictures to get the blur just right. So, if you want to take good portrait shots, you will have to be put in more effort to get it right.
Vivo V9 Selfie Camera Performance
Where the Vivo V9 redeems itself is in the selfie camera department which takes some really good selfies. In general, we felt that the selfie camera captured better pictures than the rear-facing cameras. Even the bokeh mode on the front camera turned out to be better than the one on the rear-facing cameras. I also liked the lowlight performance of the selfie camera. With Vivo V9, I found that I was using the selfie camera more than the primary camera on the back.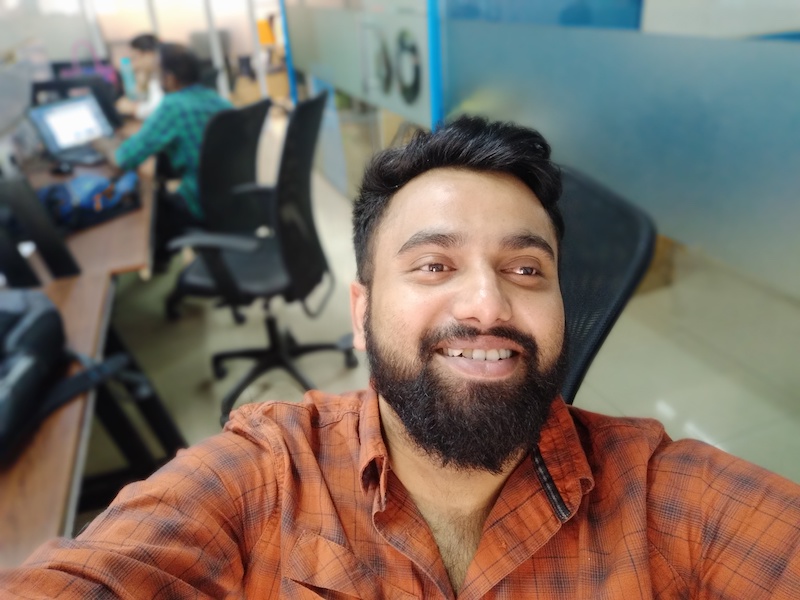 Overall, I won't call this phone as a camera phone as its primary sensors performance is quite bad especially when it comes to artificial or indoor lighting conditions, however, it can be called as the selfie phone as the front-facing camera performs really well in all situations.
Telephony and Audio Quality
When it comes to the call quality, the smartphone performs really well. Calls sounded clear on both sides as the phone brings very good noise cancellation. That said, the bottom firing single speaker is very bad. Don't get me wrong, it gets sufficiently loud, however, it brings all the drawbacks which comes with a single bottom firing speaker. It means that the audio starts cracking at high volumes and it's really easy to suppress the speaker if you are watching media in landscape position. Thankfully, the Vivo V9 does provide a pair of earbuds which comes in really handy.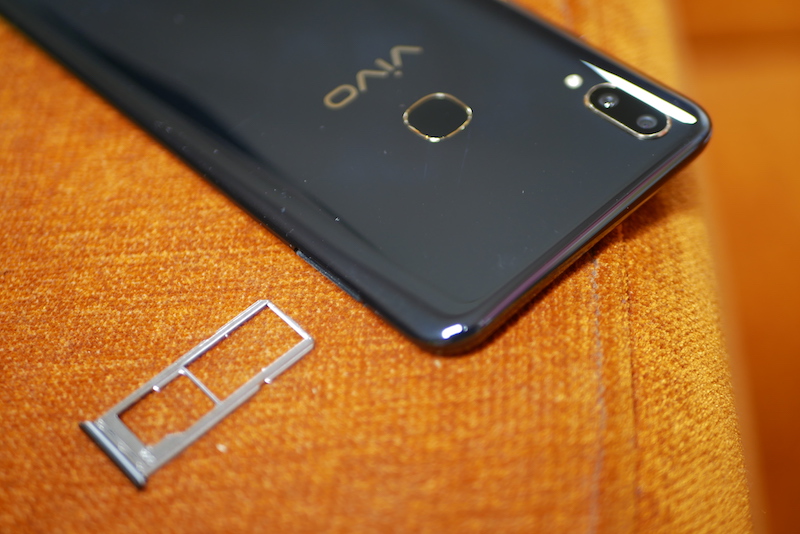 Connectivity
The port selection on the Vivo V9 is pretty standard for a device at this price range. There's a micro-USB port for charging and a 3.5 mm headphone jack for listening to songs. I do wish that the smartphone came with a USB-C port as many smartphones even in the sub-20,0000 category have now adopted the new USB-C standard.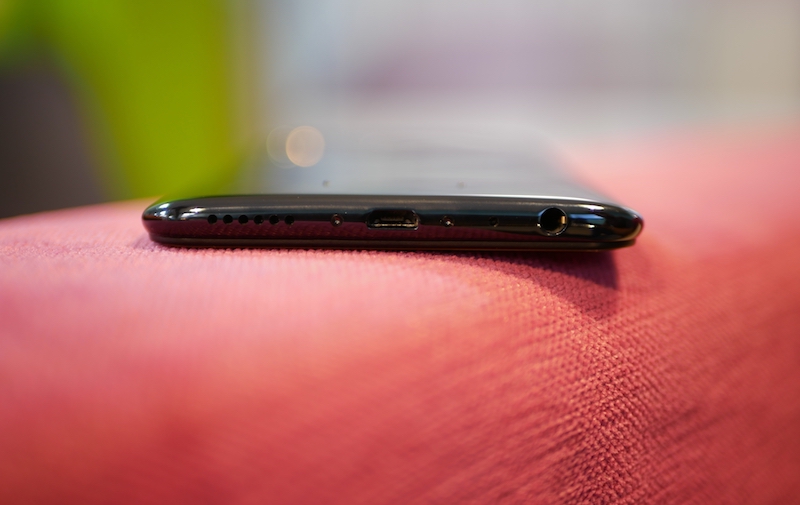 What I like most about this smartphone in terms of connectivity is that it supports dual-SIM cards along with a microSD card, which is great. Most of the smartphones make you choose between a secondary SIM and a microSD card as they bring a hybrid slot, however, with Vivo V9, you can use both. Rest of the features are pretty standard with support for LTE, Bluetooth 4.2, and the latest WiFi 802.11 standard.
Battery
The Vivo V9 packs a 3260 mAh battery which might seem a bit less considering its huge 6.3-inch screen. However, in my testing, the smartphone was easily able to last a full day without needing a charge. It can even be used for one and a half day if used judiciously. When it comes to the charging rate, the smartphone was able to go from 28% to 68% in under 50 minutes. It clearly shows that the Vivo V9's charging speed is not the best in the business however, it's not that bad either. That said, don't expect any fast charing with this one.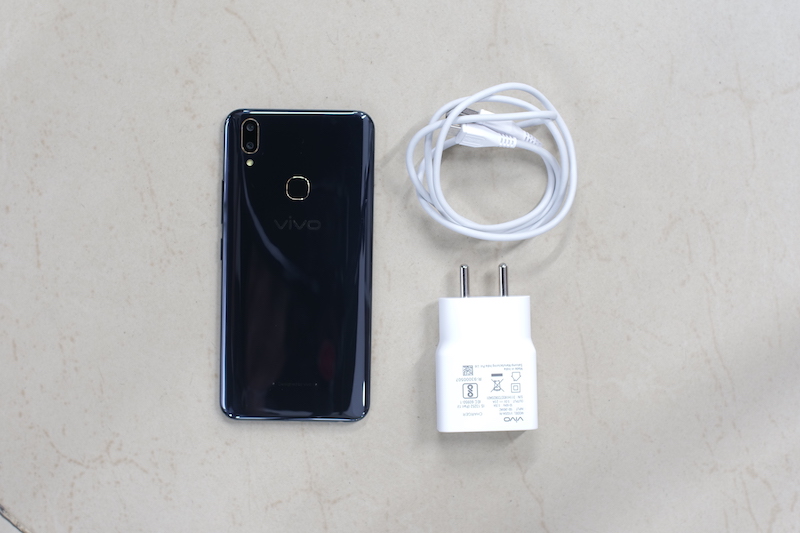 Vivo V9 Review: Good Looks But Average Performance
Take a look at Vivo V9's hardware and software and it's quite clear that Vivo was trying to make a budget iPhone X. However, not only Vivo V9 fails to do so, it even gets the basics wrong. The force quitting of games in the background, the plastic back, the bad primary camera performance, and its iOS-like interface just do not cut it for me. As far as I can see, it's a smartphone which you will be happy with when you buy it, however, not so much in the long run. It's a sprinter and not a marathon runner. If you love taking selfies and are enamored by its almost bezel-less design, it's for you. The rest of you should look at something else.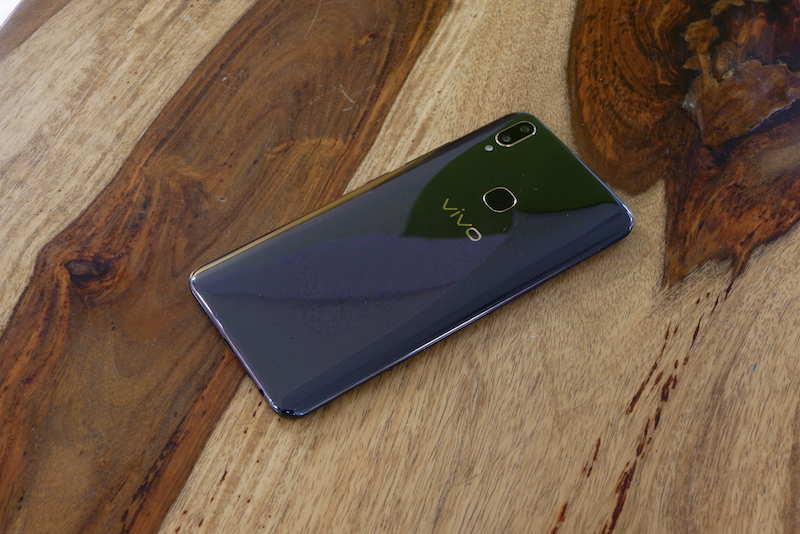 Pros:
6.3-inches of almost bezel-less display
Awesome selfie camera
Gesture implementation
Cons:
iOS-inspired interface sacrifices too many stock Android features
Average primary camera
SEE ALSO: 15 Best Vivo V9 Features and Tricks You Should Know
Vivo V9 Review: Not A Clear Winner
Vivo gets a lot of things wrong with the Vivo V9 and considering its price point, buyers won't be getting their money's worth with this smartphone. If you do decide to buy this phone, make sure that you know that you are buying it for its selfie camera and that big 6.3-inch bezel-less display. That said, also keep in mind the sacrifices that you are making to get them.
Buy From Amazon: ₹22,990
---
Load More