There's no dearth of video editing software out there. However, if you're looking for something that you can use for free to create high quality content, the options get quite limited. One of the few good video editing software that you can find out there is VideoProc Vlogger (download). It is great for video editing beginners, as well as hobbyists and vloggers. So, here's a look at everything you need to know about VideoProc Vlogger, and all its useful features. 
VideoProc Vlogger: What It Is and Who Is It For? 
So, what is VideoProc Vlogger. Simply put, it's a video editing software, but unlike some of the more complicated options out there, Vlogger is intuitive and easy to learn and use. What's more, it's free to use, and still brings in a ton of useful features that will make it a solid option for you when you're thinking of editing your next video.
While we're at it, let's also take a quick look at the target audience for VideoProc Vlogger. As the name suggests, this software is aimed at vloggers, for the most part. So, if you're running a YouTube channel where you post daily vlogs, or vlogs of your travel adventures, etc, VideoProc can come in really handy for you.
However, apart from that, the ease of use that this software offers makes it a solid choice for beginners who are just diving into the world of video editing, as well as hobbyist video editors looking to upload a video every now and then. Plus, if you need some help, you can check out the VideoProc Vlogger tutorial. 
Ease of Use 
One of the biggest hurdles in using a new video editing software is the fact that everything feels different. However, with VideoProc Vlogger, you get an intuitive, easy to use software that you can pick up and start using almost in no time.
The software starts off with a simple timeline, media library, and properties. You can drag and drop clips from the media library into the timeline, and edit it as you see fit. There are easily identifiable buttons for things like playback, splitting clips, cropping, adding motion, and more.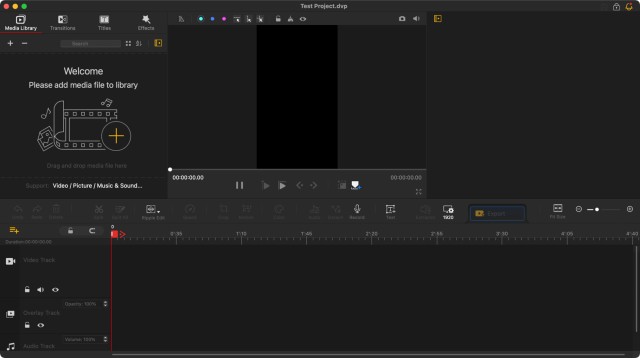 And once you're done with your project, you won't have any trouble finding the export button either. It's overall a really simple to use software, with a ton of features. That means you'll be completely comfortable if you're a beginner, and you will not be left wanting for features, if you're a professional video editor. 
Features 
VideoProc Vlogger offers a ton of useful features that will definitely get you excited for your journey into video editing. Let's take a look at some of the best features that you'll find in this software. 
Camera Movement: Pan, Zoom, Dolly Zoom, and More 
Camera movement is a very important aspect of creating good quality videos. Whether you're using a B-roll shot for some montages in your video, or trying to create impressive effects for a product shot, having your camera motion on point will give it a much better effect.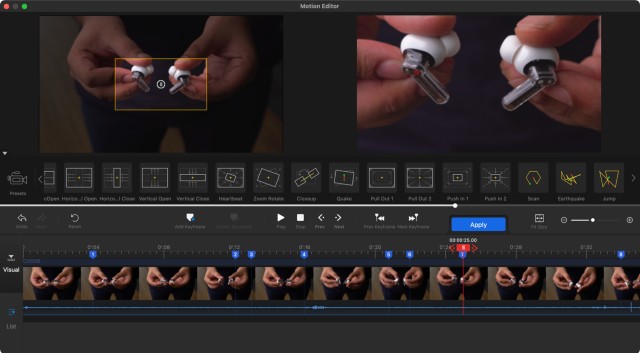 VideoProc Vlogger comes with 28 preset motion types that can help you automatically apply camera movements to your footage. These presets include everything from basic options such as pan and zoom, to more fancy ones such as Dolly zoom, Pedestal and more. 
Dynamic Cropping and Reframing 
Another useful aspect of VideoProc Vlogger is the dynamic cropping and reframing options that it offers. With these, you can easily reframe your shots, or have Vlogger dynamically crop your shots while keeping the subjects in the frame.  
This is great if you're trying to use the same shot to create videos for different aspect ratios and social media platforms. You can use your 16:9 shots for YouTube, and dynamically crop them to 1:1 for Instagram, as well as vertical aspect ratios for Instagram Reels, or YouTube Shorts; and VideoProc Vlogger will automatically crop your shots in a way that the subjects remain within the frame in all of these aspect ratios. 
Speed Control 
For slightly more advanced looking effects in your videos, you can use tricks like adjusting the speed of a clip to make things seem faster and more tense. With VideoProc Vlogger's visual speed ramping controls, you can do this easily and more intuitively.
The software brings 14 built-in effects that you can readily use anywhere you want. Plus, if you want more control, you can simply drag the Bezier Curve to manually increase or decrease the speed of the clip. 
You can also take advantage of the automatic keyframe and Bezier interpolation. With this, you can simply set up your keyframes, drag the rubber band and that's it. VideoProc Vlogger will automatically make sure that the effect happens naturally within the keyframes you selected.  
Audio Editing 
VideoProc Vlogger also comes loaded with a bunch of really useful audio editing tools. One, you get a visual audiogram, which can help you in making precise edits to your voiceover or audio track. There's also a 10-band audio equalizer, plus, if you're a beginner, you can make use of the 14 preset equalizer settings to make the audio sound great. For advanced users, there's the ability to adjust highs, mids, and lows, optimize vocals, noise reduction, and more.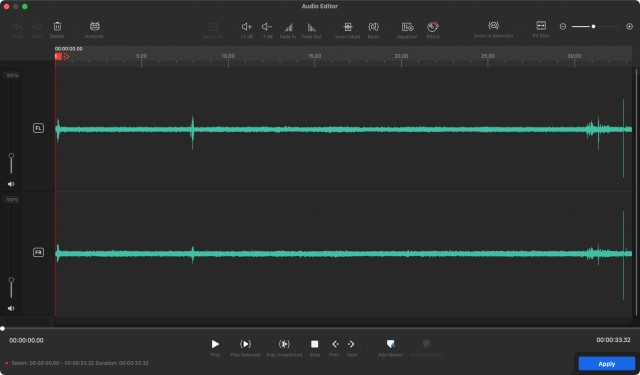 The software also makes it easy to analyse audio tracks for times when you want to edit jump-cuts to the beat of the song. VideoProc Vlogger comes with three different options to do this. The Audio Onset option is best for tracks where there's an obvious beat, such as that from a snare drum, gunfire, etc. On the other hand, Audio Beat is useful for times when you're using other types of music and you want the software to analyse the overall rhythm of the track so you can edit accordingly. Lastly, there's the Audio Silence option which is great for removing silences from within audio files.  
Apart from that, you get 12 built-in audio filters as well for effects like stereo/mono sound, high pass or low pass filters, denoise, etc. 
Color Correction and Grading 
Color grading is usually the kind of thing that most beginner video editors shy away from. However, VideoProc Vlogger brings 93 built-in LUTs and filters that you can use on your clips to give them a pro-feel. This is great for beginners and hobbyist video editors.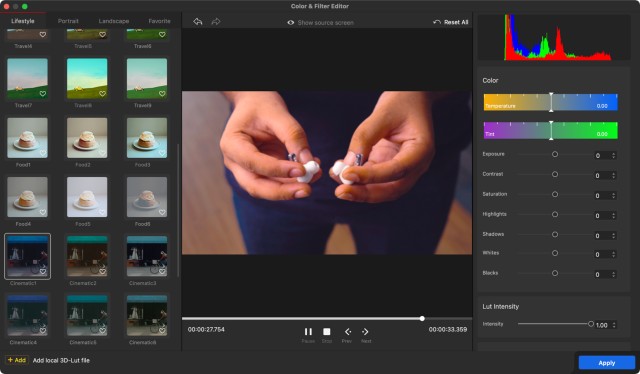 For advanced users, Vlogger supports HSL editing, so you can fine tune the Hue, Saturation, and Luminance of the footage. Along with that, you also get controls for tint, contrast, saturation, whites and blacks, and more.  
Other Highlight Features 
Apart from all of the features mentioned above, VideoProc Vlogger also has a ton of other, useful features that deserve to be mentioned. For starters, the software supports fully hardware-accelerated 4K editing, which allows you to easily edit 4K content even on low-spec computers.
The timeline here is very intuitive as well, and it allows you to make really precise edits easily. You can simply drag and drop items into the timeline, and even use frame-by-frame editing to edit everything down to a single frame if you want that level of precise control for your clips.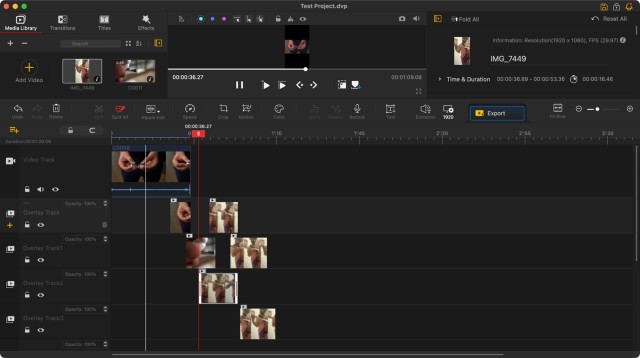 For extremely complex projects, Vlogger supports up to 999 different tracks, so no matter whether you're working on a simple travel vlog, or editing a movie for your college courses, Vlogger can handle it all. 
File Support 
VideoProc Vlogger supports a variety of file formats as well. You get support for H.265/HEVC, H.264/AVC, HDR (including HDR10, HLG, Dolby Vision), Apple ProRes, MP4, MOV, MKV, AV1, and more.
That means you can use footage captured from a plethora of cameras, including things like Apple devices, DSLRs, GoPro, DJI drones, iFrame cameras, DVDs, and more. Basically, if you have a video file you want to edit, Vlogger will most likely be able to do it for you. 
Rendering Options 
Once you're done with all the edits, you can render your project. VideoProc Vlogger uses a high quality render engine which ensures that you get a perfect balance between size, quality, and render speed. So you will get faster, high quality renders, at smaller file sizes.
The software also supports real-time playback, so if you want, you can easily play back your un-rendered video in the timeline to ensure that everything looks just how you want it to, before rendering it.  
Check Out VideoProc Vlogger For Your Video Editing Needs 
Overall, VideoProc Vlogger is quite nice as a video editing software. Whether you're a beginner, a hobbyist, or a vlogger looking for a video editing application that can help you make some really impressive videos, all without spending a dime, you should definitely take a look at VideoProc Vlogger. It brings an easy to use interface, advanced video editing features, audio editing options, color grading, and more.
Download VideoProc Vlogger (Windows, macOS)