Truecaller has been shedding its image for quite some time and putting an effort to project itself as a privacy-conscious company. We in fact did a detailed piece on Truecaller's data-gathering practice and found that there are ample safeguards and user choice. And no, contrary to popular opinion, the company is not based out of China.
That said, now Truecaller is looking ahead and adding some great features to make the calling experience even better. The recently-announced Call Reason feature on Truecaller allows you to let the recipient know why you are calling them. It's not as innovative as Pixel's Hold for Me feature, but useful enough for most users. So if you want to learn how to use the Call Reason feature on Truecaller, follow along.
Use the Call Reason Feature on Truecaller
Before we begin, let me tell you the Call Reason feature on Truecaller is currently available only on Android and rolling out worldwide. It will be coming to iOS early next year. Also, you need to be on version 11.30 to be able to use this feature. So go ahead and update the Truecaller app on the Play Store. All that said, here are the steps to follow.
1. First of all, open Truecaller and tap on the hamburger menu. Here, open "Settings" and move to "General".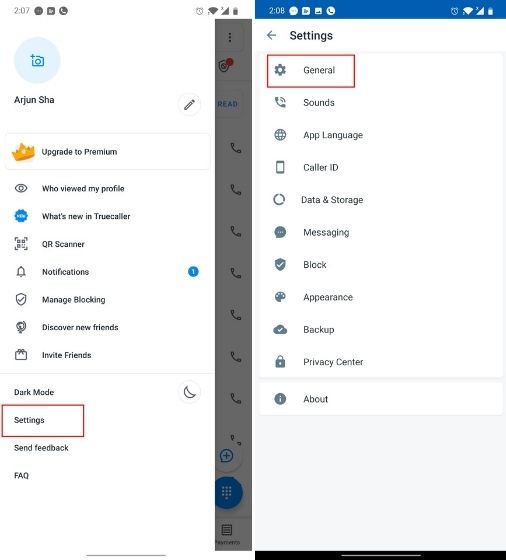 2. Next, you will find the option "Call Reason". Here, enable the toggle and it will take you to the setup page.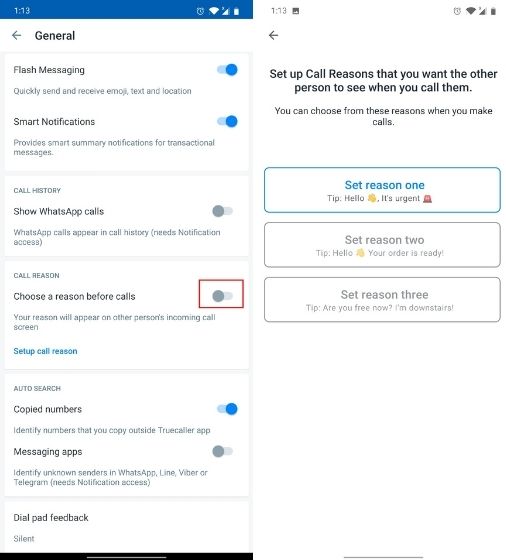 3. Now, tap on the reasons to activate those pre-defined messages. If the buttons are not working then go back and enable the toggle again. This time, it should work fine.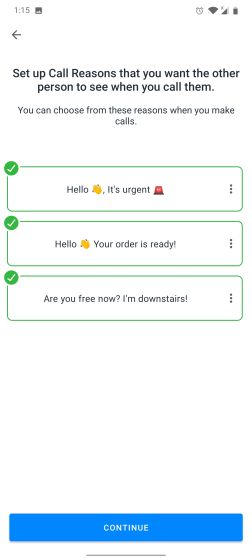 4. If you want to edit the pre-defined reasons and add your own reasons then simply tap on the 3-dot menu and you will find an "Edit" option. Tap on it and add your custom call reason on Truecaller.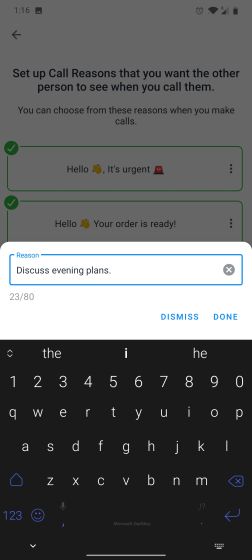 5. Now, you will be greeted with feature activation. Tap on "Got It" and you are done.
6. Next, open Truecaller and place a call. Instantly, a call reason pop-up will appear. You can simply choose any one of them or enter your own text by tapping on the "Type Custom" button. If you want to permanently remove the Call Reason prompt for a particular contact then tap on "Hide For This Person".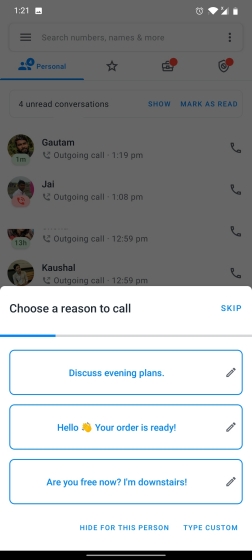 7. Finally, the recipient will see the call dialog with Call Reason, front and center. This way, the recipient will know the reason why you are calling and can increase the chances of call pick-up, especially for unknown numbers. That's one cool idea, right?
Note: The recipient must be having the Truecaller app installed to see Call Reason.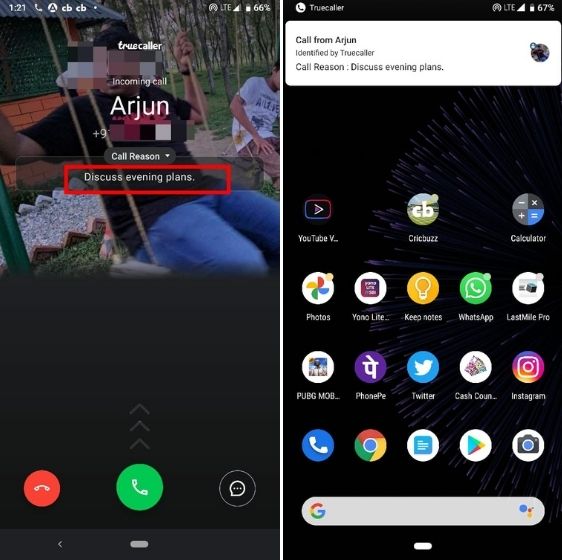 Use Call Reason on Truecaller for Better Communication
So that is how you can use the Call Reason feature on Truecaller. I am happy that this sought-after feature is not behind the paid plan and everyone from e-commerce agents to service-based companies can take advantage of this feature.
Anyway, that is all from us. But what do you think about the Call Reason feature on Truecaller? Let us know in the comments section below. In case, you are not wooed away by this new feature then you can take a look at the top 10 Truecaller alternatives.