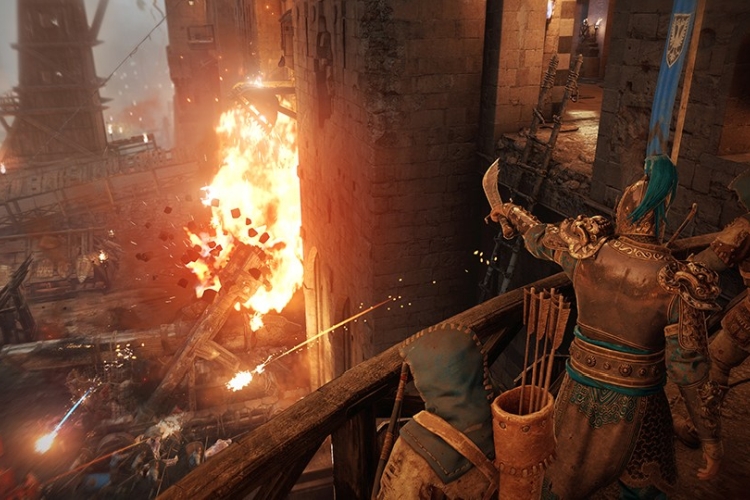 Ubisoft's E3 2018 has ended and there's a whole lot to cover. Before we dive into each announcement in depth, here's a quick (as quick as possible given the array of announcements) roundup of Ubisoft's keynote. While there was no Splinter Cell this time around, there were still some pretty great titles on show.
Just Dance 2019
The show started with Ubisoft showing off the usual addition to their dancing game franchise, Just Dance 2019.
Just Dance 2019 offers up a completely personalized experience, in which the game learns your dancing habits and offers up custom recommendations based off your previous song selections. You can also create your own custom playlists to make sure that you can easily access your favorite jams.
Just Dance 2019 will be available on PS4, Xbox One, Nintendo Switch, Xbox 360, Wii U, and Wii, on October 23.
Beyond Good and Evil 2
One of the biggest reveals of the show, Ubisoft also showcased a cinematic trailer for Beyond Good and Evil 2.
The action-adventure RPG is based on an ice planet and you can play alone or with your friends in coop, with the gameplay being "seamless" according to Ubisoft. You check out our detailed coverage of Beyond Good and Evil 2 here.
Trials Rising
Announced during Ubisoft E3 keynote, Trials will be making its comeback to the gaming consoles, with Trials Rising.
Trials Rising will be the first entry in the series since 2014's Trials Fusion. The game will involve a cooperative local multiplayer mode called "Tandem Bike," where both players combine to navigate a single dirtbike through the game's notoriously weird and difficult motocross courses. Trials Rising will also feature a career mode spanning "local backyard competitions" to stadium performances, including licensed racing brands such as Fox Racing Gear and Red Lynx.
Trials Rising will launch in February 2019 for Nintendo Switch, PlayStation 4, Xbox One and Windows PC.
The Division 2
The Division 2 has been fully unveiled at E3 2018, during Ubisoft's keynote.
Set in Washington D.C., the game takes place seven months after a deadly virus was released in New York City and the nation has become a shell of its former glory. While the virus has been contained, its effects are most evident in the devastated streets of the nation's capital where survivors cling to hope and struggle to rebuild. Enter The Division, a unit of civilian sleeper agents who now must work to stop enemy factions from completely taking over the city – and ultimately, the nation.
The Division 2 will arrive in March 2019 for Xbox One, PS4, and PC.
Mario + Rabbids: Kingdom Battle – Donkey Kong Adventure
Donkey Kong will be featured in Ubisoft's next title, Mario + Rabbids: Kingdom Battle – Donkey Kong Adventure.
Spread across four new zones, Donkey Kong Adventure focuses on Donkey Kong and Rabbid Cranky, who team up with Rabbid Peach to fight off Rabbid Kong. Donkey Kong Adventure introduces new gameplay elements, with one of the biggest being DK's grab-and-throw skill.
Mario + Rabbids: Kingdom Battle – Donkey Kong Adventure will be available on June 26.
Skull and Bones
Ubisoft showcased new trailer about their anticipated game Skull and Bones at their E3 2018.
https://www.youtube.com/watch?v=hjC8_av7hhU
Skull & Bones showed off a new PvPvE mode called Hunting Grounds. Setting players lose in the open Indian Ocean, this new mode will let them hunt merchant ships, loot trade routes, and sink enemy vessels either as a lone wolf or part of a pirate gang. As you pillage and plunder your way towards fame and notoriety, you'll have to fend off the forces of powerful empires, fiendish rival pirates, and even the treacherous ocean itself.
Skull & Bones will launch in 2019 on PS4, Xbox One, and PC.
Transference
A collaboration between Ubisoft Montreal and SpectreVision, Transference is the new game from Ubisoft.
Transference is a VR experience that forces players into a chilling tale of a boy caught in his father's destructive obsession. As players explore the maze-like puzzles of a deranged mind, they'll also be navigating a multi-branching narrative, played out by real actors. Both segments of Transference, the game, and the movie, play with the truth. Items glitch in and out as the player explores, and the snippets of family drama reveal a troubled history of lies and a dangerous fixation.
Transference is scheduled to release in Fall 2018. The game will be available for both Xbox One and PS4 and also release in VR on Oculus, Vive, and PlayStation VR.
Starlink: Battle for Atlas
Ubisoft also announced Starlink: Battle for Atlas, which will feature a special character with the studio's collaboration with Nintendo.
Set in the Atlas star system 400-lightyears from Earth, players fight an alien legion using laser guns and powerful spacecraft. Players will be able to buy toys that, when connected to a special component, will unlock their counterpart spacecraft parts in the game. What's more is that Star Fox's Fox McCloud will appear in Starlink: Battle for Atlas.
Starlink: Battle for Atlas will be available on Nintendo Switch, Xbox One, PlayStation 4 on Oct. 16. Fox McCloud will be exclusive to the Nintendo Switch.
For Honor
We knew For Honor was going to be featured at this year's Ubisoft presentation, and they didn't disappoint, announcing that the game is going free for a limited time, along with a new update.
The Marching Fire update will introduce a new faction from China, the Wu Lin, which will add four new Heroes to the current roster of 18. Apart from that, Marching Fire also adds a new 4v4 multiplayer mode, Breach, which lets players take part in a full-on castle siege.
Marching Fire launches October 16 on PS4, Xbox One, and PC. Additionally, the Starter Edition of For Honor is free on PC via Uplay from June 11 to June 18.
The Crew 2
Ubisoft's upcoming game, The Crew 2, also featured at the studios' E3 keynote, showcasing the game's trailer and its upcoming beta.
A trailer accompanying The Crew 2's reveal showed off much more than the four-wheel driving action seen in the 2014 game. We now get Stunt planes, dirt bikes, street motorcycles and cigarette boats which will all figure into The Crew 2's racing format.
The Crew 2 has a beta available to all players on PlayStation 4, Windows PC and Xbox One, right now.
Assassin's Creed Odyssey
Ubisoft saved the best for the last, announcing Assassin's Creed Odyssey at their E3 2018 expo.
The game will send players to the Greco-Roman era. Players will be able to choose their protagonist, Alexios or Kassandra, two warriors traversing the war-torn country. Both Alexios and Kassandra are bequeathed the broken sphere of Leonides, a legendary weapon that makes them especially powerful. From then on, each character makes choices that define their adventure going forward.
Assassin's Creed Odyssey will launch October 5, 2019.
Ubisoft might not have had a wide array of games as present at Microsoft's E3 2018 showcase, but they nonetheless managed to get most things right. Personally, I'm the most excited for Assassin's Creed Odyssey, and I just can't get enough of this game. But what about you? Which game was your favorite? Share with us your thoughts in the comments below.
---