It is well said that these days we have an app for everything. With more apps and websites, cometh the responsibility of managing passwords because keeping same password everywhere isn't safe. Password managers have emerged as saviours in such situations. LastPass is considered to be amongst the best password managers out there. However, recent revelations about LastPass breach has raised several questions on its credibility. Thus, we have compiled a list of 8 best LastPass alternatives that you can use to keep your passwords safe.
Password Managers like LastPass You Can Use (2022)
LastPass boasts to deploy a Zero-knowledge security architecture coupled with 256-bit AES encryption and protection against brute-force attacks by threat actors. The Zero knowledge architecture of the password manager relies on a Master Password to ensure that no one has the access to the stored passwords except you. Despite the promises of full-fledged safety by the company, LastPass recently suffered a massive data breach, in which, bad actors managed to flee away with a copy of customer vault data.
While LastPass has assured that the password vault is encrypted and it cannot be accessed without your Master Password, the password manager has become less reliable as it is the second time in 2022 when LastPass has experienced a security lapse. Therefore, it is advisable to keep away from the company for some time and move your passwords to other LastPass alternatives.
LastPass Alternatives
1. 1Password
1Password is arguably the next best thing to LastPass right now. Like other safest password managers, 1Password saves all your passwords behind a Master Password, which is not stored anywhere, not even on 1Password servers. Available for all platforms including macOS, iOS, Windows, Linux, Android, and web, 1Password syncs your data across devices so that you can access your passwords on the go.
If you are a current user of LastPass, traversing around 1Password should not be a tough task as both password managers are almost comparable in terms of functionality and features.
However, there are certain standout features in 1Password, like a Travel Mode – which temporarily deletes sensitive data from your devices when you travel internationally. You can restore the access with just a click, once you are in a safer environment. 1Password also offers a Digital Wallet feature to store credit cards, bank account details and more.
When compared to LastPass, 1Password has a cleaner and more organised user interface. On the downside, 1Password does not offer a free version like LastPass. You will have to buy the premium version to store passwords on 1Password.
A palate cleanser towards the end- you get a 14 days free trial with 1Password and you can also keep an eye for deals on 1Password subscription, which is often available at a discounted price.
Price: $35.88/year
Get 1Password
2. Dashlane
Dashlane is one of the best password managers that should be on your list if you are planning to switch from LastPass and are looking for LastPass alternatives to port your passwords. With an easy user interface, Dashlane offers AES-256 encryption to safeguard passwords and your Master Password prevents anyone from accessing your account. It is available for Windows, Mac, iPhone, Android and browser extensions for web.
One of the best features of Dashlane is dark web insights which keeps monitoring data leaks and breaches on the dark web. The feature can be quite useful as most data leaks are primarily revealed on Dark Web. Consider it as an early warning system! However, it is important to know that dark web monitoring is a premium feature.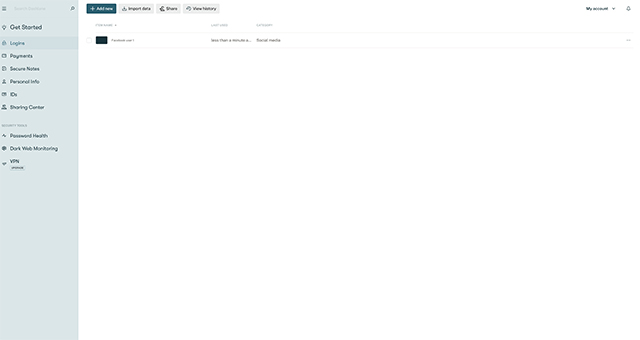 The free version of this LastPass alternative allows just one device and you can only store up to 50 passwords, which is disappointing. Dashlane also offers VPN for protection on public WiFi connections. But it is also a premium feature.
Dashlane's free version is great for entry-level users. Whereas, the premium version offers some useful feature, but is it is expensive as compared to LastPass.
Price: Free, $3.33/month
Get Dashlane
3. Roboform
Roboform is yet another password manager that deserves a spot in this list of best LastPass alternatives. It is a simple and easy-to-use password manager designed to save passwords, autofill passwords on websites and apps and save your ID cards, and credit cards.
Roboform password manager does a great job at detecting tricky web forms and filling passwords in them. Its password generator tool is also quite reliable and you can use to to generate strong passwords. While Roboform does not offer over-the-top features like LastPass' Dark Web monitoring, it excels in ease of usage.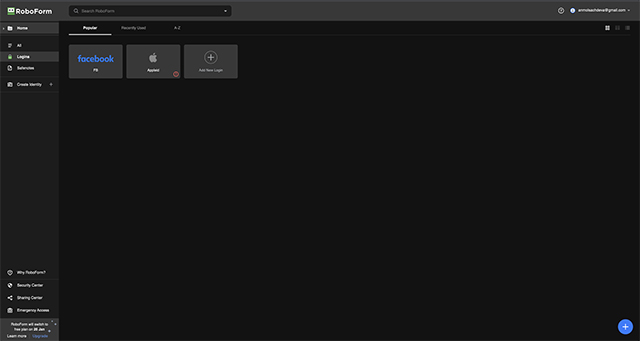 However, there are some notable letdowns from Roboform that you must know before picking it up as a LastPass replacement. Firstly, the free version does not allow sync across devices, which could be a deal breaker for many. Secondly, there is no 2 factor authentication available if you are not paying for the premium version. Both these features makes it hard to pick Roboform, unless you are opting for the paid version.
Price: Free, $16.70/year
Get Roboform
4. Bitwarden
Bitwarden is an open-source password manager that can give a neck-to-neck competition to LastPass and it's a worthy LastPass alternative. With source code on GitHub, BitWarden offers complete transparency and anyone can audit or review the password manager. Bitwarden is available for Windows, macOS, Android, iOS and you can get browser extensions for all major browsers. While passwords remain synced across devices even in the free version, you can also share encrypted passwords using the BitWarden Send feature. The password manager is also equipped with other useful features like auto-fill web forms, password generator, 2FA login, a master password and password strength tester.
It is one of the best free LastPass alternatives as you can access almost all major features without paying zilch. However, one feature that I found missing in the free version is Emergency Access, which allows you to add another Bitwarden user as a nominee to access your passwords in case of an emergency.
User interface is intuitive and similar to LastPass, thus you will not have to face any difficulty while switching from LastPass to Bitwarden.
Price: Free, $10/year
Get Bitwarden
5. NordPass
NordPass is a password manager offered by the company that provides NordVPN. Do not consider it as a bundled product offered with NordVPN; NordPass is a full-fledged password manager with quite useful features. It works across Windows, macOS, Android, iPhone and extensions for browsers. The free version of NordPass offers sync across devices, log in on up to 6 devices, auto-save, autofill, multi-factor authentication and more. NordPass Premium comes with an extra set of features including password sharing, password health monitoring and notifications for data breaches. Strong password generation feature is not offered with the free plan, which is considered to be a core functionality of a password manager.
You can store credit card details, sensitive text messages, notes, etc on NordPass to keep them away from prying eyes. The feature where NordPass really excels is identifying weak, old and reused passwords and monitoring the internet for data leaks. NordPass passes with flying colors as one of the best LastPass alternatives, owing to its minimal user interface and features offered.
Price: Free, $23.88 for the first year
Get NordPass
6. Zoho Vault
Zoho Vault is another LastPass alternative that you can use to store passwords, files and other sensitive information in an encrypted form. Like other password managers in this list, Zoho Vault also deploys a master password to access the vault. Its interface is quite intuitive and it won't take much take getting around if you are coming from LastPass. You can store unlimited passwords, attachments, notes, and more. Zoho Vault is also available offline unlike some other password managers so that you can access your passwords even when you are not connected to the internet. In my experience, Zoho Vault performed an excellent job of identifying web forms and filling them up. Its dashboard offers metrics like password assessment score, expired passwords, password activity in a single glance.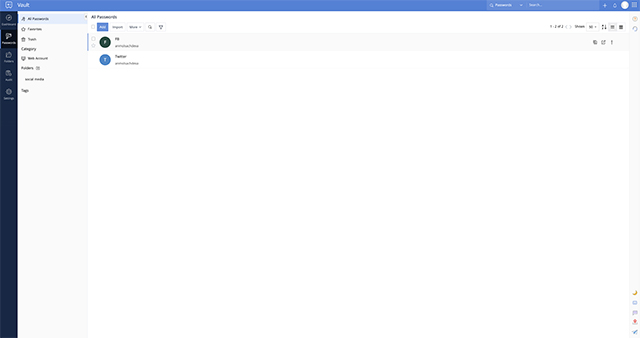 The free version of the password manager is quite capable and would satisfy the requirements of most basic users who are switching from free LastPass version. You can download Zoho Vault app on Android, iOS and get browser extensions for popular browsers.
Price: Free, $10.8/year
Get Zoho Vault
7. Enpass
Enpass is a great, hassle-free password manager with intuitive user interface and functionalities. Not only you can store your passwords in an encrypted form, you can also add documents like credit cards, driving license number, social security number, etc. With everything locked behind a master password, it can also sync your passwords to cloud storage drives. Enpass' password generator is quite useful and can generate passwords up to 46 characters long with a special feature for pronounciable passwords instead of random strings.
You can check old and reused passwords with the Audit feature. Enpass offers apps for iOS, macOS, Windows and browser extensions as well. Its well-organized interface can save your passwords into categories and tags for easy identification and access. As a feature-rich password manager, Enpass is definitely one of the best LastPass alternatives you should consider in 2023.
Price: Free, $23.99/year
Get Enpass
8. Buttercup
Buttercup is a fairly new and a free LastPass alternative you can use if your priority is to store passwords and retrieve them when needed. It is a free and open source password manager with apps available for iOS, Windows, macOS and browser extensions for Google Chrome and Mozilla Firefox.
With a minimal user interface, Buttercup uses 256-bit AES encryption to safeguard passwords. All the stored passwords are encrypted and can be accessed only using a Master Password which is known only to you. It does not offer features like password generation, data breach monitoring and 2FA because it is simply a vault for storing passwords. Instead of2FA, Buttercup uses One-Time Passwords or OTPs that are currently supported on browser extensions and mobile apps, with desktop support expected to roll out soon.
The encrypted passwords can be stored on the cloud storage of your liking and passwords sync across devices. Buttercup is simply not designed for power users due to its limited functionality but its ease of usage and no-nonsense approach to store passwords made us include it in this list.
Plans and Pricing: Free
Get Buttercup
How to Export your Data from LastPass Account
Now that you have planned to move away from LastPass, here is how you can export passwords from your LastPass account.
Login to your LastPass account online.
Head over to the left sidebar and find 'Tools'.
Under 'Tools', select 'Advanced Tools'.
Here you'll find the option to export your data by hitting the 'Export' button.
Choose all of the platforms that are synced with your LastPass account and save it as a text note or a .csv export.
Choosing The Best LastPass Alternative
There is no shortage of password managers out there, if you are looking forward to replacing LastPass after the recent data breach. But, choosing the best out of the options depends solely on your requirements. Above, we have enlisted free LastPass alternatives and paid as well. We believe that this list will help you pick the best of the lot.
---
Load More