Spotify has been making headlines left, right, and center lately. From Spotify's new creator tools for podcasters to removing features on the free plan for Indian users, a lot has happened recently. Somewhere in between, something called a Spotify Supremium also surfaced online and that has had netizens baffled for all the right reasons.
So, what exactly is this Spotify Supremium and how will it work? How much will it cost? What's Spotify got up its sleeves with this all-new premium tier? Leaks and reports have started pouring in and we have an answer to these questions, so let's jump right in.
What is Spotify Supremium?
Spotify is the most sought-after music streaming service in the world right now, with over 500 million monthly active users. A good chunk of these users also opt for Spotify Premium to enjoy not just the "next 30 minutes" but an infinite uninterrupted listening experience. There are over 200 million Spotify Premium users, so, understandably, the streaming giant is planning to take things up a notch with what reports are calling Spotify Supremium.
It all started when a Reddit user u/Hypixely found references to Spotify Supremium in the Spotify app's code sometime in September 2023. He talked about a bunch of different features and even the pricing for this Premium plan. Later on, in October 2023, popular open-source advocate and inventor of the hashtag, Chris Messina took to Threads to confirm the Spotify Supremium findings. Thanks to all these leaks, we get to know quite a few things about the upcoming Spotify Supremium tier.
Spotify Supremium: How Much Will It Cost?
According to the leaks, Spotify Supremium will be priced at $19.99 per month. Now, for those unaware, this means you need to shell out $9 more than the Spotify Premium plan, which starts at $10.99/month for the Individual plan. The Duo and Family plans cost $14.99 and $16.99, respectively.
This also falls in line with a leak from a year ago when a Reddit user came across a "Platinum" Spotify paid tier when taking a survey. That leak also revealed the pricing to be set at $19.99 per month. There's a chance that this Platinum tier is what everyone is now referring to as Spotify Supremium. So, what extra features do you get with Spotify Supremium? Let's find out.
Spotify Supremium Features
According to the leaks, the highlight of the upcoming Spotify Supremium subscription plan will likely be support for Hi-Fi streaming. Yeah, the promise made almost two years ago will finally be fulfilled with this paid plan.
Lossless Audio Support
Back in February of 2021, Spotify announced a more expensive HiFi premium plan. However, this particular tier never saw the light of day and has had users waiting for over 2 years now. Fast forward to June 2023, a Bloomberg report suggested that the HiFi tier would be called Supremium.
Now, the Thread post states that Spotify Supremium will bring 24-bit Lossless Audio to users and that the HiFi brand is dead now. There's no doubt that Lossless Audio is THE thing right now, and Spotify seems to have finally decided to join the fray. But charging users extra for lossless audio, well, I'm not sure about that. Apple Music offers lossless audio support starting at just $4.99/month.
Apple Lossless Audio, ALAC, is the most sought-after audio codec right now. The reason behind this is that it retains the audio quality and data while at the same time compressing the file size. AAC does this too, but ALAC just does it better. There are other Lossless formats too like FLAC and AIFF, which are significantly better than lossy audio formats like AAC. Moreover, going by how popular Apple's AirPods are today, it only makes sense for Spotify to finally introduce this feature. Supremium will also include the following features:
Your Sound Capsule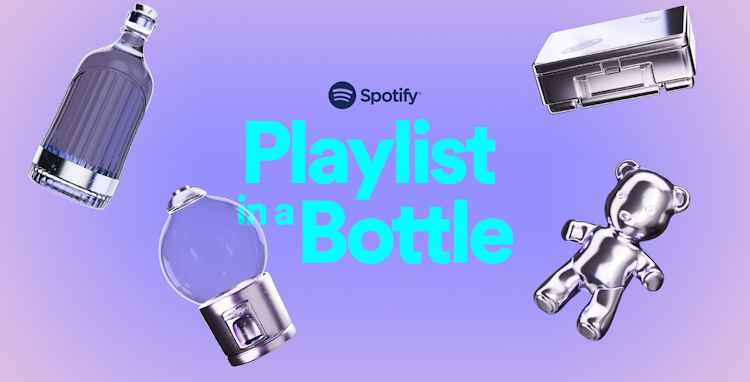 If you have ever made time capsules as a kid, you probably have an idea about what a Sound Capsule will be like. Chris guesses that this will most likely be a rebrand of the "Spotify Playlist in a Bottle" feature. What this feature does is it basically allows you to digitally create a musical time capsule and then, a year later, get it back to know what you were listening to at the time. So, chances are, Spotify Supremium users will get this feature as Your Sound Capsule.
Advanced Playlist Mixing Tools
Right now, you have the Spotify Mixes feature, which brings you personalized playlists on the basis of your listening behavior. The reports state that you will get an enhanced version of this with Spotify Supremium, allowing you to get more personalized playlists on the basis of beats per minute (BPM), genre, mood, and the like. With this, users will get to discover more artists that are in line with their music taste, from the looks of it.
AI Playlist Generation
Recently, Spotify was also spotted developing AI playlists. Now, the leaks suggest that this will be a Spotify Supremium feature. Earlier this year, Spotify released something called Niche Mixes, which allowed you to search for pretty much anything you are in the mood to listen to, it created a playlist for you.
Then, we also got the much-talked-about Spotify AI DJ, which chooses something to play for you on the basis of your listening history, time of day, and more. It's still in beta but is being gradually rolled out to more markets for users to make use of.
Looks like Spotify will build upon these features and bring AI Playlist Generation with Supremium. It will be a feature where, much like the ChatGPT prompts that we use today, you will feed the AI bot prompts and see it create a playlist for you. Spotify's app code already includes references to the AI-generated playlist feature, which may be a part of the existing Blend Genre.
Furthermore, thanks to leaker Alessandro Paluzzi, we have our first look at how the AI Playlist feature in Spotify will work and look like:
Spotify Highlights
Let's face it; as December is nearing, most of us are looking forward to Spotify Wrapped, right? It's always a good time to see a detailed analysis of your favorite artists, listening hours, and all the statistics. However, right now, the only way you get to know this is via Spotify Wrapped, which is a once-a-year tradition. Apart from Spotify Wrapped, you can also use Icebergify to generate a Spotify Iceberg.
With Spotify Supremium, you will get something called Highlights that will allow you to get, as the report states, "Last.fm-style listening stats" within the Spotify app or the web version itself. This means you will be able to view your listening statistics in real time and won't have to wait a year for all that data.
Extended Audiobook Listening Time
Back in 2022, Spotify users had to separately purchase audiobooks to listen to them. However, Spotify recently announced that they will offer access to 150,000 Audiobooks with the Premium subscription tier. Users in the UK and Australia can already take advantage of this update. According to Spotify, US users will get it later this year. However, users will get 15 hours of listening time. That may change pretty soon as Messina's Thread post states that Spotify Supremium will extend the audiobook listening time to between 20-30 hours.
Spotify Supremium Release Date
Although nothing concrete can be said about Spotify Supremium's release date at this point, Chris has noted some vital hints. In another Threads post, he mentions that during the Spotify Investor Day 2022 announcement, "pricing experiments" were being talked about. Going by this, the tech blogger presumes that Spotify Supremium will be out by the end of this year.
Spotify Supremium: Will It Be Worth It?
Honestly, a fee of $19.99 is not something that every user will be okay with shelling out on a monthly basis. On paper, this is a hefty price to pay, especially when you already have Apple Music providing Lossless Audio starting at just $4.99 per month (with the cheapest Apple Music Voice plan). Moreover, Amazon Music also delivers Lossless Audio with its $9.99 per month plan for Prime users. Non-Prime users can join Amazon Music for $10.99 per month. Of course, AI-generated playlists are cool and all, but, is Spotify Supremium worth it for all that?
If you ask me, someone who is already used to the Spotify UI and recommendations and doesn't want to switch platforms is most likely to upgrade to the Supremium plan for Hi-Fi support. Then again, if you don't want to make use of some of Supremium's features, you can just stick to the basic Spotify Premium plans. For example, let's say you don't see yourself using those 20-30 hours of audiobook listening or AI-generated playlists and mixes, there's no way anyone can convince you to get Spotify Supremium in the coming future.
Meanwhile, for those looking to jump to Spotify alternatives, Supremium may come as a reason to do so. Apple Music and Amazon Music's cheapest plan offering Lossless Audio support is not a good look for Spotify. The company should have included this in their basic Premium plans by now. Paying an additional $9 for that doesn't feel like a sound decision. What about you? Do let us know what you think about the upcoming Spotify Supremium paid tier in the comments section.
Frequently Asked Questions
Is Spotify getting lossless audio?
According to leaks and reports, Spotify will bring Lossless Audio support via the alleged Spotify Supremium subscription plan. However, it is currently not known if other Spotify Premium plans will get Lossless Audio as well. They most likely won't.
How much is Premium Spotify?
Spotify Premium starts from $10.99 per month for the Premium Individual Plan. The Premium Duo plan price is currently set at $14.99 per month. Meanwhile, the Premium Family plan costs $16.99 per month. Do note that you get a one-month free trial. So, in case you don't like a Premium offering, you can always cancel it before the free trial ends. The upcoming Spotify Supremium will allegedly cost $19.99 per month, which will become the most expensive Spotify tier upon release.
---
Load More