It's been rightly said that a picture is worth a thousand words. However, as expressive as images themselves are, sometimes, adding a little something extra to them can go a long way, especially when you're trying to explain something complicated, such as the working of a software application. This is where screenshot & annotation software come into play, making it possible to add everything from directional arrows, to textual labels to the images.
Now, for a long time, the vastly popular Skitch has been the favorite screenshot editing tool of many. But recently, Evernote, Skitch's parent company, announced that they'll be ending support for the Windows, iOS, and Android versions of Skitch, effective January 22, 2016 (Read here).
But worry not, as there are tons of great alternative applications, both for Windows and Android, that you can use in place of Skitch. Can't wait to know more? Let's have a granular look at 9 of the best Skitch alternatives, both for Windows, and Android.
Skitch Alternative Desktop Applications
1. SnagIt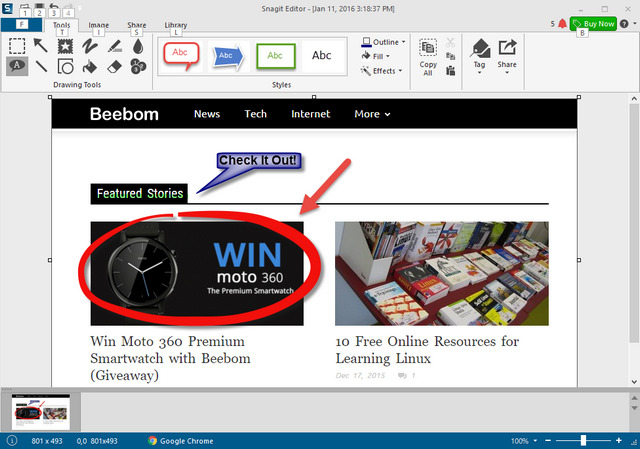 Looking for a powerhouse Skitch alternative? SnagIt is just the thing you need. An extremely formidable piece of software, it comes with a robust feature set that's capable of handling even the most demanding of screenshot capture and editing needs, and then some more.
SnagIt runs in the system tray, and can be quickly summoned via its widget, docked to the edge of the desktop. You can capture active windows, as well as freehand and scrolling regions. The captured image is then loaded up in the powerful SnagIt Editor, which includes a whole bunch of editing and annotation tools. You can add highlights, speech bubbles, multi-directional arrows, number labels, and a lot more to the images. Apart from that, there are numerous image filters and effects (e.g. invert, histogram, opacity) that can be applied, and basic editing tools are there as well. However, one of the best features of SnagIt is its integration with numerous cloud storage services and external editors (together called accessories), which make it possible to upload edited images directly to services like Google Drive or Dropbox, as well as share/modify them via tools like Camtasia and Screencast. There's also video capture functionality baked in, complete with trimming features.
To sum it up, SnagIt is probably one of the most feature laden screenshot applications, having impressive annotation and editing prowess. And its integration with popular cloud services makes it possible to have your annotated/edited screenshots with you, at all times.
Platform Availability: Windows 10, 8, 7, Vista, and XP; Mac OS X 10.9 and later
Price: Paid version costs $49.95, 15 days free trial available
Download
2. Greenshot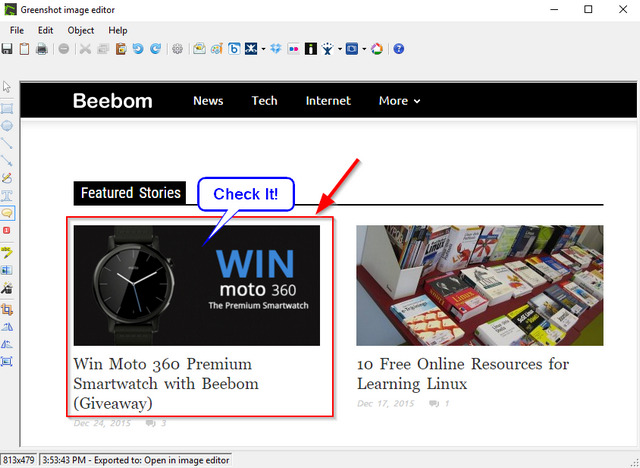 Sometimes, it's amazing to see how feature packed an application can be, despite measuring next to nothing, the case in point being Greenshot. At under 1 MB in size, it's a bewilderingly lightweight Skitch alternative that packs in some really serious punch.
From freehand regions to active windows, and from full-screen areas to scrolling windows, Greenshot can capture everything. The captured screenshots can be then loaded up in Greenshot image editor, which can be then used to apply extensive annotations, such as speech bubbles, arrows, highlights, and focus borders. Other effects like image outlines, selective region obfuscation, along with basic edits are available as well. But that's just the tip of the iceberg. Greenshot comes pre-configured with a handful of plug-ins that make it possible for the edited images to be directly uploaded to a variety of cloud storage and image sharing services, such as Box, Dropbox, Imgur, Photobucket, and Flickr. Other features include a wide range of keyboard shortcuts, automatic saving of edited images, and stuff like that. Greenshot supports all popular image formats, such as JPG, BMP,PNG, and TIFF.
For those on the hunt for a lightweight, yet highly capable screenshot taking program that integrates well with the cloud, and doesn't cost anything, it can't really get any better than Greenshot. And did we mention it's open-source, and available as a portable app too?
Platform Availability: Windows 10, 8, 7, Vista, and XP
Price: Free
3. FastStone Capture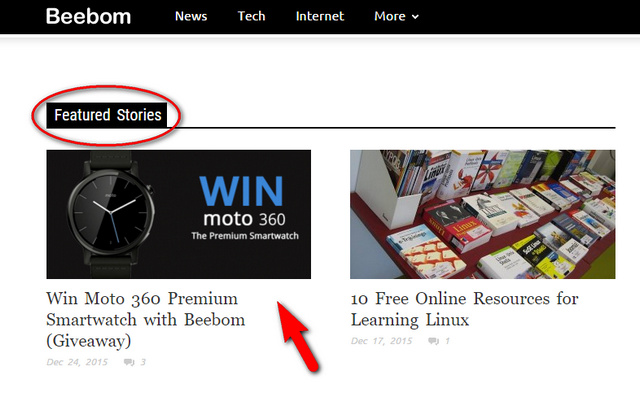 Insanely lightweight yet filled to the brim with features, FastStone Capture is one of the best alternatives for Skitch that you can find. Besides, it's super easy to use, and makes capturing and annotating screenshots a walk in the park.
FastStone Capture runs in the system tray, and can be used to capture active windows, freehand and rectangular regions, and even scrolling windows. Once captured, it can be used to apply all kinds of basic editing (e.g. re-size, crop), and highlighting (e.g. spotlight) effects to the screenshots. And that's just the beginning. You can add drop shadows, designer borders as well. As far as annotation goes, everything from arrows and lines, to speech bubbles and shapes can be added to the screenshots. FastStone Capture can even be linked with external image editing applications (e.g. MS Paint) for post processing of images, and configured to automatically save annotated/edited screenshots in user specified locations, using custom file names. It supports nearly all popular image formats, such as PNG, JPG, and BMP. Other than that, FastStone Capture also includes a nifty screen recording utility, that can be used to record the screen (and all activity on it) in WMV format. There is support for keyboard shortcuts too. How cool is that?
If you're looking for a versatile screen capture and editor tool, it's hard to go wrong with FastStone Capture. The fact that it can be used as a portable application makes it even more amazing.
Platform Availability: Windows 10, 8, 7, Vista, and XP
Price: Paid version costs $19.95, 30 days free trial available
4. PicPick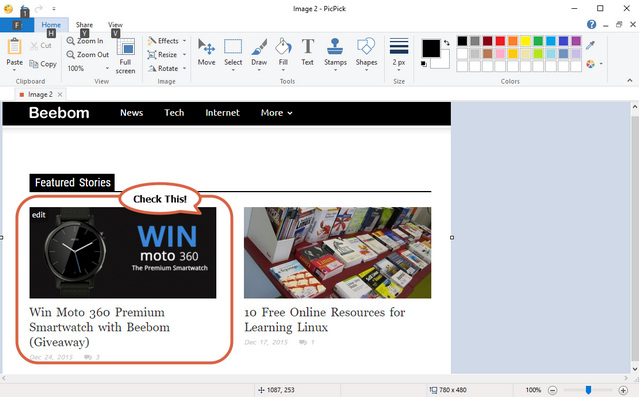 It might not be the swankiest looking application out there, but as a well rounded and easy to use Skitch alternative, PicPick works extremely well. It has a pretty good feature set, and is lightweight as well.
Using PicPick, you can make all standard types of captures, such as full-screen areas, freehand regions, as well active windows. The basic working of the program is pretty much identical to other similar programs, and the editor includes quite a bunch of screenshot annotation tools. You can easily add speech bubbles, outline rectangles, as well as image and number based stamps. Related parameters like size, thickness, and colors can be easily tweaked. PicPick has all the basic editing tools (e.g. crop, re-size) taken care of, and it can even be configured to call external programs for further modifying screenshots. Lastly, there's also support for numerous online services, ranging from Dropbox and Google Drive, to Facebook and Twitter. You can even share images online via unique URLs, and upload them to FTP servers.
PicPick is ideal for those who want solid screenshot capture and editing capabilities, but don't really care about video recording features. And the integration with multiple online services is a plus as well.
Platform Availability: Windows 10, 8, 7, Vista, and XP
Price: Paid version costs $24.99, Free version available
5. Screenpresso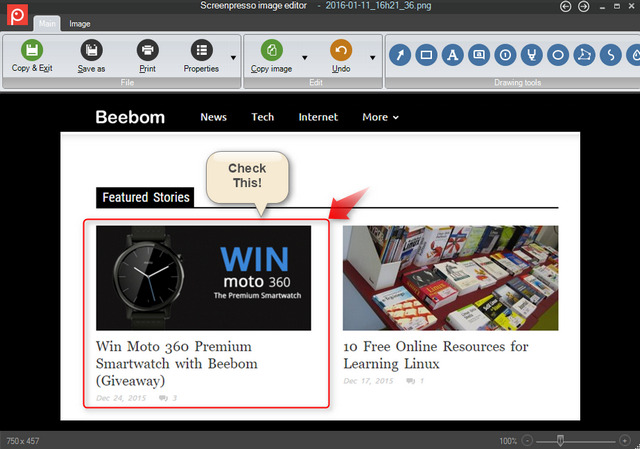 Feature heavy software applications don't really have to be cumbersome to use, and Screenpresso is a perfect example of that. It comes with a healthy set of screenshot annotation features (among other things), that make it one of the better Skitch alternatives out there.
Like other similar applications on the list, Screenpresso pretty much entirely works from the system tray, and its screen (and video) capture can be initiated either via its docked widget, or using the configured keyboard shortcuts. You can capture freehand regions, active windows, as well as full-screen areas, which can be immediately loaded up in the editor for quick annotation and editing. Everything from text-boxes and gradient arrows, to region specific blur and even extra images can be added to screenshots. Other basic editing tools like crop, re-size, and border are also there. However, what really makes Screenpresso tick is its integration with a huge number of diverse online services, including Google Drive, Dropbox, Evernote, Facebook, and OneNote, to which edited screenshots can be uploaded. What's more, the videos captured using Screenpresso's built-in video recorder tool can be uploaded to YouTube as well.
Bottomline is, go for Screepresso if you want efficient screenshot editing and robust, multi-service integration. That being said, the service does have a few (minor) downers, such as limited format support, and a slightly unpolished looking UI.
Platform Availability: Windows 10, 8, 7, Vista, and XP; iOS 7 and later
Price: Paid version costs $23.88, Free version with limited functionality available
6. Jing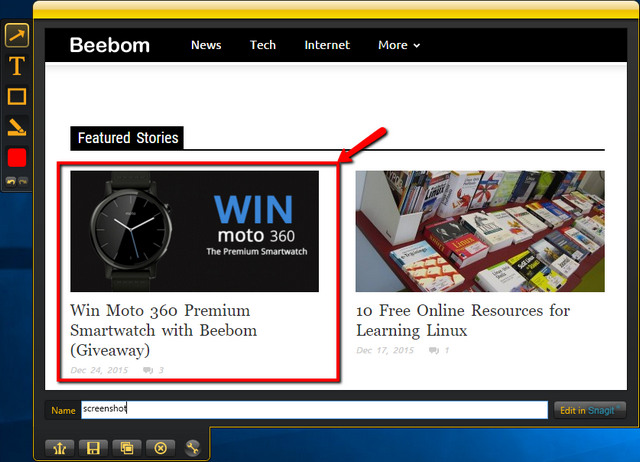 More features are always good, but there might be users out there who don't really care about things like multi-service integration, and would rather prefer a basic screenshot solution that just works. If that includes you, Jing is something you should definitely check out.
Essentially, Jing can be considered as a "light" version of the previously discussed SnagIt, as it comes from the same developer as SnagIt. You start off by capturing a freehand area, or an active window. Once captured, the screenshot is loaded up for editing, where some basic annotations, such as outlining rectangles, arrows, and highlights can be applied to it. After the edits have been applied, the screenshot can be either copied to the clipboard, or saved to the disk in PNG format. In addition to that, Jing also includes a rather limited video recorder, which is capable of recording videos up to five minutes long, which are (oddly) saved in the SWF format.
As a rather basic alternative to Skitch, Jing works pretty well. However, it has quite a lot of limitations, such as limited video recording capability, and almost no image editing tools.
Platform Availability: Windows 10, 8, 7, Vista, and XP; Mac OS X 10.8 and later
Price: Free
Skitch Alternative Android Apps
7. Screenshot Snap Free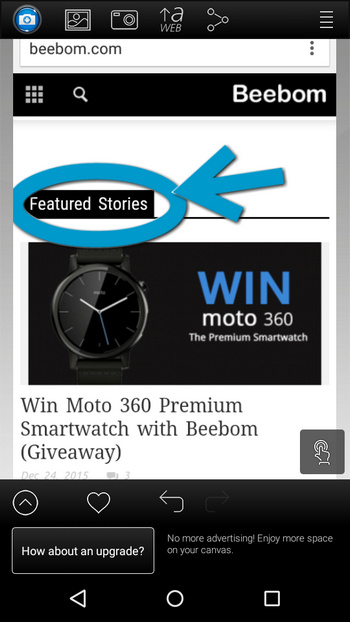 When it comes to editing screenshots on your Android device, there are only a few apps that can match up with Screenshot Snap Free. Coming from the house of popular software developer Ashampoo, Screenshot Snap Free makes for an impressively good Skitch alternative for Android.
When installed, Screenshot Snap Free is set up as the default screenshot manager, and constantly keeps on monitoring the device. If a screenshot is taken,  it's automatically loaded up in Screenshot Snap Free for editing. Other than that, you can also load existing screenshots in the gallery for editing, and even take pictures directly from the device's camera and then edit them. The app comes with a wide range of tools (accessible via an expandable bar on the left), which can be used to add annotations like highlights, free-form lines, stamps, and text to the image. Other than that, shapes (e.g. rectangle, ellipse) and arrows can be added as well. Once you're done making the changes, the screenshot can be saved to the device, or shared via numerous services like Google+, Hangouts, and Google Drive.
Go for Screenshot Snap Free if you're on the lookout for a feature laden screenshot editing and annotation app. It's really that good!
Platform Availability: Android 4.0 and later
Price: Free (You can also go for the paid version if you hate ads and would appreciate some more features)
8. Screenshot Ultimate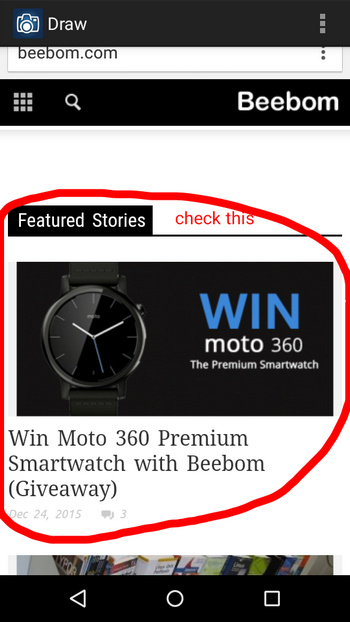 It's not the easiest to use app out there, but Screenshot Ultimate more than makes up for it by the sheer amount of options and control it provides to the user. Having over 16 different methods of taking screenshots, Screenshot Ultimate quite lives up to its name.
The app features numerous configurable triggers, which can be used to specify which actions (e.g. pressing of power/volume down buttons) trigger the saving of a screenshot. It can also silently monitor the device for these triggers, and can also watch folders so that when a screenshot is taken, it can be immediately loaded up for editing. And speaking of editing, Screenshot Ultimate includes a whole bunch of annotation tools, and these can be used to add everything from text, to shapes, to special effects (e.g. sepia, grey-scale). Not only that, other information like Android version, IP address etc., can be overlaid to the screenshots(s) as well.
In summation, Screenshot Ultimate is a fairly powerful Skitch alternative for Android. However, the app does have a bit of a learning curve, and is somewhat confusing.
Platform Availability: Android 2.1 and later
Price: Free
9. Easy Screenshot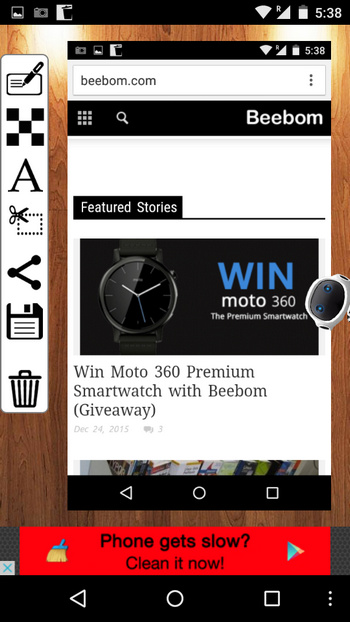 If all you need is a basic, no-frills Skitch alternative for Android, Easy Screenshot is worth taking a look at. It's not exactly bursting with unique features, but works pretty well for what it is.
When installed, Easy Screenshot sets itself as the default screenshot management/editing app on your Android device. When a screenshot is taken, the app immediately loads it up for editing. There aren't too many options available; however you can add text, as well as add mosaic effects over the image. All of the editing options can be handily accessed via a vertical sidebar on the left. Other than that, images can be cropped, and also shared via numerous services, such as Hangouts, Google+, and Google Drive.
Go for Easy Screenshot only if you want the occasional, bare-bones image annotation functionality. It's a functional, although a fairly limited app.
Platform Availability: Android 3.0 and later
Price: Free
SEE ALSO: 11 Best Free Photo Editing Software
Plenty of great replacements for Skitch!
With so many feature laden alternatives available for Skitch, you can be sure of finding a screenshot capture and editing software that meets your requirements, no matter how big or small they might be. Looking for powerful, all rounded desktop screenshot software? Go for SnagIt or FastStone Capture. Need solid screenshot editing features on the go while working on your Android device? Try Screenshot Snap Free or Screenshot Ultimate. Take 'em all for a spin, and let us know the one(s) that work out the best for you in the comments below.