Apple Watch has long been a golden standard for smartwatches, reeling users with its health-tracking features and robust app library. The Android smartwatch ecosystem, on the other hand, has been dwindling with lackluster offerings and no buyers. Well, Samsung has finally stepped up to the task by joining hands with Google and marked the beginning of a new era with the launch of the Galaxy Watch 4.
The Galaxy Watch 4 packs a ton of new features, building upon its legacy, but it leaves behind its proprietary Tizen OS in favor of Google Wear OS 3. Now, that's a bold move and one that could potentially pit the Galaxy Watch 4 against the newly unveiled Apple Watch 7. So let's find out how does the Samsung Galaxy Watch 4 actually fare in real life? Is Google's Wear OS 3 better than Samsung's Tizen OS? And can this smartwatch outperform the Apple Watch 7? Well, I have been using the Galaxy Watch 4 for almost three weeks now, and here are my thoughts on Samsung's latest smartwatch.
Samsung Galaxy Watch 4 Review (2021)
Over the past few weeks, I have had ample opportunity to test out the Samsung Galaxy Watch 4's capabilities in various scenarios. My personal usage of this smartwatch was a mix of regular step tracking paired with constant notifications and health data analysis. I have been testing the Bluetooth-only 44mm variant of the Samsung Galaxy Watch 4, loaned by Samsung to Beebom, for the purpose of this review. And here's what I think about this smartwatch:
Galaxy Watch 4 vs Watch 4 Classic: Specifications
Before we dive into the review, I would like to point out that the Samsung Galaxy Watch 4 and Watch 4 Classic are identical when it comes to the software and hardware inside. From the Wear OS 3 experience and Samsung UI to the processor, everything is the same. Then, how do they differ?
The Galaxy Watch 4 Classic features some hardware additions such as a stainless steel case, which is a bit more durable, and a physical rotating bezel to switch between screen and app tiles. It has been included to provide users a more premium experience (with a satisfying click every time you rotate the bezel). However, since the insides are the same, this review applies to both variants. To get a better idea, be sure to check out the specifications below.
Variant Name
Samsung Galaxy Watch 4
Samsung Galaxy Watch 4 Classic
Size
40mm/44mm
42mm/46mm
Display
40mm – 1.2-inch, 396 x 396 resolution
44mm – 1.4-inch, 450 x 450 resolution
42mm – 1.19-inch, 396 x 396 resolution
46mm – 1.4-inch, 450 x 450 resolution
Dimensions
40mm:40.4 x 39.3 x 9.8 mm
44mm: 44.4 x 43.3 x 9.8 mm
42mm: 41.5 x 41.5 x 11.2 mm
46mm: 45.5 x 45.5 x 11.0 mm
Weight
40mm: 25.8 grams
44mm: 30 grams
42mm: 46.5 grams
46mm: 51.9 grams
Battery Capacity
40mm: 247mAh
44mm: 361mAh
42mm: 247mAh
46mm: 361mAh
Processor
Exynos W920
Exynos W920
RAM + Storage
1.5GB + 16GB
1.5GB + 16GB
Connectivity
Bluetooth 5.0, Wi-Fi (2.4GHz and 5GHz)
Bluetooth 5.0, Wi-Fi (2.4GHz and 5GHz)
Color Options
Black, Silver, Pink Gold, Green
Black, Silver
Price
starts at ₹23,999
starts at ₹31,999
Design and Build Quality
The Samsung Galaxy Watch 4 has been designed to be viable in many different scenarios. Both the models come with their own little intricacies.
The Galaxy Watch 4 features a uniform screen design coupled with a sleek frame. It includes two buttons on the right side that function as the Home and Back. The buttons are tactile, and the Home button has a red outline to make it distinguishable. The frame of the watch has a black bezel made out of aluminum, which makes it look uber-premium.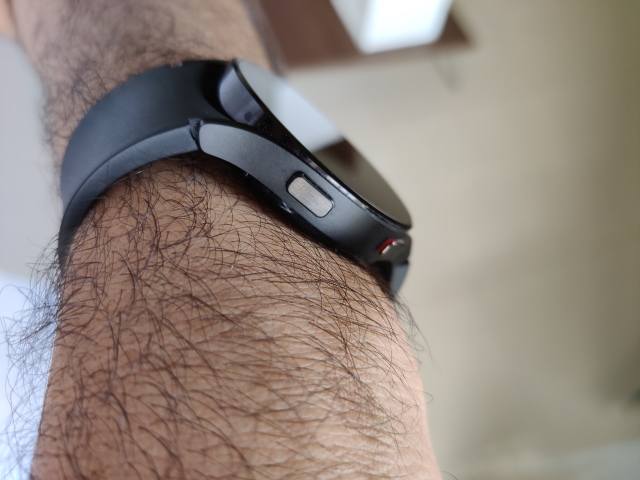 On the underside of the watch is Samsung's all-in-one sensor, which now supports an exciting new feature that we will discuss below. The strap accompanying the Galaxy Watch 4 is made out of silicone and has ample room on the top and bottom. I love how the extra strap tucks nicely inside the watch clasp, thereby making things look neat. It allows for a more comfortable fit and easy movement while working.
Overall, the Galaxy Watch 4 boasts a more sporty look and feel, making it better suited for fitness enthusiasts or casual users.
The Galaxy Watch 4 Classic, on the other hand, is slightly bulkier with a physical rotating bezel for app switching. The watch is made out of stainless steel and tailored to be more traditional while offering the same features. That's further reflected by its physical properties and more traditional straps. Both the watches have 5ATM water resistance along with an IP68 rating and MIL-STD-810G durability.
While the Galaxy Watch 4 itself is beautiful to wear and look at, there are times when it looks too much like a simple smartwatch. If you are a user looking exactly for that, the Galaxy Watch 4 is best suited for your needs. However, for watch enthusiasts who want that extra show of craftsmanship, the Galaxy Watch 4 Classic is definitely the way to go.
Beautiful Circular Display
No matter which variant of the Samsung Galaxy Watch 4 you go for, you will get a sharp Super AMOLED display that looks amazing. As mentioned above, the smaller variant has a 1.2-inch display with 396 x 396 resolution, while the bigger model has a 1.36-inch display with 450 x 450 resolution. However, both displays come with Corning Gorilla Glass DX protection for enhanced durability and scratch resistance.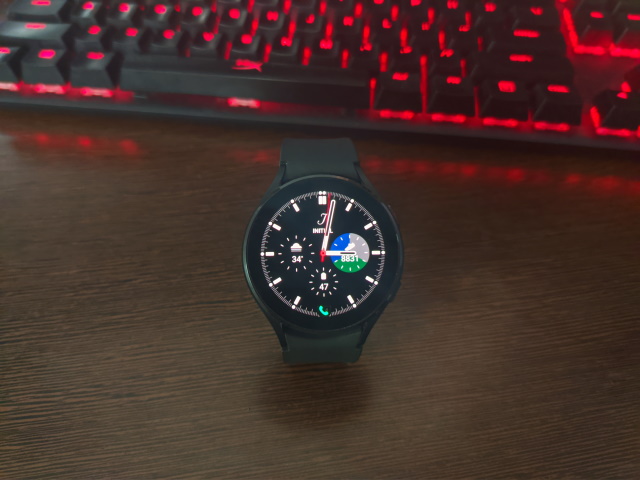 The touch responsiveness of Galaxy Watch 4's display is instant and fluid, which is amazing. The screen here gets plenty bright at the maximum setting while using it outdoors, but it could have been a tad brighter. On the other hand, the Galaxy Watch 4's display goes pretty low too, but a software glitch seemingly amped up the brightness randomly while lifting my wrist to check the time at night time. However, no matter which brightness setting you choose, the text legibility is good, and the colors are sharp and crisp.
The smartwatch also has an Always-on Display that serves nicely in making it a timepiece. Like some watches and fitness bands in the market, Galaxy Watch 4 did not have any delay in showing the time when raising my wrist. It was almost instantaneous and something I expect from a high-end watch like this. Moreover, if you ever find yourself in a dark room, you can use your screen as a flashlight, turning the screen all white.
The Galaxy Watch 4 I have been testing has a virtual rotating bezel that you can use by running your finger around the black bezel of the screen. While it mostly works without hitches, there are times it can get annoying (due to the lack of any physical feedback) and makes me wish for a physical counterpart. Users who want to have an easier solution and that satisfying click should buy the Galaxy Watch 4 Classic. So yeah, overall, Samsung does have some stuff it needs to work out, but the display on the Galaxy Watch 4 does a good job.
Software and Performance
Ditching Tizen OS, Samsung has partnered with Google to integrate Wear OS 3 in its latest smartwatch lineup. Wear OS 3 on the Galaxy Watch 4 brings a boatload of improvements and new features. However, it's worth pointing out that the Galaxy Watch 4 comes with the One UI Watch experience, which makes the software experience look and feel much like its predecessors.
The Galaxy Watch 4 is powered by Samsung's 5nm Exynos W920 chipset that's designed for better performance and power efficiency. And I am happy to report that it is exactly what it does.
The performance of the Galaxy Watch 4 felt like a breeze, with every tap, touch, and process being fast and fluid across the board. From navigating the UI and swiping through menus to seamlessly using a variety of apps, I didn't notice any lag while using the smartwatch. A downside, if you consider it, is that the Galaxy Watch 4 takes a long time to boot up when restarted or turned off. While I do realize that you won't really restart your watch very often, it is something that caught my attention during my use.
App Experience
With Samsung moving away from Tizen to Wear OS 3, users can now easily search and install many apps through the Google Play Store. I could easily look up apps on the watch itself and download them without hitches. The carry-over from Tizen OS to Wear OS 3 has brought about new applications and integrations. For instance – Google Maps on the Galaxy Watch 4 provides turn-by-turn navigation right on your wrist, and you also have a full-fledged YouTube Music app on the watch now.
The third-party tiles support has lent further opportunities to the Galaxy Watch 4 with many new apps deploying their Tiles experience for easier access. For instance – The Galaxy Watch 4 has integration from apps like Calm that provide quick meditation through tiles. Google Fit also has its own additions, including workouts, heart rates, and more.
Google also has a curated section that lists many apps for use. While the selection is decent at best right now, it will only grow as app developers start building for Wear OS 3 and understand its intricacies. You also have 16GB of storage and 1.5 GB RAM inside the Galaxy Watch 4. While some of the storage is taken up by Wear OS itself, there is enough room to install apps and download music for offline playback. Music streaming apps like Spotify let you store songs and listen to Spotify offline on Wear OS 3 watches without your phone.
Samsung's One UI Watch skin makes for a good base for the Galaxy Watch 4 and is easy to grasp and navigate. While it still feels like Samsung's older version, users have the dual advantage of having a familiar UI but improved features with Google's smarts. Throughout my testing period, I had no problems while using the smartwatch. The software integration allowed easy and timely notification arrival from my phone to the watch. I am not the biggest fan of Samsung's keyboard on the Watch 4, but there are plenty of other input options. And that includes voice typing, text drawing, and pre-set replies that you customize and use based on your preference.
There are a decent number of watch faces available on the Galaxy Watch 4 right now, with options being divided in the Samsung Wearable app and Google Play Store. I only expect the number of available ones to increase as time passes. Moreover, Samsung has made changing watch faces incredibly easy, hence, I had no trouble doing so. You can check out this in-depth guide on how to change and customize the watch face on Galaxy Watch 4.
No Google Assistant Support Yet
A major downside of the Samsung Galaxy Watch 4's software is the lack of a proper voice assistant. While Samsung has switched to Wear OS 3 with this wearable, Bixby is still present as a default assistant. And I am not a fan of the Bixby experience on this smartwatch. As someone who is deeply integrated into the Google ecosystem, I am eagerly waiting for Google Assistant support, which is further down the line. Due to this very reason, the assistant automation is choppy for now.
Moreover, a thing you should be aware of is that you will need Samsung's own Health software to fully utilize its health and fitness tracking capabilities despite Wear OS 3. So, a full ecosystem switch won't be possible for Android users.
A Lot Depends on the Future
While I love Google's Wear OS 3 with Samsung One UI Watch, there's something to be said about the future here. While this integration between the tech giants finally opens up a market for app developers, it will take time before we learn how varied the experience will be. Pure performance aside, the variety and functionality of apps depend on not only Wear OS 3 and but Samsung's own UI.
Since the Galaxy Watch 4 is the newest smartwatch on the block, it will be interesting to see just how many apps and support it receives over the years and whether this joint partnership will stand in the way. Also, once the fruits of this notable partnership are made accessible to other Android smartwatch makers, we can see the ecosystem swell and take on the Apple Watch.
Health and Fitness Tracking
Samsung has a well-known history of including a plethora of health features in its wearables. However, the South Korean giant has gone a step further and included a BioActive sensor aboard the Galaxy Watch 4. Without complicating it, the BioActive sensor is a combination of various sensors primed to cover almost every aspect of the body.
Besides registering your heart rate, the Galaxy Watch 4's BioActive sensor can record your blood pressure, blood oxygen levels, and even perform an ECG to check your heart's health. The watch even has a stress testing feature that monitors and presents stress levels in real-time, something that can be immensely helpful during tough times like the pandemic.
My testing of the watch's health sensors bears positive results. To get a proper metric for the watch, I cross-compared it with a medical-grade blood oxygen monitor and my Mi Band 4 for contrast. Everything from my heartbeat to the blood oxygen percentage recorded by the Galaxy Watch 4 was pretty accurate, with results being displayed on the watch in real-time. Users who want constant monitoring can also choose to measure heart rate and collect stress data continuously.
A revamped Samsung Health app now pairs nicely with the Galaxy Watch 4 and acts as a complete control center. If you are in the habit of checking your phone for health data, you will find all of it there, along with complete graphs and history. Users can even track their health data up to the last 12 months.
Price of the Samsung Ecosystem
The Samsung Galaxy Watch 4 provides a complete arsenal of health features with pretty accurate ratings. However, there is a caveat which you should be aware of. While the watch will work with any Android smartphone, keep in mind that Samsung has decided to restrict some health features on non-Samsung phones.
Features like the ECG test, blood pressure monitoring, and the camera controller will not work without a Samsung device. It is something you should consider as a major downside. My OnePlus 8T could not take advantage of the aforementioned features, thereby limiting the Galaxy Watch 4's capability. While Samsung might have plans to unlock them later on, Android users should be aware that being outside the Samsung ecosystem will cost them.
Body Composition Analysis
Out of all the health features included in the Samsung Galaxy Watch 4, perhaps the most impressive is the new BIA sensor that's built for measuring body composition. Passing a weak electrical current across two of your fingers, the Watch 4 can measure and analyze your body fat percentage, muscle mass, bone mass, body water percentage, and even your Basal Metabolic Rate (BMR). All it required from me is to place my ring and middle finger on the two buttons and stand still for around 15 seconds.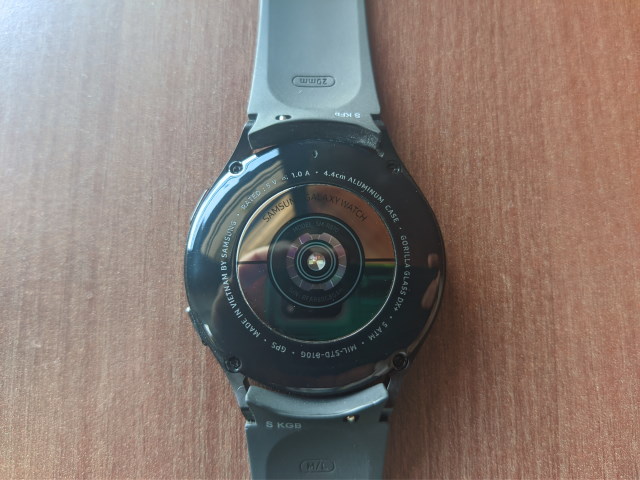 The BIA sensor is an incredible addition to the Watch 4 and shows that Samsung is making meaningful additions to its wearables lineup. The body composition feature will slowly come in handy for people trying to gather factual information about their bodies without a lot of hassle. However, I should point out that during my testing, the Galaxy Watch 4's BIA sensor showed a 5% body fat discrepancy when compared to a BMI scale. There is also the matter that people with a pacemaker inside them and pregnant women should not use the Watch 4 to measure their body composition.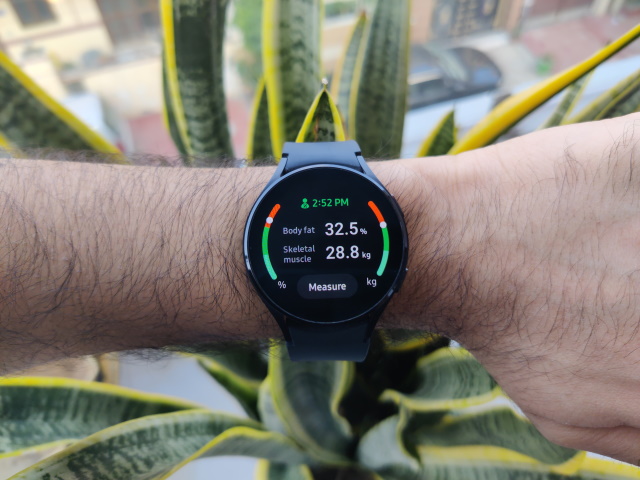 While a user can and should go about using the Samsung Galaxy Watch 4's body composition feature, it should only serve as a reference guide and not as ironclad proof. We still suggest you consult a doctor if something feels off. Moreover, it's worth mentioning that Galaxy Watch 4 is brand new and should bring many improvements with upcoming software updates.
Wellness Suite
In my brief experience, the Samsung Galaxy Watch 4 proves to be a one-stop portal to get health information for Android users. As someone who periodically monitors his health data, the smartwatch was useful in giving me insight into my body in real-time. It made me want to take action and improve the numbers. Users looking to keep tabs on their health will love the new BioActive sensor. Moreover, if you are a fitness enthusiast trying to lose weight, the BIA analysis will come in handy.
While the Galaxy Watch 4 gets almost the entirety of health features correct, improvements are needed in body composition. Moreover, the lack of some features on non-Samsung smartphones is a downside and one that puts users at a disadvantage. While you can still go ahead and buy the Galaxy Watch 4 to track your health, there are some things you will miss out on.
Activity Tracking
Step tracking is paramount to me. Having picked up the habit of regular walking in 2020, I walk an average of around 14,000 steps a day. I primarily use Google Fit to keep a tab on my walking, among other things like calorie expenditure. Over the course of two weeks, I used the Samsung Galaxy Watch 4 to track my daily walking routine, along with some heart-intensive activities. Galaxy Watch 4 comes with plenty of workout options that range from simple walking to niche ones like arm curls, bench press, lateral raises, and many more. You can even add more workouts if you wish.
During my testing, Watch 4 accurately recorded my workouts. As someone who loses some steps because of Google Fit hibernating in the background, step tracking was especially helpful on the smartwatch. Besides my step count, I could see calories burned, distance traveled, and my real-time heart rate. The results screen even displayed various fat-burning zones, and appreciate the additional information. This was made possible by the BioActive sensor that proved useful here.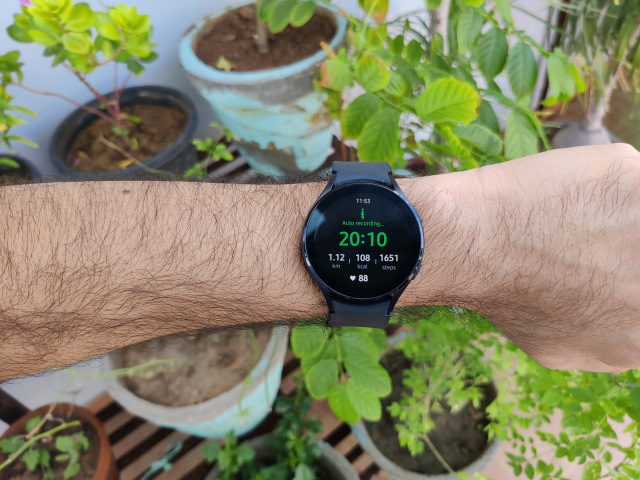 However, a thing about the activity tracking I loved was the watch's auto-recording feature. Because there were times I forgot to choose a workout, the watch detected my movement and gave me a small buzz to signify that it's tracking my activity. Much like before, I could see real-time data, which made things all the more convenient.
All the activity data was synced to the Samsung Health app, which enables you to track daily goals with ease. While the Galaxy Watch 4 has Google Fit integration, if I'm being honest, I might very well switch to Samsung's app because of the effortless cross sync capabilities.
Sleep Tracking
Out of the many improvements Samsung debuted on the Galaxy Watch 4, one of them is sleep tracking. As a restless sleeper, I was excited to see if the smartwatch could accurately track my sleep. After wearing the Galaxy Watch 4 for a week, I am in awe of how scarily accurate the watch's sleep tracking was.
Not only did the smartwatch manage to record my sleep session accurately but it also kept a track of how often I woke up during the night and the exact time I went back to sleep. The Galaxy Watch 4 also recorded my blood oxygen levels once every minute and could also keep track of my snoring habits if the setting was turned on.
All this data was compiled and shown to me in the Samsung Health app, as you can see in the screenshots above. The report works on the metric of a sleep score and not only shows the timeline but different sleep stages and SpO2 rating as well. The data that Galaxy Watch 4's sleep tracking gathers is pretty comprehensive.
However, a big downside here is the lack of direction. Besides the report that gave me a score out of 100, I did not see any tips and tricks to help improve my sleeping habits. While I did get to learn more about how often I wake up or even dreamt, the lack of any pop-ups or videos to advise me on what to do was disheartening. I understand that Samsung will not administer any medical advice but a few simple tips and tricks should have been included in the app.
You do have some short meditation videos from apps like Calm available in the Samsung Health app but that's about it. The sleep tracking feature on the Galaxy Watch 4 is accurate but tends to fall a step short, leaving the onus to improve their habits on the user.
Battery Life and Charging
Battery life is something subjective when it comes to smartwatches. While there are users who don't mind charging their watch every night, others want a low-maintenance product that will last a few days. The battery life of the Galaxy Watch 4's 44mm Bluetooth model that I have been testing has been decent at best. While bigger models like the 44mm have more battery capacity, Samsung promises up to 40 hours of smartwatch life on a single charge for all variants. That's more or less the case.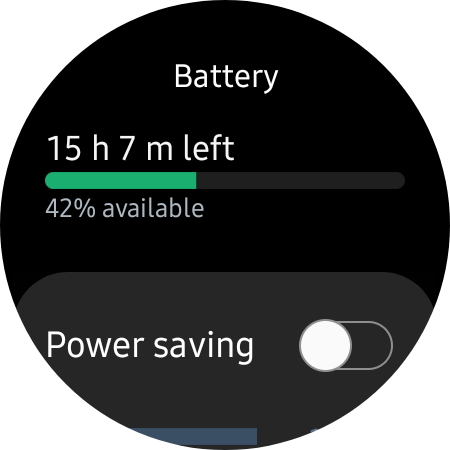 During my testing, I had the always-on display on, auto-brightness on, tilt, and touch to wake on, along with all the new sensors working regularly to track my health data on the Galaxy Watch 4. After my primary use, the Galaxy Watch 4 managed to last around 25 hours before turning on the power-saving mode. While the watch dictated that would make the battery last another 8 hours, I got around 29-30 hours in total before it died.
Depending on what kind of user you are, the results above can either be impressive or disappointing. My personal opinion is that the Galaxy Watch 4 manages to last quite a while, especially considering the hoops I made it jump through. However, do be aware that this spells trouble for the smaller models as they will need a charge much quicker. If you are a user who likes their smartwatch to last more, definitely go for the bigger variants.
However, what breaks the deal altogether for me is the slow charging time. The Samsung Galaxy Watch 4 takes around 2 hours to charge to full capacity. Since I am the sort of user who prefers to have a 100% charge before I leave the house, it was especially painful to sit and wait for hours to watch the battery charge.
If the Galaxy Watch 4's battery managed to last a few days, this could be excused. But seeing as the watch requires charging every 1.5 days, the slow charging is definitely bothersome. Perhaps Wear OS optimization could make the battery last longer, but as things stand now, the battery is a no-go for me. The obvious workaround to this nuisance is charging the watch at night, but that also means you won't be able to track your sleep, which is a bummer.
Samsung Galaxy Watch 4: Pros and Cons
PROS:
Beautiful and slim design
Comfortable and secure fit
Wear OS 3 is a breath of fresh air
New body composition analysis sensor
Accurate workout tracking
Larger models have good battery life
CONS:
Some health features restricted to Samsung phones
No Google Assistant yet
Painfully slow charging
Sleep tracking lacks guidance
Samsung Galaxy Watch 4: Still the Best Smartwatch for Android Users!
The Samsung Galaxy Watch 4 is the first smartwatch to come out with Google's new Wear OS 3 update and packs many new features under the hood. From the brand new BIA sensor to much-improved heart and sleep tracking, there's a lot to like here. Galaxy Watch 4 also comes with some needed improvements like a fluid user experience, more suggestible sleep tracking, and future commitment from Google. But, if you look at it objectively, Samsung needs to further polish the software experience and open up all the health features to attract even more Android users.
However, with that said, the Galaxy Watch 4 is also more affordable than the previous iteration with the 40mm Bluetooth version starting at Rs. 23,999. You can shell out more and opt for the Samsung Galaxy Watch 4 Classic that packs a physical rotating bezel and starts at Rs. 31999. If you are a Samsung purist and want to be part of the first wave of Wear OS 3 smartwatches, pick up the Galaxy Watch 4 right now. However, non-Samsung Android users can opt for competitors like the Fossil Gen 6 (starts at Rs. 23,995) and other upcoming Wear OS 3 smartwatches for more variety.
Pros and Cons
The Samsung Galaxy Watch 4 is an intuitive combination of top-notch hardware packed with the latest Wear OS 3 software. The smartwatch packs an array of improved health and wellness features and body composition measurement support. While things like battery life and the lack of Google Assistant are a minus, the Galaxy Watch 4 still manages to "shine through as the best Android smartwatch money can buy right now".
---
Load More