When Samsung announced the Galaxy S7 and S7 edge duo at MWC 2016 in Barcelona, the devices were met with mixed reactions. Nobody argued that they weren't worthy of the flagship title, and it wasn't that folks didn't welcome the expandable storage and water resistance coming back. It was just that whether the devices delivered enough to justify their high price tags or not, especially in the face of competitors like Xiaomi's Mi 5 that comes in at almost half the price of the S7 edge. I'd admit, I was among the skeptics myself, until I tried the Samsung Galaxy S7 edge myself. And I fell in love with it.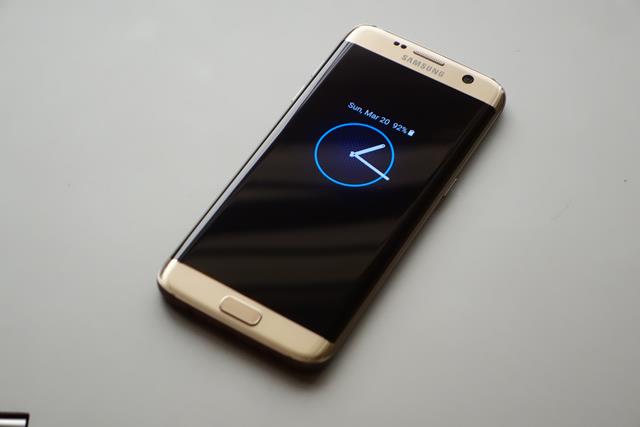 Everything about this device is worth loving, and that's from both a geek and a casual user point of view. Sure, there might be things to nitpick on, but does that deter from the fantastic experience that the device delivers? No. Never. It simply doesn't make enough of a difference.
Throughout this review, my focus will be the user experience and perspective. No casual user cares if the speaker grill and microUSB port don't fully align, or if the screen poses oddity under a digital electron microscope. These are things to ponder for geeks, and our review is for the average Joe.
Buy Here: Bestbuy.com
In The Box
For a device as premium and pricey as the Galaxy S7 edge is, the retail box is no stellar affair. You get a nicely built retail box that packs the regular goodies — the device itself, a fast-charge AC adapter, Samsung earphones and a micro-USB-to-USB adapter. The last item is of particular use; despite being small (and easy to misplace, mind you), it is USB-OTG capable, so you can basically use it to connect other devices to your Galaxy S7 edge. It comes in extremely handy if you have an old device (Android or iOS both) that you want to migrate your data from, so the fact that Samsung included it in the retail box is praiseworthy.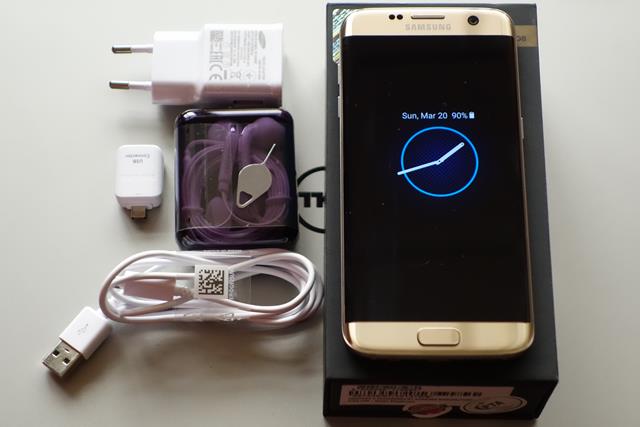 The earphones supplied with Galaxy S7 edge are the same ones that shipped with the Galaxy S6 and Galaxy S6 edge smartphones last year, so while they deliver decent audio, they're not going to please the hardcore audiophile. I still feel Samsung has a lot of work to do in this area even if to just match the quality of Apple's earpods.
Build & Design
This is frankly where the love affair with the Samsung Galaxy S7 edge starts. Right off the bat, it is one of the most beautiful and elegant smartphones out there. Design-wise, the Galaxy S7 edge is just like a bigger — albeit better looking — S6 edge or S6 edge+. And that's really a good thing, because both these last-year phones were among the best looking out there. The phone itself is made purely out of aluminium and glass, with two sheets of Corning Gorilla Glass 4 wrapped around the metal frame of the device. The screen measures 5.5 inches diagonally, putting the Galaxy S7 edge in the phablet realm (the regular Galaxy S7 features a 5.1″ display, for comparison).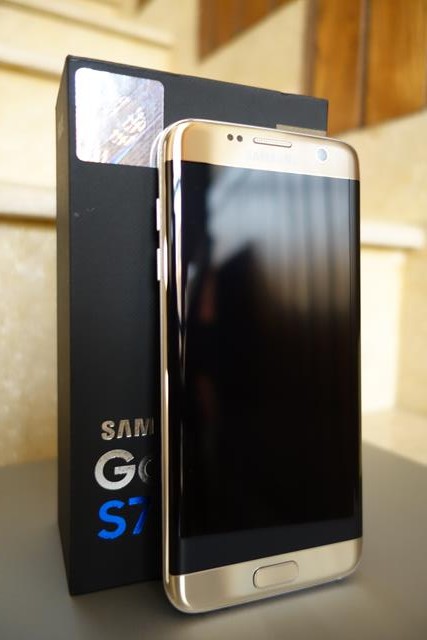 Samsung took a cue from last year's S6 edge's poor ergonomics, especially when it came to picking the device up from a flat surface, and the glass this time curves ever so slightly toward the edges on both front and back, making it easier to pick the device up and holding in the hand without fear of slipping away. This design element was great ergonomically in the Galaxy Note 5, and so it's great to see Samsung bringing it here as well. The GS7 also feels great in hand thanks to these curves, cementing its premium status even further.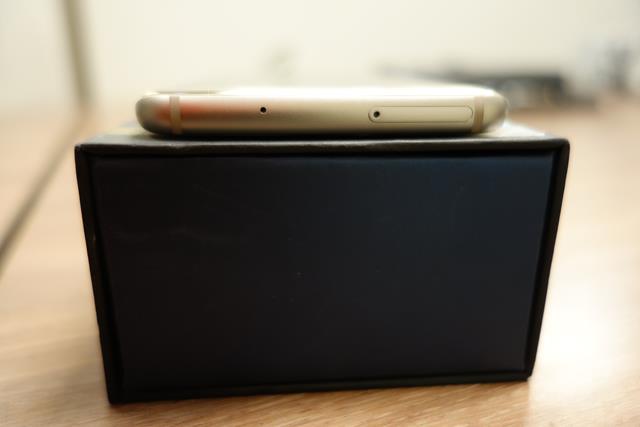 The Galaxy S7 edge is also water and dust resistant with an IP68 rating, which means it can withstand submersion of up to 1.5 meters for up to 30 minutes. The best part is, Samsung achieved this without putting any flaps over the ports, like we've seen in the early Xperia lineup or Samsung's own Galaxy S5 from a couple of years ago. The charging port in fact has water detection, so if you've taken the phone out of water and the charging pins are not dry yet, you'll get notified and charging circuits will be shut off to prevent any damage.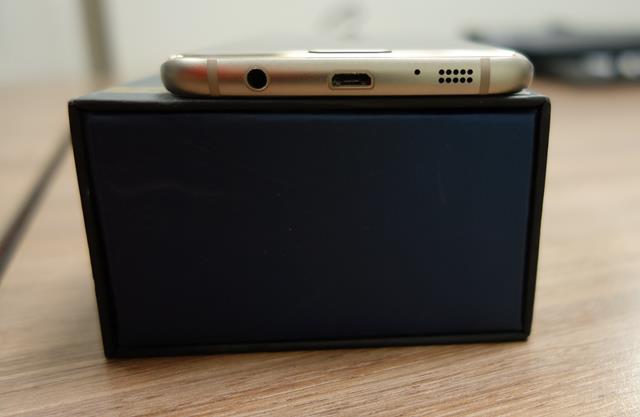 In terms of ports and buttons, the layout is pretty similar to last year's S6 edge. The top of the 5.5″ display is occupied by the earpiece, the notification LED, ambient light and proximity sensors, and the 5-megapixel camera unit. The bottom of the display houses the physical Home button with built-in fingerprint reader, surrounded by the capacitive Back and Multi-tasking keys. On the top of the device, you get the SIM tray and a noise-cancellation microphone, while the bottom of the device holds the multipurpose microUSB port, the main microphone, the speaker grill, and the 3.5mm audio jack. It's strange that Samsung still opted for microUSB over USB-C connector, but it can be a good thing as the S7 edge won't render a lot of your old cables and accessories useless. Still, microUSB is a platform that's become antiquated really fast, so Samsung's choice here is a little weird.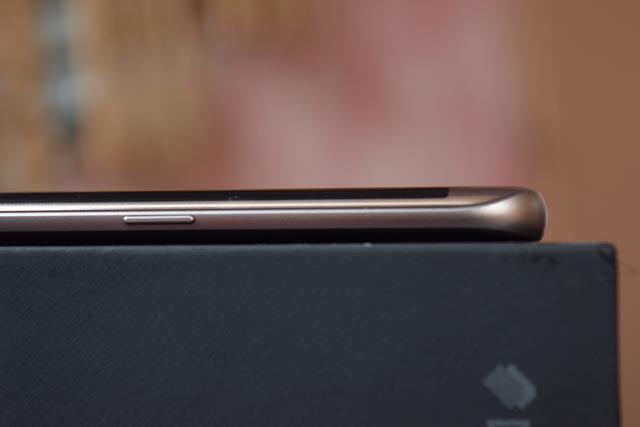 The tray on the top houses both the SIM card (Nano-SIM variety) and the micro-SD card, if you want to expand storage. The way the device is set up, you can either use the phone with dual-SIM capabilities, or use one SIM card and one micro-SD card, as the second SIM slot doubles for both. You, however, cannot have both dual-SIM and expandable storage at the same time.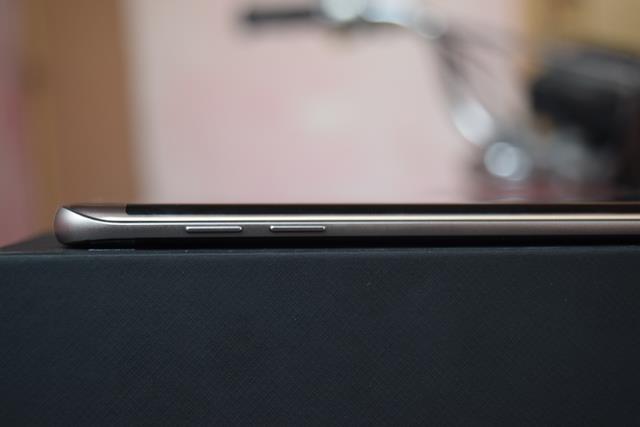 The right side of the Galaxy S7 edge hosts the power button, while the left side has the volume buttons. All physical buttons are well-built, and give a satisfying click upon press.
The back of the phone provides home to the 12-megapixel main camera, accompanied by the LED flash and the heart-rate sensor. The camera protrudes from the body ever so slightly, but it's much less conspicuous than last year's models because S7 edge is slightly thicker than the S6 edge. That doesn't make any impact to the look and feel of the device, though, and if you end up using a bumper case, the camera bump practically goes away.
Speaking of bumper cases, it might be worthwhile investing in one. Although Gorilla Glass 4 is strong, it still isn't unbreakable, and with both front and back dependent on this, you would want the extra protection. Not to mention, a silicon bumper, for example, adds to the grip for this slippery phone, and also helps with fingerprints, for which the S7 edge is a magnet.
The Galaxy S7 edge comes in Gold, Silver and Black.
Display
If there's one thing that you cannot really doubt Samsung for, it's displays. SuperAMOLED displays were gorgeous to begin with, and over the years, Samsung has really perfected this technology. The result is a 5.5″ display at 1,440 x 2,560 QHD resolution that is an absolute pleasure to look at. The blacks are as deep as it can get and the hues are punchier than before. The gentle curve of the edges also ensures that the display looks equally elegant from one edge to the other. Brightness and sunlight legibility are top notch, and Samsung even supplies the S7 edge with an adaptive display mode that will tone the colors differently under different light sources. I personally have not seen a better display — the Galaxy S7 edge surpasses last year's S6 and S6 edge duo, which were already pretty amazing.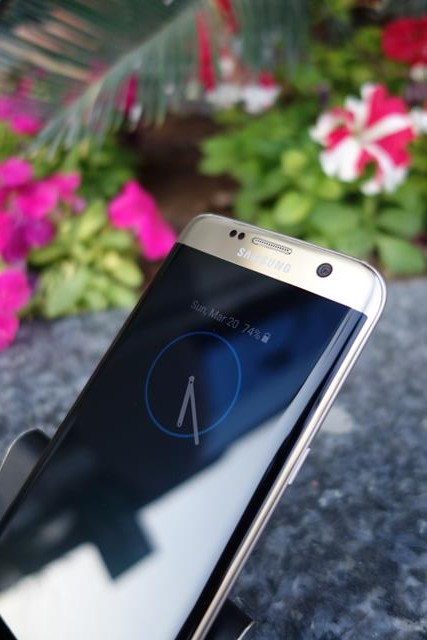 One minor annoyance, and this is not really the display's fault, is the Gorilla Glass 4 on the front is very reflective. In fact, it can get to a point where you might want to consider investing in a matte-finish screen protector to minimize the glare. It's difficult to complain about this, however, because it is also this glass panel that makes the device as gorgeous as it is.
The display also features an Always-On mode, which comes enabled by default. Under Always-On, you get a basic clock supplemented by the day, time and battery level, as well as indicators for pending notifications. All of this can be beautified further with a background image or pattern. The Always-On display kicks in when the screen goes off, and is customizable to some extent (clock type, date/time format etc, background image). This mode, however, eats battery, however marginally, and personally, after enjoying its novelty for a few days, I ended up turning it off. This is something that you might want to try for yourself before making a judgement call on this.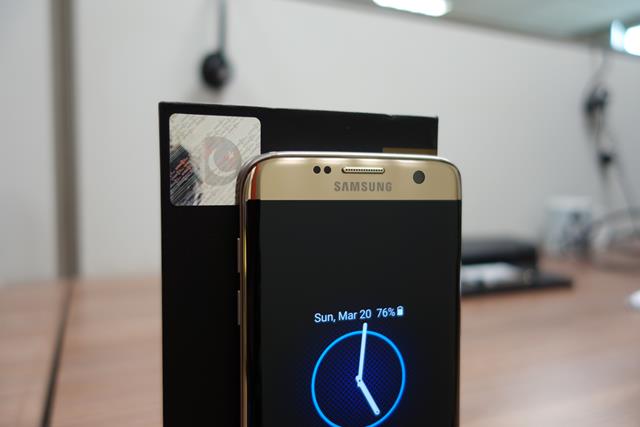 Always-On can be further changed via themes from Samsung's Theme Store, introduced first with the Note 5 and supported on the S7 edge as well.
Interface and Features
The Galaxy S7 edge comes with Android 6.0.1 Marshmallow and is skinned with Samsung's signature TouchWiz UI. If you've ever used a Samsung phone, you'll know fairly well what to expect, because TouchWiz is a pretty standard affair. This is also where a lot of issues with Samsung start. The tech world, and reviewers in particular, seem to hate TouchWiz with a passion. I personally have never had a problem with TouchWiz, and certain features are those that I appreciate over stock Android UI (the ability to toggle automatic brightness from the notification shade, for instance). Still if you don't like TouchWiz, you can opt for one of the many themes that are now supported, some of which will completely change the look and feel of the device's interface. There's a possibility to turn off the app drawer completely as well. Moreover, there are themes that adhere to Google's Material design guidelines that have become a hallmark of good design in Android, so you can try those out as well if that's your thing.
Because the TouchWiz interface is fairly standard, we'd spend more time talking about some of the new features in Galaxy S7 edge than the overall interface. After all, it is Android.
Fingerprint Reader
The first of those features is the fingerprint reader. With Marshmallow, Android has native support for fingerprint readers, and S7 edge takes full benefit of that. The reader is built into the physical Home button, and is blazing fast and accurate. In fact, it blows the iPhones 6s' TouchID by a huge margin. The reader never failed to read my thumb impression no matter what the angle, and the speed of recognition was stellar. A number of times, all it took to unlock the phone was pressing the home button, during which the screen wake would first be registered while my fingerprint data was transmitted to the system, resulting in an immediate unlocking. The reader also didn't have any trouble reading wet or sweaty fingerprints, although that's not something that Samsung advertised.
The fingerprint reader is supposedly of the same variety that was used in the Galaxy S6. However, my experience was that it worked more reliably and faster. Perhaps it's the native support that Android 6.0 offers or the better computing power of this year's processor, but in real-world usage, you'll notice a difference.
It's worth noting that the fingerprint sensor won't work when the screen is off. This means there's an extra step in waking the screen and then providing your fingerprint, but as I noted earlier, one press of the home button often proved sufficient for doing both.
Themes
Native extensive theming was something that served as hallmark for a number of third-party launchers, but with Note 5, Samsung brought this support for stock TouchWiz. The same has carried over to the Galaxy S7 edge as well. By default, the device comes with only one theme preinstalled, but there's a lot more in the Samsung theme store that you can explore. Do remember that you'll need a Samsung account for that, which you can sign up for in case you don't have one. Some themes come with additional features as well like changing the Always-On display, so you may have to explore quite some before you find something to your liking. Material design themes are there, too, but they generally seem like half-hearted attempts and not truly "material."
Split-Screen Multitasking
It'd have been a shame to not have this feature on a 5.5-inch phablet, and Samsung seems to have taken note of that (pun intended). Under Split-Screen mode, you can run instances of two-different apps at the same time, with both occupying half of the screen. The size taken up by one app is customizable, and there are some other things that you can do in this mode as well. Split-Screen is unfortunately not supported for all apps across the board, but it remains a fact that Samsung has the largest number of supported apps for this purpose.
You can initiate the Split-Screen mode from the app switcher, where supported apps will have a split button next to the close option. Split-Screen mode also supports floating app windows.
Game Launcher
Debuting with the Galaxy S7 and the Galaxy S7 edge, Game Launcher appears to be yet another folder that automatically collects all your installed games in one location. However, there's a lot more to it than meets the eye. First, the Launcher will automatically tag installed games for convenient finding, and in case something is missed, you may add any app manually. Second, it comes with different power saving modes, which basically mean that you can cap the frame rate during a game for maximizing battery time. Finally, it comes with Game Tools – a small floating key that automatically becomes active when you launch a game.
The Game Tools is a collection of options that avid and casual mobile gamers will find of utmost use. The first option is to disable alerts, ensuring you don't get disturbed during gameplay (think Do Not Disturb for gaming only). The second option is locking Back and Recent capacitive keys, which is a godsend if you've ever been knocked out of Vainglory because of an accidental press on the back key. The next option allows you to minimize the game without exiting it. The fourth option allows taking a screenshot to show off later for your friends, while the last option is to record gameplay.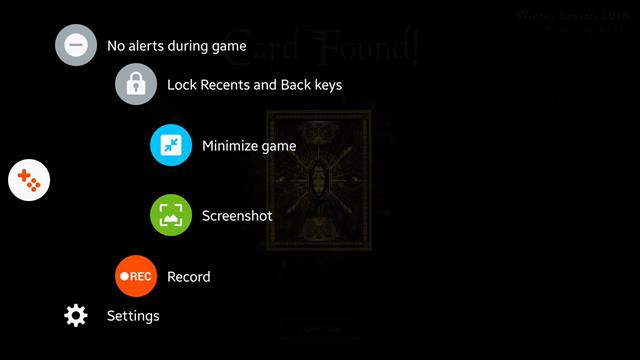 The record option is pretty neat if you're into making game videos/tutorials. While recording the screen, audio can be captured either from in-game or the device's microphone, which is useful if you're doing a commentary. What's more, you can even embed an image in your recording as a watermark (ensuring no one steals it), or activate the front camera to put your face in it – whatever works for you. The Game Launcher is truly one of those features that only after experiencing it you wonder how you'd done any gaming without it.
Game Launcher will also offer Top Charts for games popular in users similar to you or near you, and will suggest YouTube videos to watch based on your installed games.
Edge Features
You can't possibly talk about an Edge device without mentioning the edge features, right. With the Galaxy S7 edge, Samsung took what used to be an aesthetic and at-best gimmicky feature, and turned it into something pretty amazing. Essentially, for the edge, you get three items — Edge Panels, Edge Feeds and Edge Lighting. All of these were present in earlier iterations of Samsung's Edge in other devices, but it's Edge Panels that has undergone the most significant change.
First, the Edge Panels are now numerous, and more can be downloaded from the Samsung Store. The panels include the likes of favorite contacts, quick app shortcuts, tools like compass and ruler; the usual ordeal, or neat ones like quick tasks (think Tasker but much simpler automation) and places, which auto-populate a predefined set of apps and actions based on where you are, which network or Bluetooth device you're connected to etc. Among all the edge panels, I found this to be most useful for my most needed apps at work or when I was driving (car Bluetooth as the detection method).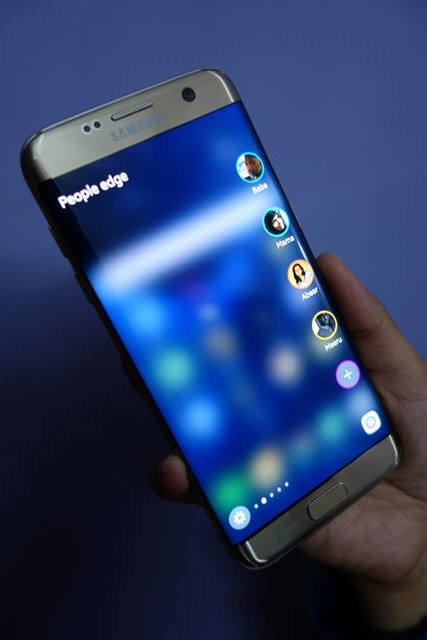 Edge Panels are invoked through swiping in from the active Edge (you can set either the right edge or the left one as active, based on your preference), and the panel puller can be rearranged wherever you like on the screen.
Edge Feeds and Edge Lighting remain the same as before. The feeds can be invoked by swiping back and forth on the active edge in quick succession, and can host calendar events, notifications, RSS feeds etc, depending on how you've configured them. Edge Lighting kicks in only when the device has been placed face-down, and will light up the edge in a predetermined if the call is from a configured contact. This last one is truly just a gimmick that I cannot figure out a practical use for.
One minor annoyance that I observed with the Edge was a really wonky palm rejection algorithm. Many times, the screen would go non-responsive because my grip around the phone would end up getting recognized as a valid touch. It happened frequently enough to become an annoyance, and I hope Samsung will fix this via a future software update.
Performance
First, we're going to talk some numbers.
The Galaxy S7 Edge comes in two flavors: one powered by the Qualcomm Snapdragon 820 chipset and released to the US market only (at least officially), while the other, worldwide model powered by Samsung's own Exynos 8890 SoC. My review unit is the latter, and so we'll talk about just that and not go into Snapdragon vs. Exynos comparisons. In general, both of these offer the same processing capability anyway with marginal differences, so there isn't much that we're omitting.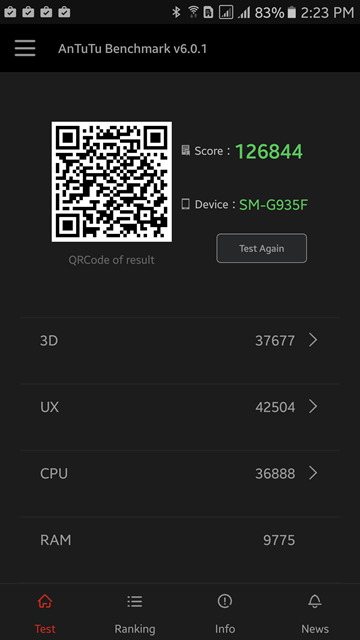 The Exynos 8890 is a processing beast to begin with, and there are several reasons for that. First, the octa-core chip comes with four high-speed cores dubbed Mongoose, which can run as high as 2.6 GHz. The Mongoose cores are supplemented by four low-power-consuming Cortex A53 cores running at 1.6 GHz, for when you don't need all that processing power. The Mongoose cores are then further optimized in what might seem to be strange at first: if only two Mongoose cores are required, they'll kick in at 2.6 GHz, but if what you're doing requires all four of them, they'll be clocked down to 2.3 GHz max instead of 2.6. While it might seem strange, it affords the S7 edge better cooling and prevents thermal throttling, so it's a good decision by Samsung. Hey, it's unlikely that you'll ever need the full potential of this Exynos 8890 chipset unless you're running benchmarks all the time.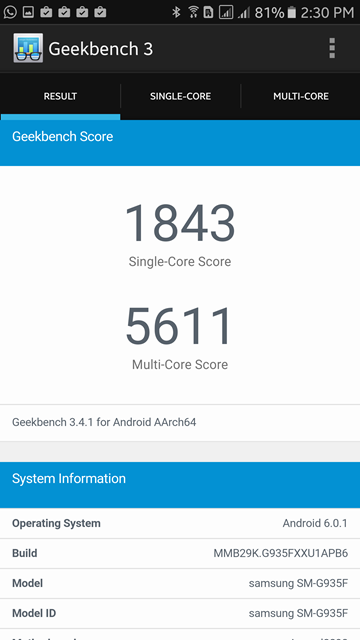 The GPU in the Exynos 8890 is also one of a kind — the ARM Mali-T880 MP12 with 12 processing cores. The GPU gets 512MB out of the device's total 4GB LPDDR4 RAM, thus ensuring that it has ample juice to handle whatever you may throw at it.
Moving past numbers, the Galaxy S7 Edge is fast. In fact, it's blazing fast. This is the fastest Android phone that I've used to date, period. I struggled to slow the phone down after loading it up with my social accounts and apps, work accounts and apps, and every other game that I would normally want to have (and not even play). Everything is super responsive (perhaps a little too responsive at times), and the device shines with rendering the best graphics possible on this gorgeous display. Even the TouchWiz interface that is often blamed for Samsung phones exhibiting lag didn't slow down this beast. I've included some benchmarks for you to look at here, but honestly, you'll be hard pressed to find a faster phone out there right now. It just works.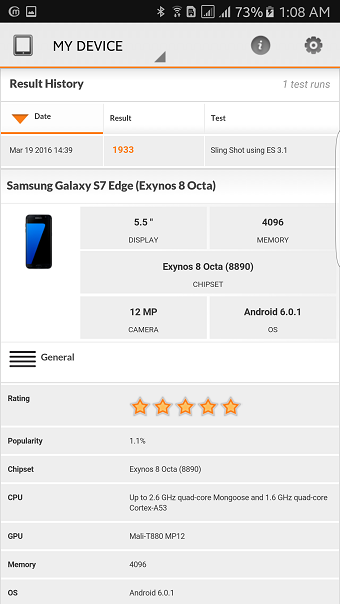 A note on the Mali T880 GPU, though. The Galaxy S7 edge does exhibit some thermal throttling problems, despite the dedicated cooling system that Samsung put inside this device. It's likely that this is due to the GPU, where the 12 processing cores might be doing an overkill of a job or can at least use a better governor. Also, compared to the Adreno 530 that you'll find in the Snapdragon 820 variant of the S7 edge, T880 lags behind a little. It's not much, and it's not going to deter the overall experience, but when playing games like Real Racing 3, you might notice the difference and the device will get a little hotter than its other sibling.
Battery
Samsung's Galaxy S7 edge packs a 3,600 mAh battery of the non-removable variety, but it does a better job at lasting longer than previous S6 models and the smaller S7 as well. The device features Qualcomm's QuickCharge 2.0, which is a shame considering how flagships of today are enabling full support for v 3.0 of the technology. Nevertheless, the phone charges pretty fast using the supplied adapter, and can go from 0-100% in about an hour and a half. There's wireless charging onboard with support for fast charging there as well, if your charging pad supports it. Galaxy S7 edge supports both Qi and PMA wireless charging, so you can even use one of your old charging pads for this device.
It's interesting to note that the 3,600 mAh battery can also be used as a powerbank for charging other devices, using the supplied microUSB-to-USB adapter.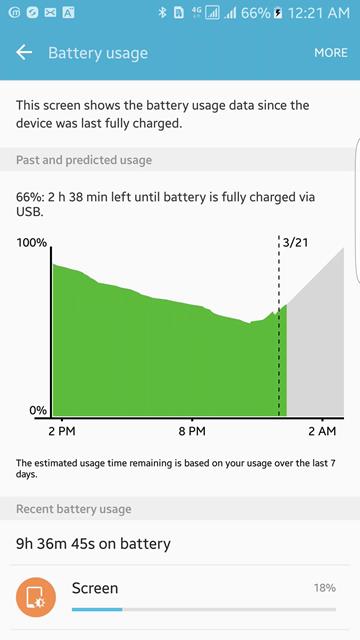 In practical usage, the device comfortably lasts me one full day with three email accounts synced, 6 social media accounts, a bunch of RSS subscriptions (all of these pulling several notifications throughout the day), occasional photos and videos and about an hour of gaming (I play Vainglory, nothing else). At the end of the day when I put it in for charging, I'm left with about 25% juice with all this. This is without applying any power saving modes, of which Samsung provides two. I suspect they'll making the battery even better lasting than this.
Camera
Finally, the part of the review that you'd definitely have been waiting for. DxOMark recently crowned the S7 edge as the best mobile camera ever, and we wanted to see the merit behind that title.
The camera on the Galaxy S7 edge is a 12-megapixel main unit with 4:3 aspect ratio, providing a shift from Samsung's traditional 16:9 approach toward mobile photography. On paper, 12MP is a downgrade from Galaxy S6 edge's 16MP shooter, but what Samsung did here was increase the pixel size to 1.4μm and provide the brightest aperture on a mobile camera yet — f/1.7. What this resulted in was great low-light performance (which is what most people usually find themselves taking shots in), and couple this with Optical Image Stabilization (OIS) and you have a natural winner at hand.
The camera tricks don't end here, either. Samsung also implemented Dual Pixel focusing in the Galaxy S7 and Galaxy S7 edge — a hallmark of DSLR cameras until now. Dual Pixel focusing is a form of Phase Detection autofocus that basically allows every individual pixel to focus on the subject, resulting in an autofocus experience that's unparalleled by any other smartphone. Indeed, the GS7 edge never went out of focus for even a second.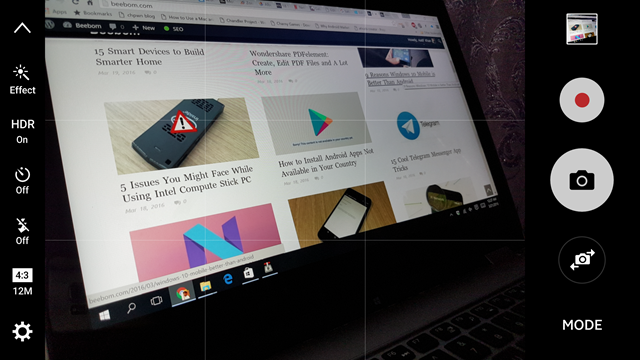 In terms of video capture, the package is pretty full. You get 4K ultra-HD video at 30fps, QHD (1440p) at 30fps, FHD (1080p) at both 60fps and 30fps, and lower resolutions which I frankly don't see a need for in general use. Slow motion capture takes place at a decent 720p resolution with 240fps as the maximum, and Hyperlapse for those timelapse videos that you always wanted to shoot. Note that Hyperlapse analyzes the scene for movement and change and doesn't capture at a fixed speed. Video bitrate is 48Mbps for UHD, 28Mbps for QHD and 17 Mbps for 1080p video. Audio is recorded in stereo in all cases at 256kbps.
The 5-megapixel front camera, often called the selfie camera, features the same f/1.7 bright lens.
Camera Interface
In terms of camera interface, it's a standard Samsung affair, with a large viewfinder having options like Effect, HDR, Timer, Flash and Resolution buttons toward the left, while right side is occupied by Gallery, Video Recording, Capture, Camera Swap and Mode buttons. Settings can be toggled from the bottom left corner of the screen, while Mode will allow you to move from Auto to Pro and a number of signature Samsung shooting modes, including Selective Focus, Panorama, Video Collage, Live broadcast, Slow motion, Virtual shot, Food and Hyperlapse. Additional modes can be downloaded from the Samsung Store.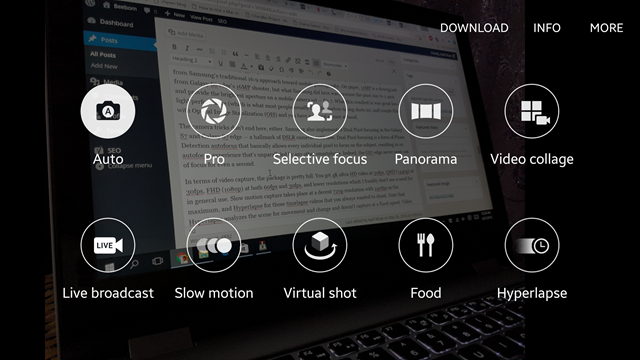 In Pro mode, you get an additional bar on the right side of the screen containing shortcuts for Effects, Auto/Manual focus slider, White Balance, ISO, Shutter speed and Exposure compensation. The Galaxy S7 edge has one of the most robust sets of manual controls, and can shoot images in RAW as well. You can boost the ISO all the way up to 800 for those pesky night shots (although I highly advise against that unless you absolutely have to take a photo), and shutter speed ranges between 1/24,000 to 10 seconds, making the device ideal for almost all kinds of photography.
Another feature that Galaxy S7 edge received was Motion photo, which basically works similar to iPhone 6s' Live photos — capturing a short, 3-second clip with live action. With Facebook adding support for live photos, this might find some love from casual photographers who love to share pictures of their kids and pets.
In selfie camera, you get beautification features like face slimming, enlarging eyes, adding a spotlight glow to either side and changing skin tone. The front camera also comes with a WideSelfie mode for those hard-to-get group shots.
Camera Quality
In a word: outstanding. The Galaxy S7 truly has one of the best — if not the best — mobile cameras out there today. The resolved detail is amazing, color rendering is accurate, and dynamic range is exceptional. White balance was generally spot on, and Samsung seems to have nailed the sharpening algorithm finally, because the photos never look over sharpened. There was noticeably less purple fringing in high contrast scenes. One recommendation that I have is to have the HDR mode always on, because it can do wonders in preserving shadows without blowing up highlights. I also noticed that pictures had more visual oomph and lighting balance with HDR on that without it.
The Macro mode of Galaxy S7 edge also does nothing short of impressive. The Dual Pixel autofocus truly shines here, but should you have trouble getting the right focus, switch over to Pro mode and kick in the manual focus. Doing so magnifies the image so you can actually see the exact thing that you're trying to focus on (observe the hair on the stalk in the sample photo), which results in one of the crispiest macros ever on a mobile device. The wide f/1.7 aperture also gives a really nice bokeh effect to these images.
In low light, the auto mode generally performs well, with noise levels under control and exposure pretty decent. However, thanks to the wide aperture, OIS and Dual Pixel focusing, I was able to drop the shutter speed to 1 second in a handheld shot and still get a stable, blur-free image. There are issues with rendering bright light sources like car headlights, but overall, this is the best low-light camera that I've ever used.
The 5MP selfie camera, however, is unimpressive despite featuring the same f/1.7 wide aperture. What's particularly annoying is that post-processing seems to be taking beautification a little too seriously and making the face look artificial. Still, for sharing on Facebook, these selfies should be more than sufficient.
Video quality is also topnotch on the Galaxy S7 edge. Shooting in 4K, you can basically take a still from a video and pass it as a standalone 8-megapixel shot, that's how good it is. The insanely fast focus works equally well in video mode, and color reproduction is kept accurate. Playback is as smooth as it can get.
In a nutshell, you'll be hard-pressed to find a flaw with the Galaxy S7's camera. It's really that good.
Connectivity Options
The Galaxy S7 edge packs a full connectivity suite with two exceptions, which makes us wonder why Samsung did that in a 2016 flagship. The device comes with LTE Cat. 9 which means it can have a maximum downlink of 450Mbps. WiFi is of the a/b/g/n variety with support for WiFi-ac for local connectivity. Supported WiFi channels are 2.4GHz and 5GHz both. Then, there's Bluetooth LE 4.2 and NFC, the latter of which can be used for Samsung Pay as well. Finally, you get a hot-swappable memory card as well as USB OTG, which can be used for both external storage as well as peripherals.
The two exceptions that I mentioned earlier are IR blaster and FM radio. While the FM radio can be somewhat understood in light of the advent of online streaming services, omitting the IR blaster is a strange choice, especially since it was present in both the Galaxy S6 and S6 edge, and was a welcome feature. Perhaps Samsung just doesn't want you to use your smartphone for controlling appliances?
Let's just quickly take a look at the pros and cons in a nutshell.
Pros
Elegant, premium build and quality
Stellar quad-HD 5.5″ display
Performance powerhouse thanks to latest gen processing chipset
Dust and water resistant up to 1.5 meters for up to 30 minutes
Best camera on a mobile device with impressive low-light performance
4K video recording at high bitrate
Expandable storage, up to 200GB microSD cards supported
Dual-SIM connectivity
Wireless charging
Solid connectivity package, LTE Cat. 9 supported
Decent battery at 3,600 mAh, fast charging
Cons
Front/Rear glass build makes the device fragile
micro-USB instead of USB-C
IR blaster & FM radio omitted
Fingerprint magnet
Quite expensive (if you count this as a con)
Final Words
At the end of our Galaxy S7 edge review, I have only one feeling — this is the smartphone. It checks all the right boxes worthy of a flagship. Excellent processing: check; great connectivity: check; premium build and design: check; outstanding camera: check; stellar display: check; ample storage: check; flagship features: check. Sure, it's pricey; sure, it has a lot of competition, but if you're in the market now for a flagship device that speaks flagship, Galaxy S7 edge is the way to go.
Buy Here: Bestbuy.com
---
Load More