There was a time when Samsung used to dominate the budget smartphone market in India. However, for the last couple of years, the company has been mainly focusing on its flagship devices which gave Chinese companies like Xiaomi and Huawei, a chance to come in and fill the vacuum. It seems that Samsung has realized its mistake and is trying to reclaim its lost marketshare by releasing a number of new budget devices. We just reviewed the Samsung J8 which was launched last month, and the company is back with a brand new budget device; the Galaxy On6 (₹14,490). In this article, we are going to review the Samsung Galaxy On6 to see if it deserves a place in your pocket or not:
Samsung Galaxy On6 Specs
Before starting the actual review of the device, let's take a look at the hardware that the device is packing. In the table below, you will find all the specs that you need to know about the device:
Name
Samsung Galaxy On6 (Infinity)
Dimensions
149.3 x 70.2 x 8.2 mm
Weight
154 g
Display
5.6 inch, 720 x 1480 pixels (~294 ppi density)
Processor
Exynos 7870
GPU
Mali-T830 MP1
RAM
4GB
Storage
64GB
Primary
Camera
13 MP (f/1.9)
Secondary
Camera
8 MP (f/1.9)
Battery
3000 mAh
g
Operating
System
Android 8.0 (Oreo)
Sensors
Fingerprint (rear-mounted), accelerometer, proximity
Connectivity
Wi-Fi 802.11 b/g/n, Wi-Fi Direct, Bluetooth 4.2
What's in the Box
The Samsung Galaxy On6 comes in a blue cardboard box wrapped inside a plastic cover. When you open the lid of the box, the device will greet you front and center with all the accessories and paperwork neatly tucked beneath it. Here is everything that you get inside the box:
Samsung Galaxy On6
Charging adapter
micro-USB to USB-A cable
SIM ejector tool
Earphones
User manual
While there's nothing exceptional here, I do love the fact that Samsung has opted to include a pair of earphones inside the box, which is something that is becoming rare and rare these days.
Design and Build Quality
When you take the Samsung Galaxy On6 in your hands for the first time, the first thing that you notice is its weight or the lack thereof. After using bulky Android devices day after day, it's so refreshing to use a smartphone which feels so light. I mean, on paper, it weighs a hefty 154 grams, however, it still feels very light. I guess the phone is so perfectly weighted that no part of the phone feels heavy.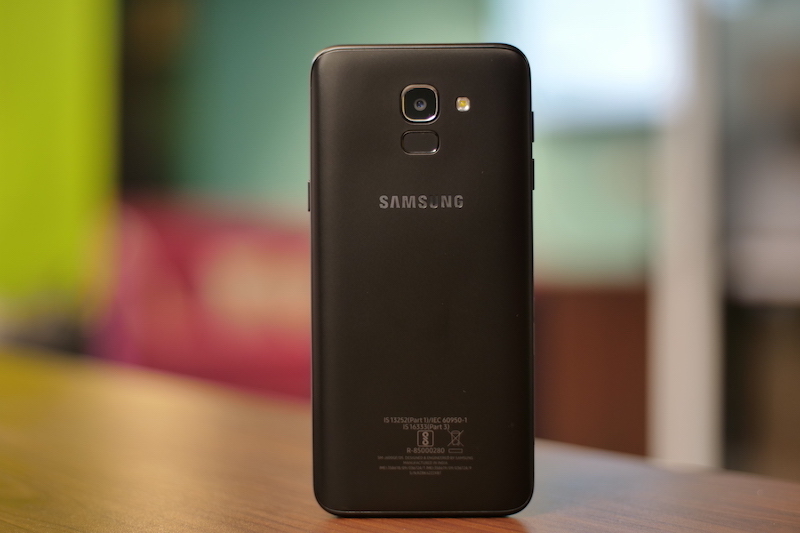 Although I love the lightness of this phone, I don't love the sacrifice Samsung has made to achieve it. The Samsung Galaxy On6 uses a plastic body, and for a phone in its price range in 2018, a plastic build is nothing short of a crime. I would have forgiven Samsung if the plastic body also brought the benefits of using one such as the removable back, swappable battery, and more. However, the Samsung Galaxy On6 doesn't bring any of these things and I am disappointed.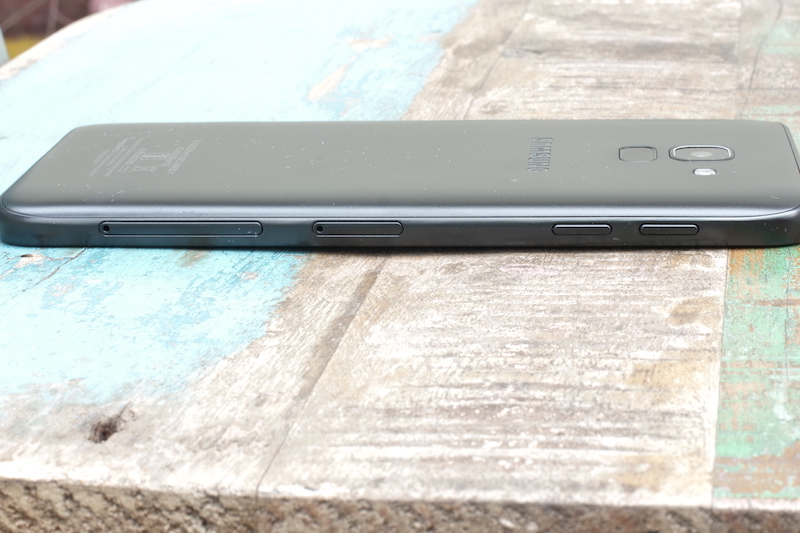 Well, once you get over the disappointment, you will be happy to know that although the phone is made from plastic, it feels solid in hand. The buttons are clicky and have a nice feedback. That said, I don't like the position of the speaker which is placed on the right side of the phone, but more on that later. The star of the whole design show is the infinity display, which spreads from edge-to-edge, covering almost the entire front of the device. Finally, there's a headphone jack and a micro-USB charging port at the bottom, the former of which makes me happy, the latter not so much. The bottom line here is that, although I hate that Samsung has used a plastic body with On6, the overall build of this phone is not half bad.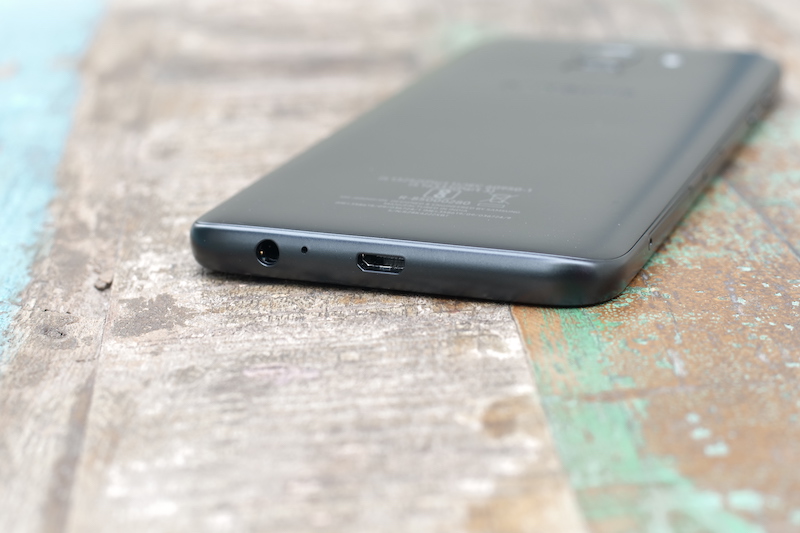 Display
As mentioned above, the Samsung Galaxy On6 brings an almost bezel-less display with the modern 18.5:9 aspect ratio. Just like its flagship brother Galaxy S9, the Samsung Galaxy On6 features a small top and bottom bezel with almost negligible side bezels. However, do note that the sides of the display on Samsung Galaxy On6 don't curve as they do in the Galaxy S9. When it comes to the display quality, the panel used on the Samsung Galaxy On6 is a Super AMOLED display which has a resolution of 720 x 1480 pixels, giving it a pixel density of ~294 PPI.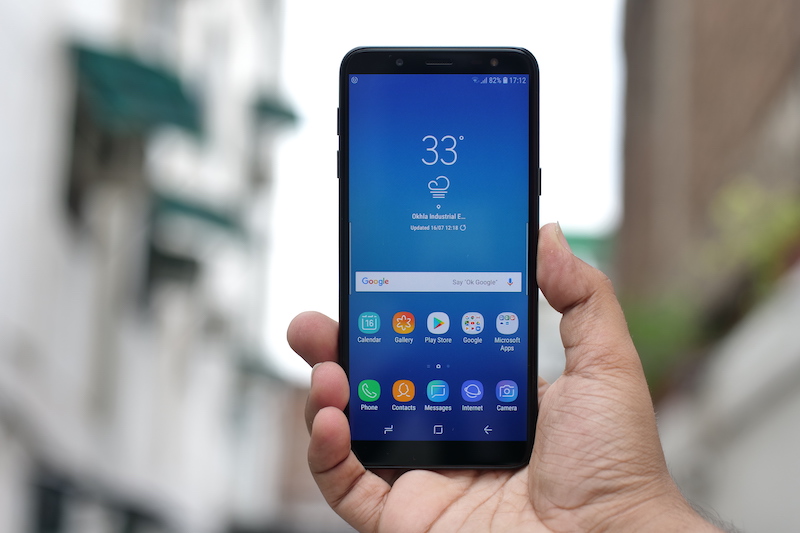 Since its a Super AMOLED panel and that too from Samsung, you know that the display will be second to none and that's the case here. The colors are on point, the blacks are deep, and most things look life-like on the screen. That said, how much ever you try to love this screen, you won't be able to run away from the fact that it's a 720p panel. I mean, come on Samsung, you could have easily packed a 1080p panel here and that would have made things so much better. The 720p panel is just not good enough in this day and age, and I am really disappointed with Samsung here.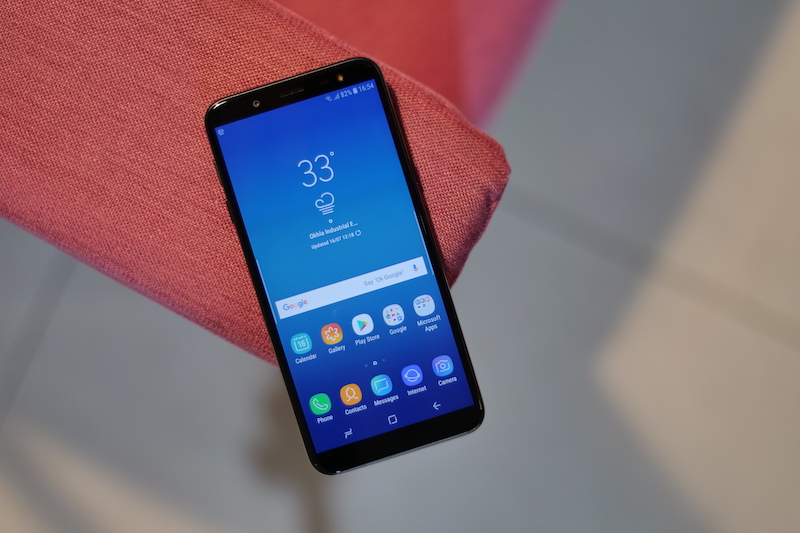 User Interface
If you have ever used a Samsung device before, you will feel right at home with the Samsung Galaxy On6 as the smartphone brings the familiar Experience UI 9.0 which is running on top of Android 8.0 Oreo. I personally do not have a problem with the Samsung's Experience UI, however, many of my colleagues seem to hate the bloatware that comes with it. In defense of Samsung, over the years, the company has removed most of its bloatware to bring a more utilitarian user interface. That said, the company is still pushing a ton of its software including and not limited to Bixby, themes, game launcher, Samsung Pay mini, Samsung Cloud, games launcher, one-handed mode, and more.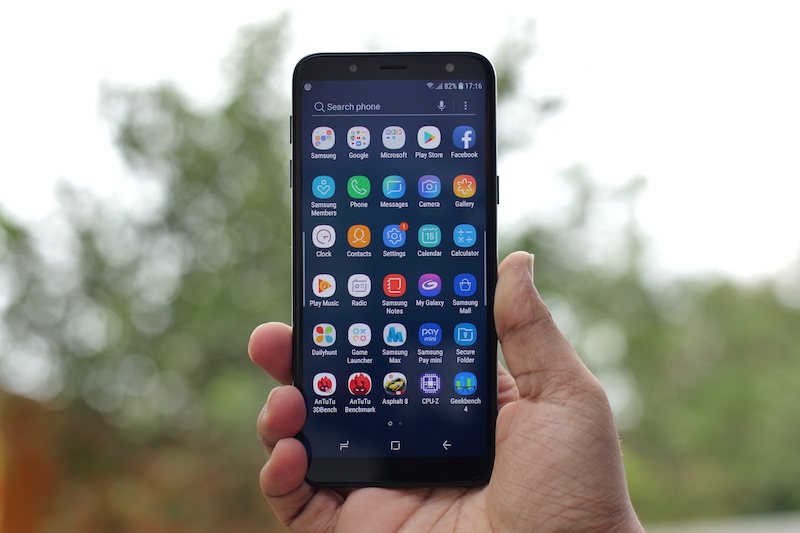 While most of them don't bother me much and can be disabled, I was constantly annoyed by these services while I was setting up the device for the first time. However, once setup, I enjoyed using the Experience UI as it brings a ton of features which is otherwise not found in stock Android. If you are ready to give it a try, the Experience UI will slowly grow on you and can be quite helpful if you make efforts to learn all the shortcuts and extra features that come with it.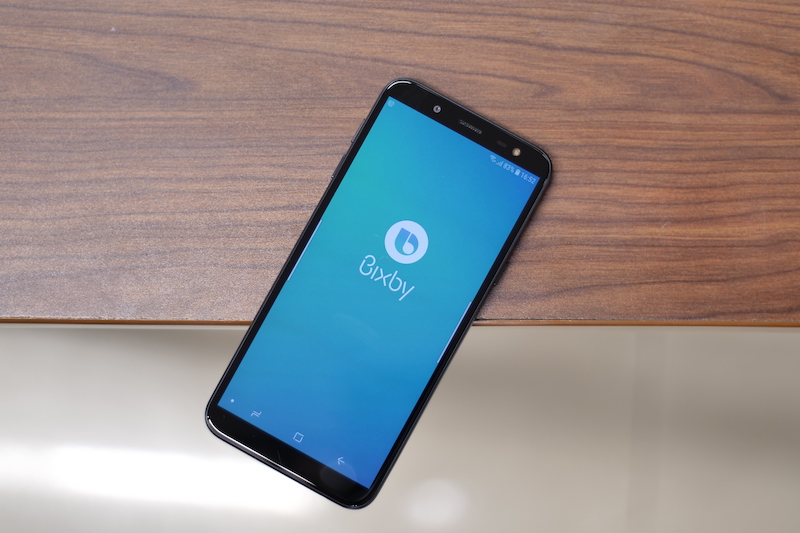 Performance
When it comes to raw specs, the Samsung Galaxy On6 brings Samsung's in-house Exynos 7870 processor along with Mali-T830 MP1 GPU. The phone pairs this with 4GB of RAM and 64GB of internal storage. I am happy that Samsung went with its own Exynos processor with the Galaxy On6 and not a low-powered Snapdragon one as it allowed the company to tune the performance of smartphone which certainly shows in day-to-day usage.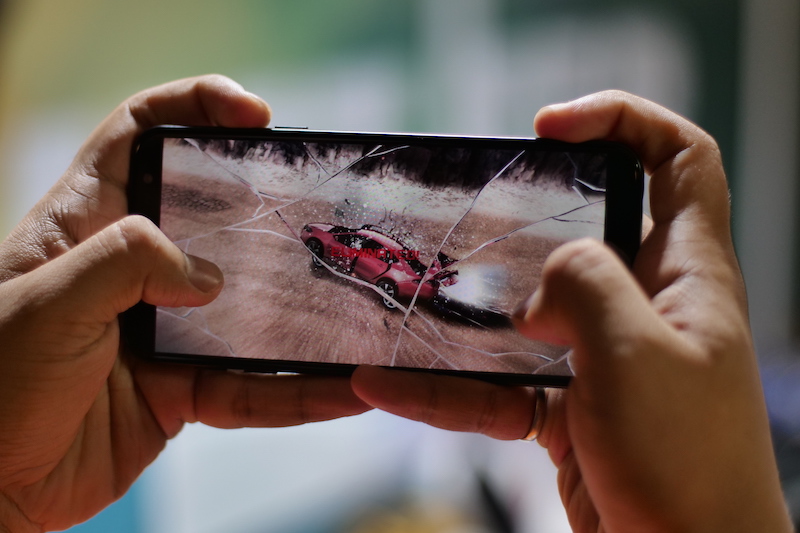 The phone handles day-to-day tasks with ease. From launching apps to surfing web to using social media apps; everything feels fluid here. I also love the fact that the phone is able to keep multiple apps in the background, thanks to good RAM management of the Exynos processor. That said, the slower animations of the Samsung Experience 9.0 UI did make the phone seem a little slower. I would suggest that you disable animations if you want to experience the best performance out of this phone.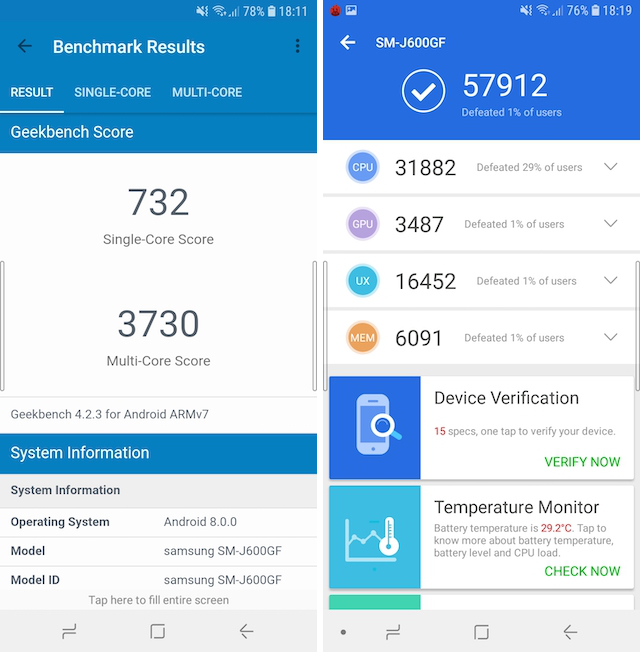 When it comes to gaming, the phone was able to handle normal titles with ease. However, when playing heavy titles like Asphalt 8 and PUBG, the phone was not able to keep up. I noticed frame drops while playing Asphalt 8. The game was not unplayable by any means, however, the experience could have been better. When it comes to PUBG, the performance deteriorates even further. By default, the settings are set to the lowest, and despite that, I observed a ton of lag and stutters while playing the game. Overall, I would say that the phone ekes out a decent day-to-day performance, however, it is not winning any performance awards by any means.
Cameras
On the camera front, the Samsung Galaxy On6 brings a 13 MP (f/1.9) camera at the back and an 8 MP (f/1.9) camera at the front. While I was not expecting the Galaxy On6 to blow me away with its camera performance, I also didn't expect it to fail as miserably as it did. The only time the phone takes good photos is in good lighting conditions. When the subject is adequately lit, the Galaxy On6 captures photos with ample details and almost no noise. Even the color reproduction is almost on point.
However, as soon as the lighting starts to deteriorate, the On6's camera performance falls exponentially. I mean, the photos are not acceptable by 2018 standards and look life as if they have been taken from years old device. While I can talk about the color reproduction, dynamic range, and other fancy camera terminologies like that, this is the one of those times when you don't need me to tell you. You just need to look at the pictures and you will understand.
The performance on the selfie camera is even worse as no amount of lighting was enough to take a good picture. I mean, just take a look at the pictures below and tell me if you are willing to repost any of these on your social media handles. The bottom line is that the Galaxy On6 cameras are clearly a disappointment. In a time where phones like Redmi Note 5 Pro, Zenfone Max Pro, and Honor P20 Lite our redefining budget camera photography, the Samsung Galaxy On6 feels like a thing of the past.
Telephony and Audio Quality
I have been using the Samsung Galaxy On6 for a couple of days now and I can happily report that the calling experience has been very good. The smartphone never lost signal, even in areas with a shoddy connection, and both sides were able to hear each other correctly. Even the noise cancellation on this phone is pretty good and I was able to make calls comfortably even in noisy envoironments.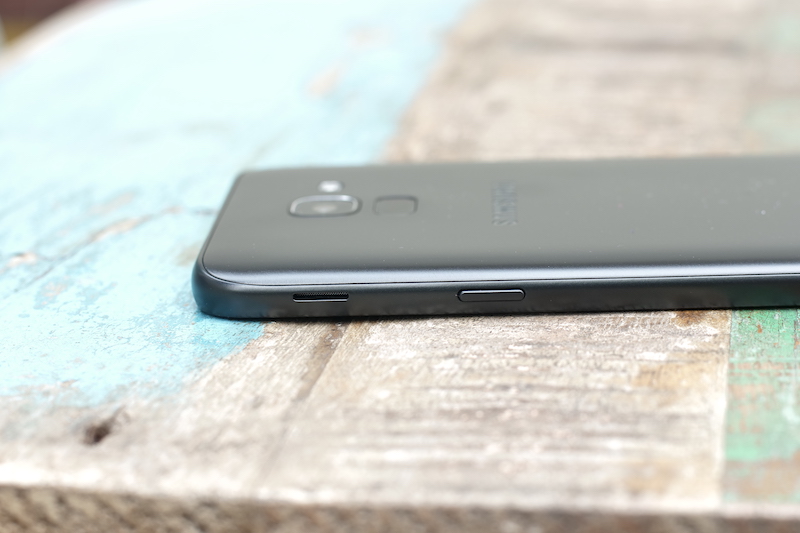 When it comes to speakers, I don't know why, but Samsung has decided to put it on the right side which is an odd decision. Even when you get past the speaker placement, you won't enjoy listening to anything on this thing. The sound is tiny and it distorts even at mid volume. Thankfully, there's a pair of earphones inside the box which you will certainly come in handy when consuming media.
Battery
The Samsung Galaxy On6 brings a 3000 mAh battery which should easily last you the whole day. In fact, the Exynos 7870 processor is quite efficient and doesn't tax the device too much. Combine that with its 720p Super AMOLED panel and you have the right conditions for getting a full-day battery life. In my testing, which included a lot of web browsing and article reading along with an hour or two of calls and gaming, and half an hour of social media, I was able to end the day with almost 20-25% charge left in the tank.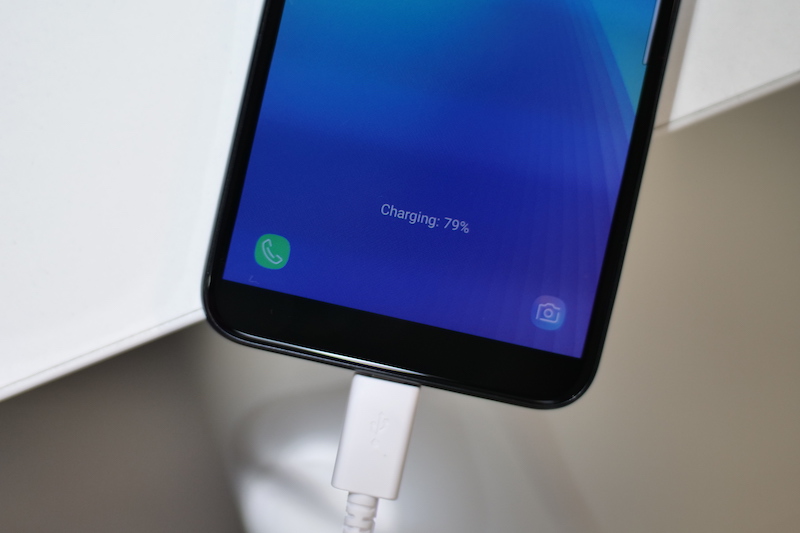 Of course, if I pushed the device hard, I could have killed it before the end of the day, but that was far too rare and you should not see a battery issue here. One thing that I don't like about the device is that there doesn't seem to be any fast charging solution here. While testing I was able to charge from 55% to 95% in about 1 hour and 20 minutes which is really slow in this day and age. Although the battery lasts a whole day, this one is not a plug and go device and you will need to charge it overnight.
Samsung Galaxy On6 (Infinity) Review: Should You Buy It?
While Samsung has done a lot of things right, it's very hard for me to recommend this phone at its price point. Sure, the device looks good in the hand, brings an AMOLED display, and packs a decent performance, but there are other smartphones in this range which bring far better value for money. I mean, there's the Redmi Note 5 Pro (₹14,999) which sets the benchmark for budget devices. If you don't like Xiaomi's MIUI interface, there's also the ZenFone Max Pro (₹10,999). Both these phones bring faster processors, better displays, and more premium designs.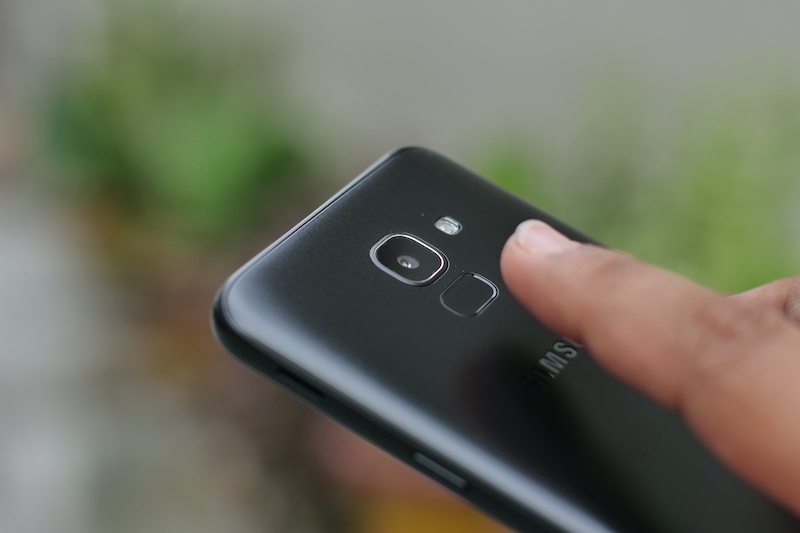 What I want to say is that while Samsung Galaxy On6 is a good smartphone, there are a lot of other offerings out there which bring better value for money. If Samsung wants to rule the budget smartphone market in India again, either it has to slash its prices or produce better smartphones at the same price range. Until that happens, Samsung Galaxy On6 or any other such smartphone released by Samsung will have no chance at succeeding in this cut-throat market.
Pros:
Decent design
Good battery life
Overall good performance
Cons:
Plastic build
720p display
Low value for money
Buy Samsung Galaxy On6 (Infinity): ₹14,490
SEE ALSO: Samsung Galaxy A6+ Review: Overpriced and Underpowered
Samsung Galaxy On6 (Infinity) Review: Not Your Next Smartphone
When it comes to flagship devices, Samsung devices are the ones to beat. However, in the budget segment, Samsung is trying to charge too much for its brand value and hence it cannot compete with its rivals. While Samsung Galaxy On6 is a good smartphone on its own, when compared with other offerings in its price range, the phone doesn't stand a chance. If you love Samsung and don't trust other brands, sure go for it. However, if you want the best value for your money, you better look elsewhere.
REVIEW OVERVIEW

Design and Build Quality

7.5

Telephony and Audio Quality

7

SUMMARY

Samsung Galaxy On6 is a decent looking device with average cameras, performance, and display. On its own, the device might had a chance, however, when comparing to other offerings in its price range, I just cannot recommend this phone to anyone.