If Moto started the trend of exclusive smartphones with the Moto G in 2014, then Xiaomi took it to the mainstream and earned the top spot in the Indian market. And to get there, the Chinese company dethroned Korean giant Samsung.
And now it seems, Samsung is is keen to follow in the footsteps of its India rival and replicate the success story of exclusive smartphone launches. Samsung has kicked off a teaser campaign on Amazon India's website to generate some hype for the launch of a new smartphone that will be sold exclusively via Amazon.
There's no name or specs of the device yet, but Samsung's teaser consists of five images, and three of them highlight the standout features of the upcoming smartphone through questions like 'On for a New Way To Shop?', 'On for a Superior Performance?' and 'On for a Stunning New Look?' If the teasers are anything to go by, Samsung's upcoming smartphone will offer superior performance and will flaunt an attractive build quality, aside from introducing an all-new way of shopping, which might involve shooting pictures of objects and then uploading them to the database of online shopping portals (most likely, Amazon) to discover and purchase goods.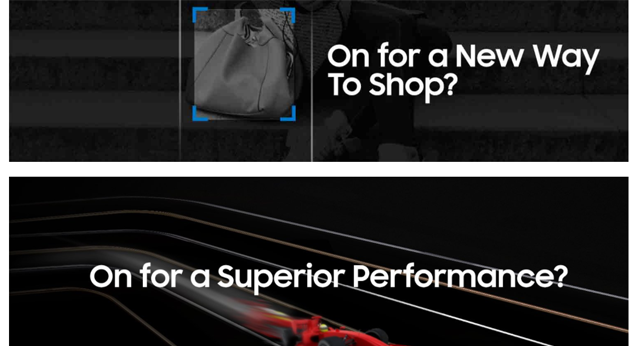 Moreover, the upcoming device's teaser images clearly showcase a metallic frame and a minimally curved display, which suggests that Samsung's new smartphone will feature a premium build quality and surely won't come cheap.
Aside from the teaser images, no official details about the device's name or its specs have been revealed so far, but the repeated use of the 'On' keyword in the teasers is a clear indication that the Korean giant's upcoming device might be launched as a new member of Samsung's 'On' series of mid-range smartphones.
We'll keep a keen eye on how Samsung goes about revealing this Amazon exclusive and keep you posted with the specs and release date as soon as we get word.
---