Losing important data is something we have all been through, especially on our computer. We always tend to permanently delete important files, only to look for it later. Also, there are times when we forget about the files and empty the Recycle Bin. There are various other reasons for losing files on a PC or Mac, like accidental formatting, virus infection, unexpected shutdown, problems with an old hard drive etc. Thankfully, there are some very good data recovery software available for Windows and macOS. However, we like the Wondershare Data Recovery software due to the fact that it not only lets you recover lost or deleted files on Android but also lets you restore files from a memory card, cameras, portable hard drives and flash drives. Also, it brings you a lot of control, which other data recovery software can't match. So, without further ado, let's get into the details of Wondershare Data Recovery, shall we?
Features: What Wondershare Data Recovery Offers?
With a plethora of data recovery software available, why should you choose Wondershare's offering, right? Well, we have some compelling reasons for you. Let's take a look at the most important features in Wondershare Data Recovery:
Support for Storage Devices
We have already mentioned the fact that Wondershare lets you recover lost files from your PC or Mac along with a host of other devices like music players, flash drives, portable hard drives, cameras/camcorders, memory card and even an old Floppy Disk.
Almost all File Types Supported
Wondershare Data Recovery supports a variety of files types. You can restore photos, audios, videos, archives, documents, emails and any other file type. So, no matter what file you have lost, Wondershare has you covered.
Chances are, you will get your deleted file back with Wondershare Data Recovery and that's because the software features various different recovery modes. There's the Wizard Mode, which simply asks you a few questions about the file type you are lost and in the location that you think it was present before.
Along with that, there's a Standard Mode, which offers four other modes: Lost File Recovery (directly start scanning for lost files in a location), Partition File Recovery (find lost, resized or damaged partitions and then restore your files), Raw File Recovery (only use it when usual scans don't result your file; it does not show the file name or path) and Resume Recovery (resume the process from a saved scan).
Wondershare Data Recovery lets you check a preview of the files that it finds from the scan, so that you can choose the files you want to recover. This is certainly handy, as recovering all the files and then searching for the all important file can be a little annoying.
Using Wondershare Data Recovery
Find all the features of Wondershare Data Recovery compelling enough? If yes, let's take a look at how you can use it on your Windows PC.
Note: Wondershare Data Recovery is also available for the Mac and the process of using it should be the same on macOS too. However, the performance of the software on macOS lacks a bit when compared to its Windows operation. 
1. When you open Wondershare Data Recovery, it opens with the Wizard mode. While there is an option to switch to Standard mode, we'll recommend you to use the Wizard mode, as it lets you specify the file type you want to recover. Just click on "Next".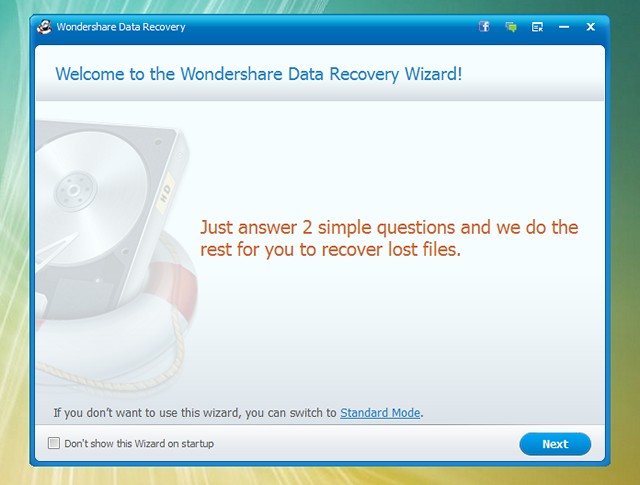 2. Then, select the type of file(s) you want to recover. You can choose specific file types or select "All file types". Once done, click on "Next".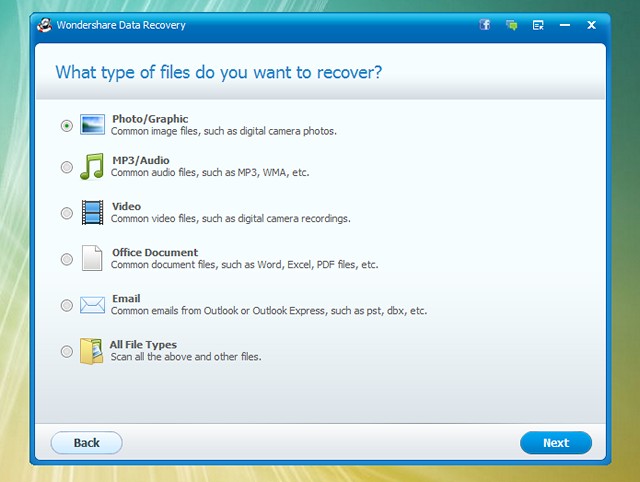 3. After that, select the path where you lost your files. You can also choose to recover files from an external drive or choose "I can't remember" or "I can't find my partition".
4. You can then tick the options of "Enable Deep Scan", which will thoroughly scan your computer for lost files or "Enable Raw file recovery". We will only recommend these options if you don't find your file in a regular scan.  Click on "Start" to start the scan process.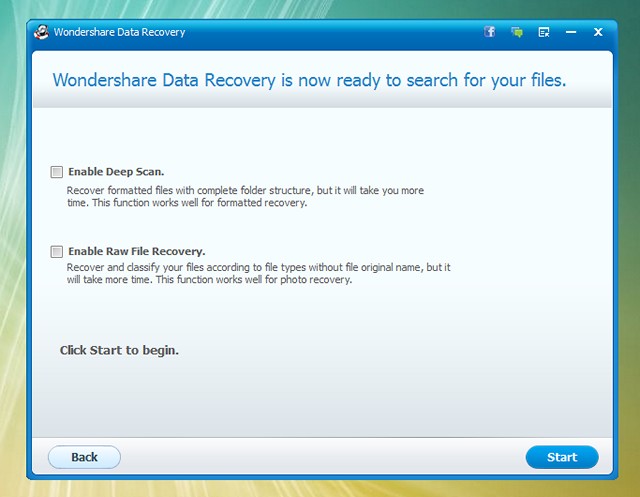 5. The scanning process will then begin and the files that are available to be restored will be listed. You can then check the preview of the files, save the scan or just click on "Recover" to restore the selected files.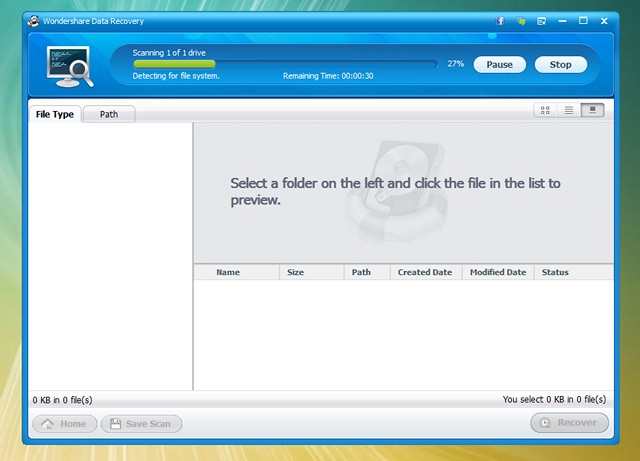 6. Then, select the path where you want to save the restored files. Once selected, the files will be restored in a jiffy. Yes, it's that easy!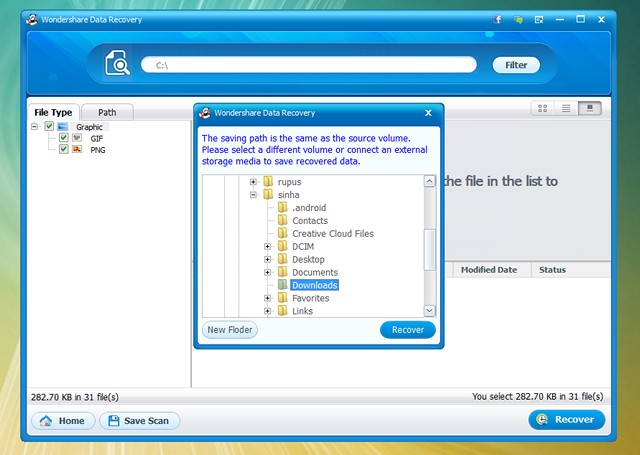 Note: Do make sure that you don't save the files in the volume where you lost them, as that hampers the recovery process. 
Overall, the software is pretty easy to use, thanks to the straightforward and simple interface. Also, in our testing, the deleted files were recovered. Since there's no time limit on when you lost your files, you should get your files back.
Pricing and Availability
As we mentioned at the start, Wondershare Data Recovery is available for Windows and macOS. It's available in a free trial, which lets you recover deleted files up to 100 MB in size. If you want to recover bigger files, you will have to buy the full version of the software, available for $49.95. You can download the software from the official website.
Pros:
Almost all file types supported
Various recovery modes
Support for different devices
Easy to use
Cons:
The preview feature is a little patchy
Does not work at times
SEE ALSO: 10 Best Data Recovery Software
Recover lost or deleted files on your PC or Mac with Wondershare Data Recovery
If you are as careless as me and you frequently delete important files, the Wondershare Data Recovery software is a boon for you. Sure, it might not recover all of your lost files but it does work quite well. Plus, with various detailed recovery modes, you should be able to find your long lost file. So, try out the software and let us know your feedback. Sound off in the comments section below.
---
Load More