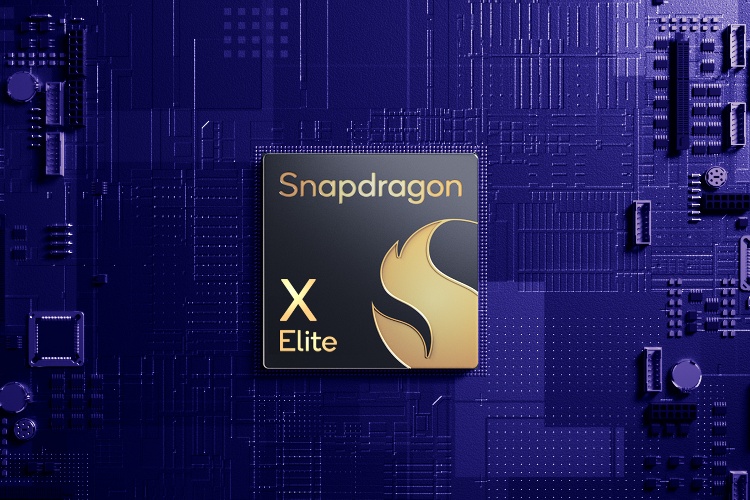 After over two years, Qualcomm's Nuvia acquisition finally bears fruit with new Snapdragon X series chips for PC platforms. Alongside the Snapdragon 8 Gen 3, Qualcomm has come up with a new PC chipset that could rival Apple's M-series processor. The "Snapdragon X Elite" chipset features Nuvia-designed cores and is ready to unseat x86 Intel/AMD processors in the PC world.
This would be the first time Qualcomm has used newly designed cores called "Oryon" instead of Kryo cores on PCs. Efficiency is something x86 processors have disappointed Windows users for a long time, but with Snapdragon X Elite, things are going to change significantly. So to learn more about Qualcomm's new PC chipset, read on.
Snapdragon X Elite Packs Oryon CPU, Adreno GPU and Hexagon NPU
The Snapdragon X Elite features new Oryon cores that are designed by the Nuvia team, inside Qualcomm. It has 12 high-performance cores and is built on TSMC's 4nm process node. All of the cores have a maximum frequency of 3.8GHz and for intensive tasks, two cores can boost the clock speed up to 4.3GHz. It has a tri-cluster design with four cores packed in 3 tiles.
Qualcomm has managed to add 42MB of total cache to the Snapdragon X Elite. The CPU has access to eight channels of LPDDR5X memory having a bandwidth of 136GBps, which is awesome. According to the company, Snapdragon X Elite delivers 2x faster CPU performance than an x86 12-core laptop processor and matches peak performance at one-third of power consumption.
In addition, the Snapdragon X Elite is 60% faster than other high-end 14-core x86 laptop processors, again matching peak performance at 1/3rd of the power. When compared against an ARM competitor (likely the Apple M-series processors), it offers 50% better peak multi-threaded performance.
Coming to the GPU, the premium Adreno GPU on the X Elite is integrated with the SoC and it's again incredibly power efficient. It delivers 2x faster GPU performance against an equivalent x86 integrated GPU in the 3DMark WildLife Stress test and matches peak performance at 1/4th of the power. When pitted against a leading x86 integrated GPU, the Adreno GPU is 80% faster and matches peak performance at 1/5th of the power, which is impressive.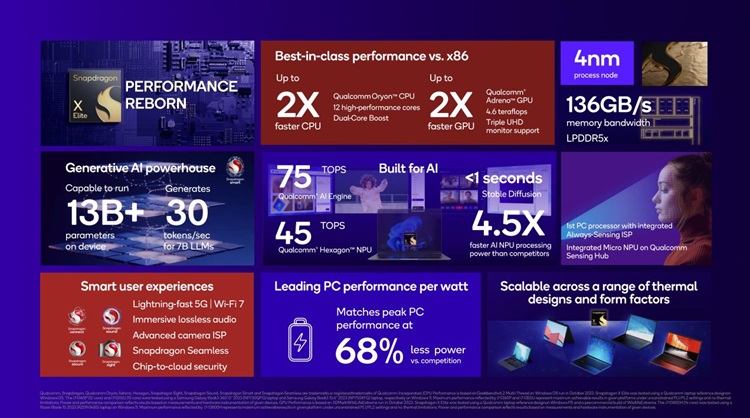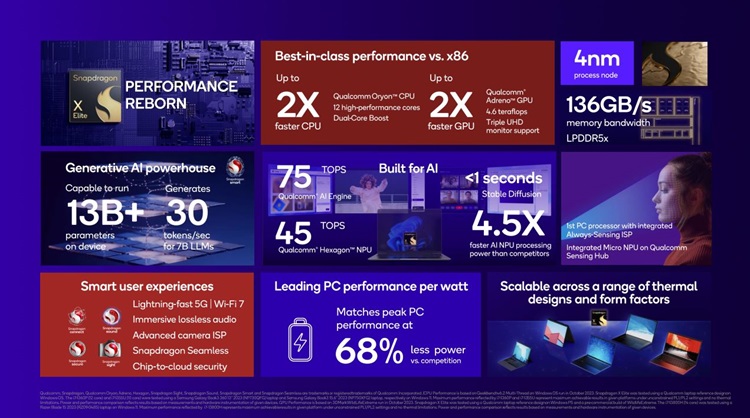 The Adreno GPU on the Snapdragon X Elite can perform 4.6 TFLOPS, handle an internal 4K at 120Hz display, and output triple 4K screens or dual 5K screens. The drivers are also upgradeable and Qualcomm is working with the industry to bring more support to its platform.
Moving to the AI unit on the Snapdragon X Elite, Qualcomm has packed a powerful new Hexagon NPU engine for Windows PCs to take advantage of all the smart AI features. It can perform 45 trillion operations per second (TOPS) and can run LLMs locally with 13B parameters. With a 7B LLM model running, Qualcomm's new PC chipset can generate 30 tokens per second.
Moreover, for the first time, Windows PCs will get the Qualcomm always-sensing hub for quicker processing of AI tasks such as noise cancellation, presence detection, voice chat, and more. Not to mention, laptop manufacturers will get the option to pair the Snapdragon X Elite with the Snapdragon X65 5G modem to build an always-on, always-connected offering. It also brings lossless audio support, Wi-Fi 7 capability, Microsoft Pluton support for security, Snapdragon Seamless integration with smartphones, and more.
Snapdragon X Elite Laptops: Availability
Qualcomm says the Snapdragon X Elite platform will debut on Windows laptops in mid-2024 with partners, including Dell, Lenovo, Microsoft, and others. It will be available in various configurations, TDPs, and thermal designs. So what do you think about Qualcomm's new PC chip and will it revolutionize the PC market? Let us know your opinion in the comment section below.
---