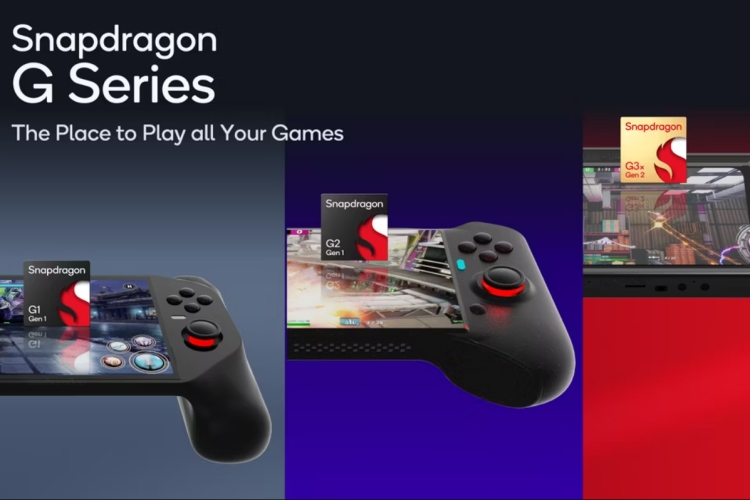 Qualcomm makes powerful SoCs (system on chip) such as the Snapdragon 8 Gen 2 for smartphones, which give close competition to Apple's A series. They are now finally announcing a follow-up to the Snapdragon G3x chip shown in a Razer Console back in 2021. The chipmaker has now unveiled a few new SoCs similar to the G3x and these SoCs are meant to be used in handheld gaming consoles to power high-fidelity graphics mobile gaming with long battery life.
Snapdragon G3X Gen 2: Details
Let's first talk about Qualcomm's flagship offering in the G Series. The Snapdragon G3X Gen 2 is an update to the G3X Gen 1 with significant advancements under its sleeve. Since the Gen 1 counterpart has become quite outdated in terms of performance, this is a much-welcome upgrade.
Qualcomm says their new G3X Gen 2 is the newest 'enthusiast-class' processor, and 'harnesses the very best of Qualcomm Technologies.' The Snapdragon G3X Gen 2 SoC comes with an 8-core Kyro CPU and Adreno A32 GPU, which brings 2x faster graphics performance according to Qualcomm.
The CPU is 30% faster than its predecessor, which is not as big of a jump when you compare it to how fast the new Adreno graphics got. Still, the new G3X Gen 2 is clearly going to be an incredibly fast SoC. Qualcomm said they are in collaboration with brands like Inventec, Ayaneo, Huaqin, Thundercomm, and other companies to launch new handhelds powered by the Snapdragon G Series platform.
Along with the above-mentioned performance improvements that come with the new generation, Qualcomm is also pairing this latest SoC with Wi-Fi 7 technology. Thanks to this, the wireless networking performance has been seriously overhauled. The Wi-Fi 7 modem used here also supports High-Band Simultaneous (HBS). This technology can utilize multiple Wi-Fi radios at the same time for faster speeds.
Along with WiFi 7, it supports 5G sub-6 and mmWave. The Snapdragon G3X Gen 2 will also come with other features such as game super-resolution, XR glass tethering, low-latency premium Bluetooth audio, and hardware-accelerated ray-tracing (we have talked about how ray-tracing improves graphics here).
Snapdragon G1 Gen 1 & G2 Gen 1 Announced Too
Qualcomm also introduced the Snapdragon G1 and Snapdragon G2 chips as well. The G1 chip is designed to power portable gaming consoles intended for game streaming. Qualcomm has put a major focus on the best connectivity on this chip, for a lag-free experience. They also promise long battery life. The G1 features an 8-Core Kyro CPU with Adreno A11 graphics.
The Snapdragon G2 is their middle offering for high-end mobile gaming and cloud experiences. It supports 5G along with Wi-Fi 6E, so it will support 6GHz bands. Qualcomm has implemented their FastConnect 6700 Mobile Connectivity system on this chip to offer these connectivity features. In terms of performance, the G2 features an 8-Core Kyro CPU as well along with an Adreno A21 GPU.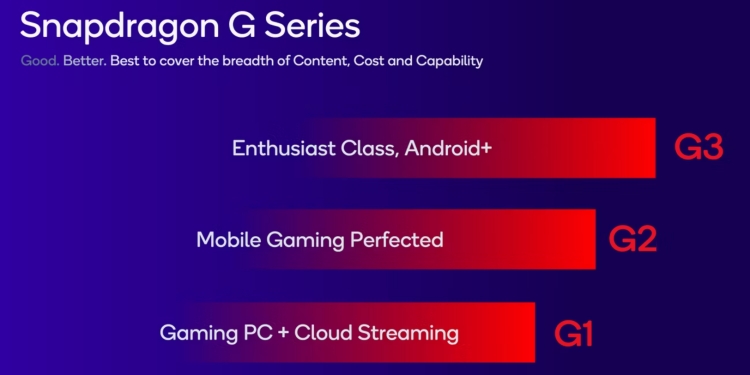 It is claimed that the Snapdragon G2 is capable of playing games at FHD+ resolution at 144FPS. While it's not the flagship offering (and won't be as fast as the G3x Gen 2), it seems to be packing sufficient power to play mobile games at high graphics and frame rates.
What are your thoughts on the Snapdragon G Series announcement by Qualcomm? Instead of bulkier handheld gaming consoles, the devices powered by these SoCs have much better battery life. Does the improved battery life matter to you, or will you prefer higher-quality visuals? Let us know your thoughts in the comments section below.
---