I like to think that a clipboard is the 'Dark Knight' of features present on our desktops. We don't acknowledge its presence, but we need it, and use it, all the time. It has become so intrinsic to our usage that we use it without even realizing it. However, the clipboard suffers from its own flaws. The restriction of holding only one copied element at a time makes it an inefficient tool. Third-party clipboard managers solve this problem and 'Paste for Mac' is probably one of the best ones out there.
It allows you to hold an unlimited number of copied elements at once, lets you organize them, and even adds search functionality so you can get to your desired clip as soon as possible. But, what if you are a Windows user? While the Paste app is not available on Windows, there are some great alternatives you can use on your PC. We tested and used all the best clipboard managers we could find, and created a list for you. Here are the best Paste alternatives clipboard managers Windows you can use.
Best Paste Alternative Clipboard Managers for Windows (Updated August 2020)
Here, we have curated a list of top paste alternative clipboard manager for Windows. You can simply click on the link below to jump to the corresponding clipboard manager of your choice.
Top Clipboard Managers for Windows
1. ClipClip
Paste for a Mac has set a standard for clipboard managers which is hard to surpass. Its fluent UI and organizational and search features are top-notch. ClipClip is the only Windows clipboard manager that comes close to it. It is the best clipboard manager for Windows you can get today.
It strikes the perfect balance between features and usability. After you launch it, it lives in your system tray. Whenever you copy something, whether it be link, text, or an image, it stores the information in the form of clips which are organized chronologically.
You can access your saved clips by double-clicking the app icon in the system tray. Here, you can organize your saved clips into folders. You can create new folders, rename them, and drag and drop clips into them.It also allows you to nest a folder inside another folder if you want so. You can even link folders to your 'Google Drive' to sync your clips across devices.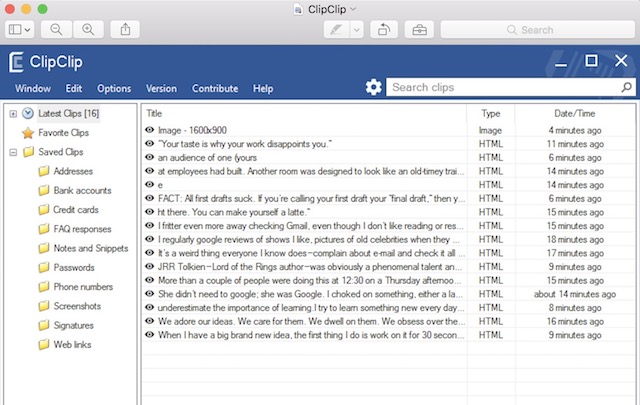 What ClipClip really excels at is the way it handles pasting of your clips. If the ClipClip window is open, you can just drag and drop saved clips to paste them anywhere you like. If the window is not open, just hit the keyboard hotkey (user-customizable) and a small window will open up.
Click on the clip you want to paste and it will paste it at the head of your cursor. Finding a clip is also easy. The inbuilt search function allows you to find the clips in real-time using only keywords. For these reasons, ClipClip tops our list. Also, did I tell you that it's free.
Install: (Free)
2. Ditto
Ditto is a classic example of "too much of a good thing can be bad". It is one of the oldest and possibly the most popular clipboard managers for Windows. Just like ClipClip, it lives in the system tray and saves all your clips in chronological order. You can create groups to organize your clips and access them either by clicking on the app icon, or, by hitting a user-customizable hotkey.
But their similarity ends here. Ditto's interface looks as old as the app itself. It will surely take you some time to get use to the aesthetics of the app. Apart from aesthetics, my main problem with this app is the layout of its settings menu. It has a myriad of options, which in my opinion require a manual to go through and understand.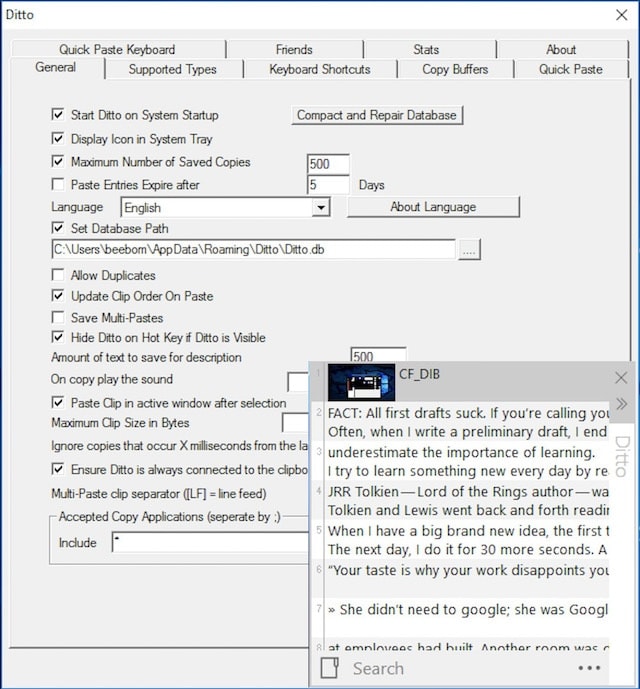 That being said, Ditto is one of the most powerful clipboard managers on Windows. While Paste's main aim seems to make managing clips easier, Ditto is focused on providing its users with all the clipboard features that they might need. Yes the software has an old interface, yes it is hard to use, and yes it has a learning curve.
However, if you are a user who really likes to tweak every aspect of the software you use, go for Ditto as it will bring features that you can't even think of. You can tweak it to suit your needs and work just the way you want it to.
Install: (Free)
3. ClipMate
ClipMate is another great clipboard manager for Windows that you should look at. The best part about ClipMate is that just like "Paste" on Mac, it works with every application on Windows that supports native clipboard. ClipMate remembers everything that you paste on your clipboard.
It can store thousands of clips in multiple formats including text, RTF, HTML, and more. It also makes all your copied clips searchable which makes it easier for you to find them. While ClipMate is powerful and packs a ton of features, there are a few of them which really stand out to me.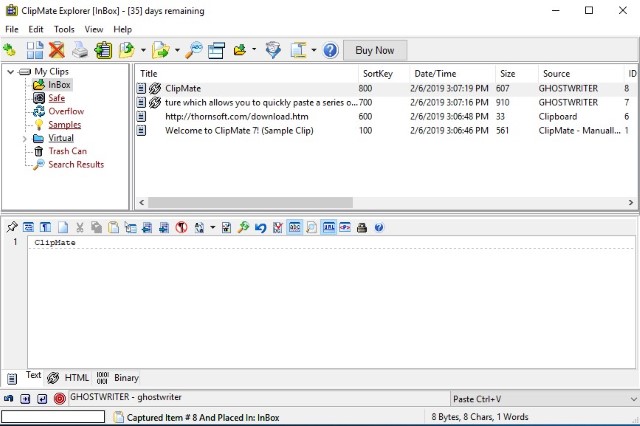 The first such feature is called "Shortcut" which allows you to access your most used clips quickly. Another such feature is the "PowerPaste" feature which allows you to quickly paste a series of clips one after another. ClipMate retains the formatting of original text and allows you to change the formatting if you want to.
Pasting a clip is also very easy. You can either use a customizable keyboard shortcut, double-click on the clip that you want to paste or just drag and drop them in place. Overall, it's a powerful clipboard manager for Windows and you should check it out.
Install: (Free trial, $34.95)
4. 1Clipboard
At number three comes the best-looking app on the list. Just like others, it lives in the system tray and saves all your copied material as clips. However, unlike Paste it trades heavily on features for its looks. Pasting your clips takes more effort. Once you click on a clip it copies it and then you will have to manually paste it.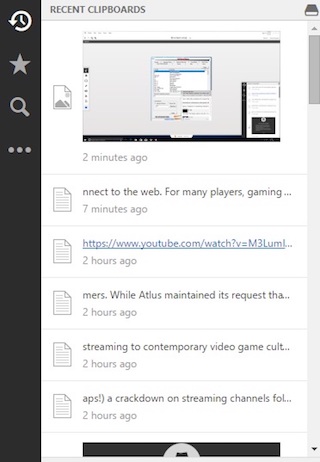 With Paste, you can just drag and drop or click to paste on the cursor head. Here, you can neither drag and drop to paste nor create a folder to organise your clips. It does let you mark a clip important by using 'stars'. If you are looking for a good looking clipboard manager for Windows, check out 1Clipboard.
Install: (Free)
5. CopyQ
CopyQ is an advanced clipboard manager for Windows which brings both clip editing and scripting features. The app can store both text and image clips in multiple formats. The app allows you to quickly browse and filter items in clipboard history. You can also sort, edit, and remove clips as per your needs. Pasting clips is pretty easy.
You can either copy the clip that you want to paste or use simple drag and drop tool to paste the desired clips. The app also supports customizable keyboard shortcuts, allowing you to easily paste frequently used clips.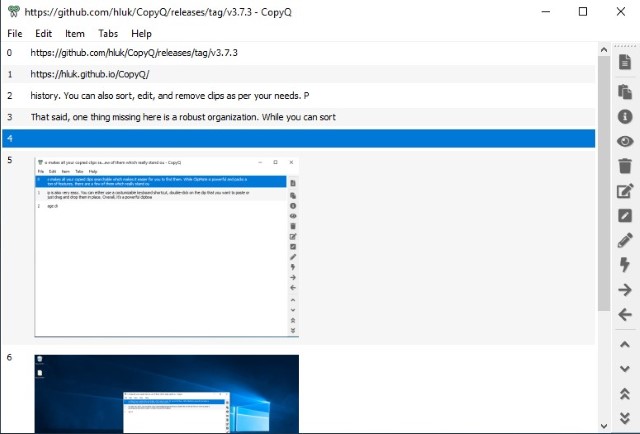 That said, one thing missing here is a robust organization. If there is one, the app doesn't make it easier to find which speaks volumes about its user interface. While the clipboard itself seems pretty clean and offers a readable UI, the rest of the settings are hidden and hard to get to.
You can use it as a simple clipboard manager, however, if you are someone who is looking to save thousands of clips, you will miss an organizational structure. The good thing is that it's an open-source application and is completely free to download and use.
Install: (Free)
6. ClipboardFusion
If you want a clipboard manager to use in an office environment, ClipboardFusion is one of the best Paste alternatives that you can try. The app not only brings all the normal clipboard management features but also allows you to sync your clipboard across devices.
Not only the clips can be synced across Windows PC but also across Android and iOS devices, allowing you to access your clips on the go. One good thing about the ClipboardFusion is that if you don't require cross-device sync and some other advanced features, you can use this software for free.
Talking about its features, the app automatically scrubs the text and removes formatting so that you can paste it anywhere without any headache. If you want to use custom formatting for your clips, you can do so by creating your own macros.
There are also pre-made macros which you can check out if you don't know how to make them. You can also set customized triggers to set up different actions. Finally, everything that is saved on your device or synced online is protected using 256-bit encryption so your data is safe.
Install: (Free, pro version starts at $15)
7. Plain Clipboard Manager
Plain Clipboard Manager is a great application for people who want to keep a track of not only the clips but also the source of the clips that they have copied. The app automatically captures the app name and document title when you copy something.
If you are copying anything from the web, the URL of that page is also captured along with the text. When you copy an image, they are saved in lossless PNG formats so you don't lose the quality. The app also features a clean UI and is one of my most favorite looking clipboard managers on this list.
My favorite feature of Plain Clipboard Manager is that it allows me to save my clips on cloud storage solutions such as Dropbox and Google Drive allowing me to access them from anywhere. You can even use the app inside a portable USB device so you always carry your clips with you.
The app also brings limited text expansion capabilities which allows you to use text shortcuts for longer sentences. The app is free to download and use while a commercial license is necessary for removing start-up ads.
Install: Free, $6.95
8. Native Windows Clipboard Manager
Well, if you are looking for a basic clipboard manager and don't want to install any third-party app, you will be happy to know that Windows now has its own native clipboard manager which the company introduced back in May 2018.
Since macOS doesn't have any native clipboard manager you have to depend on third-party apps like Paste, however, now Windows users can utilize the built-in clipboard manager.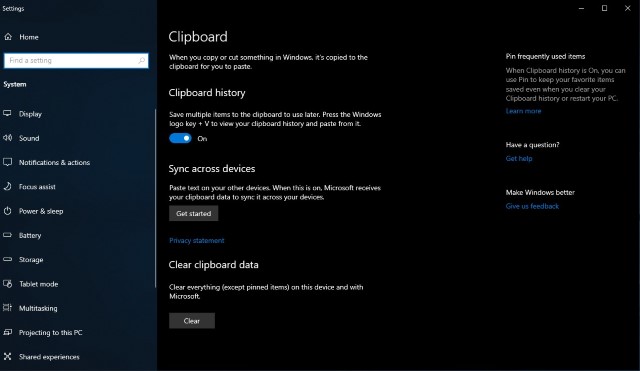 The feature is hidden in the Settings and you can access it by going to Settings -> System -> Clipboard, and then enabling the "Save multiple items". You can also enable the sync feature if you want to sync the progress across devices.
Once enabled, it will save all the copied items in a clipboard which you can access using the "Win+V" keyboard shortcut. Do note that the clipboard manager is pretty basic and just lets you view and use past clips. There is no organization or any other pro feature what so ever.
Available natively in Windows 10
9. Arsclip
Arsclip is the easiest and simplest clipboard manager on our list. Once launched, it saves all your clips. When you hit the keyboard hotkey it will open a small window. Clicking on any clip will paste it at the present cursor head. One neat feature is that colour codes the clip which you paste. This makes it easier to know which clips you have already used.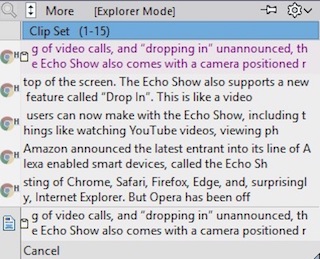 You can also pin a clip at the top. This feature is helpful if you have a clip that you know you are going to use frequently. It also lets you take a screenshot of your desktop and save it inside the app. It might be not as good looking or as feature-rich as Paste but it gets the job done efficiently. If you are looking for a simple clipboard manager which just works, give Arsclip a try.
Install: (Free)
10. Copy Space
Copy Space is quite different from Paste or the other clipboard managers on our list for that matter. Firstly, it follows a very different design language. It opens like a windowed app and does not live in the system tray.
Once launched you can close the window and it will run in the background saving all your clips. It can also sync through Google Drive, however, it is a paid feature.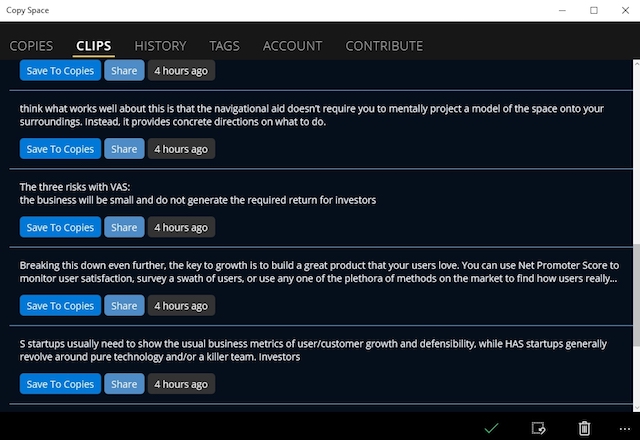 It is also the only app on this list which is available on Windows Store. With the launch of Windows 10 S, this might be the only option for a lot of users out there. However, it has a lot of catch-up to do if it wants to compete with our top picks.
It severely lacks in functionality and there are bugs here and there. Sometimes, it just fails to save a clip. Selecting a clip and pasting it is also not very intuitive. As mentioned, it has lots to improve upon but it is an app worth keeping an eye on for the future.
Install: (Free, with in-app purchases)
11. ClipAngel
ClipAngel is another clipboard manager for Windows that you can use reliably. Just like other programs on this list, it captures texts, images, and all sorts of files. The best part is that it allows you to search all your copied items with just a keyboard shortcut. In addition, ClipAngel can clip HTML files in text mode which is pretty helpful.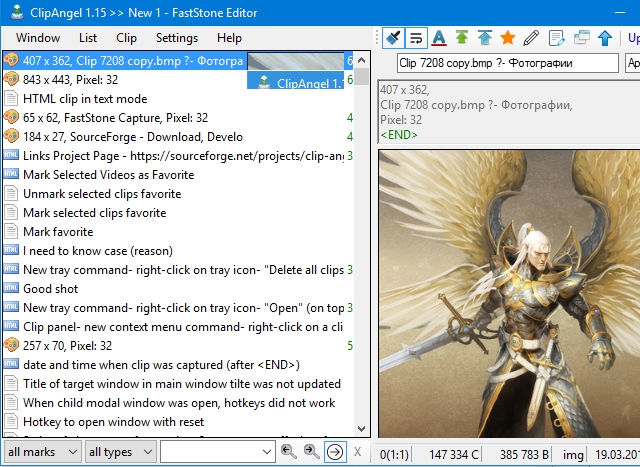 What's more, you can mark copied items as your favorite and paste them quickly in any field. And if you want to define your own hotkey then you can do so as well. So go ahead and get ClipAngel if you want endless clipboard customization.
Install: (Free)
12. Spartan
Spartan does not have a modern user interface, but it's surely the most powerful clipboard manager for Windows. In fact, if you are an advanced user then you can program it to your preferences and automate a lot of clipboard tasks in the background.
It looks like an Excel sheet with texts, graphics, screenshots, web content, phone numbers, etc. stored in separate columns. You can even drag and drop copied items and seamlessly organize your clipboard. To sum up, if you want an advanced clipboard manager for Windows then Spartan is a great choice.
Install: (Free)
Frequently Asked Questions
Q. How Do I Paste on Windows?
To paste on Windows, simply press Ctrl + V on the keyboard. Alternatively, you can right-click and select "Paste" from the context menu. And if you want to paste text content without formatting then press Ctrl + Shift + V. You can learn more such handy keyboard shortcuts from our article on the best Windows 10 keyboard shortcuts.
Q. What is a Paste App?
Paste app is a general term for clipboard managers. Basically, paste apps handle all your copied items in the background and you can use any one of them, at any time without the fear of losing your current copied item.
Q. How Do You Copy and Paste on a PC?
To copy on a PC, press Ctrl + C on the keyboard. You can also right-click and select "Copy" from the context menu. Similarly, press Ctrl + V to paste the item.
Q. Why is Copy and Paste Not Working on Windows 10?
If copy/paste is not working on your Windows 10 PC then open Command Prompt and run cmd /c"echo off|clip" . After that, restart your computer. Now the issue should be resolved.
Best Clipboard Managers and Paste Alternatives to Use
You might think that you do not need an extra app and the inbuilt clipboard which comes with the OS is good enough for you. You would be wrong. It's one of those tools you don't know you need until you use it. The right clipboard manager will improve your productivity by reducing the loss of data and saving time.
You might also feel that none of these apps are as good as Paste, but I would beg to differ. Firstly, apps on Windows and Mac follow a different design language. Also, all of them are free while Paste costs $9.99/year on the App Store.
Considering these facts I would say the clipboard managers on Windows are as good as their Mac counterparts. So, give them a try and do tell us in comments below which one you think is the best one for you.