Paytm has claimed that its Payments Bank business now has over 100 million KYC-registered wallets. Overall, the company claims to have 220 million customers around the country.
The number of Paytm account holders saw a massive spike at the end of 2016 after the ill-conceived demonetization initiative by the government put the focus squarely on digital payments. Recent reports indicate that cash is coming back as a preferred means of payment, resulting is a sharp fall in mobile-wallet users, largely because Aadhaar-based customer authentication added more friction for new subscribers.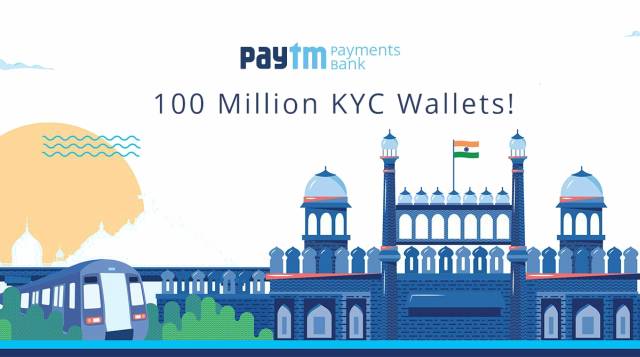 In a press statement, the CEO of Paytm Payments Bank, Renu Satti, said that the company will continue to invest further to strengthen the payments infrastructure in the country. The company's e-commerce platform, Paytm Mall, was recently reported to have received a fresh infusion of capital from Japan's Softbank and China's Alibaba – the two companies that hold significant stakes in Paytm's parent, One97 Communications.
"We will continue to invest further to strengthen the payments infrastructure in our country. We have not witnessed any decline in the number of users or any hindrance faced by users in the transactions done through the platform and have invested in creating a nationwide distribution network for completing KYC of customers"
According to analysts quoted by ET, hitting the 100 million milestone assumes significance when seen in the backdrop of the KYC mandate that has led to a drop in customers. According to Vivek Belgavi, partner for financial technology at PwC, "From the perspective of digital payment adoption, this is a significant milestone because the KYC mandate was leading customers to revert to cash. However, there have also been instances of scams and other cyber-security issues, which have to be handled by wallet companies".