Patanjali's swadeshi movement has propelled it from a small Ayurvedic medicine-focused business to a multinational consumer goods manufacturer with annual revenue of over Rs. 10 crores (2016-17). Since its inception back in 2006, the company has diversified its operations to a variety of segments, marketing each and every one of its products with a subtle, yet noticeable, anti-Western sentiment.
Late last month, Patanjali dipped its toes in the telecom segment and announced a partnership with state-owned telecom service provider Bharat Sanchar Nigam Limited (BSNL) to launch new Swadesh Samriddhi SIM cards.
The co-branded SIM cards, which have initially been issued to Patanjali's employees, offer a reasonable unlimited prepaid pack along with medical and life insurance for the holders. Speaking at the launch, Patanjali co-founder Baba Ramdev reiterated the company's swadeshi sentiments and said that they only partnered with BSNL as it's a swadeshi network.
अब भारत बोलेगा…!
पूज्य @yogrishiramdev @Ach_Balkrishna के मार्गदर्शन में उनके शिष्य नवदीक्षित साधुओं और राष्ट्रनिष्ठ विशेषज्ञों ने #स्वदेशी तकनीक से इजाद कर बनाया यह #KIMBHO एप#भारत #स्वाभिमान
Patanjali's new app to challenge WhatsApp @bst_official https://t.co/hxBCbwdrnV

— Tijarawala SK (@tijarawala) May 30, 2018
Kimbho Launched And Taken Down
Just a few days later, the company launched another unlikely product – an instant messaging app called Kimbho – to take on the popular Facebook-owned messaging app WhatsApp. Yet again, the app was promoted as a 'swadeshi messaging platform' which was developed using 'swadeshi techniques'. Ironically, the swadeshi techniques used to develop the app don't quite match up to those of the Western rivals it's trying to shut down.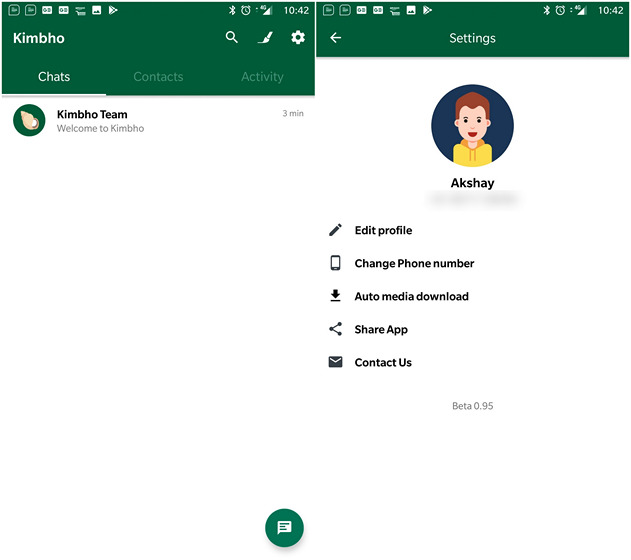 In our testing of the app, we discovered that none of the app's basic features work as advertised; calls made using the app didn't connect and none of the messages sent were delivered. Video calling on the Kimbho app just turned on the front camera and played the ringing sound, while the recipient didn't even receive a notification.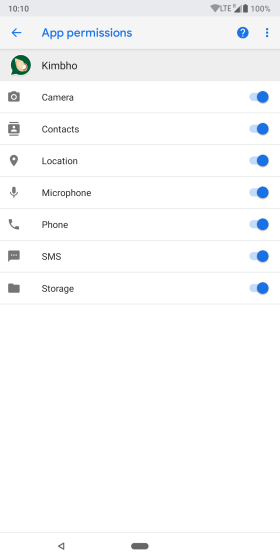 On top of that, the app enabled a bunch of permissions by default, taking access to the device's camera, contacts, location, microphone, phone, SMS, and storage. Well known security researcher Elliot Anderson also raised concerns regarding the app and claimed that it didn't even offer the most basic security measures to safeguard the user's data.
Our trial version of #kimbho app is no longer available for download on any platform. We don't take any responsibility for many dulicate apps showing on anywhere. Beware!
आम सूचना..!#पतंजलि का #किम्भो एप का ट्रायल वर्जन अब कहीं भी डाउनलोड के लिए उपलब्ध नहीं है @yogrishiramdev https://t.co/KWkVrpoVge

— Tijarawala SK (@tijarawala) May 31, 2018
Kimbho's Test Run
Despite Patanjali's official announcement, the app's tragic state led us to believe that it could be a fake. However, Patanjali's spokesperson SK Tijarawala has now announced that the Kimbho app, which made a rather short appearance on the Play Store, was actually official and the initial release was just a test run.
In a statement to ET, Tijarawala said:
"We were only testing it for learnings and over 1.5 lakh people downloaded it. Our app is no longer available and Patanjali cannot take responsibility of various duplicate apps doing the rounds. Our app will come back again soon after we are absolutely sure of all technical issues, and we will beat WhatsApp. We will never sell private consumer data."
What About the Data?
Tijarawala's recent statement raises a number of questions about the Kimbho app: Why was the app released in such a sorry state, and what indeed was the purpose of a public test run?
Secondly, why didn't Patanjali initially clarify that the release was just a test run, or launch it under the early access program on the Play Store?
We are also wondering since the app didn't work at all, what was Patanjali actually testing?
Kimbho installed with all permissions enabled by default, which is what you would expect from a low-quality app. As a result the app's servers would have gathered a ton of data. What does Patanjali intend to do with the data they've already collected?
We've reached out to SK Tijarawala and Patanjali regarding all of our aforementioned concerns, but we haven't received a response yet. There are some serious security issues to be considered. If Patanjali's claim that the test run managed to reach 1.5 lakh users is true, then that's a whole lot of data, not far away from the number of Facebook users in India affected by the Cambridge Analytica breach. We will continue to follow-up with Patanjali and publish any updates as soon as we get any statement from the company.
---