The most famous pirate group in the whole One Piece universe is the Straw Hat Pirates. And for such an important crew, the Netflix live-action adaptation has done justice to their roles by hiring a great set of actors. Now, the first saga of One Piece not only explores how the legendary Straw Hats Pirate crew came to be but also the backstories of each crew member. As a result, we are eager to see the younger version of our beloved pirates in the One Piece Live Action series.
Now, thanks to an official tweet from Netflix, we get an exclusive peek at Luffy and other members when they were young. Previously, we had only seen the younger version of Luffy alone, but we now know what everyone else will look like. So keep reading to learn more about the adventurous and young Straw Hats cast.
1. Colton Osorio as "Young Luffy"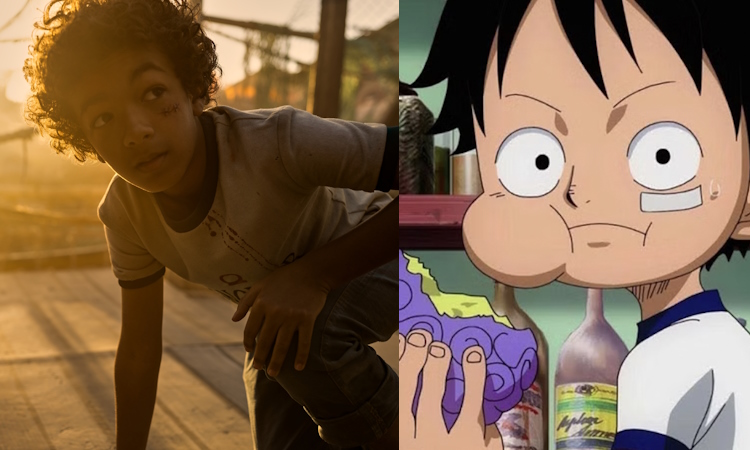 As predicted earlier, Colton Osorio plays the younger version of Luffy in the upcoming One Piece Live-Action by Netflix. As you can see in the One Piece Live-Action episode list, the first episode titled "Romance Dawn" will explore the backstory of Luffy. Colton as Young Luffy will play an important role in this episode along with Shanks.
And about Colton Osorio, he is a Colombian-American actor who started his career when he was just 8. And so far, he has played the kid's role in popular TV series and movies such as Law & Order: Special Victims Unit, Castle Rock, Cha Cha Real Smooth, etc.
2. Maximilian Lee Piazza as "Young Zoro"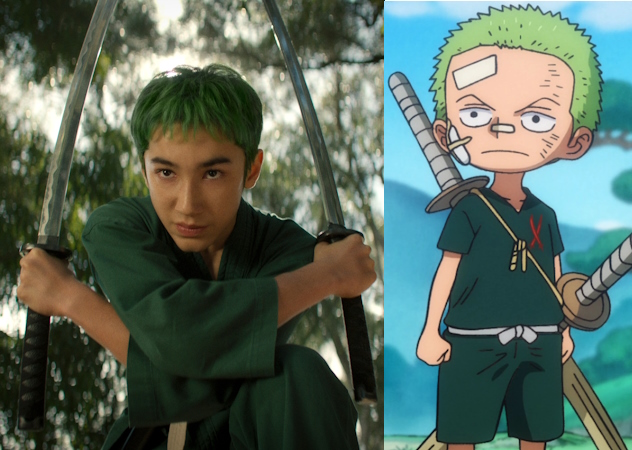 One of the most-awaited younger cast members, Maximilian Lee Piazza is another talented young artist who plays Zoro in the OP Live Action. As mentioned earlier, the first season of the live action adaptation will cover every crew member's past. And Zoro's past heavily ties in with his present and ambitions. Young Zoro's story will feature his training to become the strongest swordsman and his friendship with another vital character named Kuina.
Piazza is a young and brilliant artist from New York. Alongside acting, he is a practitioner of the Japanese sword-fighting style of Iaijutsu, also known as "Ryushin Shouchi Ryu." Therefore, Maxi playing the role of a young swordsman, that too Zoro, is certainly a match made in heaven. Some of his notable works include Only Murders in the Building, Spirited, and the iCarly reboot.
3. Lily Fisher as "Young Nami"
Lily Fisher, who recently gained popularity for her part in The Blonde starring Ana de Armas, plays the role of Young Nami. Episode 7 titled "The Girl with the Sawfish Tattoo" will primarily explore Nami's backstory with her adoptive mother and sister. Nami's dream is to become a navigator and more about her village is revealed here.
Lily Fisher is a budding young actress and has already made her mark in The Blonde movie. She has also worked in other TV series such as Grey's Anatomy, Station 19, Life & Beth, and more. Now, we look forward to her remarkable role as young Nami in Netflix's One Piece Live-Action series. While you are here, check out some cool and lesser-known facts about Nami in One Piece.
4. Christian Convery as "Young Sanji"
Christian Convery has already cemented his place as an actor at the young age of 13 years old. And this popular young lad is playing the role of Young Sanji in the One Piece Live-Action. Episodes 5 and 6, namely Eat at Baratie! and The Chef and The Chore Boy, respectively, will be focusing on the backstory of how Zeff found Sanji. It will also explore Sanji's love of food and how he became the chef he is today.
Christian Convery has already become a sensation in Hollywood with his role as Gus in the most popular Sweet Tooth series on Netflix. He has also appeared in various famous works such as Supernatural, Lucifer, Venom, Beautiful Boy, Cocaine Bear, etc. As you can see, he has made a name for himself already, and as Young Sanji, he will continue to shine more.
5. "Young Usopp"
Last but not least, we have young Usopp, whose backstory will be revealed in the Syrup Village arc. This picture is a confirmation that we will see the younger Usopp in the live-action series. But the details regarding the young actor have not been revealed yet. There is also no source of information regarding the young actor's previous works. So, stay tuned for more details, and we will update this article to reflect the same.
And that's everything we know about the younger cast of the Straw Hat Pirates in One Piece live-action adaptation by Netflix. These young talented actors will feature in the first season of the series. And if we get more seasons in the future, more budding and talented actors will be cast as there are several past and present stories left to be covered. In the meantime, what do you think about this cast? Do let us know in the comments below.