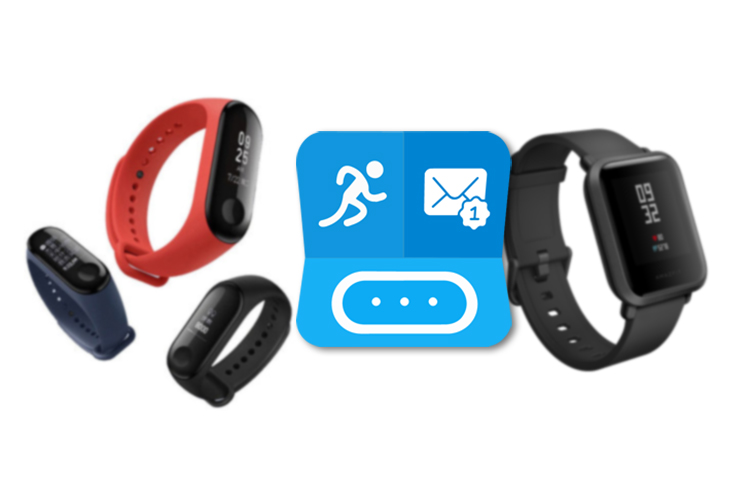 Xiaomi is a trusted brand name when it comes to smartphones, but it also puts across a vast catalog of wellness products ranging from fitness bands and smartwatches, to digital weighing scales, to even smart shoes. And to complement this fitness tracking, there's the free-of-cost Mi Fit application which can let users tracks their activities with a great amount of detail.
But what if there was an app that let you have control over every granular detail which your Mi fitness band or smartwatch records. Well, there is one and today I'll introduce you to a highly useful app, called "Notify & Fitness", which lets you have much more control on your daily fitness than the official app. This app is compatible with all generations of Mi Bands and all Amazfit smartwatches.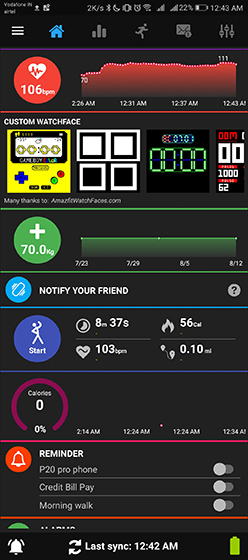 Here's a rundown of the top five features in the Notify & Fitness app that will make you want to never go back to Mi Fit:
1. Continuous Heart Rate Monitor
Many variants of the Mi Band, as well as the Amazfit Bip, do not support continuous heart monitoring. This is because the Mi Fit app restricts monitoring to a minimum interval of 1 minute. Notify & Fitness, on the other hand, breaks through that limit, and can keep a track of your heart rate continuously.
The app tracks your heart rate every 6-7 seconds and shows this data in form of a cardiograph. This is not only useful in tracking your heart's health but should also alarm you if you have an irregular heartbeat (arrhythmia). In order to save phone's battery, the app can enable a feature which lets the Mi Band or Amazfit smartwatch store this data but not transfer it to the phone instantly.
2. Extensive Workout Tracking
While the stock app restricts live workout tracking to activities like walking and running, Notify & Fitness takes workout tracking to the next level by giving you an option to track more than 85 different styles of activities.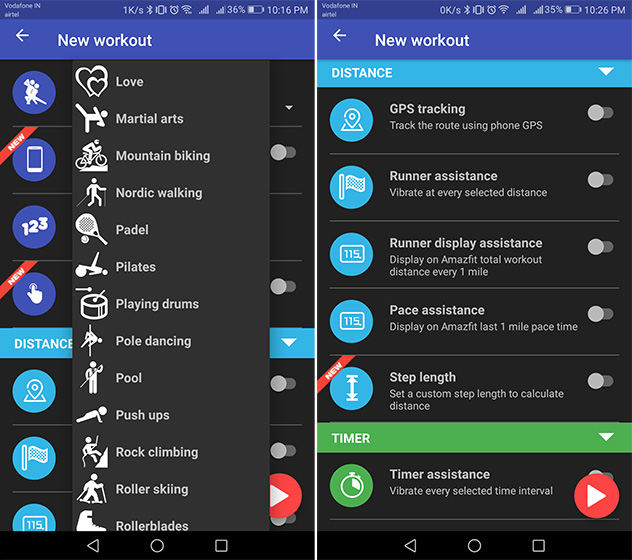 It includes basic ones like aerobic and weights training, sports activities, and even tracks lesser common activities like CrossFit, beach volleyball, fencing, rowing, and many more. The fact that it also tracks activities like sex (euphemistically called Love) and pole dancing should give you a clue as to its wide repertoire.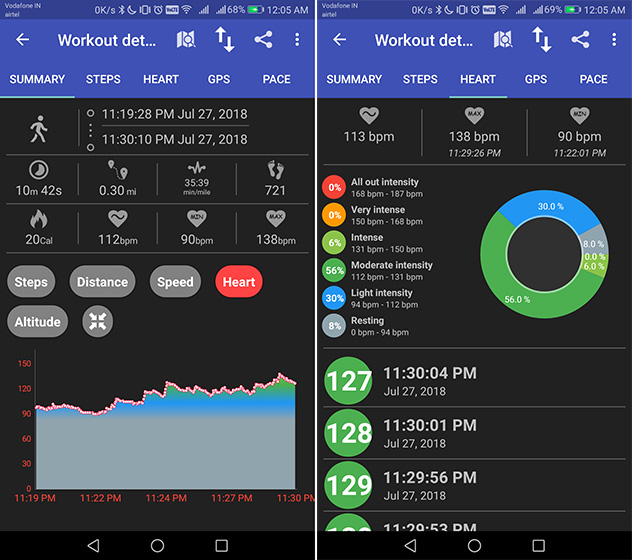 Of course, since there is no sensor in Mi Band or Amazfit Bip to identify the kind of activity so you'll have to initiate tracking in the Notify & Fitness app manually. You also get the option to sync this activity with third-party apps such as Strava and Google Fit. You can also set goals and be reminded every time you work out for a specified time or distance.
3. Watch Button Mapping – Control Music or Wake Google Assistant
One of the disappointing aspects I learned about the Amazfit Bip while reviewing it recently was that it cannot control music. To my relief, I found that the Notify & Fitness app gives you the option to configure the button on the Amazfit Bip – and touch area on Mi Band – to your choice of action.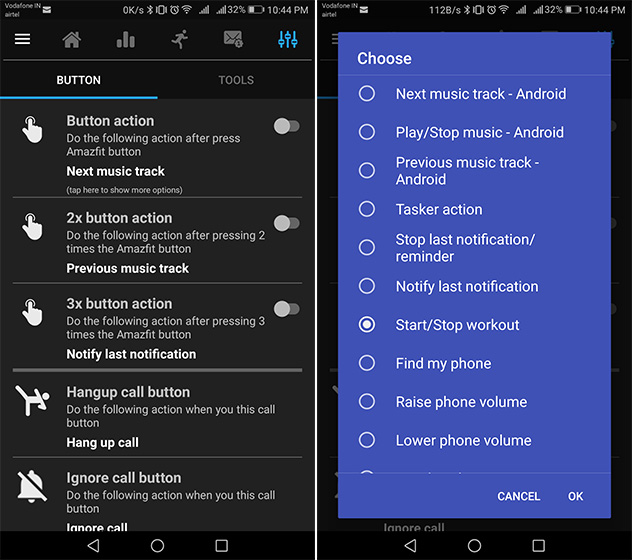 These actions include skipping a track, playing or pausing music, waking Google Assistant, hanging up or ignoring a call, or any other automated task using Tasker. If you have multiple media apps, it will show you an option to configure settings for different apps.
You can also use the smartwatch as a camera remote and to increase or decrease the volume of the phone. Lastly, you can set different options based on the number of times you press the button – for instance, there can be different controls assigned to when you press the button once versus twice or thrice.
4. Detailed Notifications
The Notify & Fitness app grants you elaborate control over notifications from the paired smartphones to be displayed on your fitness band or smartwatch. You can customize settings for each app individually with a stack of features such as notification text and icon, repetition, set the priority of notifications, or change the pattern and intensity of vibration on the Mi Band or Amazfit smartwatch.
You can also set schedule for when you want to be alerted at your wrist and when not, and even set exceptions like when your phone is silent or DND mode, or when you're sleeping. The app also shows extensive options related to alarms and allows you to set reminders with text displayed on your Mi Band or Amazfit smartwatch. Lastly, I love the fact that the app also enables the caller ID on the band or smartwatch while alerting you about an incoming call.
5. Custom Watch Faces
I honestly feel that watch faces play a significant role in making you form an opinion about a smartwatch. Sadly, Amazfit smartwatches have limited watch faces that you can download using the official apps but I was surprised to see the extensive support from independent developers. You can find more than 20,000 watch faces for the Amazfit Bip, Amazfit Stratos, and Amazfit Cor smartwatches.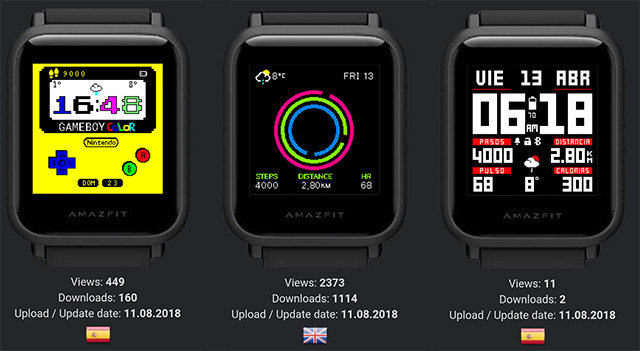 While the Notify & Fitness app itself does not have these watch faces, it lets you download the watch faces from a website (amazfitwatchface.com) and also saves you the pain of installation process, which is otherwise tricky and doing in manually requires a good deal of knowledge and labor.
Maximizing Your Mi Band and Amazfit
Notify & Fitness looks humble but is a highly robust app for Mi Band and Amazfit fitness devices. The enormous amount of control it gives you incites a sense of confidence and acts as motivation to explore more activity and continue your fitness journey.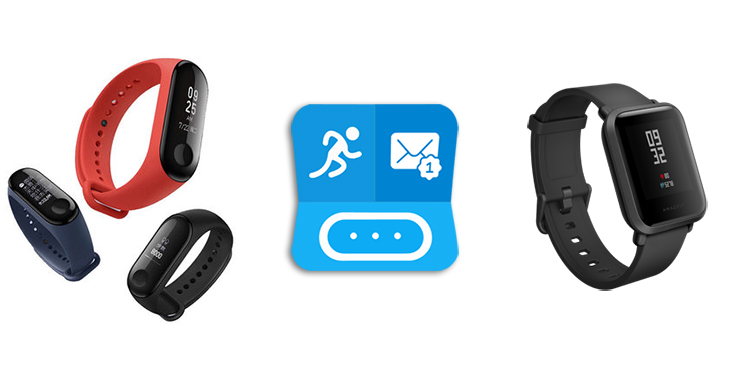 The Notify & Fitness app is brilliant in several ways not limited to those listed above. I'm waiting for you to try it and tell me how it makes you feel. The app is free to try with most important features unlocked for free but, to enjoy it to the maximum you might want to buy the full version which is priced at Rs. 200.
Download Notify & Fitness for Mi Band from Google Play Store (Free)
Download Notify & Fitness for Amazfit from Google Play Store (Free)
---