Security and privacy are rising and immediate concerns for users in 2022. With a general online user in danger of unsafe browsing, it is not surprising to see businesses being all the more worried about their data. Businesses that have incorporated a remote work structure are now tackling the problem of making sure that workers can connect to the company's cyber structure without putting it at risk. Fortunately, cybersecurity companies out there offer a wide variety of solutions. However, it is hard to protect crucial assets while maintaining the level of smooth use employees are used to. NordLayer, a secure network access solution, is one such offering that promises to protect businesses from any online threats while keeping productivity high. With an infrastructure suited for varied sizes of companies, Nord Layer is an able addition to a company. But what is it and is it worth it? Let's talk about all that and more below.
NordLayer Review (2022)
While I will talk about the different features of Nord Layer, I will also share what exactly it is, to begin with. However, if you would rather skip to the former, use the table below.
NordLayer: Cut to the Chase
Made for businesses feeling concerned about their cybersecurity, NordLayer is a business-oriented solution. With features that help secure a company's online infrastructure, NordLayer makes it easy for admins to maintain a secure connection between the work and a company's important data. The built-in NordLayer VPN maintains a secure yet fast tunnel using features like strong military-grade encryption, a dedicated kill switch, and 2FA while keeping the entire interface simple which requires little to no training.
The simple yet intricate web dashboard helps keep an eye on everything and control NordLayer down to its finer aspects. With prices that don't break the bank and features to match, NordLayer is a solution that scales along with the business so privacy, security, and speed are standards that remain maintained. Annual plans start as low as $84, making this deal an even sweeter one.
NordLayer: Pros and Cons
| PROS | CONS |
| --- | --- |
| Simple to use while remaining intuitive | Modest server selection (30+) |
| A plethora of security and authentication options | App interface not for power users |
| Web Dashboard is a treat to use | Occasional sign-in issues |
| Private gateways and servers with dedicated IP controls | |
Plans and Pricing
When it comes to pricing, NordLayer keeps it simple and only offers two plans. Titled Basic and Advanced, both of these plans offer their selective advantage at affordable prices. The Basic plan is meant for small businesses and gives you access to the NordLayer VPN, 24/7 live support, security features like 2FA, strong encryption, threat block, and even more. You also get access to the web dashboard that lets you oversee the entire Layer operation easily. You can get the Basic plan annually for $84 or $9/user per month.
The Advanced plan, on the other hand, is for medium-sized businesses and offers all the basic perks and even more, including priority 24/7 support, dedicated account management, and the ability to purchase dedicated servers with super-fast speeds. The dedicated servers offer features such as dedicated IPs, IP listing, Custom DNS, Smart Remote Access, and more. The advanced plan is billed at $108 annually or 11$/user per month.
For businesses that don't fit into either plan category, NordLayer also offers custom plans that can be arranged by getting in touch with the company. What I love about the pricing here is the centralized structure, which means you will only get one invoice no matter how many employees you have. No matter which plans you go for, NordLayer offers reasonable pricing coupled with good features.
| NordLayer Basic | NordLayer Advanced |
| --- | --- |
| Annually – $84 ($7/user per month) | Annually – $108 ($9/user per month) |
| Monthly – $9 | Monthly – $11 |
What is NordLayer?
Originally named NordVPN Teams when it launched on December 4th, 2019, NordLayer is a network access solution designed for companies of all sizes. Aimed at businesses concerned about their cybersecurity, NordLayer offers a plethora of features that let them manage the exact network aspects. To break it down, NordLayer offers a business-based Virtual Private Network (VPN) that can be used by members of the organization to protect sensitive company data.
This secure connection by NordLayer helps protect important business assets by creating secure and fast tunnels between users and the main business infrastructure. With smart categorization and specific features to control access, NordLayer protects data of all business sizes. So whether it's a multi-million dollar company or a start-up intent on protecting its data, NordLayer can serve you well.
Business Centric Service with a Robust VPN
Business owners wanting to control their online traffic through tunnels need only install NordLayer VPN. This business-oriented VPN allows employees to sign on to the company network using the NordLayer VPN app. Signing up for NordLayer is extremely easy. Simply create a new account, buy a plan, and you're there.
From there on, you can add users by simply providing their emails. Employees receive an email with links to the NordLayer app and are added to the network in an instant. Signing onto the NordLayer app is similarly easy, and users only require an ID and password. However, NordLayer also has two-factor authentication for an added layer of security than is available on multiple platforms, employees can add up to six of their devices and use them without issues. Meanwhile, the employer has full control through the web dashboard, allowing them to manage all the VPN setups through the click of a button.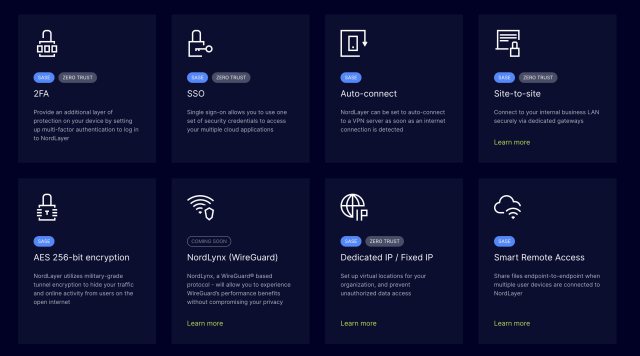 When it comes to actual security, NordLayer maintains the same strict standards NordVPN users have come to know and trust. Strong AES-256 encryption coupled with secure tunnels means using the VPN is never at risk. The addition of a kill switch only bolsters it as the connection is blocked if there is an issue. While you cannot selectively enforce this feature, its native addition is a big plus. However, there are times when organization members might slip up and use devices that threaten the network's integrity.
NordLayer can even identify jailbroken devices and informs the admin immediately. The security is further bolstered by the built-in malware blocker that keeps most cybersecurity threats at bay. Any traffic outside the network's boundaries is practically invisible and remains secure. Since NordLayer scales with businesses as they grow, this level of encryption remains consistent throughout the operation. This scalability also means user licenses can be easily transferred across employees.
All this security and convenience is available via NordLayer's 30+ global server locations that currently have a user base of 40,000+ users across 4,000 protected organizations. And while the global server amount is a bit low, it's still high enough to ensure enough variety when switching between them for security.
Additional Features: More Security and Convenience
Since NordLayer is a SASE-friendly solution, it offers Zero-Trust and functional features that help create a secure cloud over your business and the devices that operate within it. NordLayer has a unified SASE-friendly scheme that helps cut down costs for businesses wanting to cover all their important cyber assets.
Network-friendly hierarchy means you can create your own dedicated gateways and even servers that offer up to 1Gbps of speeds. These span across the business. For a typical business, dedicated gateways mean you can create, add and divide your employees into teams like advertising, writing, marketing, and more, depending on your layout. Admins can then seal these gateways to ensure teams remain limited to their own infrastructure for a clean and consistent hierarchy.
Network access control only lets businesses set access permissions so only certain users have access to certain sensitive data. You can even implement IP listing to only allow certain addresses, thereby, giving you even more control. As for Smart Remote Access, it creates a network that allows seamless communication between users and devices in your organization. So whether you want to access a server or remotely control a device, it's all there. NordLayer works in conjunction with all its security features that block and remove all threats like untrusted websites and even potential malicious users.
Web Dashboard Overview
Like almost all digital services, NordLayer provides a dedicated dashboard that acts as the control center. It is where the admin can monitor, record, and even control sensitive aspects of NordLayer. Easy organization control means one can view the teams and members at a glance and have intricate control over them.
From inviting a new member using just their email, moving them to other teams, or suspending access altogether, it can all be done from here. It is also here in the Teams tab that you can create various groups to help sort your business access, decide who goes where, and what sensitive business data they get access to.
The Network tab holds control over all the private gateways and servers, but keeps in mind that you will naturally need a membership for access. Once you end up getting one, you will get access to dedicated IPs, the IP listing we mentioned earlier, and Start Remote Access for extended functionality.
Businesses wanting to keep a track of activity need only hover over the Activity tab, where connection and action history can be accessed. With data in NordLayer spanning as far back as 60 days, you have a lot of timeline room to monitor important details.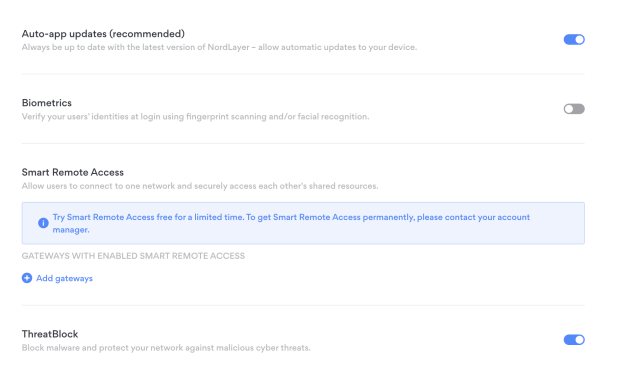 Since NordLayer does offer extended login security using two-factor authentication and even biometrics, it would make sense that these configurations are stored in the Settings tab. From offering various log-in methods, including Google Workspace, Azure AD one-login, or simple email and password, there's a lot on offer here. Threat Block can also be activated from here blocks malware and protects from cyber-threats.
The one thing I really appreciated about NordLayer's dashboard is its simplicity and ease of use. The web dashboard sticks to the less is more formula and is user-friendly. So even if you are not a tech-savvy user, you will quickly get the hang of it and master it in no time. This same ease of use spans across NordLayer's apps which are aplenty and available in the Downloads section of the dashboard.
Mobile & Desktop Apps Experience
NordLayer provides its selection of applications across all major platforms. So no matter which device a business's workers use, they will find an app for that. Spanning across Windows, Mac, Android, and even Linux, there is a lot of variety. The apps follow a crisp and clean design with a simple overlay.
Sticking to the interface that can only get NordLayer working is a big plus, as employees won't need special training to understand how to use them. This simplicity follows all the apps no matter which platform you install it on and is easy to understand. And while power users might find it pale in settings compared to the regular NordVPN, in this situation, the simpler interface is an advantage.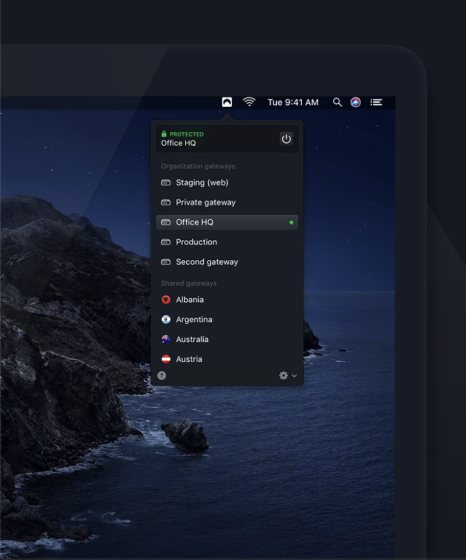 When it comes to how the apps actually perform, our high expectations are rewarded. NordLayer consistently delivers high speeds across all its apps that rival other business-based services. While NordLynx, the company's high-speed Wireguard-based protocol isn't here yet, the company promises it should roll out soon enough for even greater speed with the same intense level of security, including a robust kill-switch that kills the connection in case you lose secure access. When it comes to the overall app experience for businesses, NordLayer offers a solid combination of security, speed, and convenience that is rarely found in business-based solutions.
Furthermore, if your business is one that's looking to further its security, NordLayer offers a plethora of other services for individual and commercial users both. While the NordPass password manager makes sure all your credentials remain safe, NordLocker encrypts your file and stores them.
NordLayer Support
More often than not, there are times when even the most complex users run into problems. For those times and more, NordLayer has a dedicated support center for help.
Like the conventional NordVPN, this service comes with its own knowledge base, which while a bit basic has enough points to cover the important aspects. You can learn about how to get started with setting up a team, learn how NordLayer works, and how to set up enhanced authentication features to name a few resources. If you're suffering from connection issues, the dedicated directory will also help you out and help troubleshoot some common issues.
The web dashboard also contains more in-depth support. You can start an instant chat, where you will be helped out with your problem within minutes. If you would rather send an email, then you can drop the same and have the support team reach out to you. The support section even contains a status checker that shows the real-time status of NordLayer's servers for those interested.
While we hope you won't run into problems while using NordLayer, it's good to know that help is quickly available if you need it.
Should I Get NordLayer For my Business?
With its solid suite of security and privacy features combined with such competitive pricing, NordLayer is proven to be a more than capable security solution for businesses. In a world full of cyber threats for individual users and companies alike, this service from the makers of the popular NordVPN is something businesses of all types can count on to protect sensitive data. Even if you're a new start-up intent on setting a secure foundation, NordLayer's Basic annual pricing is enough to get you started and keep you going from there. Combining all that with an app that is easy to use while maintaining a high level of security, NordLayer is a business-oriented network solution you should get your hands on right now.
Get NordLayer for your business