Under HMD Global's umbrella, the iconic Nokia brand has been revived and is once again flourishing in contrast to its previous Windows 10 Mobile days. The company has already given us some stellar devices, such as the refreshed Nokia 3310 or Nokia 7 plus, but it is no longer a bearer of the innovative torch it once was.
Instead, HMD Global has fallen into the pattern like every other phone maker and adopted the infamous 'notch' trend. The Nokia 6.1 Plus, the global variant of the hotly anticipated Nokia X6 (Rs 16,130 on Banggood), is gunning for mass adoption, coupled with a premium aesthetic, modest specs, and an attractive price point. I have been using the Nokia X6 as my daily driver for a couple of weeks now and here's my experience with the device:
Note: We are using the Nokia X6 (the Chinese variant) for this review, so you may notice some additional features atop the stock Android One experience.
What's in the Box
As we have come to expect from Nokia unboxings, the X6 also comes packed in a wide cardboard box that's plastered with the company's branding and the design of the phone on the front. Here's everything you get in the box:
Nokia X6
A silicon clear case
Charging adapter
USB Type-C charging cable
SIM ejection tool
Instruction guides
HMD Global previously provided a pair of in-ear headphones with its devices but I was disappointed to not see one of those in the box this time.
Nokia X6 Specs
Before I dive in and share my experience with the Nokia X6, take a quick look at the complete specs sheet of the device:
| | |
| --- | --- |
| Dimensions | 147.2 x 71 x 8 mm |
| Weight | 151 grams (5.33 oz) |
| Display | 5.84-inch Full-HD+ IPS LCD, 19:9 aspect ratio |
| Processor | octa-core Qualcomm Snapdragon 636 |
| GPU | Adreno 509 |
| RAM | 4GB |
| Internal Storage | 64GB, expandable up to 256GB |
| Primary Camera | dual 16 MP (f/2.0) + 5 MP (f/2.4) with PDAF, dual-tone LED flash, EIS, HDR |
| Secondary Camera | 16 MP (f/2.0) |
| Operating System | Android 8.1 Oreo, under Android One program |
| Battery | 3,060mAh Li-ion non-removable |
| Sensors | rear-mounted fingerprint scanner, accelerometer, gyro, proximity, compass |
| Connectivity | Bluetooth 5.0, Wi-Fi 802.11 a/b/g/n/ac, WiFi Direct, USB Type-C, 3.5mm headphone jack, GPS, GLONASS |
| Colors | Black and Blue |
| Price | HKD 2,288 (approx Rs 19,999) |
Design and Build Quality
Right from the moment you take the Nokia X6 out of the box, you will realize that it doesn't have a lot of similarities to the previous Nokia 6.1 but brings along aesthetics that holds its own. Yes, I'm talking about the notch in the front, the stunning glass-body, and the lightweight construction of the device that help it stand out from other phones at its price point. Let us take a closer look at each of these aspects.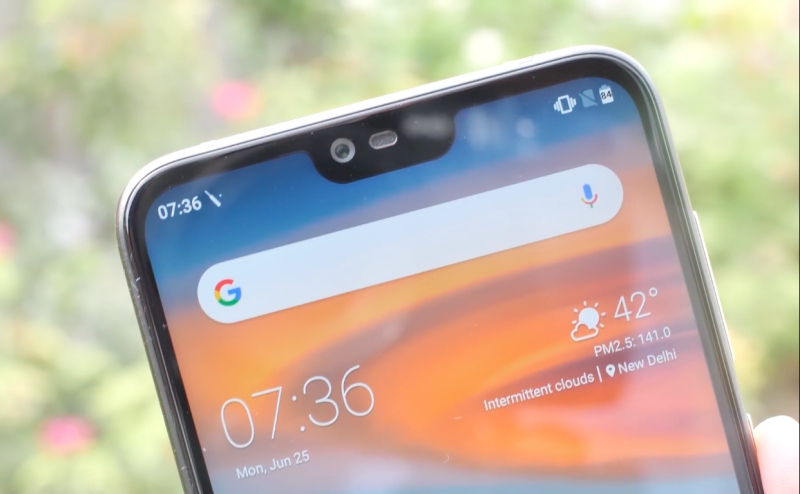 Starting off, I know you would have already noticed the notch at the top of the screen. It's 2018 people and there's no point running away from the notch that surely has become the norm for Android phones. I've come to terms with this ongoing trend and did not mind the small notch, holding the earpiece, front camera, and sensors on the Nokia X6.
Instead, I really like the notch since it helped shape one of the key aspects of this device – its compact and lightweight design. The notch on Nokia X6 has helped push the bezels to a minimum at the top and the edges. There's a chin at the bottom with the Nokia logo, which makes it look similar to the Honor 9N, but it doesn't hinder the user experience at all.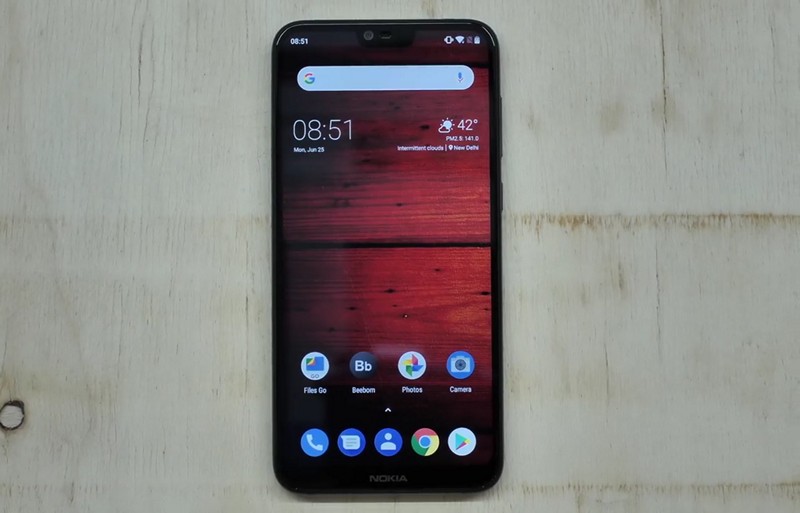 The notch makes the Nokia X6 look like it has been designed for single-handed use from the get-go. It's the perfect device for someone like me, who has smaller hands.
Coming to my favorite aspect of the design, the Nokia X6 boasts of a gorgeous all-glass build to help it stand out and get noticed among the flood of metallic or plastic phones in its price bracket. The glass back makes the device look notably premium but it also makes the device susceptible to fingerprints and damage (in the long run).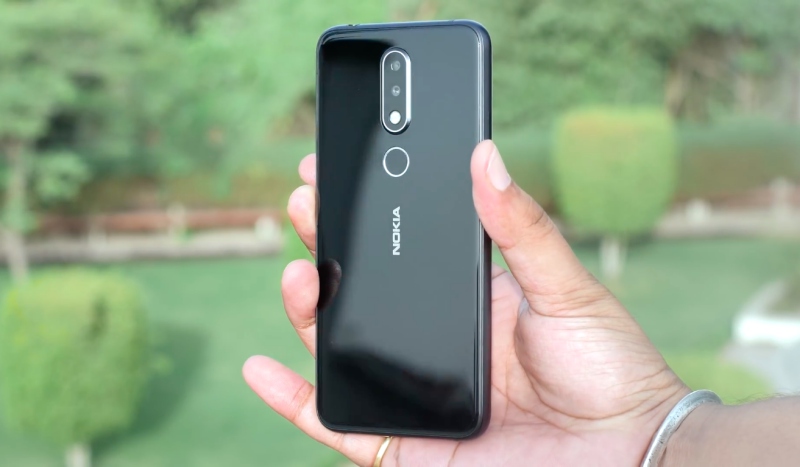 The fingerprint sensor on the rear of the Nokia X6 is very fast, with a modest haptic feedback to make you aware that the device has been unlocked. Though the sensor may seem to have been placed at an apt location on the back panel, it's actually placed a little lower and your index finger will usually land on the flash. You'd have to slide it down to reach the fingerprint sensor.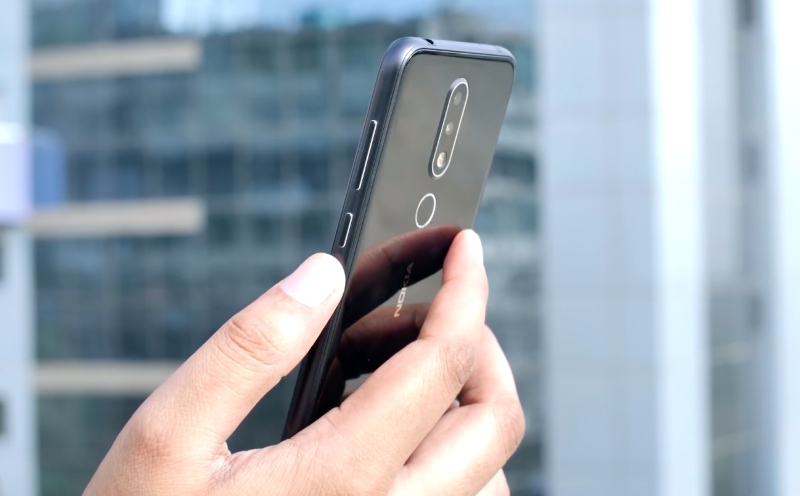 The buttons on the right are clicky and feel solid to the touch, plus there's the USB-C port and speakers at the bottom and the 3.5mm headphone jack at the top. All this makes the Nokia X6 a well-rounded device for even the average consumer.
Display
The NokiaX6 sports a 5.84-inch Full-HD+ IPS LCD panel, with a 19:9 aspect ratio and an impressive 81.5% screen-to-body ratio because of the notch up-top. This also gives the device an impressive pixel density of about 432ppi, which seems to works in the favor of the device.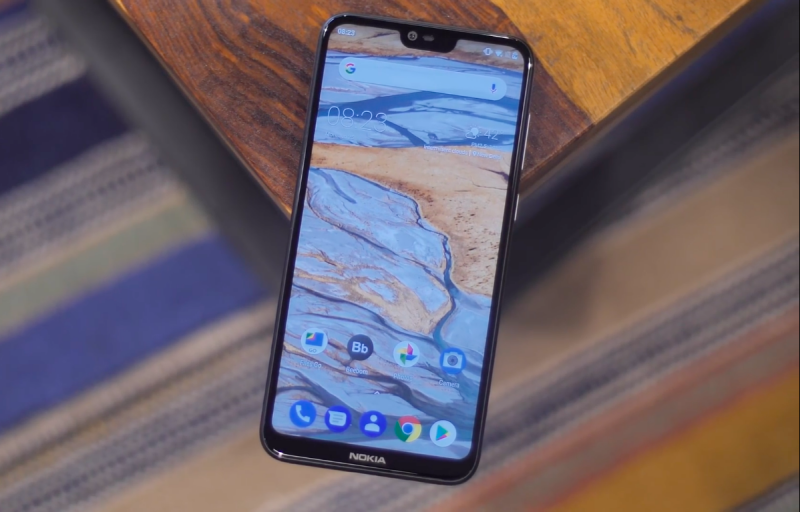 The improved screen-to-body ratio gives you more screen space than other popular phones around this price point, making it easier for you to read content or scroll through your social media posts. However, I was quite impressed by the quality of the IPS LCD panel, whose color reproduction was on point and crisp viewing angles made it a joy to enjoy content with friends.
Yes, you have a notch at the very top and it's still hard to ignore for some but I have come to terms with the ongoing trend and I'm now more inclined to use a phone with the notch rather than without one. The Nokia X6′ screen gets quite bright indoors, as well as outdoors. I was able to view all the contents on my screen under direct sunlight as well, making it a well-rounded display for the price.
Performance
The Nokia X6 is powered by a Snapdragon 636 chipset, paired with 4GB of RAM and 64GB of onboard storage. It runs on stock Android 8.1 Oreo and I have zero complaints with the performance of the device in my week-long usage.
The Snapdragon 636 is a great budget chipset, which can handle everything thrown at it – apps launch quickly and load up within a split second, the fingerprint scanner is fast, the camera is responsive, and I believe the stock Android experience will only get better with time.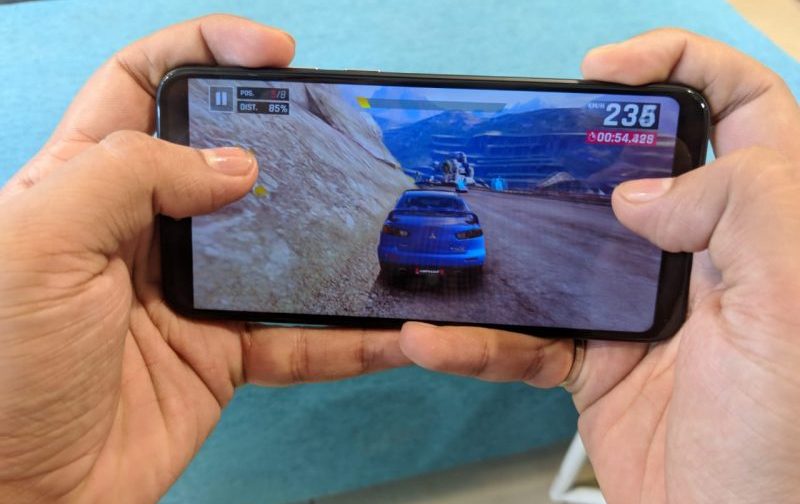 If you're an avid mobile gamer, the Nokia X6 may sometimes leave you craving for more. Although most of the game titles such as Shadow Fight 3 and the recently launched Asphalt 9 run quite smoothly on this phone, PUBG Mobile doesn't run on the highest of settings. It picks up the lowest settings by default, which is disappointing, but I played on medium settings and found that it ran okay-ish. There was an occasional frame drop or two, else the game worked just fine for me.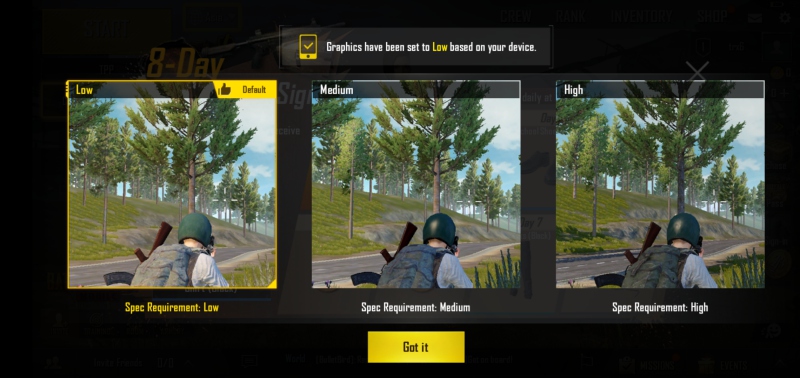 I had an excellent time with the Nokia X6 and would pick it over my Nokia 7 plus any day because of the smaller form factor and an equally good experience. However, if you are one of those people, who give a lot of weight to benchmark scores then you can find the screenshots of the results right here:
User Experience
The Nokia X6 runs stock Android 8.1 Oreo out-of-the-box, thanks to it being a part of Google's Android One program. This means you get everything Android has to offer in a neat package that's totally free from any bloatware, something a lot of other phone makers really cannot promise. It is for this reason that I would pick an Android One phone over other custom skinned phones any day.
In my time with the Nokia X6, I had a truly satisfying experience and did not notice any jitters or lag in the software – just like the Nokia 7 plus that I have been using as my daily driver for the past couple of months. All the apps, camera, settings, as well as the animations, are all quite responsive and make for a robust experience on this device.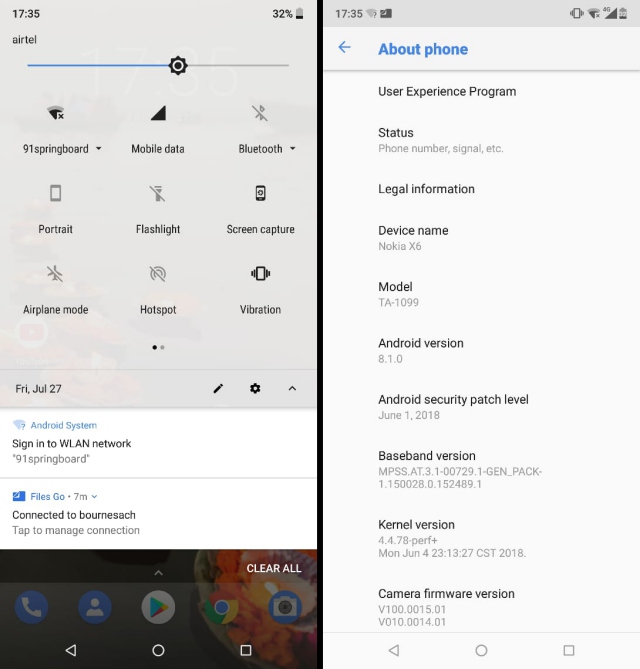 I'm a huge fan of the pure, untouched Android experience, but after testing the China ROM on the Nokia X6 I think I would love to see HMD Global bring some of its add-on features such as gestures or face unlock (which is yet to make an appearance) over to the Android One devices. Well, one can wish, but even if they don't fulfill this dream of mine, we can always get similar features with the use of third-party apps.
HMD Global also promises to deliver two years of software upgrades (Android P coming soon) and three years of security patches, so that's another plus with this device.
Cameras
In the optics department, the Nokia X6 comes with a dual rear-facing camera-setup that consists of a 16MP primary sensor and a 5MP depth sensor with EIS on board, while the front-facing camera ships with a 16MP sensor coupled with a f/2.0 lens.
The rear camera on the Nokia X6 manages to capture images with decent clarity, which manages to just about justify its price tag. The overall structure is good and the photos appear to be quite sharp. However, the color reproduction is mostly a hit and miss, with images appearing slightly saturated at times, and washed out during others.
It's worth pointing out that the images are not social media ready, so you might have to do some post-processing.
As for the low-light photography, the Nokia X6 is not really that good. Yes, the dual-rear camera does manage to highlight the subject but it does have a level of noise that is not really acceptable. And even when there's no noise, you can notice graininess in a couple odd photos.
The front camera of the Nokia X6 manages to capture some good photos. It actually highlights the subject and the results produced are actually dependant upon the hardware and are not heavily altered by the software. The photos are well lit and I find them to be pleasant in my experience.
As for the portrait mode, the Nokia X6 is mostly a mixed bag.
With most devices, the edge detection is generally off the mark, and the blurring is either too much or too less. However, with the Nokia X6, I found that the edge-detection is mostly right but the blurring is highly unstable from the rear camera. The same carries forward in the portrait mode on the front camera as well, so while the Nokia X6 "CAN" capture great bokeh images, chances are, you'd be tempted to take a couple more to ensure that you get the perfect shot.
Telephony and Audio
After spending almost a week with the Nokia X6, I can firmly say that the overall calling experience of this device is top-notch. The earpiece gets adequately loud and you can hear everyone without any network issues. The Nokia X6 is known to support dual-SIMs with dual-4G standby, thus, allowing me to use my Airtel 4G and Reliance Jio SIM card for calling and data purposes simultaneously.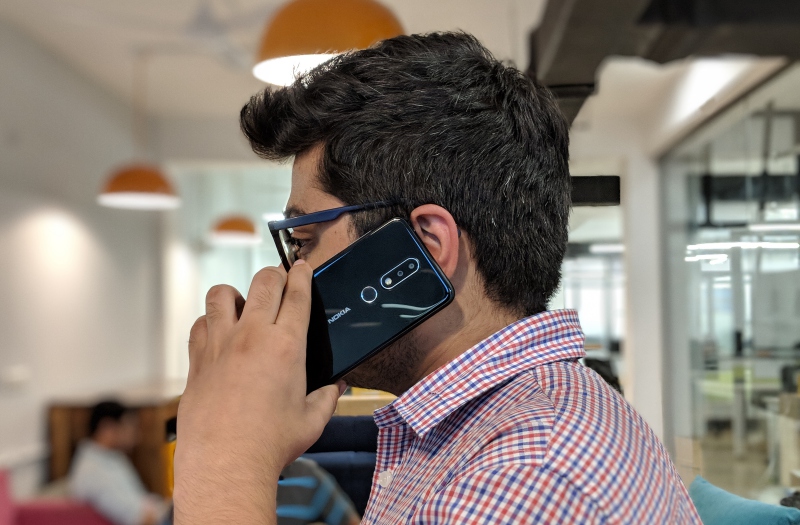 As for the speakers on the Nokia X6, there's only one speaker at the bottom of the device – right next to the USB Type-C charging port. This is not the most ideal position for the speaker as it is easy to muffle when you're lying down in bed or playing games in landscape mode. It seems that Google Pixels or Razer Phones are the only few devices left with front-facing stereo speakers, otherwise, we have to make do with such mono speakers.
I'm not saying that the speaker on the Nokia X6 is bad. It gets pretty loud and was pure joy to rock out to Linkin Park's "In the End" and NF's "Therapy Session." The sound, however, becomes a bit tinny or hollow at high volumes as the speaker drowns out the vocals. You can always turn to the trusty 3.5mm headphone jack for a nice time as it delivers a better sound experience.
Battery
The Nokia X6 comes with a moderate 3,060mAh battery in tow. It may not sound like a lot, but the device easily managed to last me a whole day on medium-high usage. I was able to get close to 6-7 hours of screen-on time, with close to 20 percent juice left to go, which seems to me like a decent battery backup.
Now, I believe if you completely milk the device at a concert or friend's wedding, then too the Nokia X6′ battery should be able to hold its ground and keep the party going. But even if your battery does run out, you need not worry as Nokia X6 supports Qualcomm's Quick Charge 3.0 technology as well.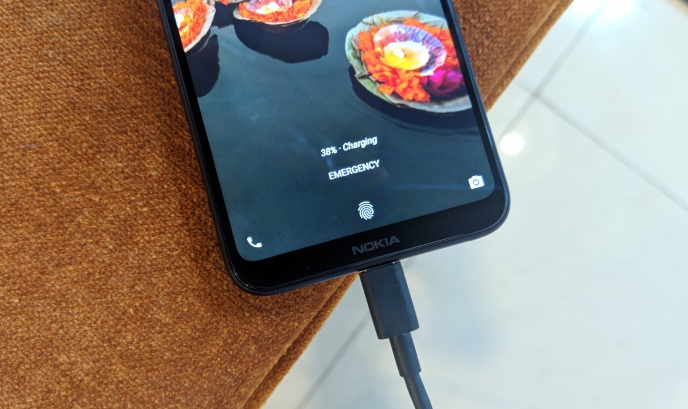 This simply means you can get your phone juiced up from 10% to 60% in around 35 minutes. Yes, just plug in the device and it will rapidly give you the required charge in a short period of time instead of taking its merry time to fill up the battery.
Also, I love that HMD Global decided to opt for the USB Type-C charging port on the Nokia X6 rather than the microUSB port, which most budget phone makers (ahem, Xiaomi) use to cut costs.
Nokia X6: Trying To Build A Class of Its Own
If you ask me whether you should buy the Nokia X6 or not, I would almost instantly, without thinking, shout out yes. But, you will have to remember that a Nokia phone does come at a bit of a premium. You'll be shelling out a few extra bucks for that premium glass body, stock Android experience, and of course the brand itself, while having to compromise with the camera quality in the long run. You will, however, also get timely Android updates and that gives you a lot to like in this device.
However, if you cannot stretch your budget up to Rs 20,000, you can still get a complete package with an equally fluid performance and better cameras in the form of Redmi Note 5 Pro (Rs 14,999). But if you don't want to be caught up in flash sales, you can also choose to pick up the Asus ZenFone Max Pro (starts at Rs 10,999) to get the same processor, a larger battery, and even stock Android but you would again have to compromise in the camera department.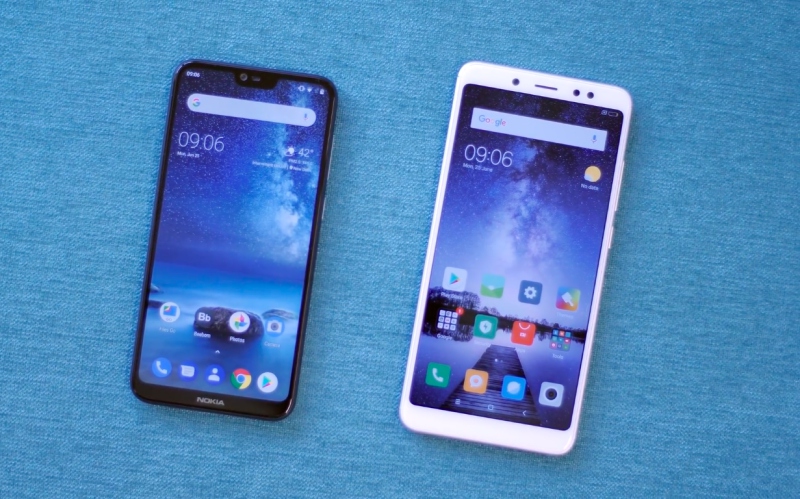 Pros:
Premium glass design
Built for one-handed use
Fast fingerprint scanner
Quick charging support
Android One experience
Cons:
Slippery & fingerprint magnet
Average camera performance
Speaker could've been better
SEE ALSO: Redmi Note 5 Pro Review – Should You Buy?
Nokia X6 Review: Dawn of a Notched Future
HMD Global may have adopted a tried and tested route with the Nokia X6, but it has already generated a ton of hype and why wouldn't it when it has a lot of things working in its favor. The Nokia X6 is a complete budget device, with a premium design and top-notch performance, only if you're not an avid mobile photographer. Then, the Nokia X6 may fall short of your expectations but I expect the company to improve the quality via upcoming updates. So, does the latest Nokia phone meet your expectations? Let us know in the comments down below.
Buy Nokia X6: (Rs 16,130 on Banggood)
REVIEW OVERVIEW

Design And Build Quality

8

SUMMARY

All in all, the Nokia 6.1 Plus has generated a ton of hype and made it outside the Chinese market, thanks to the pleas of the fan community. Nokia 6.1 Plus has shaped up to be one of the best offerings from HMD Global to date, with a premium build and Android One, but falters on the optics front. Still, I would recommend it to anyone looking for a new, reliable phone from a trusted brand.