In line with the launch of the much-awaited Nokia 6.1 Plus and Nokia 5.1 today in India, HMD Global has pushed out a massive update for the Nokia Camera app. It brings along new features and many other improvements in tow.
This update (version 90.0.1123.20) weighs in at a whopping 247MB and introduces a new carousel-based UI, Google Lens, and Google Motion integration.
The Nokia Camera now sports a carousel UI, which replaces the clunky hamburger menu of the older version which you use to change the shooting mode. This makes it easier for users to jump to any of the different modes simply by swiping left or right. Tapping the hamburger menu icon to open the settings menu.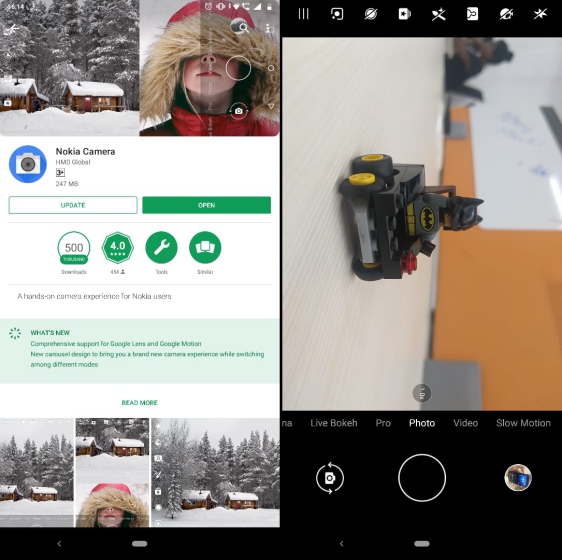 Just like Vivo and OnePlus cameras, Nokia has added Google Lens right into the app, and you also get Google Motion photos in the new Nokia Camera app. You will find both of these features in the bar at the very top.
We installed the Nokia Camera update on our Nokia 7 plus and Nokia 8 Sirocco, but are running into an incompatibility error on the Nokia 6.1 we have. The Nokia 6.1 Plus comes with these features baked into the camera app out-of-the-box, as we found out today. Nokia-branded phones that don't boast Zeiss optics won't receive the Pro mode.
We also expect the update to have brought along improvements to the picture and video quality but we'll have to spend more time with the new Nokia Camera to find out more about this critical feature. So, do you like the new-look Nokia camera? Let us know in the comments below.
---