HMD Global unveiled the Nokia 6.1/Nokia 6 (2018) at MWC back in February, and later brought the device to the Indian market in April. It now appears that the Finnish company aims to launch a plus-sized version of the Nokia 6.1 in the form of the Nokia 6.1 Plus. 
The Nokia 6.1 Plus has been listed on the official Google ARCore website under the list of devices from HMD Global which feature support for Google's Augmented Reality platform.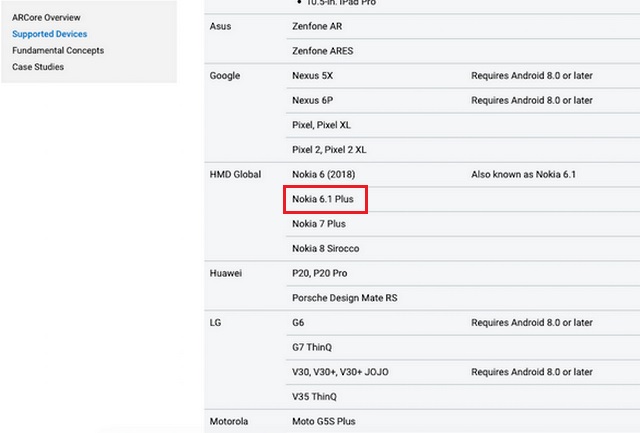 As per the ARCore website, the Nokia 6.1, Nokia 7 Plus, Nokia 8 Sirocco and the Nokia 6.1 Plus are devices that support the ARCore platform. Out of the bunch, ARCore support for the Nokia 7 Plus has already gone live, while the rest have been certified to receive the support at some point in the future, including the yet-to-be-announced Nokia 6.1 Plus.
However, not much information is available about the Nokia 6.1 Plus as the device has popped up for the first time on the internet, and that too on the official ARCore website, which means the device has received Google's certification for ARCore support and might be launched soon. Some reports claim that the Nokia 5.1 Plus might be launched as the Nokia X5 in China, so there is a high chance that the Nokia 6.1 Plus is nothing but the international variant of the Nokia X6, but this appears to be speculative at best.
Going by the industry trend of a smartphone's 'Plus' variant, the Nokia 6.1 Plus is expected to feature a larger display compared to the Nokia 6.1, and might bring some upgrades under the hood such as a more powerful processor, larger battery and a more capable imaging hardware. HMD Global is yet to officially confirm the existence of the Nokia 6.1 Plus, but we'll keep you updated with new information about the upcoming device as and when it is available.