It's time to put your Lara Croft costume on and gear up for a long adventure because archaeological features are finally a part of Minecraft with the 1.20 update. You have new blocks to discover, old structures to extravagant, and even literal artifacts to dig up. From exploration to looting, everything is going to change once and forever. So, before the new game-changing mechanics become mainstream, let's find out everything there is to discover about Archaeology in Minecraft.
What is Archaeology in Minecraft 1.20
As the name suggests, archaeology is a brand new set of features in Minecraft 1.20, which brings ancient blocks, items, and even a new mob to the game. Unlike existing lootable structures, the best of archaeology makes you work hard and carefully to collect ancient artifacts and rewards. While doing so, it also upgrades the existing mechanics of the game, focusing mainly on the structures.
History of Archaeology Update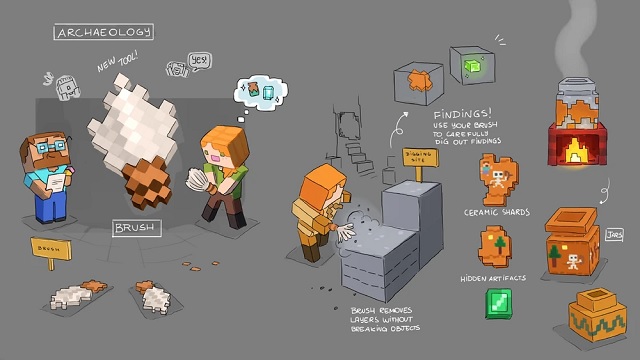 The archaeology features were first announced in Minecraft Live 2020 along with the 1.18 Caves & Cliff update. However, things have changed drastically since then and the current archaeological blocks look completely different from the original plan. Moreover, ceramic shards, pots, and brushes even look visually different from the initial designs. You can check the above-linked concept art to get an idea of the same. Though, what hasn't changed is how you get the ancient artifacts by dusting off the sand from special blocks.
Blocks and Items in Archaeology System
The Archaeology system is bringing the following items and blocks to Minecraft:
Brush
Decorated Pots
Suspicious Sand and Suspicious Gravel
Pottery Sherds
How to Make a Minecraft Brush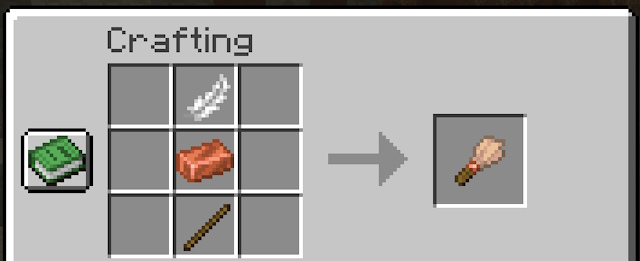 The brush is the leading force and the main equipment behind the archaeology system in the Minecraft 1.20 update. The brush allows you to uncover suspicious sand and gravel blocks to obtain rare loot and ancient items.
When it comes to crafting, you need a feather, a copper ingot, a stick and a crafting table to make a brush in Minecraft. You can rely on our linked detailed guide to understand the same in depth.
Types of Pottery Shards & Pots
The main ancient element in Minecraft is the pottery sherds, which reveal themselves when you dust the suspicious blocks with a brush. You can combine four of them together to make a decorated pot in Minecraft. Each shard has a unique symbol on it, which shows up on the face of the pot of which it is a part. Based on the symbol on them, you can get the following types of pottery sherds in Minecraft:
Angler Pottery Sherd (Fishing rod)
Archer Pottery Sherd (Bow and arrow)
Arms Up Pottery Sherd (Person with hands in the air)
Blade Pottery Sherd (Sword)
Brewer Pottery Sherd (Potion)
Burn Pottery Sherd (Fire)
Danger Pottery Sherd (Creeper)
Explorer Pottery Sherd (Map)
Friend Pottery Sherd (Villager)
Heart Pottery Sherd (Heart)
Heartbreak Pottery Sherd (Broken heart)
Howl Pottery Sherd (Wolf)
Miner Pottery Sherd (Pickaxe)
Mourner Pottery Sherd (Warden)
Plenty Pottery Sherd (Treasure chest)
Prize Pottery Sherd (Diamond)
Sheaf Pottery Sherd (Wheat)
Shelter Pottery Sherd (Tree)
Skull Pottery Sherd (Skeleton skull)
Snort Pottery Sherd (Sniffer)
Not to forget, the existing bricks of Minecraft also found a new use in the archaeology system. You can use them while crafting a decorated pot. But, unlike the pottery shards, the bricks don't decorate the pots with any symbol. Instead, the face of the pot that is made out of brick remains completely empty.
What Can You Find in Suspicious Sand and Gravel
At this point, you already know that the new Suspicious Sand blocks and suspicious gravel blocks are a great resource to collect pottery shards. But that's not all you can find in them. Based on the spawn location of the suspicious blocks, they can offer you a variety of loot.
Desert Pyramid's Suspicious Sand:
Archer Pottery Shard
Prize Pottery Shard
Skull Pottery Shard
Miner Pottery Shard
Gunpowder
TNT
Diamond
Emerald
Desert Well's Suspicious Sand:
Arms Up Pottery Shard
Brewer Pottery Shard
Brick
Stick
Suspicious Stew
Emerald
Warm Ocean Ruins' Suspicious Sand:
Angler Pottery Sherd
Shelter Pottery Sherd
Snort Pottery Sherd
Coal
Emerald
Wheat
Wooden Hoe
Gold Nugget
Iron Axe
Cold Ocean Ruins' Suspicious Gravel:
Blade Pottery Sherd
Explorer Pottery Sherd
Mourner Pottery Sherd
Plenty Pottery Sherd
Coal
Emerald
Wheat
Wooden Hoe
Gold Nugget
Iron Axe
Follow the linked guide to see all the loot you can find in the suspicious gravel in Trail Ruins in Minecraft 1.20.
How to Become an Archaeologist in Minecraft
Now that you know all about the mechanics of the new archaeology system of Minecraft, let's go over the chronology of your archaeological adventures:
1. First, you need to make a brush as it's the main surveying tool in your archeological adventures.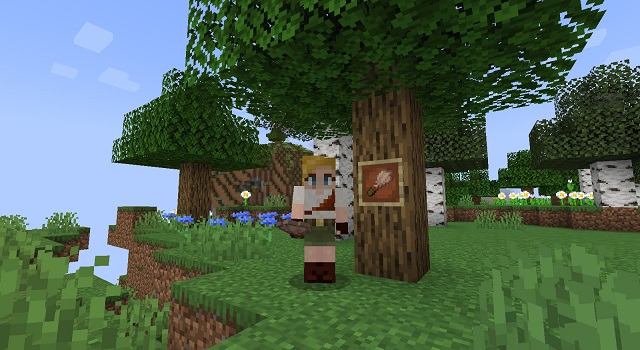 2. Then, you must locate one of the structures in which suspicious blocks generate.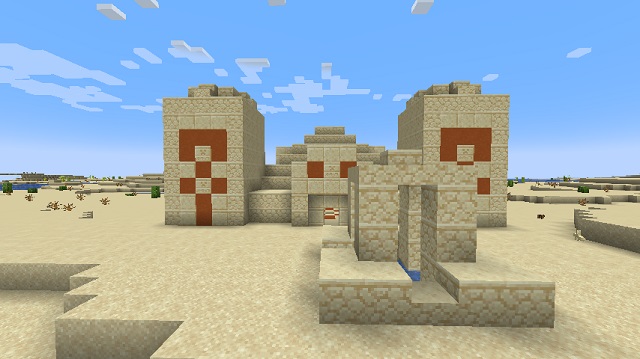 3. Once you reach the designated structures, the hard work will begin. It's time to look around and inside the structures till you find some suspicious sand or gravel blocks.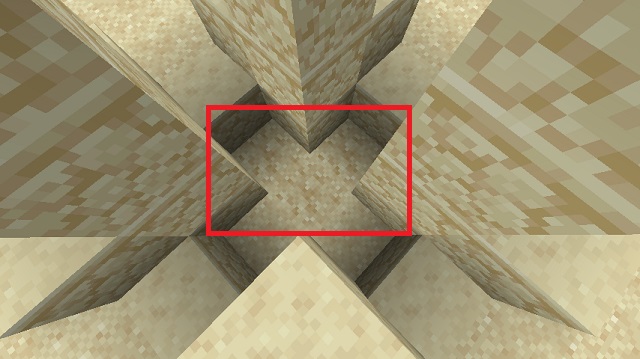 4. Finally, use the brush to dust off the sand and collect your reward. For your first quest, it's best to stick with trying to find four pottery shards before expanding further.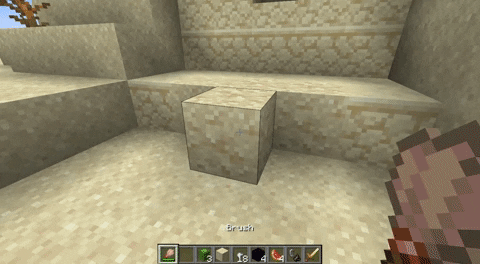 5. Not to forget, you can also try to excavate the Sniffer egg to spawn the new mob. While it's not part of the new archaeology features of Minecraft, the Sniffer fits right in the ancient theme.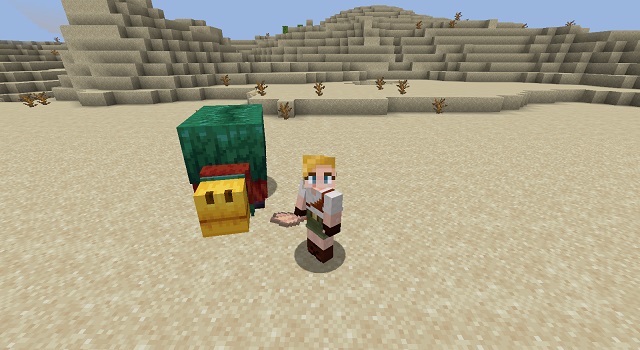 Frequently Asked Questions
Did they remove archeology in Minecraft?
Even though the developers announced the Archeology features back in 2020, they never added them to the game before 2023's Minecraft 1.20 update.
Are fossils part of Minecraft's archeology systems?
Bone fossils have been a part of the game for a long time and way before the archeology features were even teased.
Now that you know everything there is to know about the archeological features, it's time to suit up for your new adventure. One of the best ways to do it is by getting an archaeologist costume from the best Minecraft skins out there. Not to forget, you can also use some of the best Minecraft mods to bring dinosaur friends for the Sniffer to the game. While you are at it, make sure to also create a new Minecraft house to keep all of your archaeological findings safe and secure. Having said that, which is your favorite new Minecraft Archaeology feature? Tell us in the comments below!
---
Load More