The line between Ultrabooks and tablets is getting thinner by the day, with tablets getting more powerful and traditional laptops getting leaner. Lately, Microsoft has diverted its attention from software and has been focusing on refining its laptops and convertibles meant to challenge Apple's iPad line-up. Its latest tablet-laptop hybrid – Microsoft Surface Go – is walking exactly in the middle of this tight rope. For a starting price of Rs 37,999 in India, the Surface Go is surely a highly portable offering, but does it justify the price and proposition? We'll see in this review.
This review analyzes how well the Microsoft Surface Go fits into the mobile tablet computer category. Thus, the key areas that I will focus on include mobility, ease of use, I/O options, and its ability to be a full-fledged computer. Although I have also managed to put the Surface Go through demanding tasks such as running Adobe Photoshop CC 19 and games such as CS:GO, I have taken due care to avoid this from majorly impacting my opinion about the Surface Go, since the device is not designed for such a workload.
Before I start, I must clarify that the Surface Go comes in three different configurations, of which only two are available here in India. I got a chance to review the 8GB RAM and 128GB storage model and my observations are based on these specifications and not the entry-level 4GB RAM model.
The device is primarily for a lot of work on-the-go and that's what I'll be giving most of my attention to, in this review. So let's start with the specifications.
Microsoft Surface Go Specifications
On the first peek at the spec sheet, the Surface Go might feel a bit underpowered. This is because the device comes with an Intel Pentium Gold fan-less processor, which is clearly a stranger in a market flooded by Intel Core i3, i5 and i7. But as we'd see in the later sections, the processor is surprisingly good.
Here are the specifications of the Microsoft Surface Go:
| | |
| --- | --- |
| Dimensions | 245 mm x 175 mm x 8.30 mm |
| Display | 10-inch 1800X1200 (217 PPI) PixelSense |
| Processor | Intel Pentium Gold 4415Y 1.6GHz dual-core with hyperthreading |
| Storage | 8GB |
| Graphics | Intel HD 615 |
| Camera | 5MP front, 8MP rear, 1080p video recording |
| Storage | 128G PCIe SSD |
| OS | Windows 10 S |
| Connectivity | 1 x USB-C, 3.5 mm Headset Jack, Charging Port |
| Wireless | Dual-band 802.11ac WiFi, IEEE 802.11a/b/g/n compatible, Bluetooth 4.1 |
| Battery | 6 hours |
| Price | Starts at Rs. 37,999 |
Microsoft Surface Go: Design and Build
The Surface Go from its external appearance is a tablet with the usual rectangular design but with an unusual aspect ratio. Before switching on the display the front feels like its all display but that is simply an illusion. On the back, there's a kickstand – plate, rather, since it covers the entire lower half of the Surface Go, just like the larger Surface Pro –  which can be pulled off to keep the tablet standing on a flat surface or even on your lap. The panel extends all the way up to 180-degrees so you can recline the tablet at virtually any angle in between, and this flexibility is worth rejoicing over.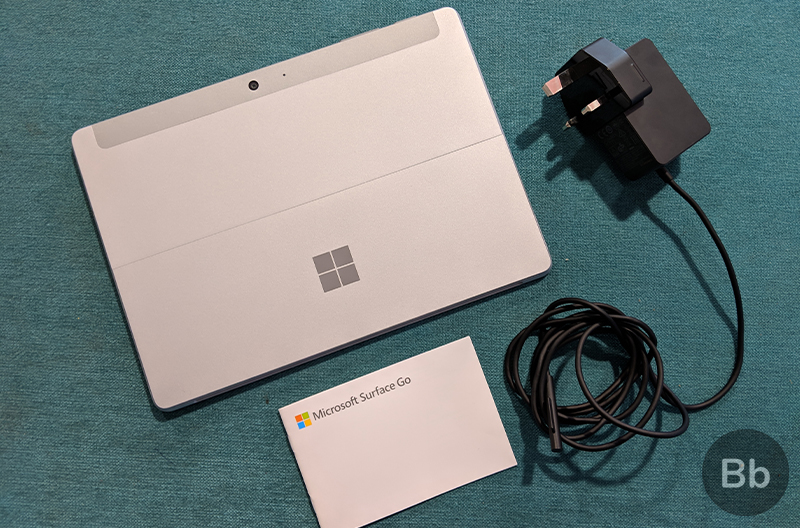 The only branding that you'll see on the Surface Go is in form of a Microsoft logo on the back plate. Along each side, you'll find ridges which will allow you to use your nails and pull the plate out and these, sometimes, can be difficult to find if you're not looking directly at them. The back plate is very tight and sometimes feels stuck, giving one the impression that you might snap or break it with too much force. Once you get used to it, however, the Surface Go feels much easier to lay on a desk at any angle. Hidden behind this is a tiny, easily-missed microSD slot, which can be used to expand the storage.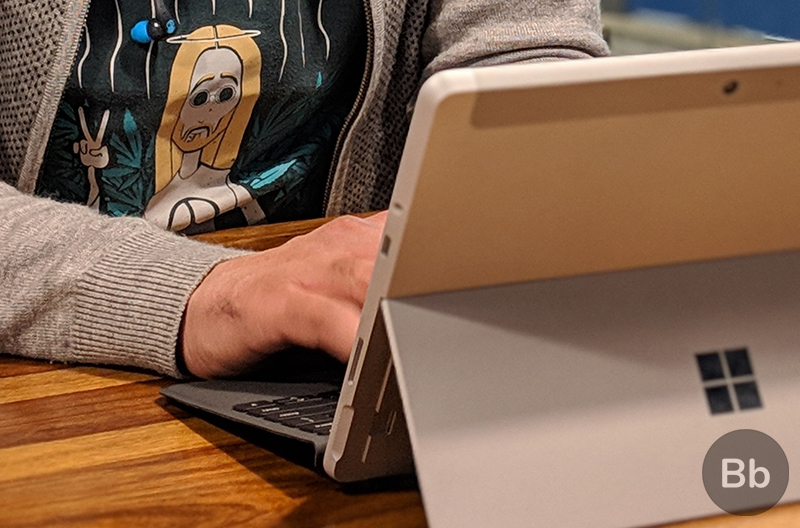 The upper half of the rear sports the mic, a camera and an LED indicator beside it. Along the upper edge, you'll find two buttons – one for power and unlocking the screen as well as a volume rocker. The right edge features a headphone jack, a USB-C port for charging and data syncing, and to make sure I/O remains unhindered, there's a dedicated charging port. This is a magnetic port but the adapter uses a long, flat plug, which might remind of the old 30-pin charger which iPhone 4S and older models sported. There's plenty of empty space for a fingerprint scanner but Microsoft has decided against putting one.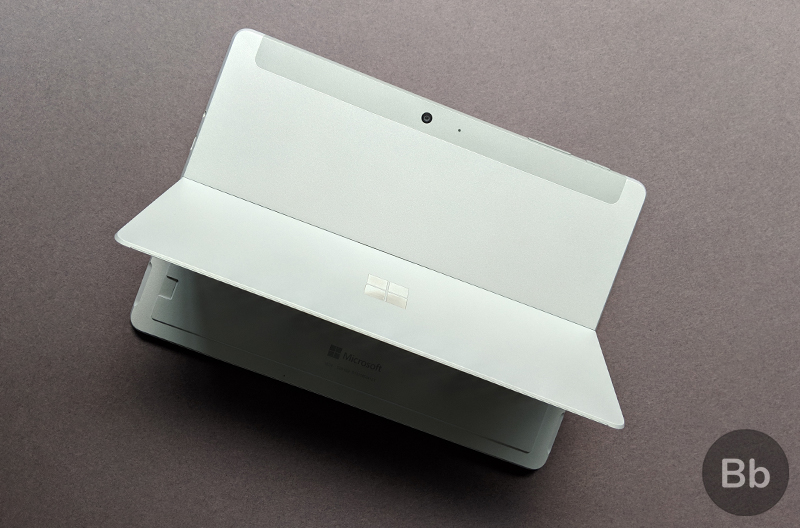 The bottom edge has magnetic connectors for the Surface Go keyboard folio cover while the left edge is completely blank. Both the left and the right edges can also be used to attach the Surface Pen, which is how it pairs to the Surface Go and also charges. Both the keyboard and the Pen do not come with the Surface Go and have to be bought separately.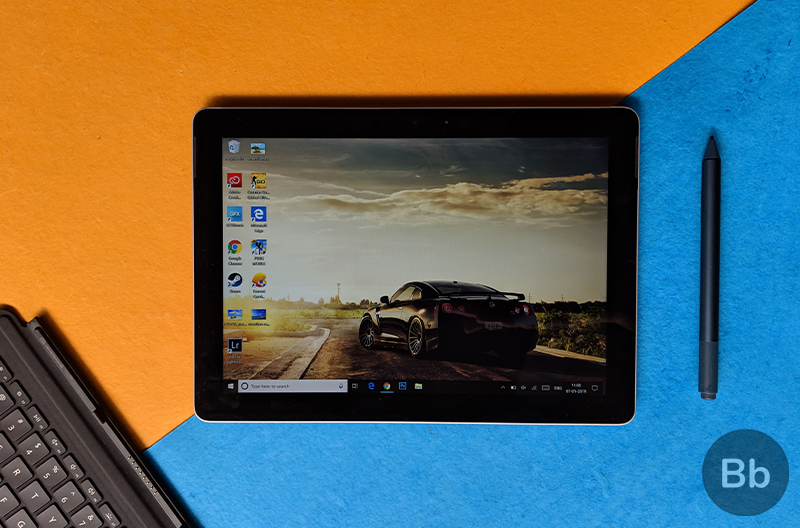 On the front, there is a 10-inch touchscreen which has an aspect ratio of 3:2. This is not the most favorable aspect ratio, especially if you're planning to buy the Surface Go to watch videos, but we'll dissect that in the Display section. Camouflaged under the bezels on both the left and the right sides of the display rest two tiny, front-firing speakers which are not loud but surprisingly do a decent job. Under the top bezel is a front-facing camera along with an LED which lights up when the camera is in use.
The chassis of the Surface Go is built with a magnesium alloy and feels soft to touch, overall, but remains rock solid when you try to apply pressure. Surely, this is one area where the Surface Go will single-handedly beat the 2018 iPad Pro which has roped in Bendgate v2. Despite the solid construction, the Surface Go feels light and ready for action.
Microsoft Surface Go: Display
The Surface Go uses a 10-inch PixelSense display with a resolution of 1800×1200. With a pixel density slightly short of 220ppi, the display is rich, crisp, well-contrasted and utterly enjoyable. If you're using the Surface Go for basic designing or illustration, the color accuracy is also good. In terms of brightness, the tablet computer offers a brightness of more than 400 nits which offers great readability irrespective of the overhead light falling on the display.
The 3:2 aspect ratio, however, is rather odd and somewhat discomforting, especially while watching videos on YouTube, or apps like Prime Video and Netflix. This is problematic since Windows 10 runs YouTube or other video players in the desktop mode and does not support any option to zoom into videos to cover the blank patches. The display does stick out like a sore thumb, since more and more manufacturers are adopting 2:1 (18:9) or even higher aspect ratios for their smartphones, which in turn has compelled creators to jump the bandwagon, too.
Microsoft's choice of the aspect ratio does not feel very user friendly for video consumption. But it allows users to read more content within the first fold of a website (in landscape mode) and this argument makes sense when you consider that the Surface Go is primarily made for internet browsing, writing quick documents and surfing social media feeds.
If one can overlook the odd aspect ratio, the display is a sheer delight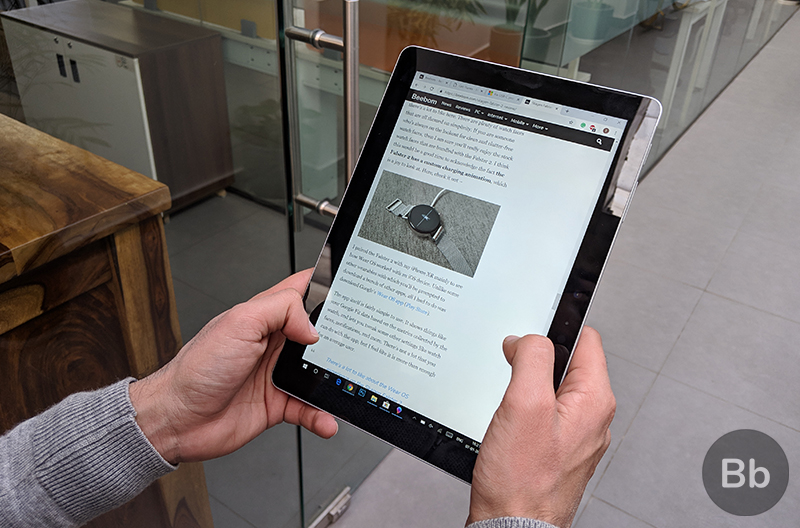 When it comes to responsiveness, the display does fairly well too. It supports 10-point touch and is a charm to use with a finger. Typing on this screen isn't difficult either with the touches getting registered very easily and accurately, and Windows' tablet mode supports a variety of keyboard layouts.
Apart from the aspect ratio, the other thing that irks me is the size of these bezels, which are almost an inch wide along all four edges and rob the Surface Go of a modern look. If these two things don't matter much to you, the display will offer a very palatable experience. Overall, I'm extremely pleased with the quality of this display which fills up these gaps.
Microsoft Surface Go: Connectivity and Ports
As mentioned above, the Microsoft Surface Go features a USB Type-C port, a charging port, and a headphone jack. While there is no full-sized USB port, you can utilize the USB-C port with almost any compatible dongle and use a host of external enhancements, including wired mice and keyboards, displays, hard disks etc. without the need of external power. I just wish the port was lower on the body so that cable management was easier.
Apart from this, the Surface Go supports IEEE 802.11 a/b/g/n/ac dual-band Wi-Fi and Bluetooth 4.1 for wireless transfers and for connecting with the Surface Pen, Surface Mouse, or other wireless accessories. Additionally, there support for a microSD card if you want more storage than the inbuilt 128GB SSD.
While the Surface Go also has an LTE model in select markets such as the US, the company has not launched it in India. It is priced at $679.
Microsoft Surface Go: Speakers
The Microsoft Surface Go sports a stereo speaker setup which is decently loud and has a usable sound quality. In terms of the output, the sound failed to impress me and has poor bass. The volume, too, isn't surprising, and you might be better off buying a 6th Gen iPad in this price segment if you're looking for striking multimedia output from a tablet. However, the smooth treble and acceptable mids make up for the lacking aspects.
With that said, if you primarily watch videos or binge on Netflix, you wouldn't encounter any form of crackling or distortion in these speakers. They're great for casual usage but since these speakers are rated at only 2W, audiophiles will not get any joy nor should they expect much from the Surface Go.
Microsoft Surface Go: Cameras
Tablets are not typically great at photography – unless you buy an iPad – and that's true for the Microsoft Surface Go. It comes with an 8MP auto-focusing camera on the back and a 5MP fixed focus camera on the front, both of which support video calling at 1080p. Both cameras are decent enough for the job, but not exactly exciting in any way.
During my usage, I found that the Surface Go's front camera had better color reproduction than the one on the back – although the quality of both is nearly the same. The quality is good for video calling or any urgent selfie – and much better than the MacBook Pro's HD webcam, but I didn't find myself using either of the cameras for any actual photography.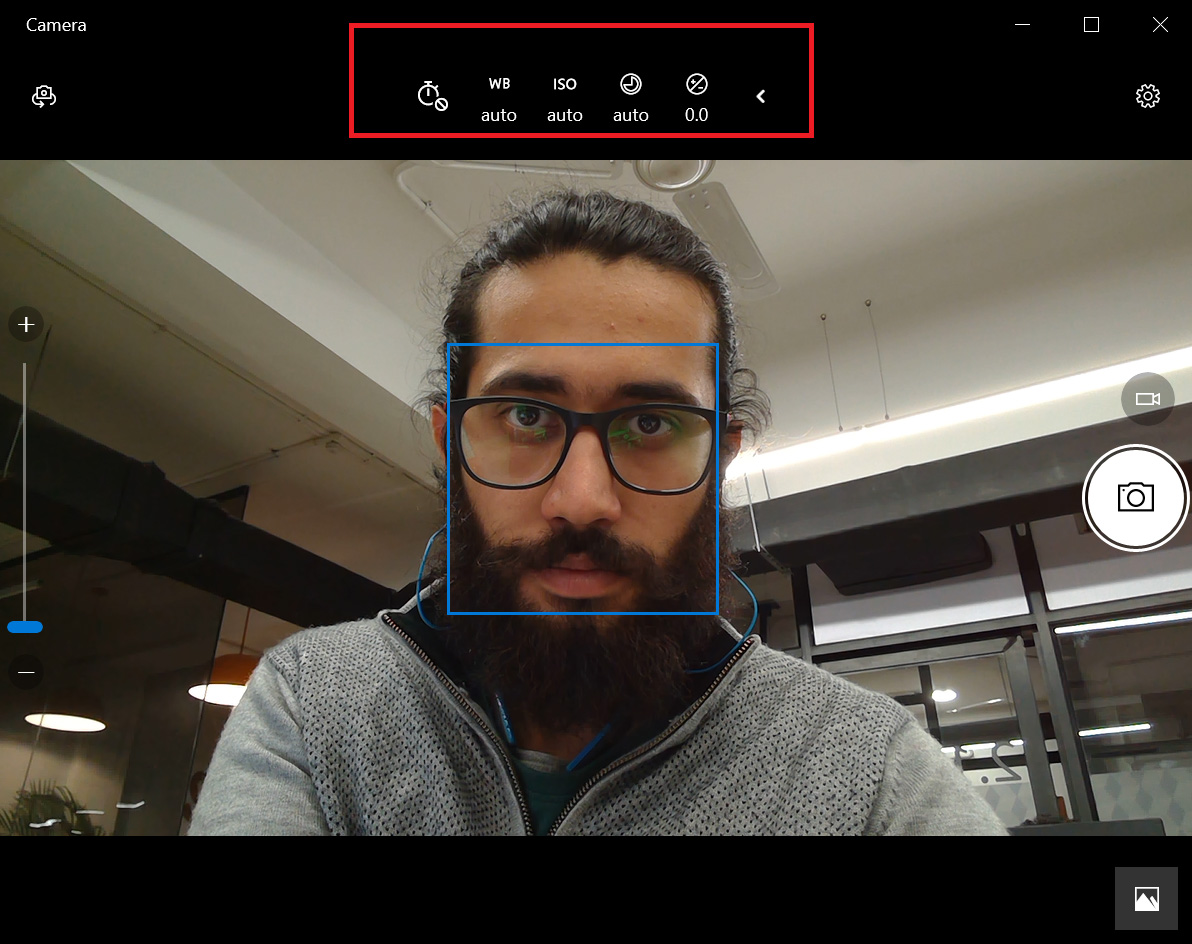 The camera features a sort-of Pro mode where you can change attributes like the white balance, exposure, ISO, and also choose the default scene. While daylight could be the saving grace for certain images, the situation is dismal when it comes to indoor and night-time photography.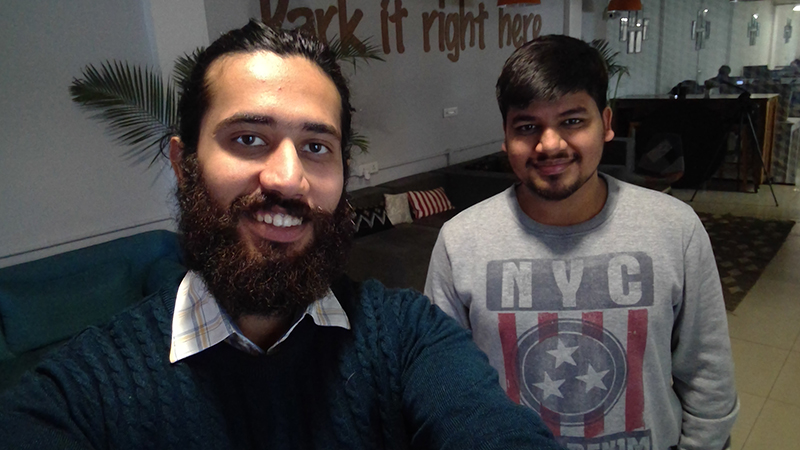 The camera also unlocks the laptop with your face using Windows Hello IR face recognition.
Microsoft Surface Go: Performance
Microsoft Go is essentially a smaller Surface Pro and as is evident from the name, its primary purpose is to offer you compute capabilities while you're on the move. The Intel Pentium Gold 4415Y processor, which powers the Surface Go, comes in a dual-core configuration with hyperthreading which translates to four virtual cores. It is clocked at 1.6GHz, meaning that it is capable of running tasks with basic and middling requirements.
Paired with the 8GB RAM, the processor does fairly well, and I was very surprised by Surface Go's performance in case of routine tasks like browsing the web, watching videos, and even casual gaming. I also used this as my primary device for writing for Beebom over at least four days. It works like a charm even with more than 10 Chrome tabs opened at once, with no lag usually while playing HD videos on YouTube.
I also pushed Surface Go out of its comfort zone and played Counter-Strike: Global Offensive, which recently became free-to-play on Steam, on it. I also ran the latest version of Adobe Photoshop. You can run these tools on Surface Go and while the experience would not exactly be very smooth, the programs at least didn't crash. Once in a while, Photoshop gets a bit sluggish but the SSD instantly rushes to the rescue.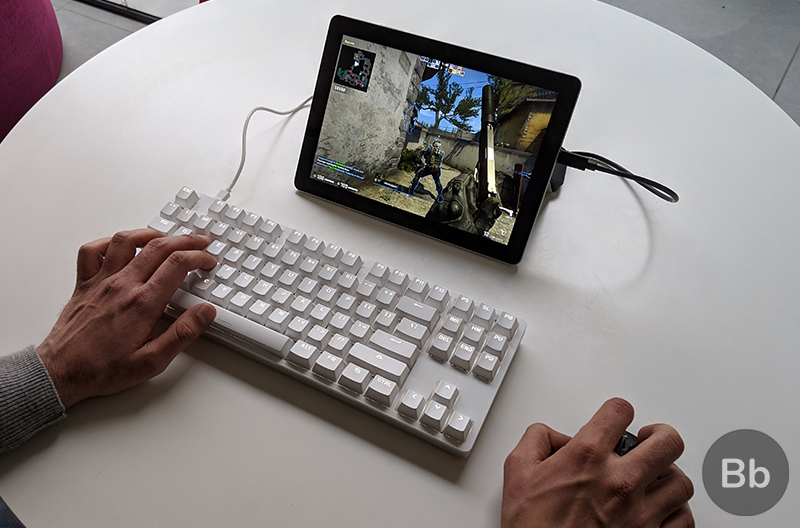 I did max out on the CPU usage but it was a bearable experience and not exactly frustrating. CS:GO ran without any lag on all settings set to low while pushing them to medium did make the game jittery – although playable but not really enjoyable. I also tried playing PUBG Mobile using the Tencent Buddy official emulator but the game lagged heavily even on the lowest settings.
Considering that the Surface Go uses a fanless processor, it did heat up during benchmark testing and intensive usage but never outside manageable temps.
Microsoft Surface Go: Geekbench, Cinebench Benchmarks
Coming to the benchmark scores, I ran Geekbench 4 and Cinebench R15 on the Microsoft Surface Go and the scores were not exciting, especially for the multi-core performance. The scores were not as golden as the name of the processor but that does not translate into poor performance in the practical sense.
Overall, the performance feels justified for the price, especially considering the quality of construction and the highly portable design.
Microsoft Surface Go: Type Cover
While the Surface Go does not come with a keyboard, you can buy the official Microsoft Surface Go Type Cover keyboard, which comes in a variety of colors. The official keyboard attaches effortlessly to the Surface Go using magnetic connectors and also serves as a folio cover for the tablet.
The base is covered in a soft-touch fabric and there are two variants of the fabric. The cheaper of the two is draped in microfiber cloth while the more expensive one flaunt the premium Alcantara fabric which we have seen in past versions of Surface devices. We received the microfiber version for review, and it's priced at Rs 8,600 in India. The color variants of the Type Cover are priced at Rs 11,799 in India, which makes them quite premium in our opinion.
The keyboard has another magnet along its top edge which allows it to be inclined. Using this, you can either lay the keyboard flat or raise it slightly towards the top to make typing easier. During my usage, there was no flex or bending in the keyboard at all in the inclined position, so that's a bonus. The keyboard also has three-stage backlighting.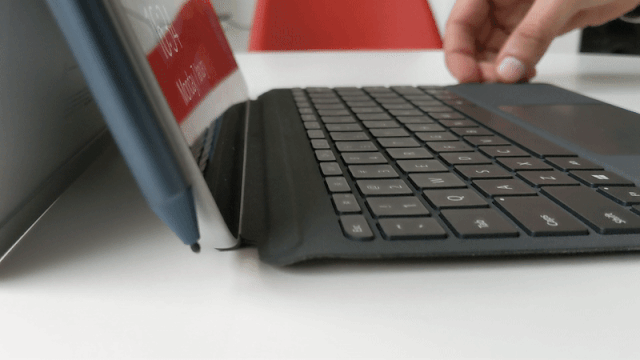 The keys are an altogether different case. While the keys are tactile and have a good 1mm travel, their small size can be challenging initially. The "Tab" key is shorter than usual while the right CTRL key has been sacrificed because of the keyboard's overall small form factor.
It took me some frustrating hours of mistakes (getting used to the "Tab" took longer than a day) to get used to this laptop. I'm sure Microsoft's designers would have taken into account the average size of human hands and fingers before designing the keyboard so it shouldn't be "too small" for most out there.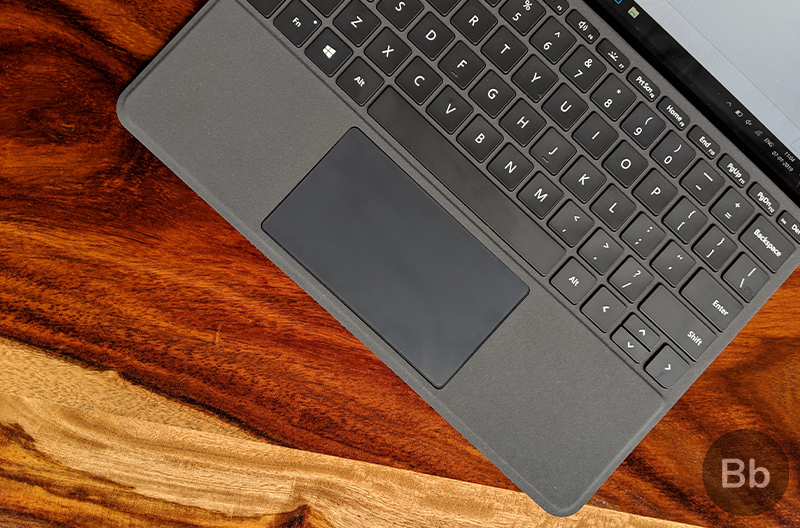 Under the keyboard is a small mechanical trackpad, with a "glass face sheet" on the top which felt like smooth plastic to me. My experience with it wasn't exactly great but I have no reason to feel it was bad either. The Precision trackpad supports the multi-finger gestures in Windows without any trouble.
Typing on this keyboard feels premium, in spite of the initial feeling of being cramped. Over time, as your fingers get used to the position of the keys, anyone who types a lot is likely to enjoy typing on this keyboard. The touchpad is not very exciting but it's not bad either. The microfiber version is available in Black while you get the more premium variant in Burgundy, Cobalt Blue, and Platinum colors.
Microsoft Surface Pen
Microsoft Surface Pen is another accessory that you can buy if you want to write on the Surface Go with your hand or draw something. The pen can also be useful for digital artists and but it may not be as useful to average users as the keyboard case can be. The Pen is compatible with all Microsoft Surface devices which support touch and attaches to the tablet with the magnets on the left and the right sides. I'm not good at drawing so I didn't feel its need except for the times when I was too lazy to type.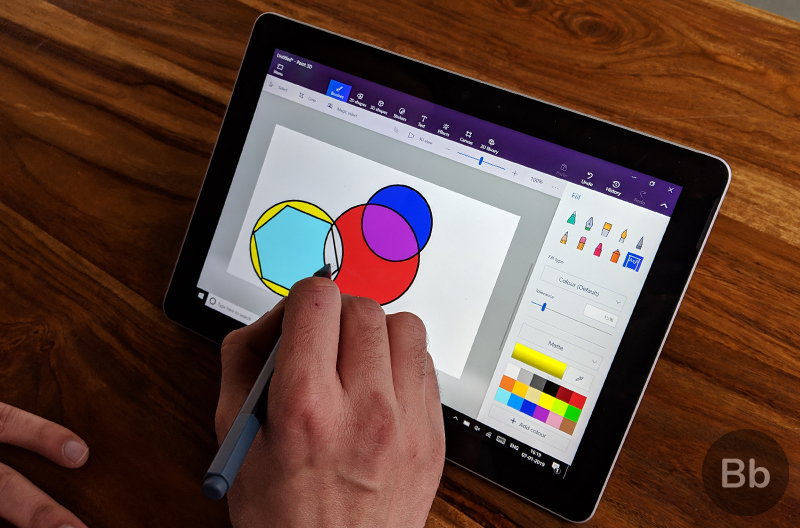 It can also be used for typing with Windows' handwriting tool if you don't like to type a lot or even as a mouse. Pressing the button on the rear end opens the Sticky Notes app where you can get to the serious business of note-taking (or just doodle for a spot of meditation) while the another on the grip works as a right click as you touch the screen while keeping it pressed.
But for this luxury, you will have to pay a premium of Rs 9,700 over and above the tablet's price.
Microsoft Surface Go Battery
One of the essential requirements from a computer that you travel with, is reliable battery life and here the Microsoft Surface Go does okay, but not great. In my daily usage, the battery lasted almost six hours on moderate usage and Balanced battery settings, whereas it lasted half of that time i.e. three hours on High Performance mode. Moreover, while gaming, it lasted slightly over an hour.
Recharging the Surface Go, however, is convenient as you can use either use USB-C or the standard charger. I was also able to charge it with a smartphone charger rated at 15W, so this is a convenient option. Using the standard charger, it takes nearly 90 minutes to charge fully while the rate of USB-C depends on the power rating of the charging brick. A MacBook's 61W USB-C charger charges slightly faster but more importantly, I really like the option of having two charging ports; it's very useful.
Microsoft Surface Go: Software
The device comes with Windows 10 Home locked in S Mode, which will prevent you from installing apps from any source other than the Microsoft Store to ensure greater security. Most of the Windows users like the operating system for the ease of installing apps from third-party sources. You cannot even install Google Chrome or other mainstream browsers like Firefox Quantum, Opera, or Safari.
Bypassing this restriction, however, is easy and more importantly free. You may upgrade the Surface Go to Windows Home 10 but you cannot go back to the S Mode after unlocking the device once. I switched out of the S Mode to install third-party software like Google Chrome, Adobe Photoshop, Steam etc.
Like any other Surface computer, Windows 10 on the Microsoft Surface Go is very well optimized. There is no visible lag or latency while using touch or the trackpad. However, a few users have reported a noticeable lag while changing the brightness and I experienced it too. But there's a fix available for it. Overall, the experience has no hiccups and the SSD ensures that Windows 10 boots up or shuts down within 10 seconds (except when you're stuck in the eternal loop of a Windows Update).
Microsoft Surface Go: Pros and Cons
The Surface Go is a capable tablet-cum-laptop that brings the ease of mobility and flexibility to your work and productivity. It is fast and powerful but simply not enough to replace your desktop or gaming laptop; it will make a great companion for the road though. Clearly, the Surface Go isn't for everyone, but it still has a lot going for it as we can see:
Pros
Vibrant and bright screen
Responsive 10-point touch display
Sturdy build
MicroSD card slot
SSD storage option
Windows Hello support
Dual cameras
Multiple charging options
HDMI Display support (via dongle)
Magnetic charging port
Runs basic and casual games
Tactile keyboard
Surface Pen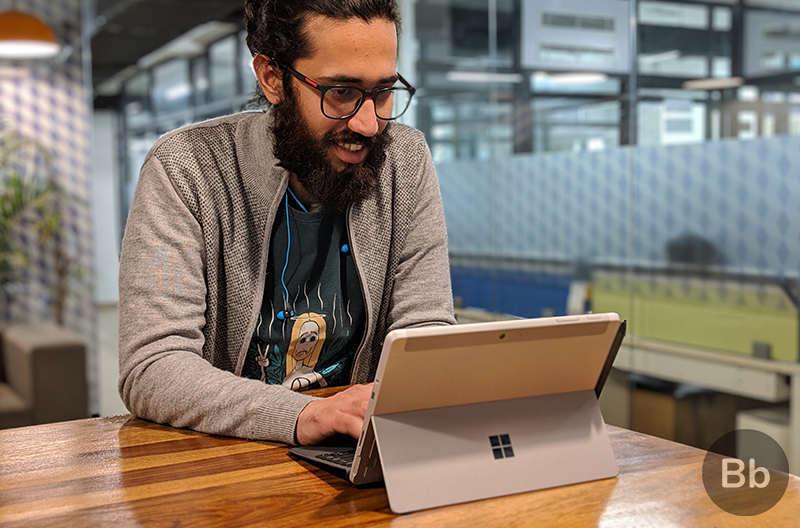 Cons
No fingerprint sensor
Single USB-C and no full-sized USB port
Average battery
Small keys require practice
Keyboard case and Surface Pen to be bought separately
Microsoft Surface Go: The Practical Tablet PC
The Microsoft Surface Go is strictly for the consumer who has basic requirements from an ultra-portable laptop or tablet but does not want to compromise on the usability of a Windows computer or the quality. Unlike the iPad Pro and the Pixel Slate, which shy away from actually being full-fledged laptops, the Surface Go does anything that a basic Windows laptop can do, and even has room for surprises. This makes me feel that the Surface Go is more practical than the other two options.
Surface Go Not only poses Well as tablet but ALSO AS a computer
The Surface Go is surely powerful enough for basic productivity and work tasks, and can be a good option for students, bloggers, digital nomads, and even work as a secondary computer, if you have another work PC or laptop that you don't want to lug around much. The biggest benefit is the huge catalog of third-party software and games for Windows 10.
Lastly, while I wish Microsoft was a little more innovative in terms of the Surface Go's design, I really don't have any complaint considering the portability and the flexibility of using the display on a flat surface. The design and light weight make the Surface Go a desirable choice. But you cannot forget that you have to pay a premium price for the mobile processor and other attributes that reflect quality.
If your current Windows laptop accompanies you on most of your adventures, you might just wanna pass on the Surface Go. I wouldn't recommend this to MacBook users either. If you just want a tablet, you can probably pick up an iPad 6 (starting at Rs 26,999) or a first-gen iPad Pro (starting at Rs 48,260) with Apple Pencil (Rs 7,600).
Furthermore, if you buy the Type Cover with the Surface Go in India, you can get a 46% discount on the former. This way, the two bundles cost Rs 42,696 and Rs 54,696.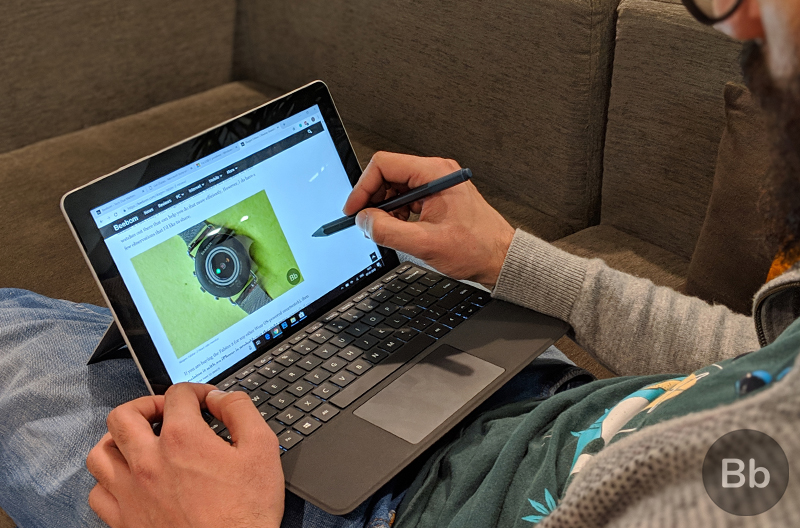 While I haven't tested out the cheaper variant, you will get the same display but a relatively slower eMMC storage and 4GB of RAM, which might cause a dip in performance. However, you can still enjoy the Surface Pen as well as the keyboard with the lower variant. I would, nonetheless, recommend spending the extra Rs 12,000 and choosing the more powerful version.
Buy Microsoft Surface Go (64GB) on Flipkart (Rs 37,999)
Buy Microsoft Surface Go (128GB) on Flipkart (Rs 49,999)
---
Load More