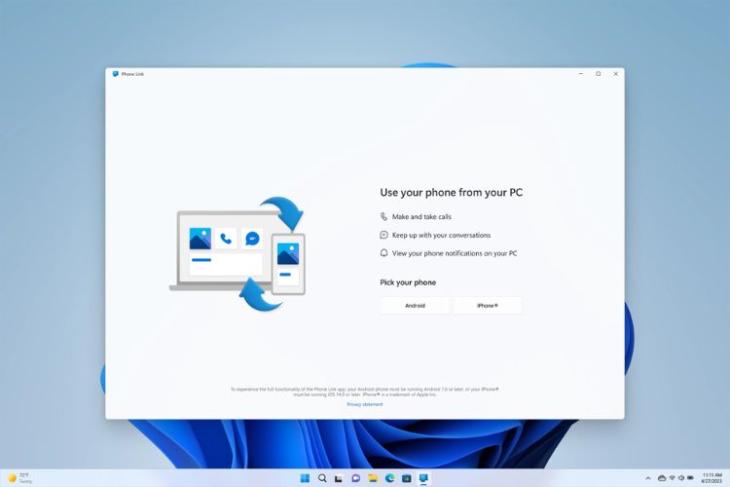 In the early days of March, Microsoft introduced its "Moments 2" feature drop for Windows 11. Among the plethora of features and releases, the Phone Link for iOS stood out the most. However, the update was made available to Windows Insiders only. Now finally, Microsoft is ready for the global rollout of Phone Link for iOS app for its Windows 11 users. Continue reading below to know more!
Phone Link for iOS Now Available!
In its latest blog post, Microsoft announced the availability of the Phone Link for iOS app to all of its Windows 11 users in 39 languages. In terms of cross-platform connectivity, this is huge. A dedicated Microsoft app sounds much more practical and welcoming. And why wouldn't it? Among other functionalities, Phone Link for iOS supports iMessage on Windows 11!
Up until now, Phone Link was only available for Android devices. Now with this launch, every iPhone user will be able to create a seamless connection to their Windows PC (provided they are using the latest Windows 11 build). If you remember, Intel also released its Intel Unison platform to bridge the gap between Android and iOS devices with Windows PCs.
Microsft is looking to make your Windows 11 experience and iPhone experience seamless. Using the Phone Link for iOS app, you can receive calls, notifications, and texts all on your Windows 11 PC, even if your iPhone is not within reach. You can sync your iPhone contacts with your Windows PC and thanks to Microsoft's iCloud integration, you can use the Windows Photos app to access your iCloud images.
But there are a few caveats. For instance, you won't be able to share photos and videos using the Phone Link for iOS app, and group messaging is also not supported. Plus, a history sync might be a problem too.
We are excited about this latest update and cannot wait to get a hands-on experience with Phone Link for iOS. Microsoft promises to deliver "a rich experience with new features being added frequently in the future." It should be available to all by mid-May. Are you excited to use your iPhone with your Windows 11 PC? Comment down your thoughts below!