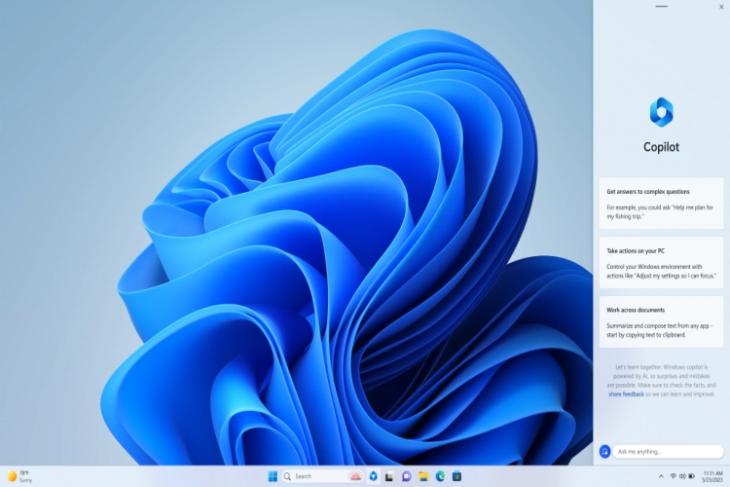 Earlier this year, Microsoft introduced its GPT-4 powered Bing AI, which has had its fair share of the limelight. At its Build Developer Conference this year, the tech giant is pretty much focused on AI and hence, the integration of Bing AI into Windows 11 with the new Windows Copilot. This comes after GitHub Copilot, Microsoft 365 Copilot, and more. Here's a look at what this is about.
Windows Copilot Introduced
The new Windows copilot for Windows 11 will infuse Bing AI right into the OS as a "personal assistant," allowing you to unleash the potential of generative AI right from your Windows PC. You will be able to use it to find and change Windows settings, navigate around the OS, use it with native applications like Clipboard, and also ask questions as you would do with Bing Chat.
The Copilot will not replace the native search in Windows 11. It will be a separate tool that will live on the Windows taskbar. This comes after Bing was integrated into the taskbar but that just directs you to its web version.
Once launched, you will be able to use it across all of your workflow. It will run throughout in the form of a sidebar, ready to help you whenever you need it. For example, let's say you copied and pasted some content on your clipboard. You can ask the copilot to rewrite, summarize, as well as explain the content for you. Similarly, you can use it to change your Windows settings with prompts like "adjust the brightness of my screen for better focus."
Microsoft is also adding new AI features and experiences within the Windows Store. First and third-party ChatGPT plugins will be made available via Bing AI. This will encourage developers to build and integrate their apps within Windows Copilot. This will be complemented by the introduction of Dev Home, allowing developers to gain productivity on Windows. Further, with the Hybrid AI loop, Microsoft is prioritizing AI development across Windows 11 and enabling chip support from AMD, Intel, Nvidia, and Qualcomm with Azure to client service. You can discover more on this from over here.
Microsoft confirmed that Bing AI with ChatGPT plugins will be available for preview in June for Windows 11. If you are a developer, you can sign up here to create experiences using plugins for Bing AI Copilot for Windows 11.