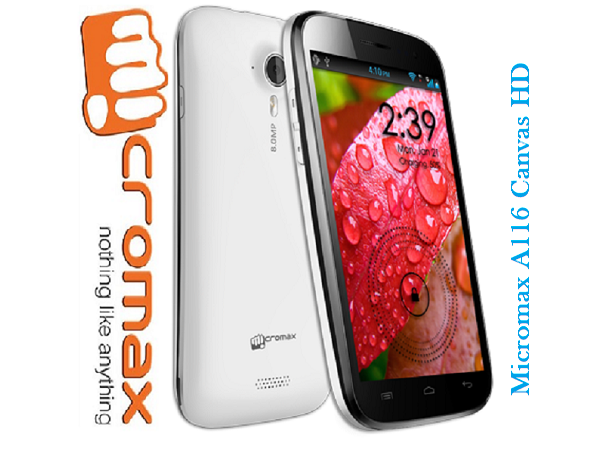 Micromax has come out with some brilliant products in budget range whether it has been its fun book tablets that are the best budget tablets in Indian market or its canvas series of phones.
Let's have a quick look at what makes Micromax A116 Canvas HD a fire cracker and startling smartphone cum Tablet,
1.     
Built Quality
Micromax has worked a lot to revive the design of their phones and modify the looks which don't disappoint people when they hold it.  Micromax canvas HD is no exception and the phone looks brilliant when hold. The phone boasts a 5 inch candy bar form factor. The phone has a bulged rear camera which looks nice along with the LEDs. In the front at the top there is a front facing camera. The volume keys are in the left and unlock key at the right. It has a 3.5 mm headphone jack and usb port. The mic is provided at the bottom. The phone is a dual sim phone.
2.     
 Hardware
The phone is powered by 1.2 GHz Quad core MediaTek MT6589 processor (cortex A7 -soc) with 1GB RAM and supported by 5XT CPU by PowerVR. The quad core processor is not as powerful as snapdragon processors by Qualcomm but the advantage of 1.2GHz is your phone will not heat up too often. When it comes to sensors the basic sensors like light sensor, proximity sensor are available. The phone has Bluetooth3.0 with a2dp, Wi-Fi b/g/n, GSM 900,1800MHz, the phone supports 3G services, EDGE, GPRS, and UMTS etc. For navigation it supports GPS. The micro USB port 2.0 will allow charging and connectivity with mass storage. The phone has FM radio and has good loudspeakers.
3.     
Display
The phone has 5 inch IPS LCD display with HD resolution of 1280 X 720 pixels which is scratch resistant but not as tough as gorilla glass.  The screen is not Full HD but supports HD resolution and would be a pleasure while watching multimedia content on the phone. The IPS panel display provides nice viewing angles with bright screen visibility even in sunlight. The display is has pixel density of 294 ppi. May not look too sharp but its good at the price point this phablet or phone is released. The touch screen is capacitive with 5 touch points and display supports 16 million colors to enhance experience.
4.     
Storage and Memory
Micromax has provided 1 GB RAM on-board which will allow you to multitask with ease and play games without any hitch. The phablet or smartphone has 4GB internal storage (don't expect full 4GB as user accessible) but you can expand up to 32 GB with micro SD card.
Giveaway: Win Digit Magazine's One Year Subscription [Giveaway]
5.     
Camera
The Micromax A116 Canvas HD has an 8MP rear camera with LED and 4X digital zoom. The front facing camera is VGA quality with 0.3 MP aperture for video calling and chatting.  The camera performance is adequate but not comparable to other companies' 8MP cameras like HTC or Samsung.
6.     
Software and UI
The phone comes out of the box with android 4.1 jellybean. Micromax provides its own user interface with its own voice command features. The music player supports MP3, AAC, WMA, WAV formats but that's not a issue because apps from play store resolve that problem. The video player MPEG4 ie mp4, H.263, H.264, WMV formats. Again Play store has apps to replace it. The browser supports HTML 5 which is good.
7.     
Performance
As the phablet or the phone comes with 1.2 GHz quad core processor with 1 GB RAM, it is good in multitasking as well as in running heavy apps like high end video and music apps. The quad core processor also allows you to watch 1080 pi Full HD with video player apps in Google play. As the phone or phablet is powered by power GPU graphics and backed up by Quad core processor, if you are a heavy gamer, then Canvas HD is ideal for you.
8.     
Battery Life
Micromax Canvas HD has a 2100 maH removable battery build by Li-Ion technology.
The 2100 maH battery should manage to squeeze up a day and half if you do everything with your device or may be a day or more than that in standby mode because jellybean is more power efficient. The IPS display will drain more battery life than any other display.
9.     
Price factor and availability
Micromax is aggressively trying everything to dominate the phablet and smartphone market. Micromax Canvas HD is priced at around 15000 INR or $270.
10. 
Pros and cons
Pros
HD display 1280X 720 pixels with IPS display for bright screen
8MP camera with LED and front VGA camera.
Dual SIM
Quad core processor with 1GB RAM and power VR GPU
4GB internal with 32 GB expandable with micro SD card
2100 mah battery needed because it's a dual sim with quad core processor.
Jellybean 4.1
Cons:
Pixel density should be at least 320 ppi for a 5 inch display
8MP camera is not as amazing as Samsung 8 MP or HTC
No confirmation of any upgrades to jellybean 4.2 via OTA (on the air).
11.
Our verdict
Micromax A116 Canvas HD scores 8.1/10
In our criteria, it goes beyond our expectations. At a price of 15000 INR this phablet cum phone gets a thumbs up from us.  If you are looking for a 5 inch or a smartphone under 20k , our verdict go for it.
SEE ALSO:  Samsung Galaxy Grand vs Micromax A116 Canvas HD