Xiaomi became a huge global brand thanks to its smartphones, but it's got some amazing devices and products across categories which have gathered a great following over the years. Many of these devices never leave China but there are shopping sites that let you order these devices from China. We had the chance to snag one such gadget during a recent trip to China, and it's one of the best earphones we have tested this year.
The Mi Neckband Bluetooth Earphones is available exclusively in China, but you can order one from Amazon.com for $69.99 (No delivery to India) or from AliExpress for between $53 to $69. You can also get them on BangGood for Rs 5,300, and the price here tends to fluctuate so you may even get it for lower.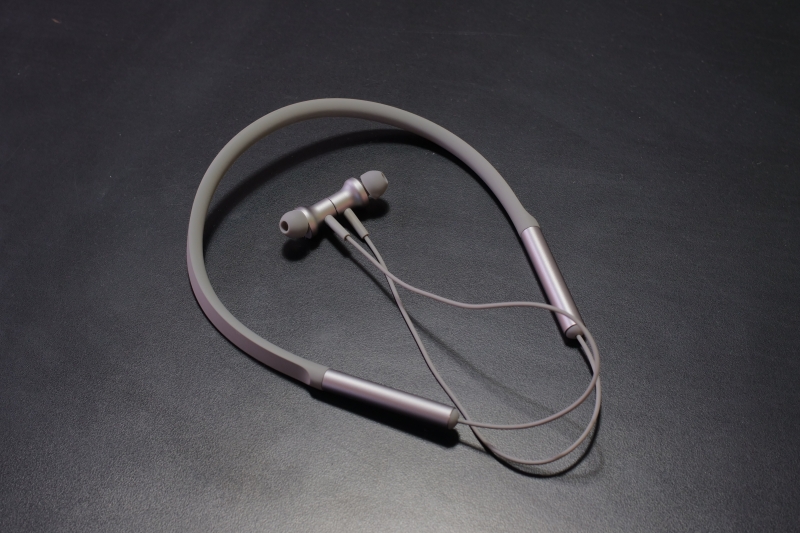 The price is not at all ideal, especially as Bluetooth in-ear earphones now start at around Rs 2,500 in India, but the sound quality and comfort factor make the Mi Neckband Bluetooth Earphones a compelling option. At the same time, there is one area where it does come up short. Read on to find out:
Mi Neckband Bluetooth Earphones: Specs
Before we get to what's great and what's not, it's a good idea to look at the full specs:
Driver
Hybrid Dual Driver: Dynamic + Balanced Armature
Frequency Response
20Hz - 20kHz
Impedance
32 Ohm
Bluetooth
Bluetooth 4.1 with aptX and AAC support
Battery
137 mAh
10 hours (Talktime)
8 hours (Music)
2 hours (Charging TIme)
Wired Connections
None
Noise Cancellation Technology
None
Charging Port
microUSB
Price
Rs 5,300
Design and Build
The main design element of the earphones is the neckband part which is made out of flexible rubber. I can't say I like the light grey and silver color treatment on our unit – it resembles a stethoscope when the magnets on the earbuds come together, especially with that hospital grey – though you can also get it in black for a more stealthy appearance.
The neckband with the Mi branding ends in two cylindrical metal insert, with the left one having the power and multifunction button, as well as volume controls and LED indicator. The texture and feel of these metal attachments is not unlike the Redmi Note 5 Pro. The micro USB charging port is also on the left side with a thin rubber cover that thankfully remains fixed to the body. It's not the easiest flap to open, which is a good thing as it would keep popping off otherwise.
Two thin cords connect the earpieces to the metal ends of the neckband, and the earpieces have magnetic backs so it forms a chain-loop around your neck when you take them off. The earbuds themselves have a great metal build and they don't get scratches or dents easily.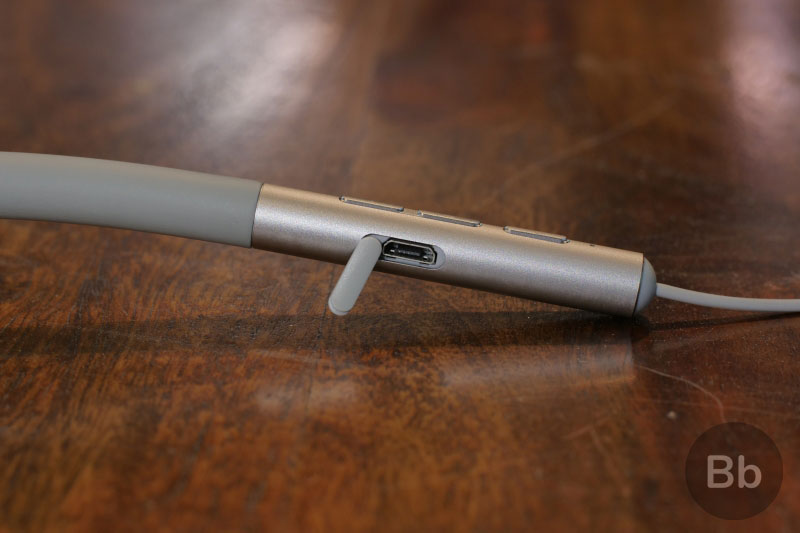 Comfort
Not only does the neckband reassure you of the fit of these earphones, it doesn't make the back of your neck sweaty, which was my primary fear. In fact you could hide them under a shirt's collar without any issues as there's no irritation on the skin as can happen with certain rubber neckbands. The band is also sweat-proof so even if you do perspire – while working out for example – it's not going to sully the band.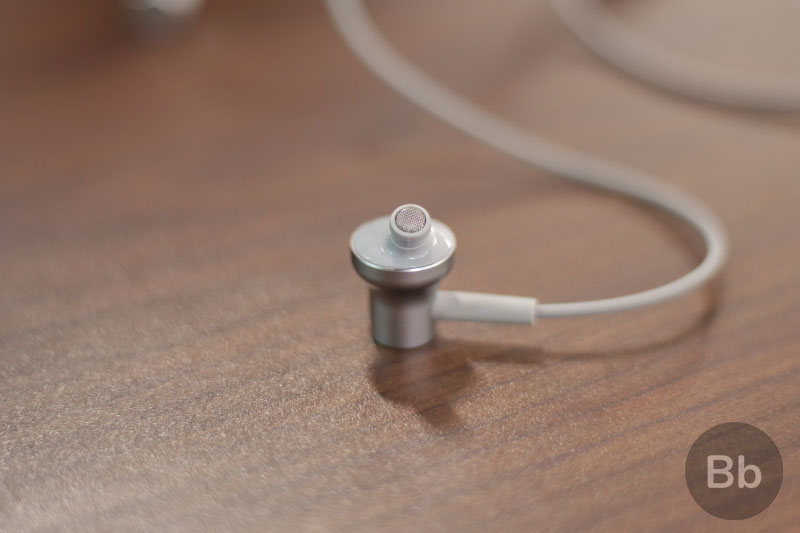 The earbuds are regular and you get three tip sizes in the box. The tip enters the ear canal and sits there comfortably, without much movement or flexing. The fit is secure enough that you don't need winglets for added assurance.
Over long periods of use, there's no fatigue with this pair, but whether you will get to use it for long anyway is another matter (and more on that later).
Sound Quality
While comfort and build are good, nothing stands out as much as the sound quality. It's truly fantastic and rich.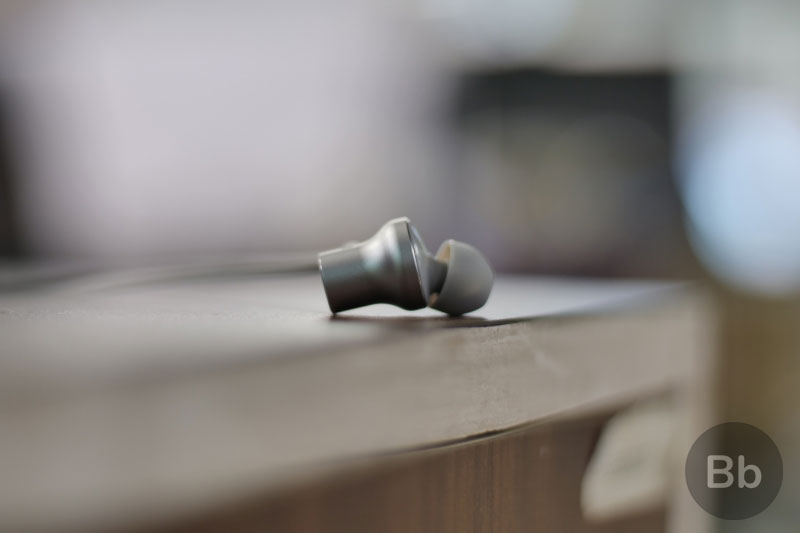 The dual drivers fly through pretty much everything that you throw at them. It also has a great bass response, despite not looking the part.
Thankfully, there's no overpowering thump, which may appreciated by others but is something I grow tired of very fast.
Comparing to the OnePlus Bullets Wireless for example, Kendrick Lamar's Humble sounded amazing and boomy on the Mi earphones, but the OnePlus Bullets could have blown my eardrums off with their bass response; it's not pleasant for any more than an hour or two.
The Mi Neckband Earphones are very balanced across most genres and has a wide soundstage. It has no problems bouncing from melodic jazz to distorted guitar riffs, delivering the goods across the board. Even in demanding songs, the dual drivers truly shine.
The cacophony of The National Anthem's many jazz instruments sounded phenomenal without any distortion – besides what Radiohead added themselves. Arcade Fire's modern energetic Reflektor had me tapping my feet a little more than I would otherwise. Bass-heavy tracks did not overwhelm me on this pair as mentioned earlier, but this pair is still very good for EDM, hip-hop and dance tracks.
The earbuds are pretty good when it comes to isolation, you can just barely hear honking over vehicular traffic at around 75% volume. Crank it up even further and you are unlikely to hear a peep from outside, which is not always a good thing. I found that the sweet spot in terms of volume, clarity and loudness was around that 75%, which is actually quite high.
Battery Life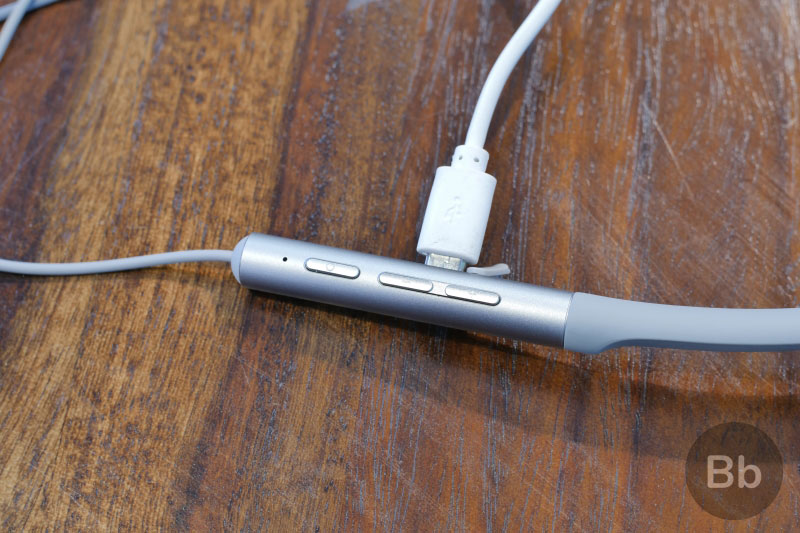 When it comes to battery life, we were very disappointed as the sound is so good. It only lasted me 6 hours over two days with the volume at 70% and above. I took just one call during that time so the mic wasn't taxed at all, but still those numbers are not that great. We understand there are limitations when it comes to fitting large batteries in compact headsets, but we wanted to see just a little bit more.
It's not like this pair supports fast charging like the OnePlus Bullets Wireless, so a bigger battery could have been a nice option at the expense of that slim design. A full charge from zero takes 2 hours, which is as advertised.
Connectivity
With Bluetooth 4.1 and support for Qualcomm aptX, pairing the Mi Neckband earphones is a cinch. The version we bought only had Chinese voice tips for the various states, with no way to change to English. Over time you can understand what the voice is trying to say, and even so it's not annoying at all. It's a small compromise.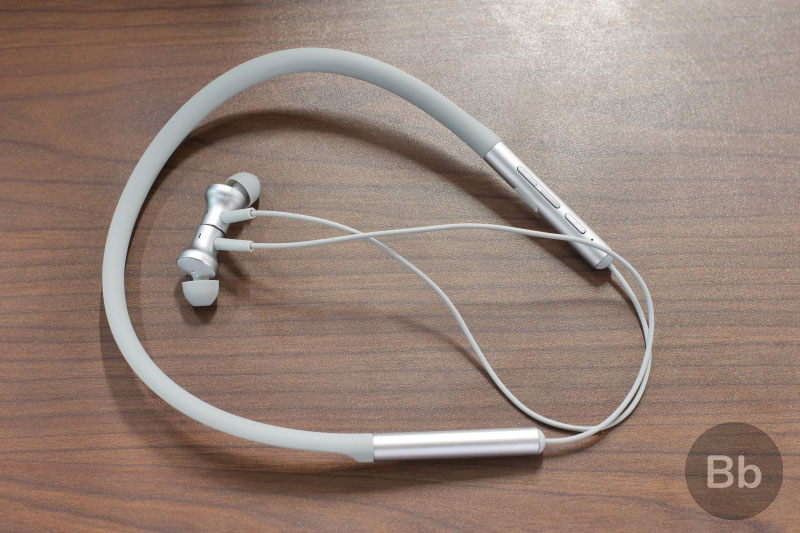 Pros and Cons
The Mi Neckband Bluetooth Earphones have very good quality, and get high marks for comfort too. The sound quality is top-notch as well and only the battery falters in an otherwise great device. This can be a deal-breaker for those who are looking to buy a pair for daily use or for long listening.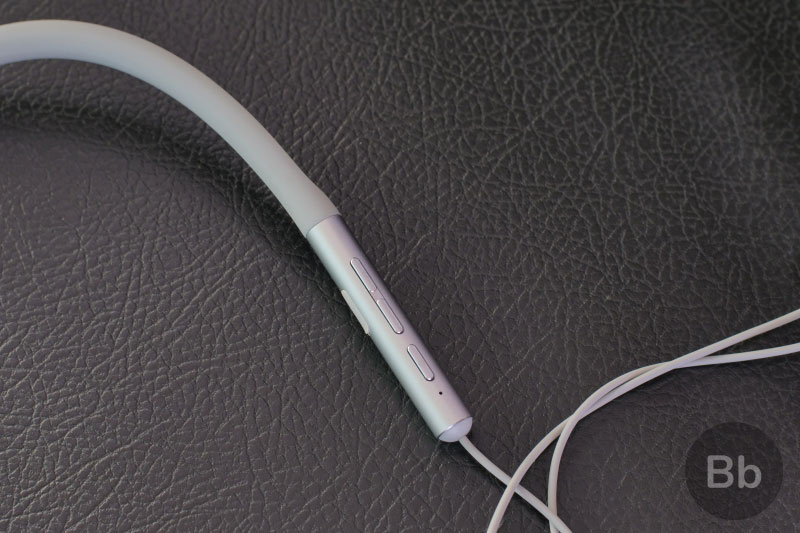 Here's a summary of what's good and bad about these Xiaomi earphones:
Pros:
Super comfortable
aptX support
Amazing sound
Wide soundstage
Decent isolation
Light and well-built
Cons:
Disappointing battery
Slow charging
Mi Neckband Bluetooth Earphones: Simply Terrific
One last quibble about the battery: Over time the battery unit is likely to degrade, and the usage time is likely to drop even more, so you should consider that if you plan to use these earphones for a year or so.
At this price range and in the category of wireless earphones, our current favourite is the OnePlus Bullets Wireless (₹3,990) which is unfortunately not available at the moment. In terms of loudness and bass response, the OnePlus pair is definitely better than the Xiaomi earphones.
Just over Rs 4,000 are the Skullcandy Method Wireless earphones (₹4,099 onwards) which we also have in our office. Surprisingly they lack the thump that Mi Neckband delivers despite the brand being well-known for it. They are slightly funkier in terms of design, than the plain Mi Neckband Earphones, but the materials are better on the latter, and the sound quality is leagues better.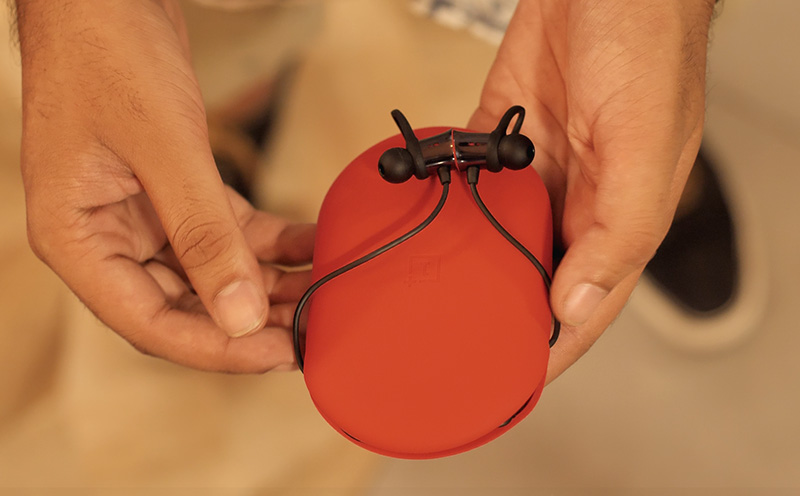 If you are looking for a pair of wireless earphones just for the gym or your runs, then the sweat-proof nature of the neckband is a bonus. Indeed, there are a lot of things in favour of the Mi Neckband Bluetooth Earphones – comfort, build quality, portability, and that amazing sound quality. It sounds terrific from the moment you put it on, and that means it delivers where it counts the most.
Buy Mi Neckband Bluetooth Earphones from BangGood: (~Rs. 5,300)
REVIEW OVERVIEW

SUMMARY

There are a lot of positives when it comes to the Mi Neckband Bluetooth Earphones - right from the comfort factor to the solid build quality and the portability. It's topped off by amazing sound quality and the earphones sound terrific from the moment you put them on. Despite this the battery life leaves a lot to be desired.