Apple Calendar app for macOS allows users to create multiple calendars to manage personal and professional life in a better way. So, based on your need, you can make separate calendars to deal with specific events without any complexity. At any time you find any calendar unnecessary, you can either delete it or merge it with another one. In this hands-on guide, I'm going to show you three quick ways to merge iCloud calendars on Mac.
How to Merge iCloud Calendars on Mac
Do note that when you merge one calendar with another, all the events are transferred to the second one. And macOS deletes the calendar that you merged. So, move ahead with steps keeping this important thing in mind. As for compatibility, you can get it done even on older macOS versions and don't require the latest macOS Catalina. Now that you know all the basic rules, let's get started! 
Use Drag and Drop Gesture
1. To get started, launch the Calendar app on your Mac.

2. Now ensure that the Calendar List is viewable in the sidebar. If it's hidden, click on the Calendars button in the toolbar to show it.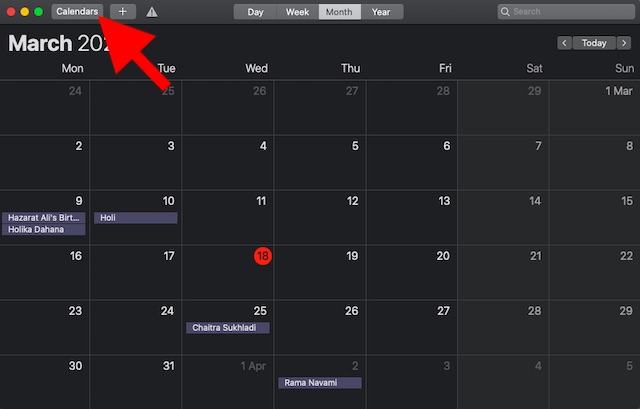 3. Under the iCloud section, find the calendars you want to merge. For instance, if you want to merge your Home calendar with Work, drag the Home calendar and drop it on the Work calendar.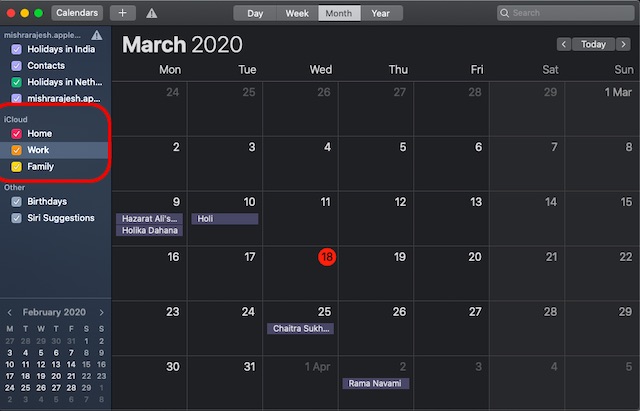 4. Next, a pop-up will appear saying, "Are you sure you want to merge the "X" calendar with the "Y" calendar?" Doing so will move all the events from "X"  to "Y" calendar and "X" will be deleted. This can't be undone." Finally, hit Merge to confirm.

Use the Simple Right or Control-Click Trick
Another quick way to merge iCloud calendars on macOS is to use the right-click trick. Just right-click or Control-click on the calendar you wish to delete and choose Merge on the menu. Now, select the calendar where you want to move all the events.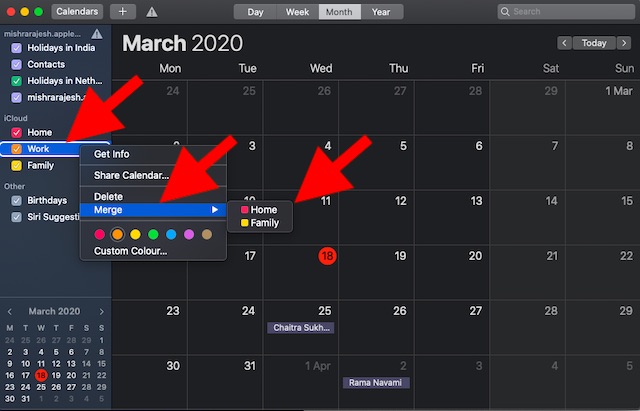 You can also use the menus at the top to merge calendars with ease on macOS. Simply, select the calendar you want to delete in the sidebar and then click on Edit at the top. Now, click on Merge Calendar and then choose the calendar where you want move all the events.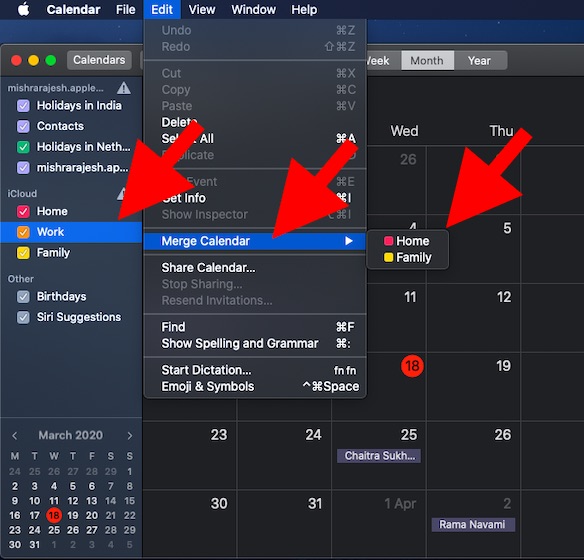 Get Rid of Unwanted iCloud Calendars with Ease on Ma
There you go! So, that's the way you can manage calendars in Apple Calendar app and remove the unnecessary ones. Though the stock calendar app may not be as feature-rich as some of the third-party apps like Fantastical (free, in-app purchases) and BusyCal ($49.99), it's got all the basic tools to make it easy to manage events. Anyway, which is your favorite feature in macOS calendar app and what are the changes you want to see in it? Shoot your thoughts in the comments below.