Whenever people talk about productivity apps, they are mostly thinking of apps such as task managers, note taking apps, email clients, and so on. Very few of us give any importance to the old and trusted calendar application. However, I would argue that your calendar app can be your best friend when it comes to getting things done. You know when you a put a thing on your calendar, it's important, because you are actually making a space for that particular thing in your life. Although the native calendar app in macOS is good enough for a casual user, certain apps present on the App Store do add extra functionalities which are needed if you are serious about utilizing your calendar. So, here are 10 best calendar apps for your Mac which will help you take control of your life one day at a time:
What Makes A Good Calendar App?
Before we get into the details of our list, first let us understand what makes a good calendar app. The first and foremost thing you should consider when looking for a calendar app is the ease with which it can be accessed. After all, you will need to add events/things and retrieve them on a regular basis. A good calendar app will make these things easier for you. Secondly, the calendar's interface should be aesthetically pleasing. As you start adding more and more events on your calendar and map your whole day on it, it will start looking cluttered. A good calendar app shall display all that information in a way which is easier to read and pleasing to look at.
Thirdly, you should consider its feature set. Many calendar apps sacrifice on its features just to look pretty, and you don't want that. You want something which can support your workflow from now to 5 years in the future. Lastly, you should consider your personal use case scenario and see if your personal requirement is met by that app or not. For example, which email account you use and does your calendar app supports that account or not. Do you need to share your calendar with others in your family or your co-workers, you get the point. Depending on the last point your favourite calendar might differ from my own hence read the entire list to find the one best suited for you.
The Best Calendar Apps for Mac
1. Fantastical 2
Arguably the best calendar app for the Mac, Fantastical 2 is hailed by almost every publication on the web. It has also earned the badge of Editors' Choice on the App Store. If an app wins so many accolades, it must deserve it, and being a regular Fantastical user I can tell you with an unflinching certainty that it does. It hits all the check marks on our list which means that it is easy to access, looks beautiful and has a feature set which will keep up with your schedule, even if you are a CEO or a President. Let's analyse this from the beginning. Fantastical 2 has a menu bar icon which means you can access your calendar from anywhere on your Mac. To access it, you can either click on the menu bar icon or you can just hit a customisable key combo.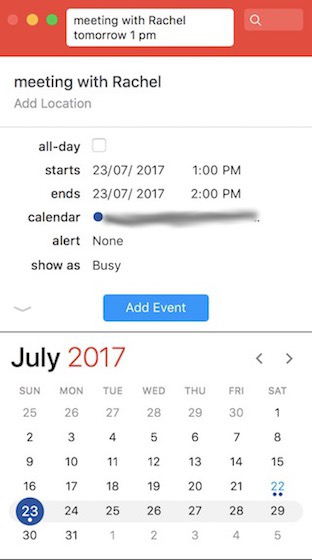 One more thing which I like about Fantastical is that it recognises natural language allowing you to create events in an instant. For example, just type "Meeting with Rachel, tomorrow at 1 PM", and it will create that event for you. When it comes to user interface, Fantastical 2 is a pleasure to look at with a beautiful UI. The app represents all your information in an easy to read interface. When it comes to functionality, it is second to none. Apart from integrating with Google and iCloud accounts it also supports Microsoft Exchange and Yahoo. The new 2.4 update has added even more functions to the app. Now, it shows you driving time to your event locations and even allows to add attachments to your events. You can change the number of weeks you want to see in your month view.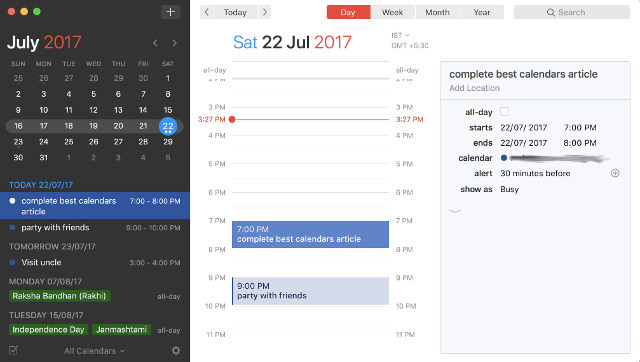 Other features include drag and drop events to change their time, responding to your Google Calendar events, sharing of the events and much more.I think we have established the fact that Fantastical 2 is a great calendar app, there are some missing features here which might turn some users off. For example, there's no way to share your calendars with others. If that's an important feature for you, this app will not work out for you. Then there is the case of its pricing not only it charges a hefty $49.99 for the Mac app, you will have to shell out an extra $9.99 and $4.99 for its iPad and the iPhone app respectively. Some people might think it's an absurd price to pay for a calendar app and I would agree with them. But if you live in your calendar, the one-time investment will be a worthwhile one.
Install: (21 days Free Trial, $49.99)
2. Busy Cal 3
Busy Cal 3 is the app which comes a close second to Fantastical 2 and might even beat it depending on the user you are asking. The app has been refreshed last year and brings a lot of functionality to the table. Just like Fantastical, it also has a menu bar icon which makes it easy to access the app and add your events. The interface to me feels a little bit crowded but that's my personal opinion. One of the best features in Busy Cal 3 is the info tab, which is present at the right side of the calendar window. When you click on an event, it will show you all the details and allows you to easily change any details if you want to.
One unique feature of Busy Cal is that it's not just your calendar, you can create a to-do list and add reminders also. It automatically pulls data from the Reminders app and populates your calendar with it. Another feature that I love is that alongside the driving time for an event, it also shows the weather data. This is very useful when you are going out. Basically, Busy Cal 3 can replace your calendar, to do app, reminder app, and the weather app. However, since it costs the same as Fantastical, it's not a cheaper alternative to it. Both the apps are great and you will have to choose depending on which one you like more. Since both come with a trial period, you can use and then decide.
Install: (30 days Free Trial, $49.99)
3. InstaCal
If you love Fantastical 2 but cannot afford to buy it, InstaCal can act as its replacement for you. Coming at just $4.99, the app brings a lot to the table. Just like Fantastical 2, it also has a menu bar icon which lets you easily access your calendar. You can sync both your iCloud and Google calendar account directly within the app. InstaCal is quick and easy to use, and can also be accessed with a configurable keyboard shortcut. There you can view your calendar events, make changes, invite friends or even add new events.
InstaCal does the basics right but you will see it cut corners when it comes to extra features. There's no native language recognition and attachment features. It also does not support any location data integration. But what it offers for it price is exceptional. If you don't need those extra functionalities, you are getting a very good calendar app for a very cheap price.
Install: ($4.99)
4. Blotter
If you are happy with your native calendar app and just want to add some extra functionality to it, Blotter is a great option. The app pulls the data from your calendar and reminders app and displays it on a translucent window which is permanently placed on your Mac's desktop screen. I really love this approach as now you are able to view your calendar all the time without having to click anywhere. The interface looks very clean and beautiful. Apart from pulling data from the native app, Blotter also allows you to add reminders and create new events from the app itself. The app sync both ways meaning any event you create on Blotter is also automatically added to your native calendar app. Blotter's UI approach is very unique and I really love it.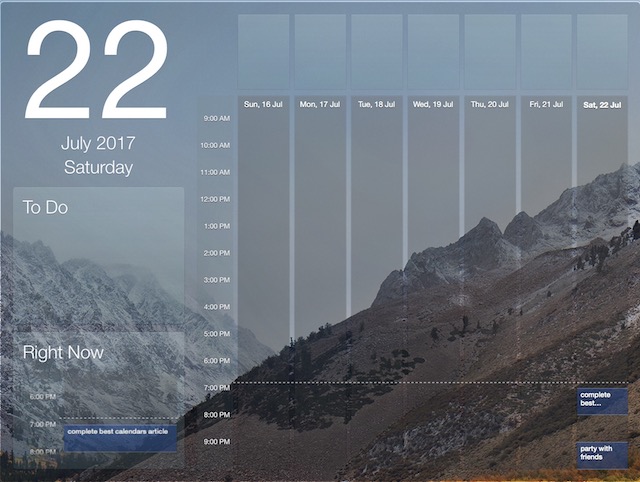 Install: ($9.99)
5. Calendar 366 Plus
Calendar 366 Plus is yet another great option for you. At a fifth of the price, the app brings almost all of the functionality of Fantastical 2. For starters, it also lets you create events by using native language (although it's a hit and miss), has a menu bar icon for quick access, allows you to create, edit, and delete events and reminders, and supports multiple languages. One neat feature of this app is that it allows you to add geolocation data to your events and reminders.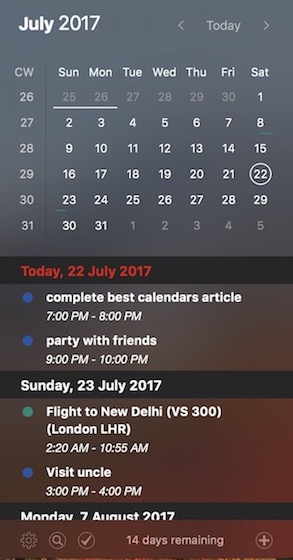 The menu drop-down window has a cool translucent effect which looks clean. However, one big drawback of the app is that it only syncs with your local iCloud account, which means that if you use Google or Exchange accounts, you are out of luck. There's a way to hack your way out of this situation. You can first sync your other accounts with Apple's which in-turn can push the data to the app. But it would have been better if the app supported all the accounts natively. Still, the app brings to much to the table considering its price point.
Install: (14 days Free Trial, $9.99)
6. Informant
Informant is another great calendar app which can be used as your primary calenda app on Mac. The app has a beautiful UI which never feels cluttered. Along with doing all the usual stuff which we have come to expect from a calendar app, Informant also brings the ability to add tasks, projects, and notes. That's what makes this app a lot different from all the other on the list. While Busy Cal 3 also allows task addition, Informant takes it to another level by allowing project management from right inside the app. You can organise your tasks by using tags, groups, and filters. You can also add notes (both written and audio) to your tasks.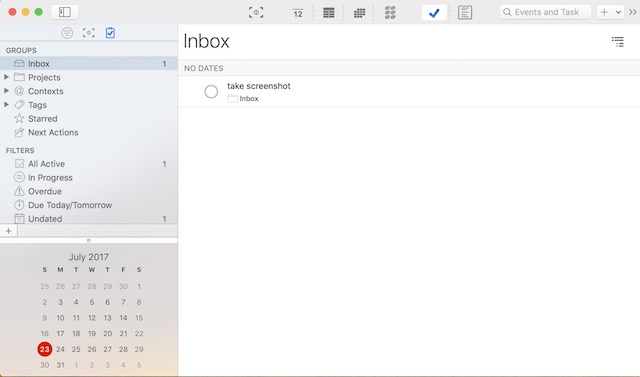 However, I think Informant is doing too much here. The features make the app very complex to use. I like my calendar app to provide all my events at one glance and I put only those things there which are to be completed in that time frame. In that way, I selectively block time on my calendar and that too for only important items on my list. Using it to save all your tasks basically, defeats the purpose of using a calendar for me. However, your opinion might differ. If it does and you were looking for an app like Informant, you can check out the trial version before buying the app.
Install: (30 days Free Trial, $49.99)
7. SmartDay
If you are looking for an app which packs almost all the functionality of Informant while not burning a hole in your pocket, try out SmartDay. At just $9.99, the app integrates a Calendar, Tasks, Notes, and Projects into a single application, just like Informant. The app has a menubar icon for quick access. The UI is also very clean and looks good. One unique feature of this app is that it lets you link information which belongs together. For example, you can link your grocery list to the shopping event on your calendar.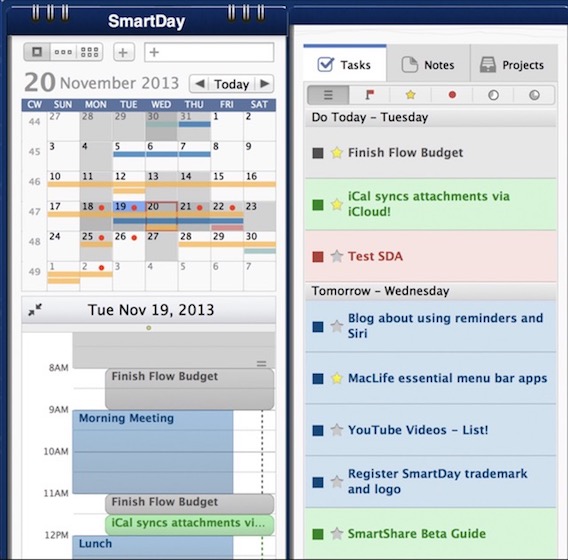 The app gets most of its features right, however, there are a number of problems here and there. The one which bugs me the most is sync. At times, I have found this app to be unbelievably slow in syncing my events. The UI although clean is a little bit hard to navigate. Also, many times the app just froze on me. But, that might be because the app has still not been updated for High Sierra, which I am running on my Mac. If you take a little bit time to figure this app out, you can use it as a cheaper alternative to Informant.
Install: ($9.99)
8. Time Works
Just like Blotter, Time Works also shows your upcoming events right on your desktop. However, it takes a different approach to do that. Instead of showing the whole calendar, the app only shows the upcoming events. Each event is placed inside its own square enclosure. You can colour code the events to mark their priority. The events are shown on a dynamic timeline, with each event moving closer towards the end as their due date approaches. I really like the idea, however, I don't like the execution. If you have too many events, your desktop will start looking cluttered. The app's UI also feels pretty old. But, since the idea is pretty unique, you can check the app out by using its trial version.

Install: (30 days Free Trial, $9.99)
9. Mine Time
If you are looking for a free alternative to the above apps, Mine Time is your best bet. It supports all the major accounts including Google, Outlook, and Microsoft Exchange. The support for CalDAV and iCloud is coming soon. It has a beautiful UI which is easy to navigate. However, since this app is still in development (you can use the preview version) there are a lot of missing features. For example, there's no menu bar icon for quick access and no natural language support. I hope the devs will add these features when they release the full version. Till then Apple's own calendar app is your best option.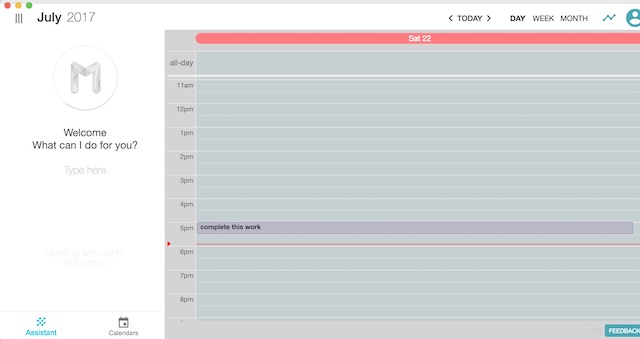 Install: (Free)
10. Kin Calendar
Remember the Sunrise Calendar, it used to be one of the best calendar apps until it was bought by Microsoft and discontinued later. Kin calendar boasts itself to be as good as that. Along with bringing all the usual features, it will also bring integration with various third party apps such as Wunderlist, and todoist. However, this app is still in beta and I have still not received an invitation to check out the app even after registering for it a few weeks back. I have mentioned this app just so that you guys should keep it on your radar. If it is anything as good as Sunrise, it will be worth the wait.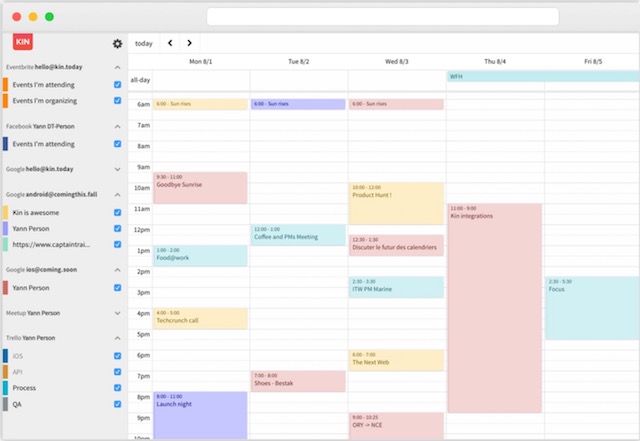 Install: (Invite only)
SEE ALSO: How To Track The Time You Spend On Your Mac
Use these Best Calendar Apps for Mac to Get Things Done
If you start making the most of your calendar, you will see a drastic improvement in your productivity. However, you will also need a good calendar app to get the most out of this tool. Apple's own iCal for Mac severely lack in features and hence we will have to look at third party apps. Well, these were the best calendar apps for Mac and you can choose any app on the list which fits your user criteria and get things done. So, do you utilise your calendar and which calendar app will you be using on your Mac? Tell us your thoughts in the comment section below.
---
Load More