With smartphones becoming the primary cameras of this generation, it makes sense for camera makers to diversify into the smartphone accessories market. Kodak is doing that with the XD1 smartphone gimbal. It may seem odd to have a stabilizer for a smartphone, but vloggers are definitely a big market for such an accessory.
Everyone knows smartphones these days take great photos, but videos leave a lot to be desired. Primarily because handheld photography will always involves shakes. When you are shooting a still subject, a tripod is great, but for movements, there's nothing that works as well as a gimbal.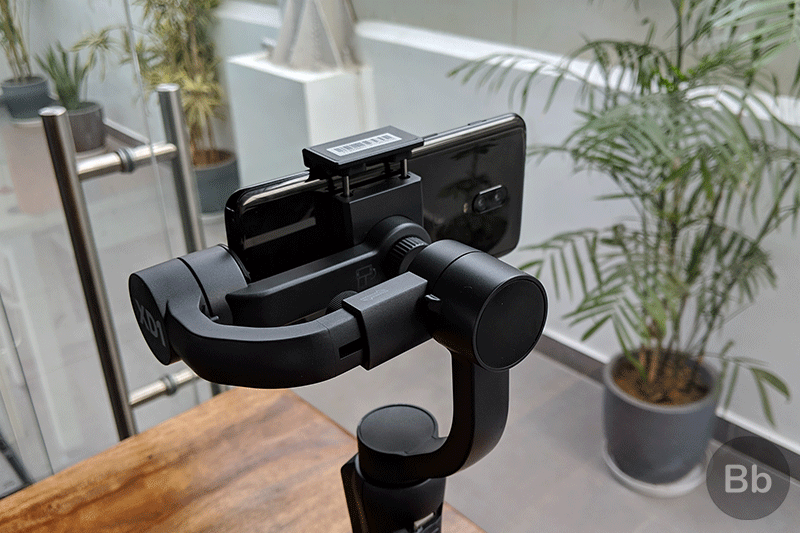 For a price of Rs 7,990, the Kodak XD1 gimbal seems like a good bet, especially because competing gimbals such as DJI Osmo Mobile will run you close to Rs 10,000. It's a good price to start off your gimbal experience. So let's see whether Kodak has managed to create a great entry-level companion for budding professional vloggers who rely on their smartphones.
Kodak XD1 Smartphone Gimbal: Design and Build Quality
The three-axis XD1 gimbal arrives in a tall box and much of it is used up by the flexible carrying case for the gimbal. Within the box, you get a bunch of accessories. Here's a look at everything you get: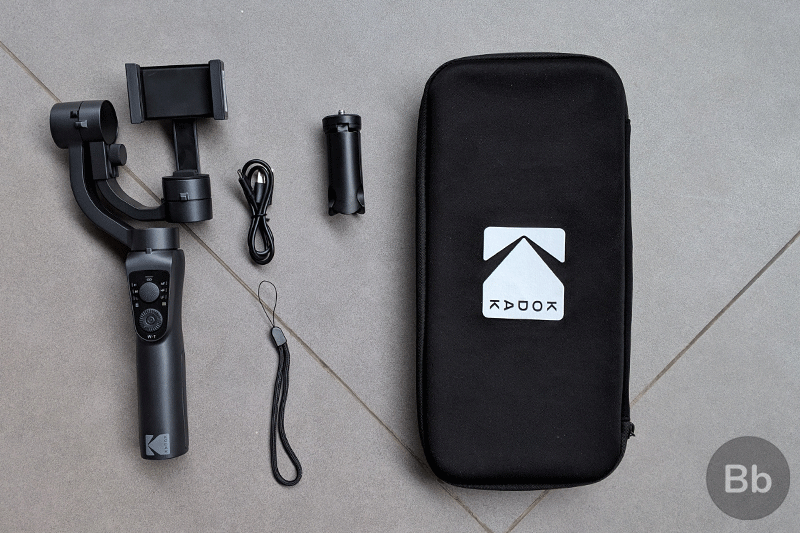 And this is the list of box contents:
Kodak XD1 Gimbal
USB charging cable
Wrist lanyard
Mini tripod
Carrying case
If you have ever seen a gimbal for an action camera or any other handheld camera, the design of the XD1 would not come as a surprise. There's a robust grip at the tail end of the gimbal with a tilting and rotating arm curving at the top like a sickle, but with another curved connection, which ends in a smartphone holder. You have to wedge your phone in between two clamps. I hate this system as it always leaves me fearing for my phone.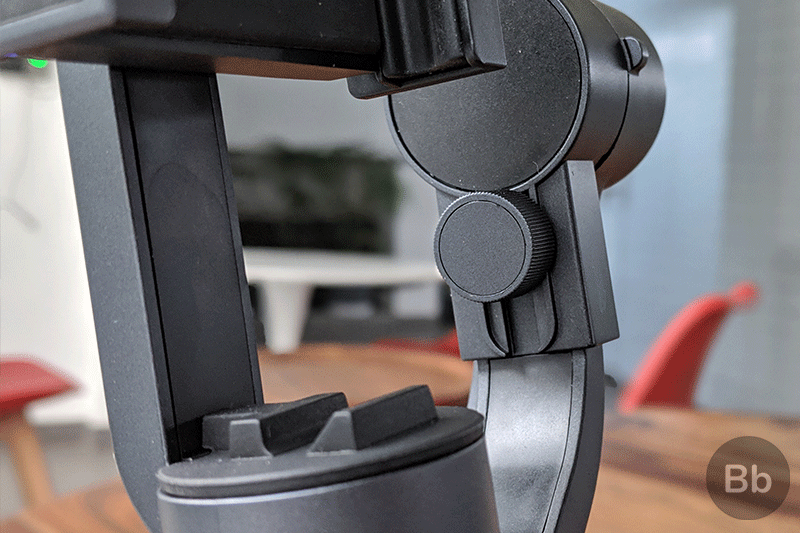 The soft plastic exterior feels durable in the hand, while the hinges and joints don't seem like they would give up after a few months of usage. The internal connections are likely made out of metal to increase durability and endurance. The gimbal itself weighs 460g, with an additional payload weight of 230g, when the phone is mounted on to the holder.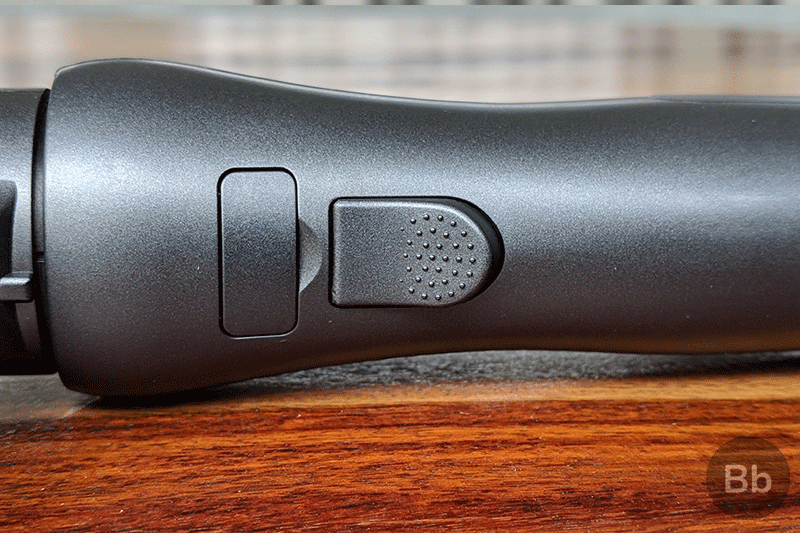 Just under the curved arm of the gimbal are the thumb controls to switch between the shooting modes – default pan mode (HF), lock mode (LF) and pan + tilt mode (AF) – as well as the stabilizer intensity. You can also see a battery indicator here, as well as the zoom controls which are combined with the power button.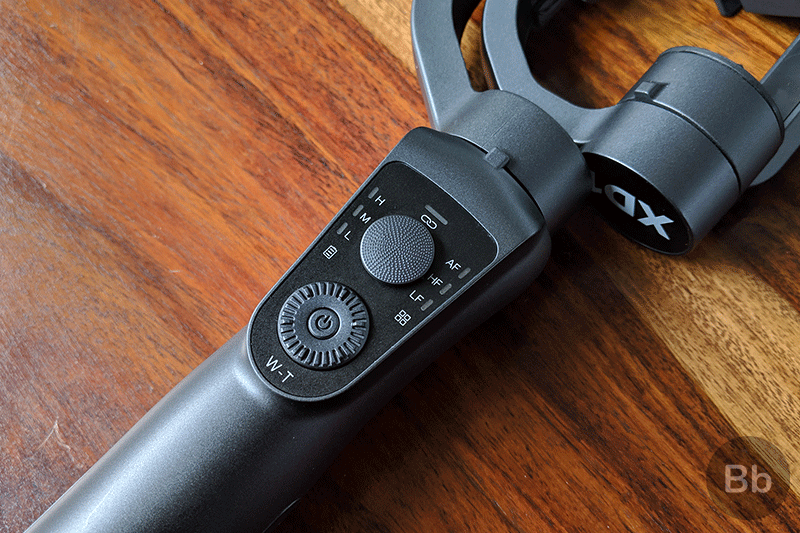 Right behind the main control area is the remote camera shutter button as well as USB Type-A in port for connecting your phone's charging cable. You will find the micro USB in for charging the gimbal on the left of the main controls. Everything is within reach of the thumb and the forefinger, without you needing to reach out with your other hand. This is what makes the gimbal incredibly easy to use and very comfortable.
Kodak XD1 Smartphone Gimbal: Performance and Connectivity
The XD1 supports a Pitch Angle range of 325-degrees, Roll Angle up to 180-degrees and Pan Angle of up to 330-degrees. The battery is rated for 10-12 hours of recording, when the camera is mounted on the holder and when the gimbal is perfectly balanced. Depending on your arm movement, the battery life will drop as the motors kick into action. All of this sounds good, but there's one huge, deal-breaker of a problem.
To make the most of the XD1, you need to download the Kodak Gimbal app for your smartphone. It's available for Android and iOS, but the Android app on Google Play (which we found by scanning a QR code in the user manual) is made by a developer called 'Bhatia Photo', which obviously threw us off for a moment.
We nevertheless downloaded the app, which greets users with crude mockups of the iOS UI instead of a traditional on-boarding process. It's a shockingly bad app that drops your Bluetooth connection to the gimbal, asks all sorts of permissions to run and is definitely not as professional as one would expect from a big company like Kodak.
That ruined my first impression of the performance of the gimbal. Once you set your phone in and turn on the unit, you will notice that there's definitely a lot of lag when switching the modes. Sometimes, the gimbal would drop its Bluetooth connection and we would be stuck with a phone just dangling off the holder, with no stabilization whatsoever.
The app also crashed a bunch of times, when we used the remote shutter button, and showed as an error toast in Chinese. It can be scary knowing what apps are capable of doing these days, especially with the sensitive data on your phone.
When it does work – after much trial and error – the gimbal does a fine job, but it's not something unexpected or extraordinary. In fact, the controls are rather basic and you are stuck with an unfamiliar looking UI for the Kodak Gimbal app's viewfinder, which is a pain to navigate. The app has a lot of controls and settings, which are different from the default settings you are used to in your camera. Plus the UI elements are sometimes too small to tap with ease, especially as you are shooting.
We did manage to take a few video samples while using the gimbal, which you can see below. First is the video taken without the gimbal, which has shakes and jitters. The second sample shows the difference when you put the phone on to the gimbal. When it works, it does a good job, as you can see.
Unstabilized video:
Stabilized video:
We really wish Kodak had chosen a better app to go along with the XD1 gimbal as it would have been a huge improvement in the performance.
Kodak XD1 Smartphone Gimbal Review: Terrible App Ruins The Experience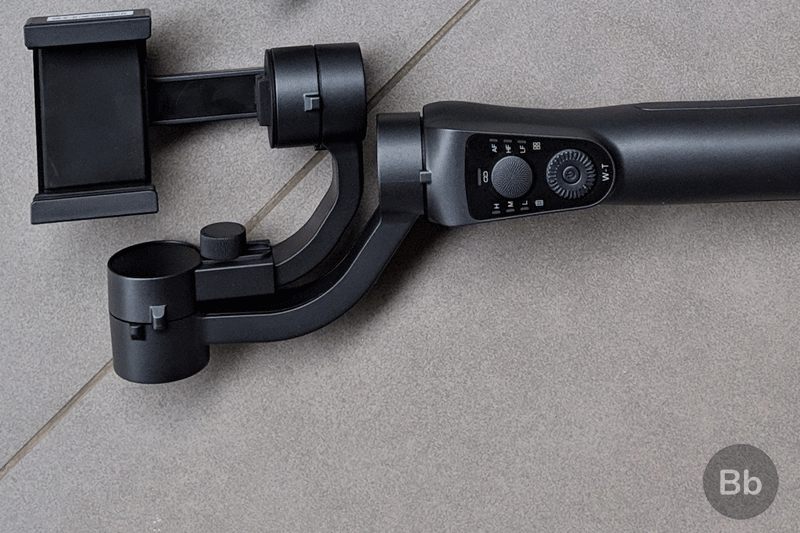 The XD1 gimbal is a perfect example of a tech product ruined by its software experience. I could never recommend this product till Kodak fixes the messy, buggy and scary companion app. It's simply not worth buying this gimbal hoping that Kodak improves the app.
The only thing Kodak does better than the immediate big-brand competition is the pricing, which is Rs 7,990 on Amazon currently. I don't think saving Rs 2,000-off is worth the trade off of a terrible user experience. You would be better off buying the DJI Osmo Mobile, which has a much more reliable app and has a better support ecosystem with tons of users.