Japanese cryptocurrency exchange, Bitpoint, has reportedly lost crypto assets worth $32 million after being hacked by unknown malicious actors. According to Bloomberg, the majority of the lost money belonged to customers, while the rest belonged to the exchange. In the aftermath of the hack, the company halted all transactions, including trading, deposit and withdrawal of all assets.
It's not immediately clear as to which types of assets were stolen by the hackers, but the Bloomberg report states that Ripple was one of the affected tokens, although, it was apparently far from the only one. The funds are said to have been stolen from a hot wallet that contained at least five other cryptocurrencies including Bitcoin, Bitcoin Cash, Ether, Litecoin and XRP. Thankfully, though, no assets are apparently missing from cold wallets.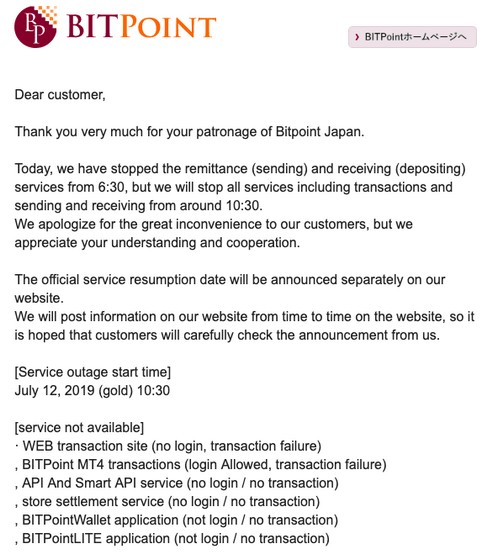 Bitpoint is owned by a company called Remixpoint and, is one of the cryptocurrency operators whose security arrangements came under the scrutiny of Japan's Financial Services Agency last year. According to the report, the company was asked by the regulator to improve its internal controls following an audit after the massive Coincheck hack that resulted in the loss of over $500 million worth of crypto assets.
Of course, Bitpoint and Coincheck are not the only Japanese cryptocurrency exchanges to have come under attack from cyber-criminals in recent times. As pointed out by Coindesk, another licensed operator called Zaif was also hacked last year, resulting in the loss of around $60 million worth of cryptocurrencies.
Another notable crypto-heist in recent times was the one involving the ironically-named Indian crypto-exchange, Coinsecure, which last year was lost 438 bitcoins worth approximately Rs. 19 crore (or $3 million), allegedly, because of the actions of a rogue employee.
---