Headphone reviews are a lot of fun. But they are also considerably difficult to write. After all, sound quality is a very subjective thing for people. Not everyone likes the same type of sound as I might, and that makes it harder to write with conclusive evidence about why I like (or don't) a pair of headphones. The Jabra Elite 45h (Rs.9,999) make this even more difficult because they do quite a lot of things well, and they are, in fact, a really good pair of headphones. However, there are a considerable number of things here that I wish were better.
What's in the Box
Inside the box of these headphones you get the following stuff:
Jabra Elite 45h headphones
Soft carry pouch
USB-C charging cable
Manuals
Nothing out of the ordinary here, but as usual, I am glad there's a USB-C port on these and not a microUSB. Good job there.
Design and Build
I'd be lying if I said the Jabra Elite 45h had a bad design. These headphones look amazing. Jabra has done a bang on job of designing these headphones and making them look considerably more premium than the price they come in at. There's a nice matte black finish all over the headphones, and it gives them a very classy, yet eye-catching look.
The build is great as well. The headband has a soft cushioning which means it doesn't feel like a piece of plastic pressing up against your head. And the company has used really nice quality plastic for the construction of the headphones themselves. That's not unexpected for headphones in this price range, but it's still nice to see.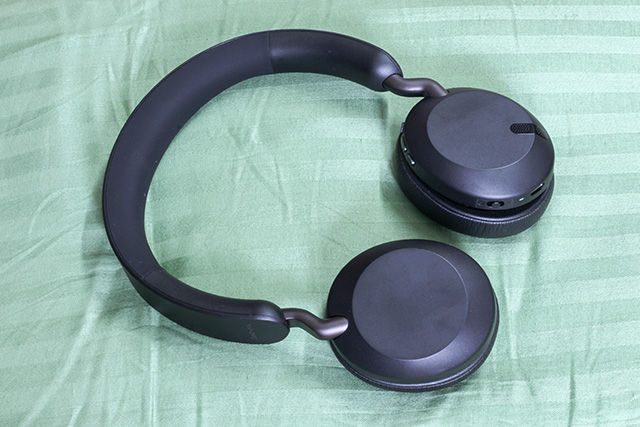 You can adjust the size of the headphones, and it's a very smooth process. So much so that the easiest way to get these headphones to fit your head is to just wear them and pull the earcups until the size and fit feels perfect. I love headphones that can be adjusted smoothly instead of using those clicky mechanisms that always sounds like something is about to break, so I'm glad with the Elite 45h.
Honestly, these headphones don't seem to be doing anything wrong in the design and build category. They look and feel premium, and they are built really well.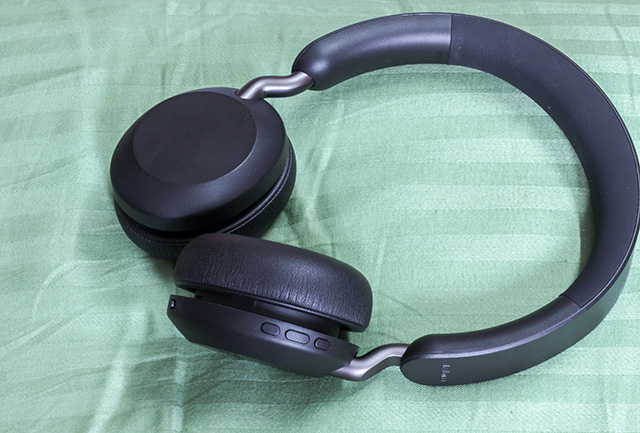 There are also a bunch of buttons here, all on the right earcup. You get buttons for playing/pausing media, adjusting volume, turning the headphones on/off or putting them into pairing mode. There's the USB-C port here as well, for charging, and a dedicated button for activating the voice assistant.
Comfort and Fit
For all the praise I offered Jabra for the cushioned headband and everything else in the previous section, I didn't mention anything about the comfort and fit. That's because this is a complicated section for these headphones, at least in my mind. With a soft cushioned headband, and really soft earcups, these headphones should have been really comfortable and well fitting.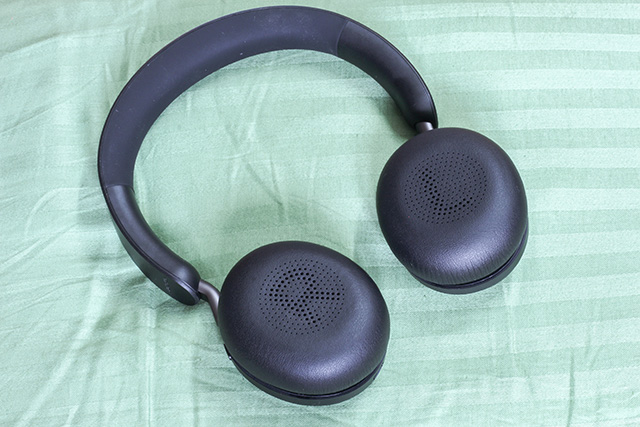 However, that's not really the case. The headphones are comfortable for sure, because of the cushioning, and because the headband doesn't clamp too hard on the face. However, in this particular case this feels like a double-edged sword because it also makes the fit really annoying.
In my experience, anytime I tilt my head down or up, the headphones start slipping off. As far as I can tell, this is because they are maybe clamping slightly too softly on the head, allowing gravity to get the better of them in such angles. Plus, these are on-ear headphones which is something I personally don't like much for reasons such as this. They don't get to use any leverage from your pinna, depending solely on how well they can clamp on your ears to stay in place, and the Elite 45h don't do that very well.
Sound Quality
The sound quality from the Elite 45h is good. Is it the kind of sound you expect from a pair of headphones priced at Rs. 10,000? Well, almost, but it does fall slightly short. However, there are other things that sort of make the sound experience a little better.
Look, there's nothing too wrong with the sound from the Elite 45h. It gets quite loud, there's a good balance of highs and mids, and a decent-ish amount of bass. It's good enough for listening to most types of music, but if you love bass heavy tracks, the Elite 45h are probably not the best bang for your buck.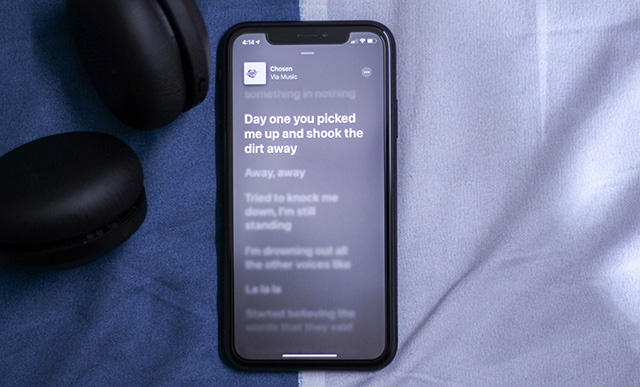 I also noticed that the highs clip at max volumes, which can sound quite irritating, especially in songs with a lot of vocals. Personally, I listened to music at around 60-70% volume with these headphones. Going above that starts to become a little annoying. I'm not exactly sure what happens there, but the highs get too loud for my taste at maximum volumes. It's not something everyone would mind, I'm sure, but I did.
Jabra Sound+ App
As I mentioned above, the Elite 45h does fall slightly short on sound. However, to somewhat ensure that the sound is tailored to your ears, the headphones are compatible with the Jabra Sound+ app. This app is the best way to ensure your headphones sound the way you want them to.
For starters, they will test your hearing and adjust the sound accordingly when you first set up the app. This seems to help, by the way, so I'm glad this feature is there.
You also get an equaliser here, which makes it quite easy to adjust the headphones music output to your preference. Plus, I like the fact that there are a bunch of easy-tap settings here to adjust the equaliser based on the music you're listening to.
Also within the app is a soundscape feature which is great for concentration while working. You get to choose from a bunch of sounds and play them directly through your headphones. Personally, I enjoy the rainy day sounds a lot on here.
The app also handles firmware updates for the headphones, so whenever Jabra pushes out a new firmware for the Elite 45h, this is the place to install it from.
Connectivity
In terms of connectivity, the Jabra Elite 45h offer Bluetooth 5.0 which is nice, and they can be connected to two devices simultaneously. I barely used this particular feature since I mostly keep the headphones connected to my iPhone for music and calls while working. However, it's definitely nice to have multi-device support here.
Battery Life
This is one place where the Elite 45h headphones really excel. The headphones are rated for a whopping 50 hour battery life on a charge. I usually expect such stellar battery life from Sony headphones, so I was pleasantly surprised with the battery backup these headphones offer. The claims aren't off either, listening to music at around 60-70% volume has been getting me through these last few days without a significant drop in battery percentage.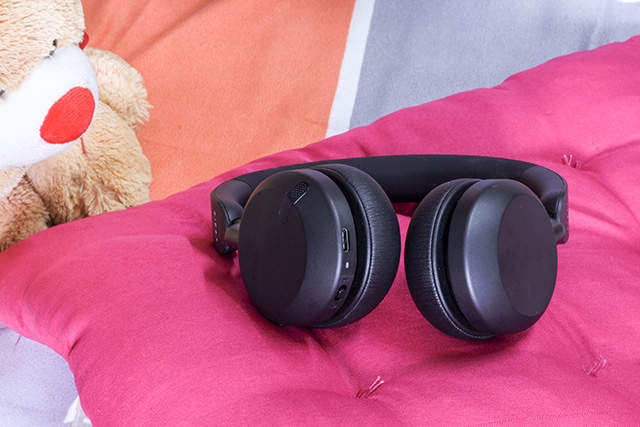 What's more, Jabra claims that a 15 minute charge will get you another 10 hours of listening time on these headphones. Fast charging isn't new for headphones, so I'm not surprised this is here. However, 10 hours in 15 minutes is a great fast charging option. Basically these headphones should easily get you through your flights, waiting around in the airports, and more once the pandemic is done with.
Pros and Cons
Pros:
Great design and build
Decent sound quality for the most part
Jabra Sound+ App is useful and feature rich
Long battery life with fast charging
Cons:
Fit could be better
Highs get too loud at max volume
Jabra Elite 45h: Should You Buy?
At the end of the day, the question that remains is whether the Jabra Elite 45h are worth the money at Rs. 9,999? The answer is slightly complicated. The headphones look great, sound decent, and have an amazing battery life. All of that at this price is a fairly solid deal. However, there are other options that are better in a lot of other places. Take the Sony MDR-XB650BT (Rs. 7,490). These are wireless headphones that offer considerably better sound quality at a lower price. However, you get a lower battery life here, with 30 hours of listening time on a charge, and they use microUSB. Plus, they come with Bluetooth 4.1 instead of Bluetooth 5.0.
Also, if you're not firm on getting on-ear headphones, you should check out the Sony WH-CH710N as well. These over-ear headphones come in at Rs. 8,990 and offer noise cancelation along with 35 hour battery life as well. Plus, they can be used with an AUX cable if your battery runs out.
As it stands right now, I can't recommend the Jabra Elite 45h for their price. Sure they have Bluetooth 5.0 and an impressive battery life, but to me, fit and sound quality is more important. I don't know how much of the sound can be fixed with a firmware update, and I don't think we should count on a future update to fix problems that shouldn't be here in the first place. Still, here's hoping Jabra is able to fix this, and if they do, I will be more than happy to revisit my verdict about these headphones.
REVIEW OVERVIEW

SUMMARY

The Jabra Elite 45h is a pair of headphones that looks the part of a Rs. 10,000 pair of headphones, and feels that way as well. However, it's not the headphone you're looking for. There are a lot of other options in the market that are better bang for your buck.