Apple's new iOS 17 comes with a host of highly useful features like Contact Posters, StandBy mode, NameDrop, and more. One such useful feature in iOS 17 is the option to make grocery lists in the native Reminders app. While it is quite a handy feature, there can be instances when the grocery list feature isn't working on your iPhone or you can't create shopping lists in Reminder apps in iOS 17. In case you're facing such issues, here are some productive ways to fix iOS 17 grocery list feature not working:
1. Make sure you're using iOS 17
Since Groceries shopping list in the Reminders app is only available in iOS 17, you have to download and install iOS 17 on your iPhone to use this feature. Moreover, don't forget to check if your iPhone is compatible with iOS 17 or not. Here's a list of iOS 17 supported devices:
iPhone XR, XS, XS Max
iPhone 11 models
iPhone 12 models
iPhone 13 models
iPhone 14 models
iPhone SE (2nd gen or later)
All the models of the iPhone 15 lineup come with iOS 17 out-of-the-box.
2. Enable iCloud for Reminders
This is the most important fix to try if iOS 17 grocery list is not working for you. To create a grocery shopping list on your iPhone, you have to enable iCloud for Reminders. Here's how to check and verify if you've enabled this setting:
Head to the Settings app on your iPhone and tap on [Your Name].
Next up, choose iCloud and tap on "Show All" under the Apps using iCloud section.
Make sure to turn the toggle on for Reminders.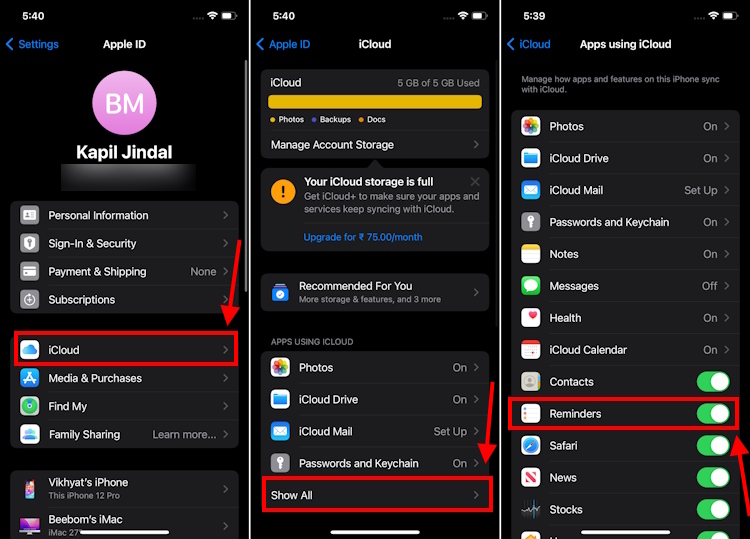 3. Check the list type
Sometimes, you might not be able to use Groceries lists in iOS 17 on an iPhone because you didn't choose the correct list type. By default, the list type is set as Standard, and if you didn't change it to Groceries/Shopping, the Reminders app won't auto-sort your grocery shopping list into categories. To avoid any issues, you should check the list type. Here's how to do it:
Open your list and tap on the "three-dots" from the top-right corner.
Then, tap on Show List Info.
Here, check your List Type. If it's set to Standard, tap on it, and change it to Groceries/Shopping.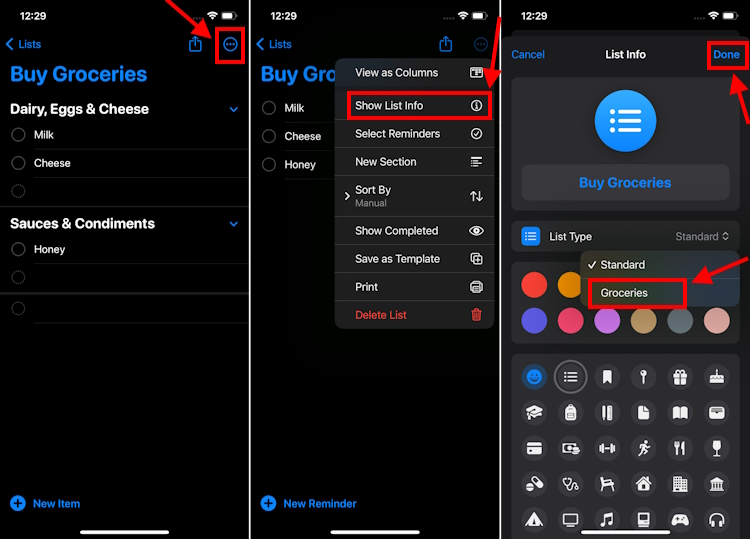 Once done, your list items will be automatically sorted into categories.
4. Force Restart your iPhone
Sometimes, software glitches might be responsible for Groceries shopping list not working issues. To fix this, you can perform a force restart on your iPhone. This will wipe off any minor iOS glitches and give a fresh start to your device. So, it's worth giving a try.
Here's how to force restart iPhone XR or later:
Quickly press and release the Volume Up button.
Immediately, press and release the Volume Down button.
Then, press and hold the Power/Side button until you see the Apple logo.
Once your iPhone boots up, head to the Reminders app and create groceries lists on your iPhone.
We appreciate iOS 17 for bringing several handy and useful features that can make your life easier. Of course, the Groceries Lists in the Apple Reminders app offers a great way to organize your grocery shopping without going for any third-party app. So, go ahead and plan your daily needs shopping in a much better way.